Why You Should Stock Up on Precious Metals

When it comes to prepping, it's important to protect you and your family as much as you can. For starters, it's good to have plenty of food, water, and supplies to see you through. But another way is to make sure that you do everything that you can so that your wealth doesn't run dry immediately following a doomsday scenario. At that point, any cash that you have leftover in your wallet may no longer be worth enough to spit your chewing gum into. That's something scary to think about. Let's talk about why you should stock up on precious metals!
This is why it's so critical of you to start stocking up and also investing in precious metals besides relying on cash for everything. It will also give you something that you can use in exchange for something that you desperately are in need of. So as you can see, it's best to think ahead by investing in them sooner, rather than later. Here are other reasons why you should stock up on precious metals. In case you missed this post, Gold: What You Need to Know
Related Topic: Silver: What You Need to Know
"Prepare Your Family For Survival" by Linda Loosli
Why You Should Stock Up on Precious Metals
They Better Withstand Wear and Tear
The US dollar can only take so much of a beating and other wear and tear until it's no longer spendable. Whether it's been ripped, or nearly defaced to where it's unrecognizable, most people and places won't accept a bill in such condition. Fortunately, you don't have to worry about that so much with precious metals. Even if your precious metals take a rigorous beating, their value should still hold true. Just so you know, I have never had the means to invest in precious metals, but I know people who have. So, I can't recommend where to buy them, my friends.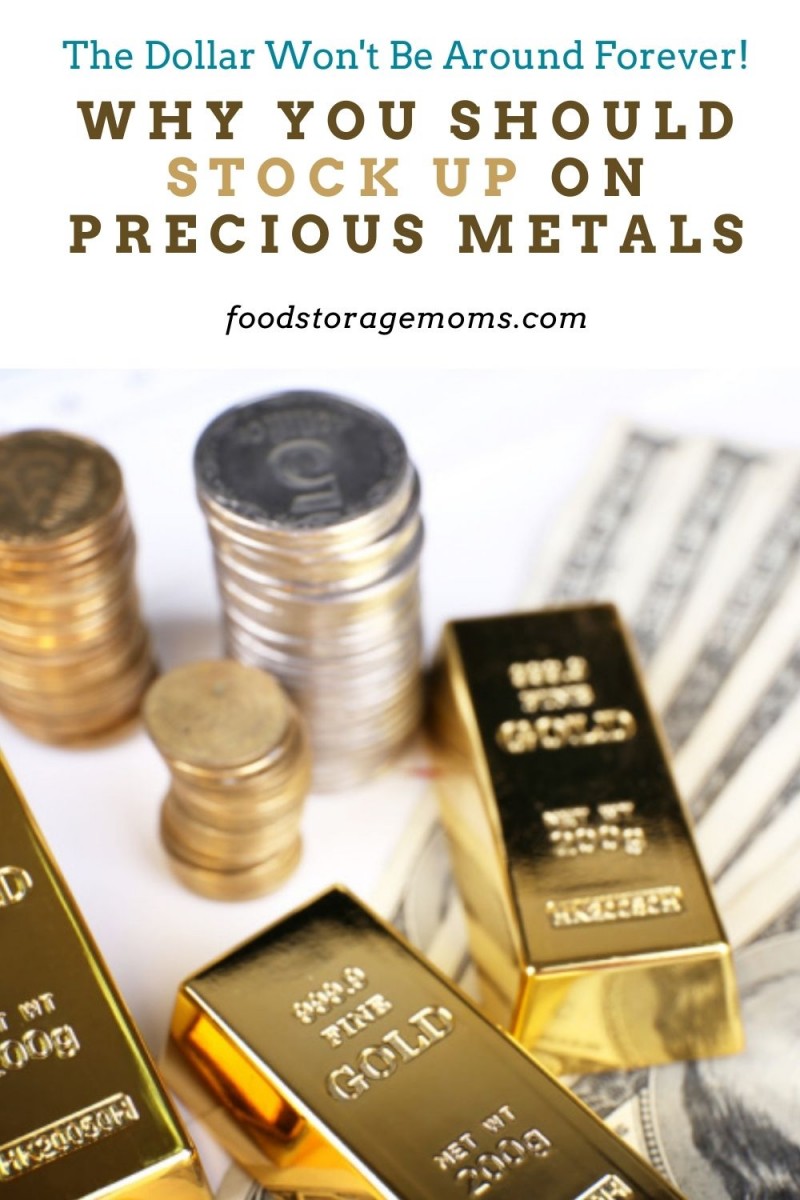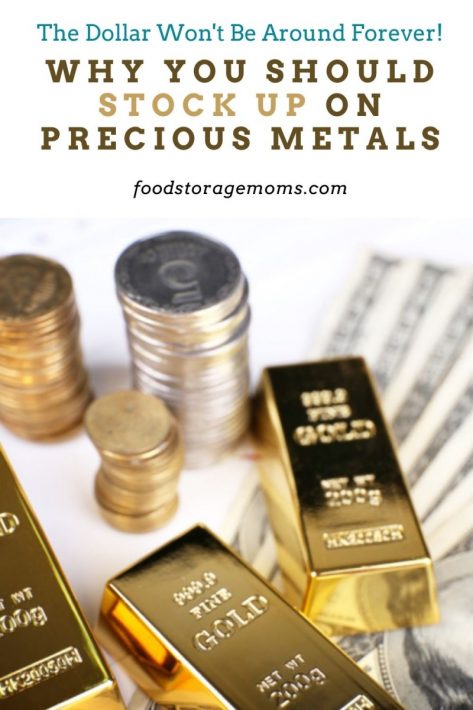 The Dollar Won't Be Around Forever
This is something that most people don't like to think about, and there are some who would say that this situation could never happen, but they may find out one day that they are sadly mistaken. The truth is, the world economy has been collapsing for some time now, and it's only a matter of time before the dollar follows suit. What's also alarming, is that there is no way to predict when it will occur.
Even if a major apocalyptic event were never to happen in our lifetime, there's still the overwhelming likelihood that the value of the dollar could significantly plummet. Gold and silver have an intrinsic value much higher than paper currency, so the chances of them plummeting also are extremely low.
To Protect Yourself Against Inflation
Silver and gold are both considered precious metals that have an inverse relationship to the value of the U.S dollar. They offer investors stability. When one is going up in value, the other one usually will move in the other direction. The more money that the central bank decides to make, they're only devaluing each and every dollar that much more as it makes its way into circulation. So when the dollar is going down, the value of silver and gold continues to go up.
Having silver and gold on hand would protect you from a major recession or other economic turbulence that may one day come our way. This would help you preserve your wealth instead of watching it all go up in smoke.
Silver and Gold Will be Useful to Barter With
Even if you were to wake up one day, only to discover that the U.S dollar no longer held any value, you'd still have precious metals that you could use to buy everything that you needed. As long as you had gotten your hands on some, that is. That's because silver and gold are something that every person considers valuable, regardless of the current state of the economy.
With Franklins, Washingtons, and Grants all littering the streets, people will begin bartering with their wedding rings, coins, bullion bars, and other precious jewelry and heirlooms, just for a bite to eat. So if you have plenty of precious metals that you've stocked up on, your family will not be hurting nearly as bad as some other families will be, should the economy collapse.
Precious Metals are a Good Influencer
Precious metals are shiny and very beautiful, which makes them a good influencer. Yet this will work out in your favor. Have you ever watched a movie where someone presented a greedy person with gold or another precious metal, in the hopes to barter something in exchange for it? I have yet to see one where the person didn't go for it. Your chances of trading and bartering with others will significantly go up when you flash someone something that's shiny.
There are Other Metals You Can Also Look Into
Silver and gold are indeed the most coveted metals that people tend to invest in, but those aren't the only types of metals that are up for grabs. You could also look into stocking up on metals like platinum and palladium. These are considered industrial metals and not necessarily precious metals, but they too are worth looking into.
Why You Should Stock Up on Precious Metals
Final Word
I'm sure there are many of you out there who don't think that precious metals are something that you can afford to invest in. I get it. Yet I'd still strongly encourage you to get your hands on what you can afford over the next few months, or even years, so that you have something to use as a backup if SHTF. You'll be glad that you did. Do you have any experience with precious metals that you could share with us? Maybe there are other commodities that you would suggest we consider and discuss. Please pass them on. Thanks, and may God Bless this world, Linda
Copyright Images: Gold Bullion Deposit photos_77457504_s-2019