Types of Fire Starters to Stock
Let's face it, not many of us could rub two sticks together and start a fire very well. In addition to that, we may not always have lighter fluid, matches, or fuel to get our fires going hot enough to keep warm or to cook with. With that being said, you need to have items to start the initial spark and items that burn easily. That's why today I am going to talk about different types of fire starters you should consider stocking. In case you missed this post, My Favorite Emergency Fuel To Store For Survival
Please stock: A Fire Chimney, Waterproof Matches, and InstaFire.
Related Topic: Types of Fire Starters to Stock
Types of Fire Starters
There are 2 main types of fire starters: the tinder and the spark. Within those categories, there are several options you can try. Below, I am going to break down the different items you should have to start a spark and keep the fire going!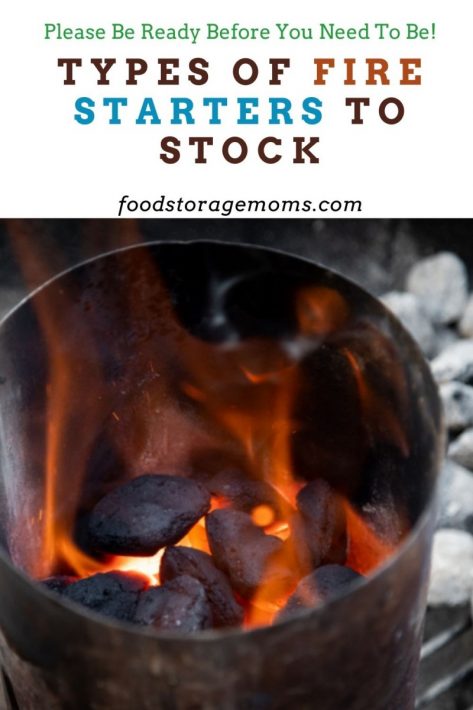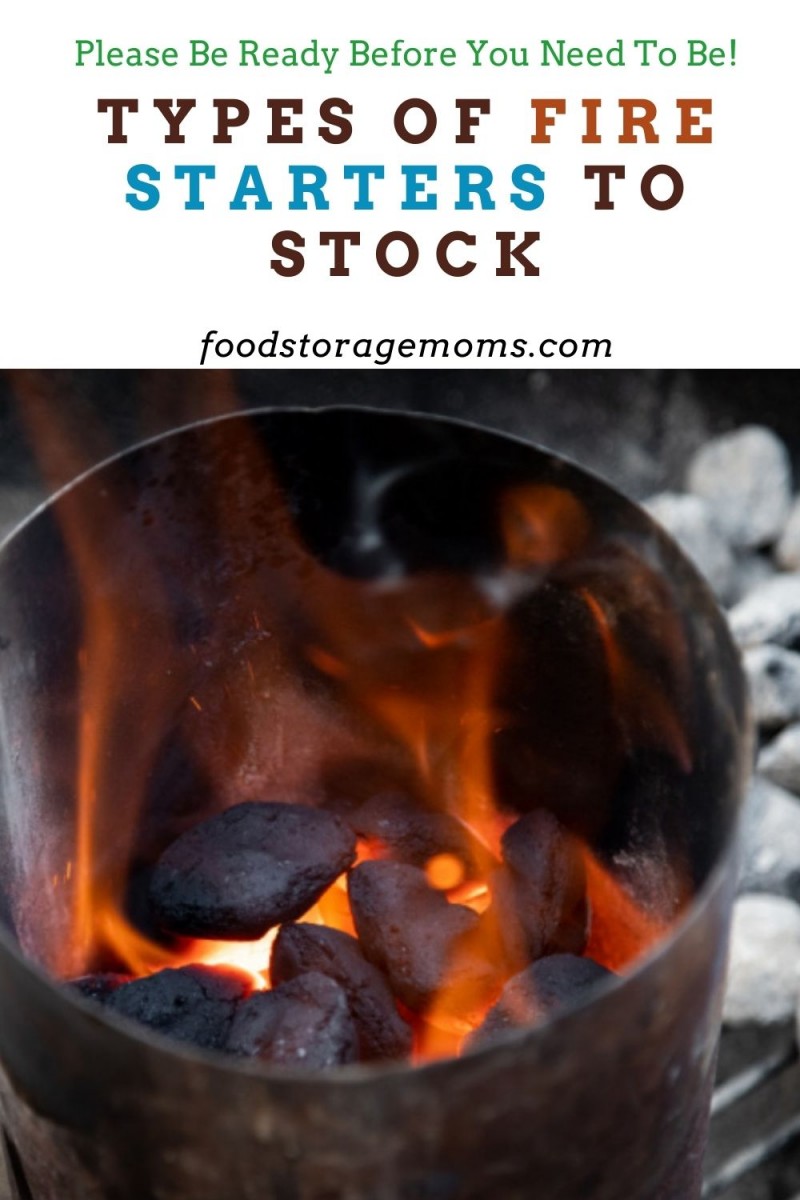 What You Need for a Spark
If you don't know how to rub two sticks together to get a spark, you will want to stock up on items that can help you out! Here's what I suggest stocking:
#1 Waterproof Matches
It's no surprise that matches would be first on the list. You can buy them by the hundreds and hopefully you'll only need one if you're good at it. You can store regular matches, but I would suggest stocking waterproof matches. In addition to buying waterproof matches, make sure you put them in different places. That way if you lose them, you will have others. Matches can be easy to lose. Waterproof Matches
#2 Lighters
Lighters are quick and easy to use. Stocking up on them is a must! You can stock a variety of different kinds of lighters, including cheap disposable lighters, windproof refillable candle lighters, or a torch lighter. If you get refillable ones, don't forget to buy extra butane fuel for them. Lighters
#3 Firesteel and Scraper-Fire Starters
Let's say your matches were ruined and you're all out of lighter fluid…. A firesteel and scraper can help you start more fires than you may even need. It is a tubed piece of metal usually made from steel or magnesium that will create a spark when the scraper is rubbed against it. It even works when it's wet. There are several different kinds you can find on Amazon. Here are some of my favorites:
#4 9V Battery and Steel Wool
Did you know that if you take a 9-volt battery and touch both poles to steel wool that it will catch fire? The finer the wool you get, the better it works. And, you only need a small amount of wool to start a fire! 9V Battery and Steel Wool
I would suggest having all of these spark starting tools. If you have a little of everything, you won't ever have to worry how you will start a fire.
Types of Tinder Fire Starters
In addition to creating a spark, you need something that will catch fire quickly and easily. There are a variety of fire starters out there, some you probably throw away on a daily basis. Here are a few that you should stock:
Household Tinder
You don't have to go out and buy tinder. In fact, there's a variety of things you can use right around your house. These include:
Dryer lint
Old Man's Beard (similar to moss)
Cedar or Juniper bark
Dried out wet wipes
Dry trimmings
Paper of any kind
Dry grass, leaves, or pine needles
InstaFire
InstaFire is a safe and effective fire starter using wood pellets, paraffin wax, and volcanic rock. It has a 15-minute burn time and a shelf life of 30-years! I personally stock up on Instafire.
As shown in the picture below, I just had to go outside and take a picture of the InstaFire in action. We rarely get snow here in Southern Utah, if ever. Well, I raced outside with Mark to tear the package open and we sprinkled it on the snow that had accumulated on our yard gravel. We lit the granules and BAM, we had some flames. You can buy this stuff in packages or in the bucket. It's awesome!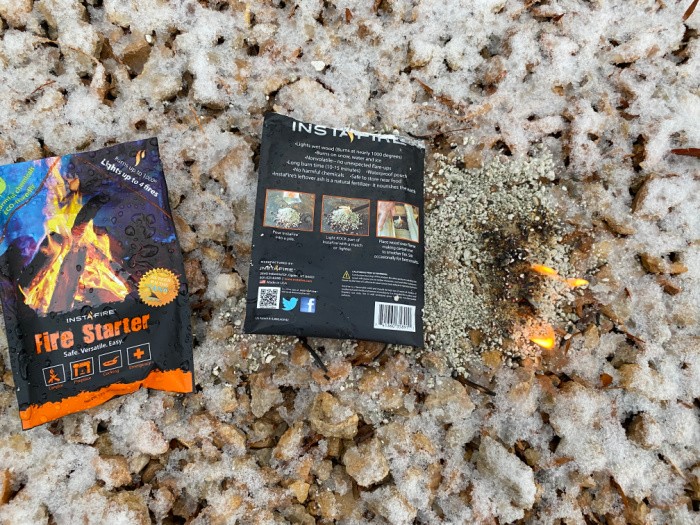 StarterLogg
Although these are bigger than small packs of kindling, a Starterlogg is good to have on hand. It produces a decent size fire with no kindling needed. And, you can split it up into different sizes, depending on your need. StarterLogg
Magnesium Bags
This fire starter burns super hot, even in wet conditions. Magnesium bags are great to have, especially if you are in a situation where you don't have natural kindling like dry leaves, grass, or bark. Keep this on hand. Magnesium Bags
Shefko EasyFire Natural Fire Starters
Made from cedar sawdust and highly refined wax, Easyfire Fire starters are all-natural with no residues or toxic chemical waste. This means your food will taste natural. A 36-pack of these can start 144 fires! Shefko EasyFire Natural Fire Starters
Fatwood
Keep this in your house, garage, or barn so it stays dry. Buy 10-pounds of this kindling right from Amazon. This is the perfect fire starter if you aren't able to find any dry wood around your home. Fatwood
Other Items Needed for Fires
In addition to fire starters, you will want to make sure you are stocking up on other items for your fires. Here are some things to keep in mind:
Charcoal is a must if you plan on starting fires for cooking.
Dry logs are great for maintaining a fire. Keep them covered or in a building.
A fire pit can be used to cook on as well as keep you warm.
A folding campfire grill makes it easier to cook your food over an open flame, especially if you don't have a large grill.
Cast Iron camping tripods are an excellent way to cook soups and stews over an open fire.
Related: 9 Prepping Tips for Outdoor Survival
Types of Fire Starters to Stock
FirePits
This one was built and designed by Matt: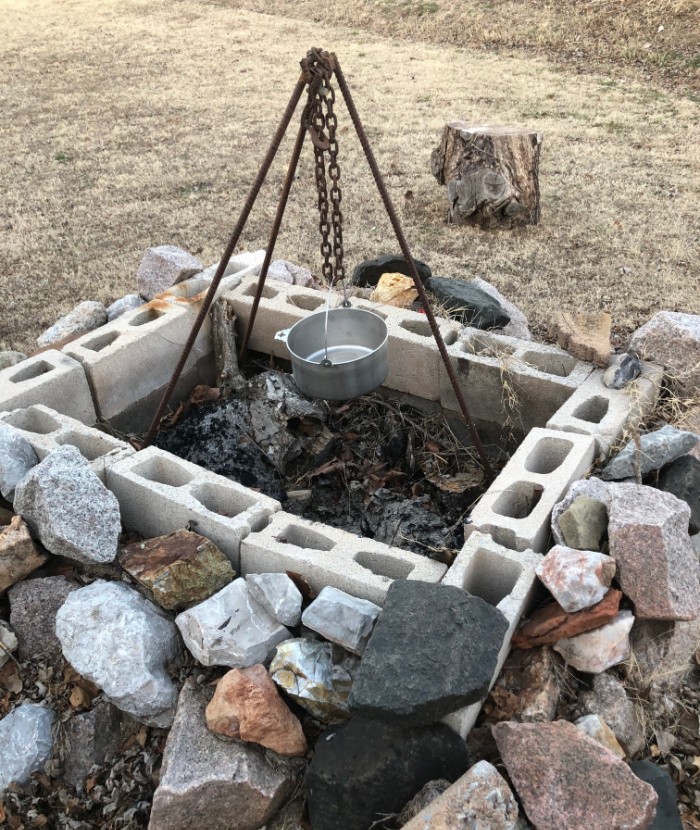 This one was designed and built by Leanne (instructions included)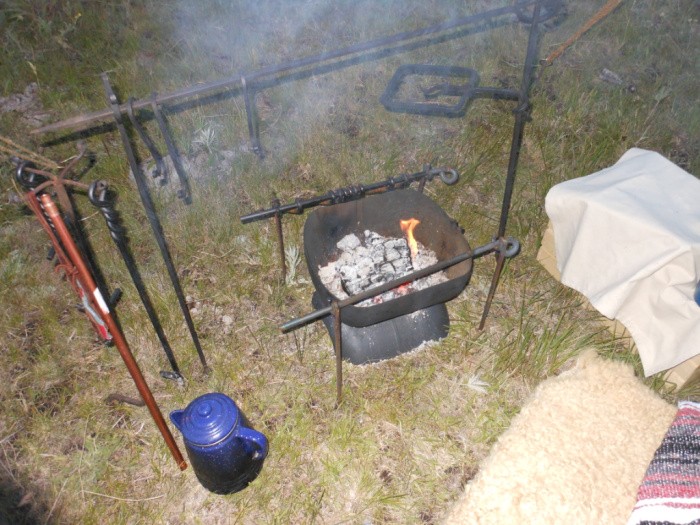 Instructions by Leanne,
The two uprights and the crosspiece are my tripods set up for hanging multiple pots on it. It can also be set up as an actual tripod but can only hang one pot from it that way. Hanging from it are several S hooks for hanging the pots. On one of the uprights, there is a trivet that can be raised/lowered as needed. It is strong enough for a coffee pot to sit on it or I can hang a pot from it as well. On the left side, there is an iron rod that was split at the top into 4 horizontal arms to hang empty pots like my cast iron frying pan when not in use, pot holders, poker, cooking utensils, etc. The copper tube standing there is my blow tube if I need to get the fire heated up – Keeps me and my hair out of the flames! I just made it from a short piece of copper tubing, a cap that I drilled a hole in, and a reducer that I blow into. The fire pit itself is a propane tank that was cut in half the long way and welded together (perhaps 1/3 and 2/3. Many of the rendezvous I go to require the fire to be above ground due to fire hazards in the Pac NW! Oh, on the top part of the fire pit, there are several holes drilled along the bottom for air intake. They cannot be closed, though – would be nice then I could possibly "bank" my fire and have some coals in the mornings. Along the 2 sides of the fire pit are 4 uprights (2 per side with 2 rods going the length of the pit (1 per side). As you can see along the backside, there are rods on the horizontal rod. These can be turned up to fall across the fire pit to set pots on or to even grille meat. Then I can flip them off the backside to allow the fire free reign!
Final Word
Being able to start a fire and keep it going are crucial in a disaster scenario. If you can't keep a fire going, you won't be able to cook food or keep yourself warm. Be sure to know how to use each item you stock up on. Figure out the best way for you to start a fire and stock those items. If you find a lighter and dryer lint is easiest, make sure you are stocking enough to start a fire anytime you need to. Remember, practice makes perfect. So, make sure you are practicing your fire starting skills and cooking over an open fire. May God bless this world, Linda
Copyright Images: Glowing Charcoal AdobeStock_236840010 by Peter