8 Rational Reasons to Prepare
Prepping has a lot to do with "hoping for the best, but preparing for the worst." Now, this way of thinking isn't something that sounds like a bad idea to me, yet many preppers receive a ton of backlash and criticism for doing just that. Maybe you've experienced this from one of your family members or friends? It can sting when it comes from someone that you care about. For those of you who are on the fence about prepping, or need some rational reasoning behind what you are doing so you can explain yourself better to your friends and family, I'm here to help you. The truth is, it's not crazy to be a prepper. Here are 8 rational reasons to prepare.
Related Topics: Types of Fire Starters to Stock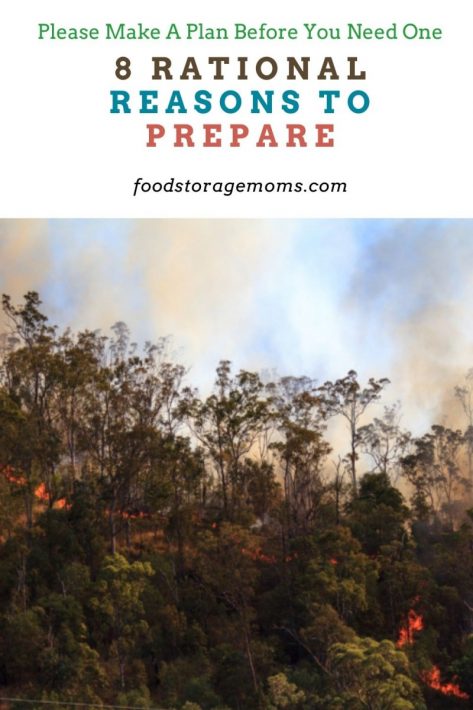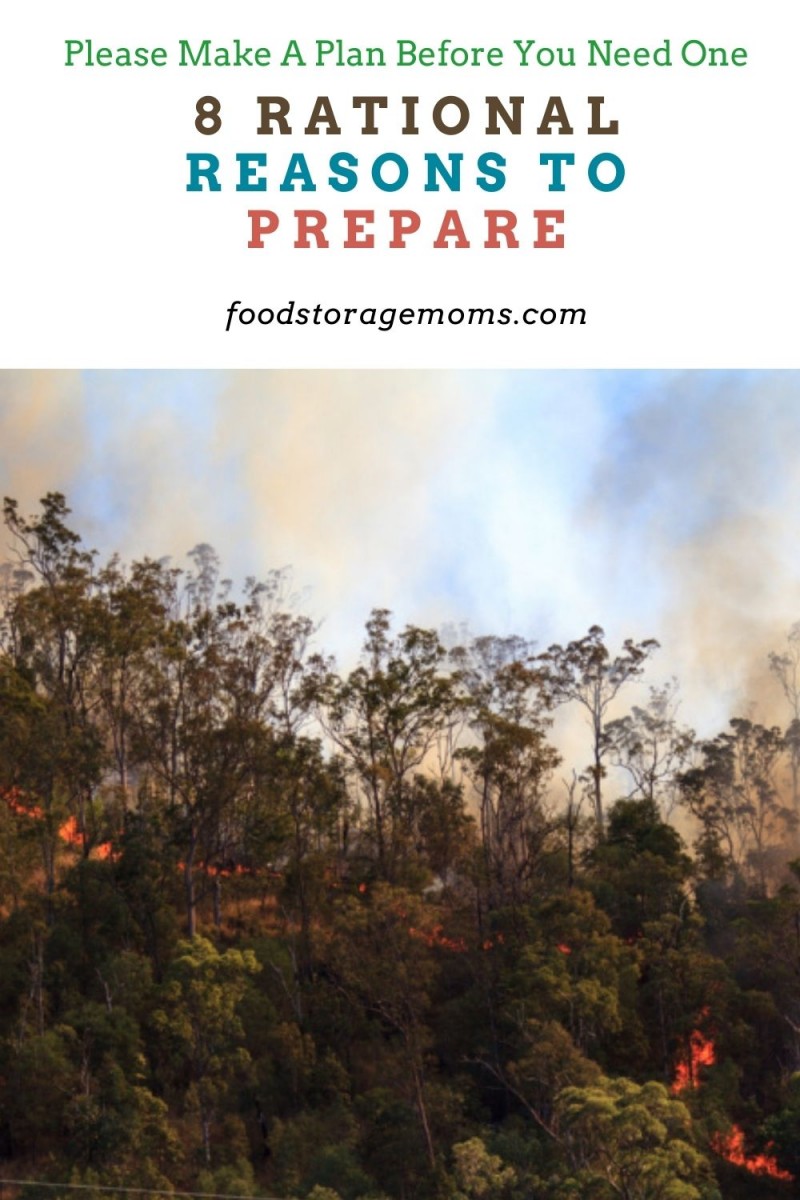 #1. To Get Ready for Disasters
This statement alone should be more than enough reason why you need to be a prepper. Being ready for any type of disaster could very well be the difference between life and death for you or one of your family members. And no, I'm not being overly dramatic on this one.
Depending upon where you live in the country, there's a real threat that a natural disaster could strike your area at any moment, whether it's a tornado, hurricane, earthquake, wildfire, or flooding. Don't get me started on EMP attacks and solar flares that also pose a potential problem. You'll need the appropriate supplies, food, water, and also survival skills to see you through. Now this is one of those rational reasons to prepare.
#2. History Often Repeats Itself
The great stock market crash which took place October 29, 1929, that would later be known as the start of The Great Depression, not only took a major toll on the United States economy but most of the countries around the world. Millions of families were forced into welfare, something that was considered utterly humiliating at the time. As many as 15 million Americans were left without work, and those that weren't unemployed still had a difficult time keeping food on the table.
This dramatic event is something that we could be heading towards again because as they say, history has a way of repeating itself. All the warning signs are already dangerously pointing in this direction, with the drastic decline of the purchasing power of the US dollar (inflation), and also with the undeniable challenges of the world economy with so many companies on pause or closed altogether.
It is important to remember that most often disasters or economic challenges come our way with no fault of our own. Economic challenges are just one of the many reasons why you need to be prepared.
#3. Job Loss or Unemployment
Back in March, when Covid-19 was shutting down thousands of businesses, many of us Americans were sent home from work without a paycheck. Slowly, places started opening back up, but there were still millions of Americans without jobs to support their families. This opened our eyes to how fragile our lives really were, and that no job was guaranteed.
If you were to lose your job and face unemployment sometime in the future, how would you feed your family? This is why a pantry that's stocked full of food is so important for every family to have. It's like an insurance policy that one day you may have to tap into when times are lean. Also, having some money set aside provides comfort and confidence that you can face future challenges that come your way.
#4. Death, Or Serious Injury of a Family Member
This is one that nobody likes to talk about, but the death of an immediate family member could take a huge toll on the finances and well-being of a family. Especially if it happens to be the breadwinner who has passed away.
A life insurance policy will only get you so far, and it's only a matter of time before you'll have to have another solution to keep food on the table. You may also be losing a number of survival skills that could have helped your family during a disaster.
You could also experience a situation where the breadwinner hasn't deceased but has serious injuries that prevent him or her from working another day in their life. Having an extra supply of food could hold you over until you can come up with another way of making ends meet.
#5. Prepping Saves You Money
You may not agree with me on this one, but prepping can actually save you money in the long run. That's because you'll be buying a lot of your food in bulk, which will save you precious pennies for every pound that you buy. With this, along with fewer trips to the grocery store, you'll end up saving more money.
#6. Never Run Out of Personal Items Again
Have you ever needed a new toothbrush because yours accidentally fell into the toilet? For all the women out there, have you ever been out in public and realized that you desperately needed a tampon? Maybe not, but I'm sure you've been in want of something and you didn't have it available at the time.
This can be painful to face, depending upon your situation. When you're a prepper, you always have an extra stash of those personal items so that you're not left in a messy situation. You just have to remember to replenish that supply when you use those items in your time of need.
#7. You Didn't Consider Your Grandparents Crazy
A vast majority of us would never say that our grandparents (or great grandparents) were crazy, right? Well, you may not have thought about this before, but your grandparents were more than likely preppers themselves. During WWII, many families had patriotic "victory gardens" that were used to help sustain not only their own families, but also help with the war effort in any way that they could. Many grandmothers were also big into canning food that they could store throughout the winter. If that isn't a prepper, what is? In case you missed this post, What to Plant in a Victory Garden
#8. Our Government is Preparing
Do you remember hearing in the news about Russia and that the country was preparing over 40 million of its citizens for a national emergency? It's true. Back in 2016, they practiced multiple nation-wide nuclear readiness drills to ensure, and to test that every one of their citizens had the ability to get beneath the ground as soon as possible once notified.
While the United States has never directly gone to these great lengths before, they do have agencies that prepare, organize, and gather supplies that will be needed to help with the emergency response following a disaster. You should too!
8 Rational Reasons to Prepare
A Small List of Items I Recommend:
Final Word
These are all rational reasons why everyone should consider being a prepper, no matter who they are. What are some other rational reasons to prepare? I'd love to hear what you have to say in the comments below. May God Bless this world, Linda.
Copyright Images: Line of Fire Deposit photos_34534873_s-2019