Today, it's all about prepping items to stock. When it comes to prepping, you can never be too prepared. So who cares if your friends and family think of you as crazy because you have 15 bottles of hand sanitizer stocked away and enough toothpaste and toothbrushes to take care of an entire neighborhood.
While you may indeed have an excessive stockpile of a particular item that your family will never use in a single lifetime, it does provide you with something that you can barter with when you're in desperate need of something else after SHTF. These are all essential prepping items that everyone should consider stocking for emergencies.
Related Topic: 8 Rational Reasons to Prepare
Related Topic: How to Prepare for a National Emergency
Related Topic: 25 Prepping Items to Hoard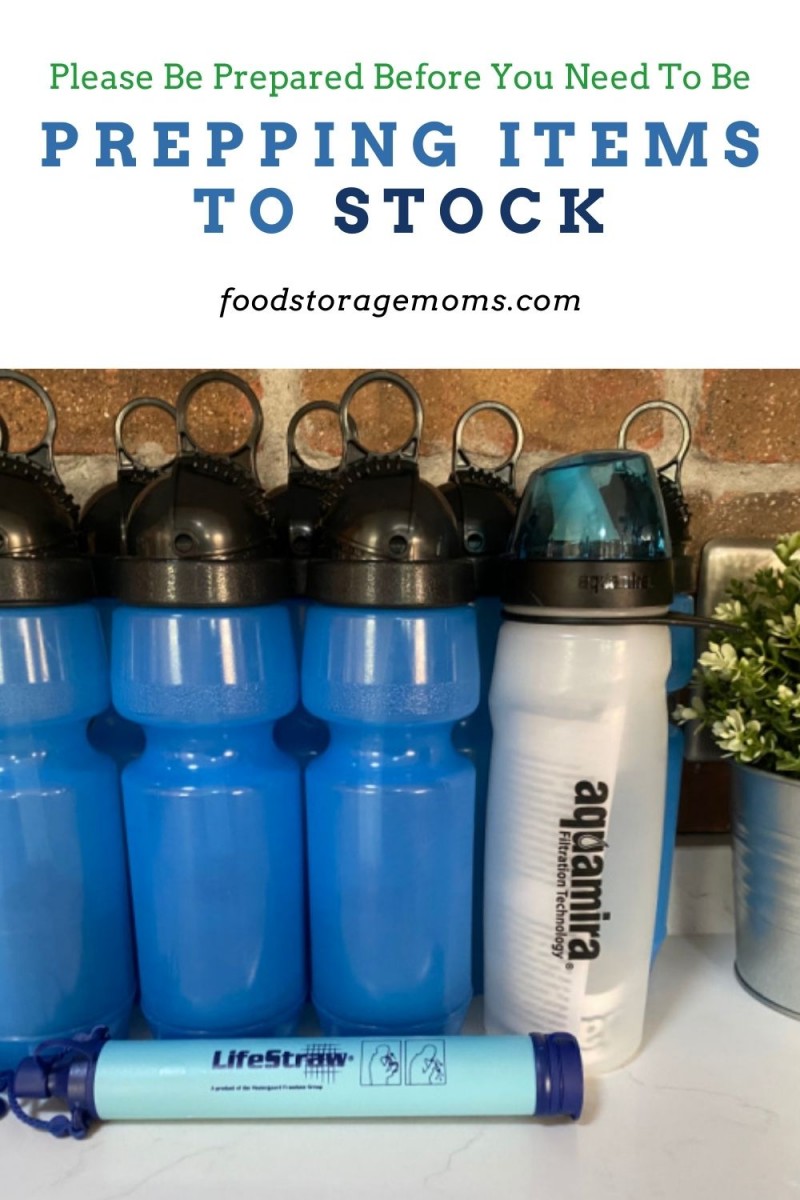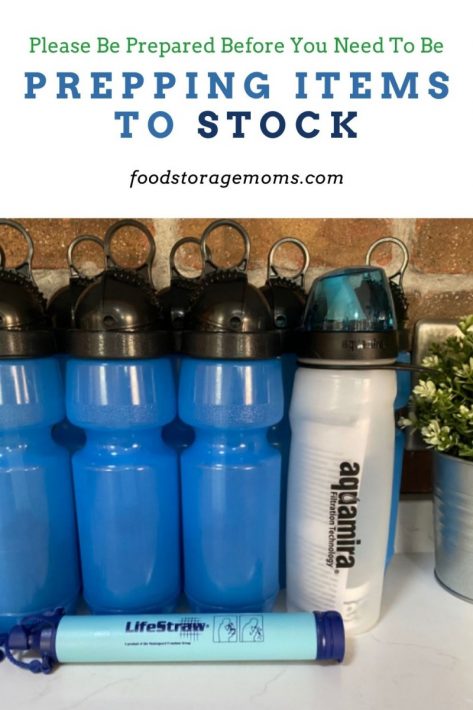 Prepping Items to Stock
Basic Needs
Water
Probably the most crucial item that you should start stocking up on right now would be water. Your family would only last a few days without it. You're going to want to collect a minimum of one gallon of water per person, per day, for at least a 72 hour period. So if you have 4 people in your family, that's 12 gallons of water for those three days of storage. That's what the American Red Cross recommends.
But I'd encourage you to keep going, making your next goal to collect 2 week's worth of water for your family. That's 56 gallons of water! Once you've reached that goal, why stop there? Yet this will begin to take up a ton of space, so you may want to think about getting a 55-gallon water barrel or something even larger to store your water supply.
Please remember I recommend four gallons of water per person per day. I get thirsty just thinking about only having one gallon of water per day, but that's how I roll. Work for the goal of one gallon per person per day as a start, then add from there to make sure you have enough water to satisfy the needs of your family based on hygiene, good health, and hydration.
Garden
I'm very concerned about our food chain right now. I highly recommend starting a garden, if you haven't already. If you are lucky enough to be able to walk or drive to a nearby Farmer's Market, that is awesome. You can grow food in pots, containers for decks, or on your porch. Whatever you can grow is better than not having anything at all. In case you missed this post, How to Start a Garden or How To Plant Vegetables On Your Deck
This is where I buy my garden seeds: SeedsNow
Food
It's safe to say that food follows right behind water when it comes to items that you need to have a sufficient stockpile. You can never have too much, just as long as you're rotating it out every 6 months or so. Stock up on foods that are shelf-stable and last for longer periods of time. Some of the following food items on this list would be a luxury that most people would be willing to trade almost anything for, so don't fret if you think you're a bit heavy on any of them:
Prepackaged meals (Meals like mac n cheese and Hamburger Helper that simply require adding water)
Rice
Dry Beans
Dried fruits
Vinegar
Cooking oil
Sugar
Flour
Spices
Nuts
Jerky
Energy bars
Chocolate
Comfort foods (This isn't a necessity but it will certainly help your family psychologically)
Essential Equipment
Flashlights
Flashlights will be one of the most essential items to have once it's nighttime, and unfortunately, some people will be without them. You can go to the dollar store and stock up on a bunch of flashlights that will only cost you a few dollars. An LED-Headlamp or a Maglite LED would be nice for your own family's personal use. Karl reminded me that we need Old-Style Flashlights that use an incandescent bulb.
Batteries
A significant stock of batteries is critical for everyone since they will be needed during an emergency and would especially be a hot commodity that you could barter with. They'll be needed for your radio, flashlights, and other devices. If you do happen to collect a boatload of them, be sure to store them in a dry, cool place. Be sure to have a variety of sizes since not all devices use the same size or voltage.
Portable Water Filters
If your emergency carries on for a number of weeks and your drinking water supply is coming to an end, it will be nice to have several portable water filters that you can use to filter the water from most any water source. A LifeStraw is extremely lightweight and takes up very little space. They also don't cost very much for the amount of filtered water they can deliver, so get yourself a number of these for each one of your family members. Another one I like is the Berkey Sports Bottle. The AquaMira is a good one as well.
Solar Power Bank
A solar power bank is nice to have because if your power goes out for a long period of time, you'll be needing a way to keep your phone and other electrical devices working. They don't require batteries and instead use the sun in order to charge your electronics. I'd encourage you to have a few of these that you can use to barter with if your situation ever became bad enough.
Tools
Useful tools that you will want to have for an emergency include can openers, multi-tools, pliers, screwdrivers, as well as a good knife. You can never have too many tools lying around. Be sure to have the tools easily accessible so you're not looking for them at the last minute.
Fuel
Whether it's gasoline, propane, kerosene, butane, or campfire fuel, don't hesitate to stock up on plenty of fuel for an emergency. You'll be needing them to start a fire for cooking, for your camping stove, generator, or your indoor non-electric space heater. You don't want to come up short when a disaster strikes, so make sure this is one of those items that you don't go skimpy on.
Walkie-talkies and weather radios
When your cellphone is no longer operable, you'll be glad that you had walkie talkies and a weather radio so that you could still communicate with your family, and so that you're still receiving updates on what's going on in your area. Another form of communication to consider getting is a CB or HAM radio. There may be some licensing requirements that take some time, so plan ahead and be ready before that emergency event plays out.
Prepping Items to Stock
Household Necessities
Without being able to get your hands on these following items at your grocery store during an emergency, the comfort that you once knew would be gone. Especially if your situation turned out to be a long term problem. Once your neighbors have run out of their supplies, they'll be looking to you and will be willing to trade you almost anything just to experience some normalcy again:
Toothbrushes and toothpaste
Deodorant
Toilet paper
Paper towels
Feminine hygiene products
Trashbags
Ziploc bags
Bleach
Medicine Pantry
Having a severe headache or a serious injury that requires medical attention is something else that you shouldn't forget about. These are medicine pantry items that you need to begin stocking up on now in order to take care of these problems even after a SHTF event has taken place:
Pain medication
Antacids
Bandaids
Hydrogen peroxide
Antibacterial Cream
Rubbing alcohol
Hand sanitizer
All of these are important prepping items to hoard! You can't live without medicine. In case you missed this post, How To Stock Your Home Pharmacy
Comfort and Warmth
If an emergency were to happen in the dead of winter, your family would need a number of different supplies just to keep warm and comfortable. Other families would be in need also. These are just a few items that would be like gold when it's close to zero degrees outside:
Sleeping bags
Extra blankets
Firelogs
Lighters
Thermal underwear
Extra Boots and gloves
Prepping Items to Stock
Final Word
When it comes to food that you stock, make sure that it's food that is similar to your family's regular eating habits. Other than that, just be sure that you get as many of these items crossed off on your prepping list as your time, storage space, and budget can handle. What are some other prepping items to stock that you'd like to share with me? We appreciate you sharing your ideas. May God Bless this world, Linda.