What are the Absolute Limits of Human Survival?
The human body is undeniably amazing in what it's capable of when it's pushed to extreme limits, while very few on the planet have ever tested to see what those limitations truly are. A few of those men and women were under dangerous conditions that were sometimes out of their control. The truth is, no one really knows if they will ever be faced with a survival situation, whether they get lost while hiking out in the woods, or their car becomes stranded on a desert highway. Let's talk about the absolute limits of human survival.
Related Topic: Prepping Items to Stock
Did You Know You Can Survive:
3 minutes without air (I don't recommend trying this)
3 hours without shelter (extreme heat or cold weather)
3 days without water (you need water or you'll perish)
3 weeks without food (I promise it would not be fun)
Related: 30 Survival Foods to Stockpile for Any Disaster
What are the Absolute Limits of Human Survival?
Without the proper supplies and being exposed to certain elements, it's only a matter of time before your body has had enough. Do you know how long you could survive without water, food, or shelter? And what's considered to be too hot or too cold for a person? Or how long could you go without oxygen, and what elevation is simply too much for your body to handle?
If you're ever faced with a dangerous and unexpected survival situation, it's critical that you know what some of these limits are, because it could be the difference between life and death. Here are several other of the absolute limits of human survival.
Related Topic: Ways That You Can Cope Following an Emergency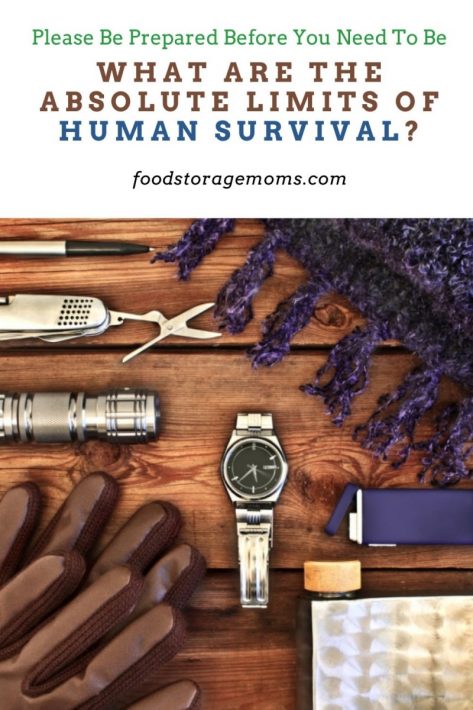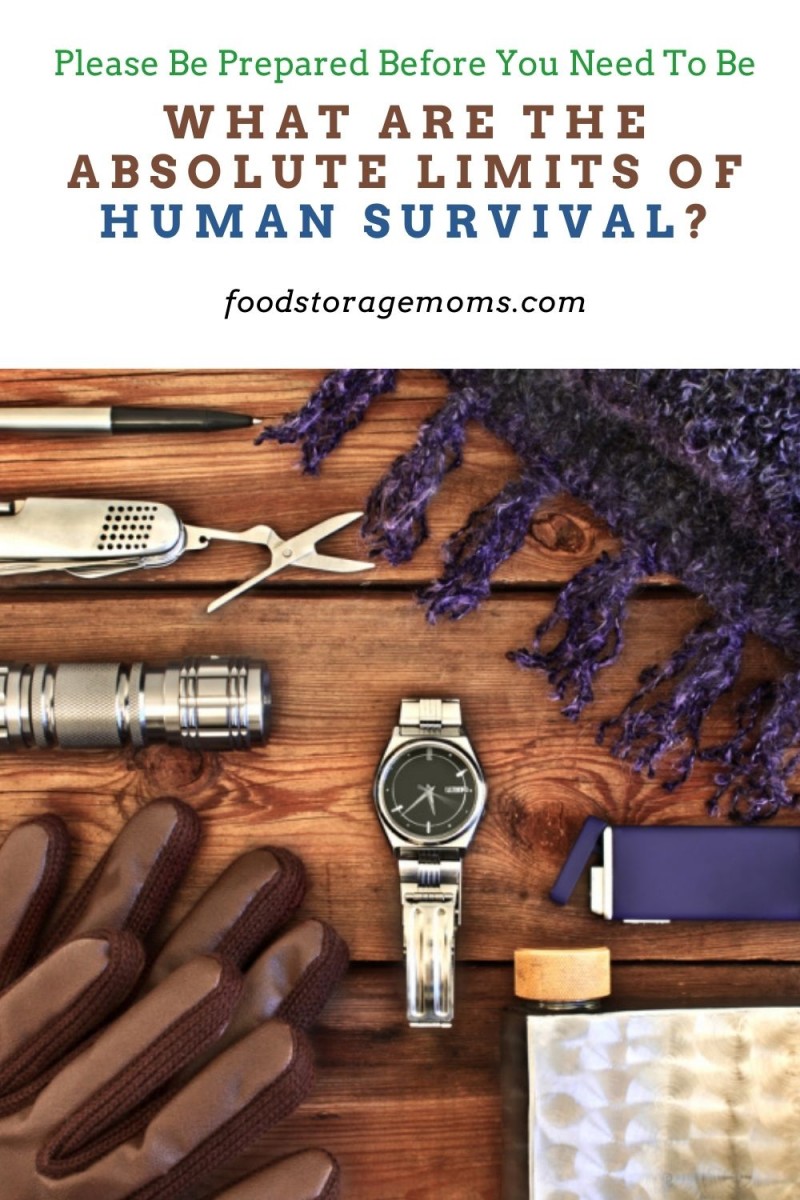 How Long Can You Live Without Water?
Our bodies are mostly made up of water and we need a lot of it in order to keep the body functioning properly. Fluids play a big part in keeping our cells alive and all of our organs working as they should, along with regulating body temperature. This is why it's critical that you are always drinking enough water.  
The general rule of thumb is that people can survive for about 3 days without water. But this also depends on the environment, the person's activity level, overall health, and how much water a particular individual needs each day. When dehydration sets in, it can cause a long list of uncomfortable symptoms. If severe enough it can cause organs to stop working, sometimes resulting in death.
How Long Can You Live Without Food
Your body can survive for a much longer period without food than it can without water. It really depends on your body type and overall health, but the average healthy person can go between 30 and 40 days without a bite to eat. This would be extreme, and not workable for the normal person. Doesn't that sound like a horrible and gut-wrenching weight loss plan? That's not to say that malnutrition and a weakened immune system wouldn't have set in by then, because it would.
However, there's a rare case of a 456 lb man who was able to go 382 days without any food whatsoever. By the end of his starvation period, he was down to 180 lbs. To keep his nutrition levels from getting dangerously low, he had to take multivitamins, potassium, and sodium tablets to keep his body functions regulated during this period of time.
How Long Can You Live Without Shelter?
If you thought that your body lasting for only 3 days without water didn't sound like a whole lot of time, but without proper shelter in place when you're facing extreme temperatures, you may only last for about 3 hours. If you're up against such temperatures, you need to find shelter immediately. Here's a closer look at both extremes:
Too Hot
Our bodies are meant to stay at a temperature of right around 98.6 degrees Fahrenheit. If a person becomes overly-heated and reaches a body temperature of 104 degrees, they may start to experience heatstroke. At 107.6 degrees Fahrenheit, in most cases, it will prove fatal. The average person would only last for 10 minutes out in direct 140 degree temperatures before suffering hyperthermia.
Too Cold
When a person is exposed to sub-zero temperatures, say for instance negative 30 degrees Fahrenheit, they can become hypothermic in as little as 10 minutes. If it's as much as 50 below out and without the proper coverage, a person can become hypothermic in only 5 minutes. When hyperthermia takes place, the body has a difficult time maintaining the right temperature, which causes confusion and tiredness. If nothing is done about it, eventually your internal organs will start to shut down.
How to Survive with Blood Loss
People have been known to survive after they've lost up to 30% of their blood supply. That's crazy! Any more than that (especially 40% or more) and they will certainly need an immediate blood transfusion. We all need to take quality first aid classes so we are prepared for situations when serious blood loss is eminent.
Some common steps to take would include elevating the extremity if the blood is coming from an arm or leg. We also should put pressure on the wound, hopefully with a clean gauze pad or cloth. It may also be necessary to use a tourniquet in very serious situations. You may need to loosen the tourniquet periodically so the tissue doesn't die. It's also important to keep warm if possible.
Seeing people go into shock can be an issue. Get yourself or the injured person to medical experts as soon as possible! Keep in mind using a tourniquet on someone can be dangerous if you do not know how to use them.
How to Survive in High Altitude
It's important to get acclimated to high altitude over time. Trained mountain climbers often show up days or weeks before the climb and gradually become accustomed to the reduced levels of oxygen. Some people can start to experience altitude sickness at somewhere around 8,000 to 12,000 ft above sea level. That doesn't stop most people from venturing to those heights. It's been observed that the average person tends to fade in and out of consciousness at around 15,000 feet. But again, that doesn't deter the highland dwellers who can handle these extreme altitudes.
Mount Everest has been surveyed at 29,029 ft, and currently, only 5,790 people have ever reached its summit. That's because the "Death Zone" is said to be somewhere around 26,246 ft and has claimed the lives of over 300 climbers. Many of these were due to the lack of oxygen that they experienced in these severe altitudes.
If you begin to feel a headache while in the mountains it could be a sign of altitude sickness. Other symptoms to be aware of are shortness of breath, fatigue, confusion, and dizziness. Sometimes the symptoms can be dealt with by properly hydrating the body with regular water or water with additional electrolytes. The best solution, and sometimes the only one is to get to a lower altitude. Be aware, severe altitude sickness can bring on damage to the brain and lungs when they become enlarged.
How to Survive Loss or Lower Levels of Oxygen
Without oxygen, the average person can hold their breath for around 30 seconds and would then go on to pass out roughly 2 minutes afterward. There are some trained individuals who are able to hold their breath for almost 11 minutes. But that's not the limit. Astonishingly, the Guinness world record holder (Aleix Segura Vendrell) from Spain was able to hold his breath for an impressive 24 minutes and 3 seconds.
Similar to the symptoms of altitude sickness, low levels of oxygen can cause shortness of breath, chest pain, confusion, headache, and rapid heartbeat. Be sure to take deep breathes, try to stay calm, try to reduce your stress levels, get to a doctor or clinic as soon as possible if symptom persist.
Final Word
There are a few humans on the planet who have been able to defy all odds. They have been able to stretch themselves to the absolute limit of what the human body has been known to handle. This doesn't mean that you should put yourself in harm's way to test what your body is capable of.
I'm only discussing these things with you so if you're ever put in an extreme and dangerous situation, you'll have a rough estimate of how much your body could handle until it's had enough. Keep in mind that survival success is 90% mental, which is why it's important for you to stay as calm as you can during these scary situations. What are the absolute limits of survival for you? May God Bless this World, Linda.
Why Should You Prepare?
Copyright Images: Survival Items Deposit photos_60344405_s-2019