Ways That You Can Cope Following an Emergency
Everyone responds differently following a traumatic experience. Some adapt quickly, while others have a harder time coping with their new situation, but eventually will pull through. It's completely normal if you fall into the category of experiencing an overwhelming amount of stress and anxiety following an emergency, but if you're not careful, you could wind up getting extremely sick or unable to make crucial decisions when the situation calls for it.
Ways That You Can Cope Following an Emergency
It's also common during this time for people to lash out at those who are closest to them and treat them in such a way that could damage their relationships. This is why self-care is so critical after an emergency, so that you don't make these kinds of mistakes with your loved ones, or hurt yourself, for that matter. Hand Crank NOAA Radio
If you think you would have a hard time coping when a disaster has taken place, you're not alone. I'd love to encourage you with these helpful coping techniques so that you can be able to cope better following an emergency. In case you missed this post, 30 Items You Need To Survive A Pandemic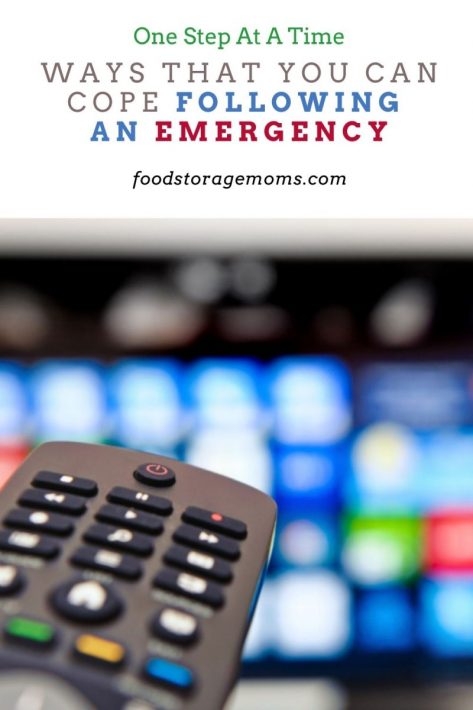 Watch Out for Signs of Distress
Watching out for signs of distress is important because if you know what to look for, you will be able to recover much quicker mentally and physically. The following are reactions that usually ease up over time, but if you experience these behaviors for a longer duration of time and are unable to function and perform everyday responsibilities, you'll need to reach out to your healthcare provider:
Physical distress, such as headaches, stomach problems, skin rashes, or body pain.
Feelings of worry, fear, sadness, frustration, numbness, helplessness, or anger.
Not able to concentrate or make simple decisions.
Loss of appetite or a noticeable change in your diet.
Less energy and little desire to do normal activities.
Harder time sleeping and may experience nightmares.
Experiencing flashbacks of the disaster.
Chronic health problems continue to worsen.
Increase the use of tobacco, alcohol, or drugs.
Name Your Feelings
As I mentioned earlier, it's totally normal to experience feelings of frustration, sadness, and anger during these situations. So, don't be afraid to name them out loud for what they are. It will deescalate a situation because everyone will then be on the same page. This is especially a useful thing for you to try when you have children.
That way you're able to better understand where their poor behavior is coming from. It's also a helpful method for dating couples and married couples because one person may not know what the other individual is thinking or feeling.
Avoid Harmful Words
Words are extremely powerful, where they can be used to build up or tear down another individual. Yet unfortunately, the most harmful words are usually the easiest to throw around when things aren't looking so good. Avoid the name-calling and don't get heated up in an argument.
It's okay to feel upset, but it's never okay to be mean to someone you care about that you will later regret. Try to speak calmly and in a gentler manner, so that the other person doesn't feel threatened and resort to speaking harshly as well.
Stay Connected with Others
When a disaster takes place, oftentimes the victims feel as though they're miles and miles away on their own little island, with no one to help or understand what they're going through. It also doesn't help matters if your home has been destroyed and you lose that community and closeness that you feel from your neighbors, friends, and family.
Don't make the mistake of isolating yourself from friends and family because it's in these moments that you need them the most. Get reconnected with them so they can help you mentally and help you laugh again.
Getting yourself into a support group may be something else that you should consider. There's nothing wrong or embarrassing about getting the help that you need because you're not the only that has experienced these thoughts, feelings, or made poor choices when under a lot of stress.
Take a Break from the News
When an emergency situation happens, it's crucial that you know what is going on in the news to keep you better informed, but overexposure of this information also isn't helpful. Remember to step away from reading or watching the news stories when you're repeatedly hearing the same stories that are just bringing you down. Maybe during these moments you should go on a walk, or sit outside and deeply breathe in the fresh air.
Do Things You Enjoy
One of the best ways to get your life back on track again is to participate once again in the things that you enjoy the most. Maybe it's waking up early in the morning and heading to the gym, or grabbing a cup of coffee with a friend. It could be reading a novel, playing ball with your children, or helping out at your local shelter. Whatever it may be, these things will help distract you and return you to a place that you're used to.
Eat Healthier, Exercise, and Get Plenty of Rest
Taking care of your body physically is another area to help you cope following an emergency. By choosing to eat healthier balanced meals, exercising, and getting enough sleep each night, you'll feel better about yourself and you'll also be able to function better too.
Decision-making is another area that will be made easier for you. I'd also encourage you to distance yourself from tobacco, alcohol, and certain drugs so that you don't develop a dependency on them. In case you missed this post, Why Eating Whole Foods Is Good For You
Ways That You Can Cope Following an Emergency
Final Word
Keeping your head on straight and all your cards kept in one pile is easier said than done after an emergency flips your world upside down. But if you use some of my tips, you'll be able to navigate through your circumstances both mentally and physically, in a healthier manner. If you've ever had to deal with an emergency before, what were some other ways that you learned to help cope with your situation? What are some ways that you use to cope following an emergency? May God Bless this world, Linda
Copyright Images: TV News On Smart TV Deposit photos_68084193_s-2019