Reasons to Prepare Even if Doomsday Never Arrives
No matter the subject that's up for debate, there's always a handful of skeptics out there. This is certainly true when someone mentions prepping, or even more so if the word "Doomsday" comes up. Today, some think of it as something that you would only see in a sci-fi movie, and we stereotype the person who is actually preparing for such an event, as nothing more than crazy and delusional. There are actually many reasons to prepare even if doomsday never arrives!
Related Topic: 30 Items You Need To Survive A Pandemic
Reasons to Prepare
Maybe you wouldn't consider yourself a skeptic, but you don't see any real need to prepare for such an event? I'm here to share with you why you still need to plan for the worst, but hope for the best. This is a list of skills, along with other reasons why you should still prepare, even if Doomsday never arrives. In case you haven't purchased my book, here it is, "Prepare Your Family For Survival". If you have it, I thank you from the bottom of my heart for buying it.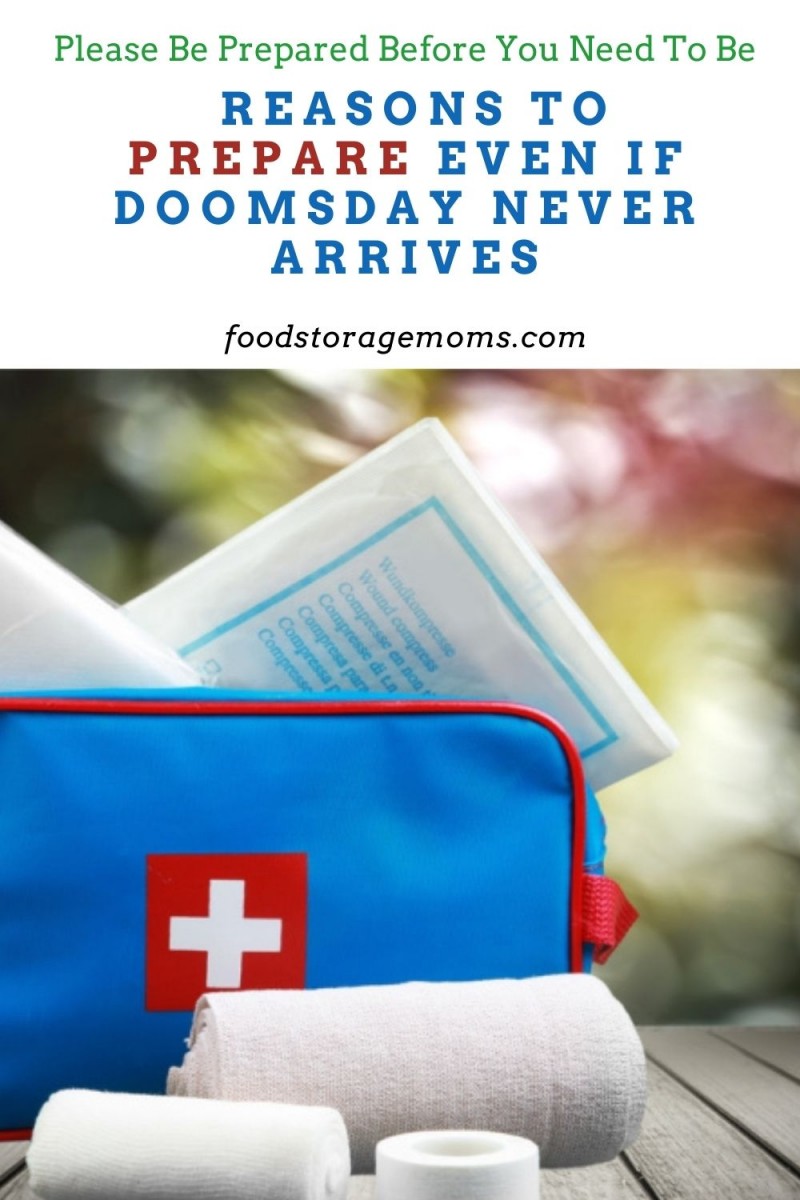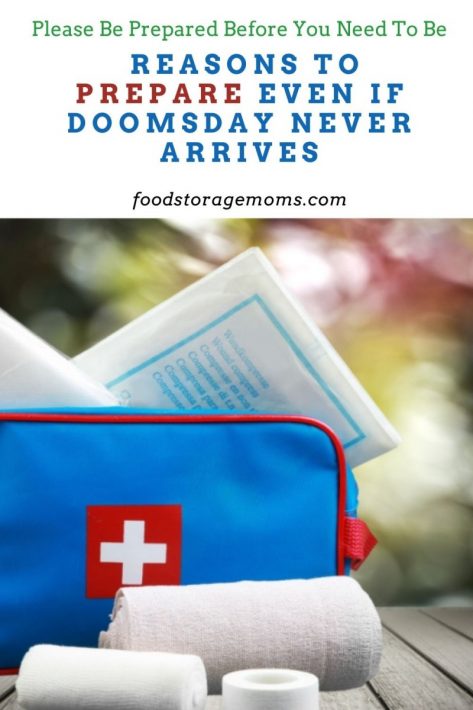 #1. You'll Be Ready for Any Type of Disaster
This reason alone should be more than enough incentive why you and your family should be prepared for anything. A natural disaster, such as a hurricane, tornado, floods, or wildfires, are all events that could very well happen to you depending on where you live in the country.
Having the tools and supplies for these situations could actually one day save you or another of your family member's life, or help prevent them from a serious injury.
Droughts and famine are other scenarios that happen every day around the world, even in certain parts of our own country. That's just one more reason why you should have enough drinking water and food stored away.
#2. Loss of a Job
A fully-stocked kitchen pantry is like an insurance policy that you may be thankful that you had someday. Nobody knows what tomorrow will bring. If you were to get laid off from work, or your workplace was to close its doors forever, it may be a while before you have the finances to put food on the table again. Situations like these should be more than enough reason for you to think about stockpiling food to take care of your family when times get hard.
#3. Self-Sufficiency
A genuine prepper is someone who doesn't want to have to rely on others for assistance following an emergency situation, including any help from their own government. You may not fully realize it yet, but prepping is molding you into being a self-sufficient individual, an important trait that most people don't have. In the long run, this will save you money. It will also help you and your family be ready for any kind of local disaster, which is far more likely to happen than any Doomsday scenario.
#4. First Aid
Even under normal everyday conditions, there's always the real possibility that you or one of your family members will experience a serious cut, broken bone, or injury that needs to be tended to. This is why a first aid kit is something that you will need regardless, to help bandage or properly support the wounded area. In case you missed this post, First Aid Kits-What You Need To Survive
Learning CPR, among other first-aid courses, is also something that is beneficial to have under your belt, especially for those of you who have children. That way you're not wasting precious moments waiting for the paramedics to arrive if you're ever face-to-face with a deadly situation.
#5. Overall Fitness
You probably already know that you're going to need to be in "above average" shape if "S" ever "HTF" That's because some of the tasks that will be required of you may require extra strength and energy to perform than what many people are capable of.
Even if a Doomsday scenario never occurs in your lifetime, remaining physically active will improve your energy level, cognitive thinking skills, and help you feel better about yourself and how to help others.
#6. Survival Skills
While the chances of an Apocalyptic event actually ever happening is relatively low, there's always the possibility you may encounter another type of emergency that requires certain outdoor survival skills.
We've all heard the dozens of stories of hikers who got lost and had to survive on their own for several days. Situations like this could happen to anyone, so now's the time to brush up on some of those skills.
One way to pass this on to your spouse and children is to take them on a camping trip out in the wilderness. I'm talking about backcountry-style camping folks! This will be a fun way to teach your kids how to survive when they don't have the luxuries of electricity and a flushing toilet.
#7. Leadership Skills
Being prepared for an emergency also helps you develop leadership skills. That's because you're knowledgeable on the subject, and people will more than gladly turn to you because you know what to do in an emergency situation. These are skills that you will have with you for life, that can be used in your workplace, home, sports venues, and other areas.
#8. Saves You Money
When you learn to do your own maintenance on your vehicle or plant a sustainable garden to put fresh veggies on the table, you're becoming more and more self-reliant. In case you missed this post, How to Start a Garden
The same goes for learning basic house repair skills so that you don't have to call a repairman to fix something that you could handle yourself. This could end up saving you thousands of dollars in just a few short years.
#9. Less to Worry About
Being caught completely off-guard when a local disaster strikes, is something that happens to a lot of people. About 90% of the population in fact! Not only are they in a position where they don't have enough food, water, and supplies to see them through, but they don't have a plan of action regarding what they should do next. In case you missed this post, 30 Items You Need To Survive A Pandemic
This can cause an insurmountable amount of stress, along with frantic and careless behavior. For those of you who have made the decision to be ready for anything, you'll face fewer unknowns, which results in fewer things that you have to be worried about now, and in the future.
Reasons to Prepare Even if Doomsday Never Arrives
Final Word
Hopefully, a Doomsday situation is something that you and I will never have to encounter, but these are some of the key reasons why you should be prepared, no matter what. Being prepared helps you develop certain skills, saves you money, and has you ready for any situation that is thrown at you. What are some reasons you can think of to prepare even if doomsday never arrives? May God Bless this world, Linda.
Copyright Images: First Aid Deposit photos_113665516_s-2019, First Aid Kit Deposit photos_114713868_s-2019