12 Tips Old Preppers Can Teach New Preppers
Sometimes finding out the hard way is the best way we learn, but it can be painful. For all you old preppers out there, I'm sure you have a number of instances where you look back and wish someone had been there to tell you how to do things differently. This is why I'm here to help new preppers, in order to help save them time, money, and so many headaches. Instead of letting you find out the hard way like I've had to on a few of them, here are 12 tips that old preppers can teach new preppers. 
Related: 10 Things They Don't Teach You in School
12 Tips Old Preppers Can Teach New Preppers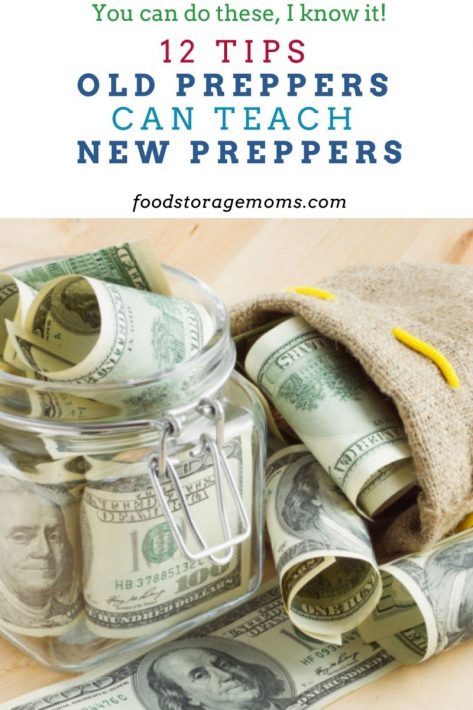 1. Find Ways to Lower Your Monthly Costs
Most people these days are strapped with their finances, giving them very little room in their budget for prepping. You may even argue with me that there's no money left over at the end of the week to be put towards prepping. What you need to do is to try to find ways to start living beneath your means. Right now!
Are there things that you could give up, or have your bills lowered so that you have a little extra that you can set aside? Maybe you need to say goodbye to cable television, or call and see if your cell phone company will work with you to get you on a lower monthly plan. You could also stop eating out as often, or spending as much on entertainment. In case you missed this post, How to Live Below Your Means
2. Prepping is about Being Patient
When preppers first start out, many of them try to gather as many supplies as they can in a very short amount of time. This can be expensive, and you may discover that you wasted some of that money. You may later find out that it's something that you didn't necessarily need. Prepping is about being patient. Do your research beforehand to find what works the best for you and your family, and also so that you can get your supplies at a cheaper cost.
If you need help on what to buy, please check out my book, "Prepare Your Family For Survival" by Linda Loosli. I would really appreciate a review of my book if you have time after you have purchased and read it. I thank you from the bottom of my heart. Click on the link above and it will take you to the place to do a review.
3. Don't Just Store Canned Food
There are certain individuals who only stock up on canned food that they will use following an emergency. Don't be one of those people. Not only will you get tired of eating it, but there's a lot of extra sodium that your family shouldn't have every single meal. Also stock up on dried foods, jerky, protein bars, and nuts. Just remember to stock up on food that your family actually eats. This is especially important if you have children. It won't hurt to have some of their favorite comfort foods as well. In case you missed this post, Canned Foods I Highly Recommend You Store
4. Stock Up On Plenty of Water
You can survive for a longer period of time without food than you can without water, so don't be caught without it. On average, each person drinks and uses (sanitation) about 1 gallon of water a day. At the very minimum, you need to have enough water stored to last for at least 72 hours (3 days). So if you have four people in your family, that's 12 gallons. I'd encourage you to go well beyond that. You don't have to rely on buying bottled water. You can also store your own water in large water containers so that you can have a larger supply.
Please keep in mind, I recommend storing 4 gallons of water per day per person. In case you missed this post, Water Storage-How Much Do You Really Need
5. Hygiene and Sanitation are Important
Hygiene and sanitation are usually the steps that rookie preppers tend to forget about, but they're actually pretty important. Keeping your body clean and making sure that your waste is properly disposed of will increase your chances of not getting sick. The last thing that you want is to be sick under these circumstances. You could actually die when there aren't any hospitals or doctors that can see you. Have plenty of baby wipes, hand sanitizer, and trash bags set aside. Please read the book, Five Days at Memorial, it will change your life, it changed mine.
In case you missed this post, Personal Hygiene-How To Survive Without Power
6. Agree on a Place Your Family Can Meet Up
Natural disasters can happen anywhere and anytime. There's the possibility that it could happen while you're at work and your children are at school. Be sure to come up with a place that your family could meet up should you all be separated when it takes place. If you have younger children, just encourage them to stay where they are until you can come to get them. Just do so without giving them too much information that might scare them.
In case you missed this post, How to Put an Evacuation Plan Together
7. Have More Than One Survival Kit
What are you going to do if the survival kit that is in your house is completely destroyed or lost during an emergency? I'll tell you what you need to do. Have other prepping items set aside in a different location not far from your home, in your bug-out location, or possibly in your car. The car may seem a strange place or storing the kit, but think about storing at least some of the critical items in your car in case you have to evacuate quickly.
In case you you missed this post, How To Make Your Own Emergency Car Kit
8. Keep In Shape
Imagine if you were required to hike a great distance with your family while carrying all of your supplies with you. Once you got to your location, you'd also have to make a shelter, fire, a meal, and so on. It wouldn't take too long before most of us are burnt out, and that's just day one. This is why it's crucial for you to start getting into shape and staying fit so that you'll be able to do the required tasks that are demanded of you.
It also helps to have others with similar interests get together and plan organized efforts, whether it's to "bug in" or "bug out." That way people can share in the steps necessary and spread the assignments over the broader group of people.
9. Have a Backup Plan
Just like with everything else that you prepare for in life, it's good to have a plan B and not just plan A. Who knows what kind of emergency you could be dealing with? You simply don't know if you'll be required to bug-in or bug-out, so I'd encourage you to be ready for both options.
10. Be Careful Who You Tell about Your Prepping
By telling the wrong sort of people about your prepping intentions, it could put you and your family in grave danger. Once a disaster has occurred, those people will remember you telling them about your underground fortress of supplies and pay you a visit. As mentioned above, foster friendships with individuals with common shared vision, goals, and priorities when it comes to preparation.
11. Learn New Skills Besides Prepping
Prepping is more than just stocking up on supplies, gathering enough food, and storing water. You're also going to be needing several skills as well. These survival skills will be important to have following any type of disaster. Some of these may require training and hours of hands-on experience so that you can properly use them when the time requires them.
12. Take Baby Steps (Tomorrow is Not the End of the World)
I already kind of mentioned this, but prepping is about taking small steps. After all, hopefully the end of the world isn't going to take place tomorrow. There's no reason that you should ever panic and freak out your family members. Remember to enjoy your life in the present, but continue to prepare for disasters in a patient manner. This is something that all old preppers need to teach new peppers.
12 Tips Old Preppers Can Teach New Preppers
Final Word
Has there ever been a moment in your life where you were new at something and it would have been nice if someone had given you a few pointers to keep you from making a big mistake? I know I've been there. For all you new preppers out there, I insist that you use these 12 tips to get you started and help you from making simple mistakes that many new preppers make. What are some other tips that new preppers should also know about? What is something new you hope to learn about as an old prepper? May God Bless this world, Linda
Copyright Images: Dollar Bills in Bag and Jar Deposit photos_11249605_s-2019