Personal Hygiene-How To Survive Without Power
Personal hygiene, how to survive without power is the topic of the day. In case you may have missed some of my posts, I am often asked to speak to different church groups, businesses, and neighborhoods about emergency preparedness and food storage.
I hired a friend to take professional pictures of my emergency preps, cooking devices, washtubs, emergency toilets, emergency cooking stoves, and fuel, to name a few. I am no longer able to physically carry everything with me to all the classes or presentations.
I'm not sure how much longer I'll be able to continue to do these presentations. I'm honored to be able to teach when I can to get the word out about being prepared for the unexpected. Today, let's talk about personal hygiene.
I'm so thankful to my reader who I call a friend, Joanne for asking me to put a "print" button on my website. I want people to be able to print my articles and teach others in whatever manner they feel comfortable. You are welcome to share my pictures and teach your family, friends, and neighbors.
I realize some people "get it," but many are not interested in any preparedness items or having food storage, which I think is too bad. Somehow we need to help others to be prepared for the unexpected. After a disaster, the government may not be able to bring supplies for 3 days, 3 weeks or 3 months, depending on the type of disaster, where you live, and the government agencies assigned to work in your area.
A few years ago I talked to my sister in Texas who at the time lived near where Hurricane Harvey was a Category 4. She said the gas pumps were empty, the store shelves were empty and no one could buy any water.
I remember calling my sister to check on their family before the authorities started evacuations. She called friends in other cities in Texas and they were in the same predicament.
Here's the deal, in some areas near Hurricane Harvey they were asked to evacuate or try to get supplies, if possible before the storm hit their location. I heard the City Manager in one city ask those people who declined to evacuate to please write their social security numbers on their arms so they could be identified after the storm.
I took a double-take on that one. I had to rewind the DVR to make sure I heard that right.
Here's the deal, we never know when our neighborhood, city or county may have a disaster just like Hurricane Harvey.
How to Survive Without Power
There are certain things we want after a disaster like we at least want clean underwear, right? I think we can all agree on that one. I have seen fancy wringer washers from different stores, I have not purchased one of those yet. It's on my wishlist, but here are a few ways to wash our clothes without any power.
In most cases, we may lose power after a major, or even a minor disaster. I hope you can use some of these ideas for those unexpected disasters. The water lines may even become contaminated, but I'll talk about that another day.
Just so you know, the American Red Cross recommends storing one gallon of water per person per day. I disagree. That amount is fine if you only want to hydrate yourself, but what about washing dishes, washing our underwear and cooking with dehydrated or freeze-dried foods? I highly encourage you to store 4 gallons of water per person per day.
Wash Tubs and Wash Boards:
Those shown below are Behrens wash tubs I purchased on Amazon and the washboard I found at a thrift store. The clothespins are made by Kevins Clothespins. I have purchased many brands of clothes pins that fell apart after using them once, this brand is the only one I can endorse.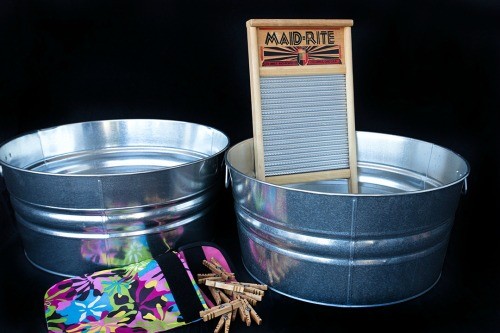 You may have seen the post I did on making these emergency washing machines shown below. This set basically takes two 6-gallon buckets, one we drilled holes in so there would be a bit more friction when washing or rinsing clothes.
You need one Gamma lid (we drilled a 2-inch hole in the top) with one mobile washing tool with a handle. I place paper towels between the buckets when stored. They are impossible for me to separate them without that buffer.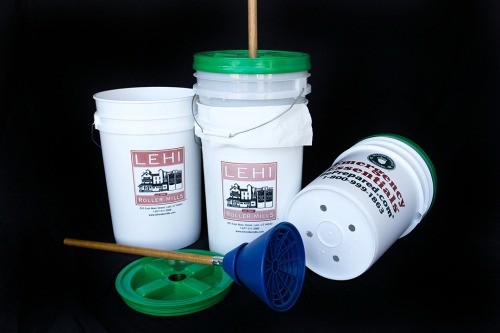 I did a YouTube for a company called Earth Easy that they use on their website. They sent me the clothesline to try and I highly recommend one. I can close it and store it when not in use. It's perfect for the HOA I live in. If you already own a clothesline, I tip my hat to you! Thank you for being prepared. You're going to need it, I promise.
Emergency Toilet Ideas
The picture below shows the difference between a 5-gallon and 6-gallon emergency toilet. The older you get the harder it is to squat down on the lower toilet.
Here are some things you will want to store inside your emergency toilet: hand sanitizer, toilet paper, 10-gallon bags, kitty litter or sawdust. The #10 can potty is a post I wrote for emergency toilets in cars. And don't forget the toilet seat.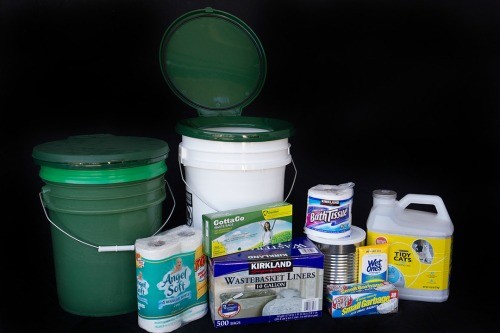 Sturdy Toilet Set
This emergency toilet was made by a nephew, Dayne. I'm having a friend make one for me and hope to share the instructions on how to make one. This one uses a regular toilet seat that is attached and a 6-gallon bucket. If you are handy you can probably build your own around the bucket.
Dayne even attached a toilet paper holder on the side. When I saw this, I almost did a cartwheel, or at least I wished I could do one. I was so excited to see this design.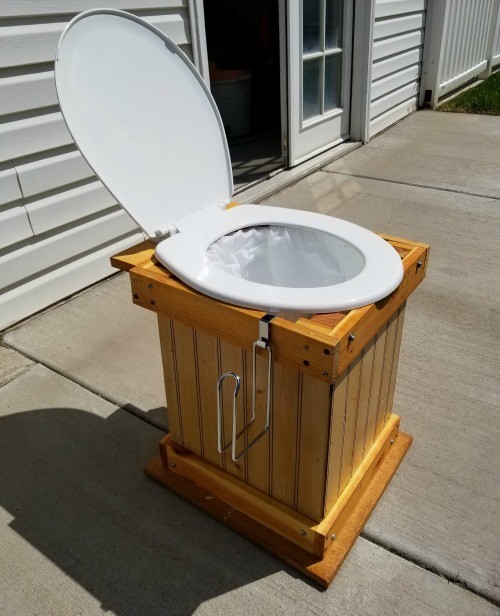 This picture below shows an approach anyone can make in their own home. Please duct tape the handle so the little ones do not try and flush the large black 30-gallon garbage bag down the sewer lines. All you do is lift the toilet lid and seat, place the bag in the toilet base and fill with kitty litter.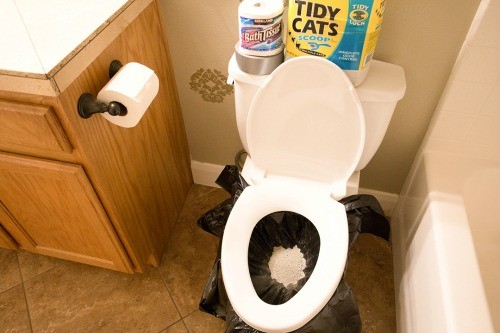 If you have a flushable toilet from a trailer, those work great and are fairly inexpensive. Flushable camping toilet
Rose reminded me about storing baby wipes! I wrote a post about baby wipes. Remember even if they dry out, you can fill the container with a little water and they work fine!
Emergency Shower
I went and visited my doctor who is a prepper and he showed me his water bottles for personal showers! Oh my gosh, why hadn't I thought of that? I quickly ordered some online Zep Water Spray Bottles (32-ounce size). Yes, baby wipes work, but I can now wash and rinse my hair and clean other critical areas on my body! Just fill the bottles when needed.
Final Word
I have wheat buckets so I decided to save money and make my own toilets. Thanks again for being prepared for the unexpected. May God bless this world at this time. We need it more now than ever before. Yes, you can survive without power because you are ready and realize you can't depend on the government. They can't begin to take care of everyone, as we have seen after several disasters. We must take care of ourselves and be self-reliant. Do you think we can survive without power? Yes, we can.
Copyright Images: Depositphotos_59015065_m-2015
Survival food storage by Linda