Top Emergency Toilet Options
Though no one really likes to talk about it, relieving ourselves of bodily waste is something that we all have to do several times each day. Every single one of us takes for granted just how good we have it, with the porcelain thrones that not only provide us with comfort, but also a cleaner and safer way to keep our business sanitary. But think of what it would be like if one day you woke up and your modern luxurious toilet was no longer an option. With useless toilets in your home that could no longer flush, things would get real messy and smelly in a hurry. What would you do?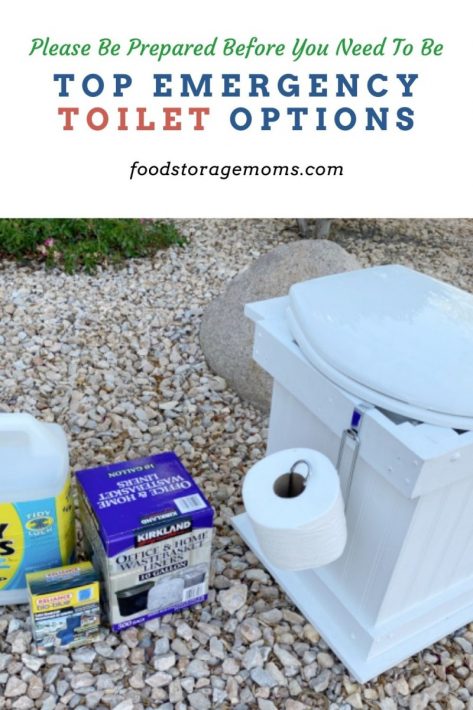 This is one of my Emergency Toilet Options
My nephew, Dane R. built this for me, it uses a six-gallon bucket, lined with a 10-gallon bag, with a layer of cat litter. You can use sawdust or any filler that will absorb liquid. The cheapest place to buy the 10-Gallon Bags is at Costco. I like to buy the Cat Litter in buckets because I can reuse them and I store them as-is on my prepping shelves.
Dane basically took a six-gallon bucket and built a toilet frame around it. He added a regular toilet seat and a toilet paper holder for a roll to have ready when needed. You can store the kitty litter and the box of 10-gallon bags inside the homemade toilet. He used scraps of wood, it's super awesome.
Now, we need to be prepared to dispose of the waste. In case you missed this post, How to Deal With Human Waste When the Power Goes Out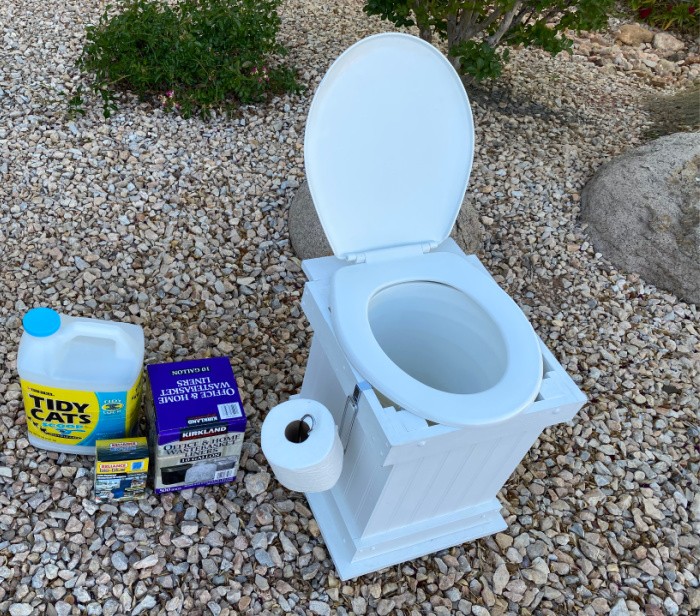 My Emergency Toilet Options
Top Emergency Toilet Options
If your family is ever faced with a long-term survival situation, having toilets available would definitely be something that you would have to figure out. It's not like you can go just wherever you want or dig up spots in your backyard when you have to go #2. Failing to deal with your family's waste properly could end up getting you and your clan seriously sick, even to the point of death. You're going to need to know about the different types of toilet alternatives that would work in the meantime. Here are some of the top emergency toilet options that would keep your situation sanitary.
1. The Cathole
The cathole is the easiest and quickest way to dispose of human waste, but it's certainly the least comfortable and sustainable of all of the options I'm going to share with you. That's because you're literally squatting over a hole without anything to support you. You will also have to dig a hole each time someone in your family has to go.
In order to build one, you simply use a shovel and dig a hole that's about 6 inches deep. Once you're done, bury and pack it down with dirt. Keep in mind that the cathole is not a long-term solution, but it will work if you're ever in a pinch. Using this method for a longer period of time could cause serious problems for the environment, as well as for your family's health. It's meant to be used when you're out hiking in the backcountry, not for families that continue to live in one place.
2. The Latrine Trench
The latrine trench is similar to the cathole, but instead of a hole, you are digging a trench that should be 4 to 6 ft long, 1 to 2 feet wide, and 2 to 2.5 feet deep to work as a makeshift bathroom. You can also build a lean-to toilet seat directly over the trench with an A-frame design made of strong branches and whatever type of cordage you can come up with.
The latrine trench can work for your family for a much longer period of time than the cathole, but it too, is still considered to be a short-term solution for waste management. Once it's reached capacity, you will need to cover it with dirt and then move on to a new location.
3. The Portable Camping Toilet
The portable camping toilet offers you a little more comfort and a safer way to contain your waste. All you need is a bucket with a makeshift toilet seat placed on top. Once you're finished, simply dump the waste in a latrine trench and you're done. Many people prefer to place a plastic bag liner on the inside of their toilets so that there's less mess to deal with. This is fine, but keep in mind that this can create a serious issue for the environment if you do this for a long period of time. This is because it takes plastic an incredibly long amount of time to decompose and you have to determine the best location to take the bags for disposal.
4. The Outhouse
With a little more planning and effort on your part, the old-fashioned outhouse is a great emergency toilet option. It will provide your family with privacy and help to somewhat contain the unpleasant odors of fecal matter. For this one, you will need to dig a very deep and wide enough hole in the ground, and then build a privacy shed over it with a toilet seat that you install.
But even an outhouse will eventually fill up at some point, leaving you with only two options. One, you can cover up the hole and relocate your outhouse someplace else. Or two, you will need the right equipment in order to pump out the waste so that you can continue using it where it's currently located.
Final Word
During a survival situation, keeping your family safe and healthy should be your number one concern. This is why you need to be sure that you have an emergency toilet alternative already in place if your toilet is no longer functioning. Which of these emergency toilet options do you think would work best for you and your family? Can you think of any other toilet options that could be used? May God Bless this world, Linda.