Back To Basics: How To Make A Portable Kitchen

My Back To Basics: How To Make A Portable Kitchen is part of my weekly series to help us all be prepared for the unexpected. I recently visited my daughter and her family for four wonderful fun filled weeks. I tried to give my very ambitious daughter a little break by making a few meals each day for her and the family. You know it's funny how I assume everyone has a Danish whisk, or a hand mixer, or whatever. You know, like everyone even knows what a Danish whisk is.

MY LATEST VIDEOS
I had never heard of one until my friend, Melissa Richardson who wrote the book: "The Art of Baking Bread with Natural Yeast" introduced me to one. She has since written another natural yeast book, but she showed me how to use of one of these: Danish Dough Hand Whisk / Mixer 11″ or 14″
  I prefer the 11-inch one because the metal whisk end will fit inside a wide mouth mason jar to make natural yeast, salad dressings or whatever. The large one is too large for the jar opening. The large one is great for cake batter, pancake batter or muffins, etc.
Please picture me at my daughter's home in her kitchen fixing meals without my usual kitchen tools. She has plenty of my favorite kitchen tools, but she had some measuring cups I could not read the 3/4 or 1/4, etc. I know it's because my eyes are not as good as they used to be, so of course, I ordered her a set of my favorite measuring cups: Measuring Cups 7 Piece with New 1/8 cup (Coffee Scoop) by KitchenMade-Stainless Steel-Nesting set.
 and my favorite measuring spoons: CIA Masters Collection 6 Piece Measuring Spoon Set
The old ones she had worked great for my daughter, but I could not see the amounts on any of them. My point today is if by chance as neighbors or our community had to gather at a local building, such as a church or school, will the kitchens be equipped with utensils we need. I'm sure we would all make do, but if we can plan in advance we are ready to prepare and serve the meals to feed some very hungry people after a disaster or unforeseen power outage. Or maybe even something worse.
Now I call this my mobile portable kitchen, but I did not put cookware, dishes or silverware in this container. I did put serving utensils and so much more, but I wanted something I could transport very easily. It's ready when I need it at a moment's notice. My friend, Lisa and I were talking because we both are prepared chicks and we got to talking and decided this is what we both needed. I did not put any food in this gem because we have critters here in Southern Utah.
But I will tell you this, I am prepared to cook anywhere. I will grab my cast iron pans, paper plates, cups, plastic silverware and I'm good to go. They are placed neatly next to each other right next to my 72-hour kits. This is the one I bought, it's a Stanley Fatmax on Amazon: Stanley Fax Max.  All we need is the food, a stove and we are good to go! Yes, I can cook anything outside with solar, wood, propane, briquettes, etc.
Mobile Portable Kitchen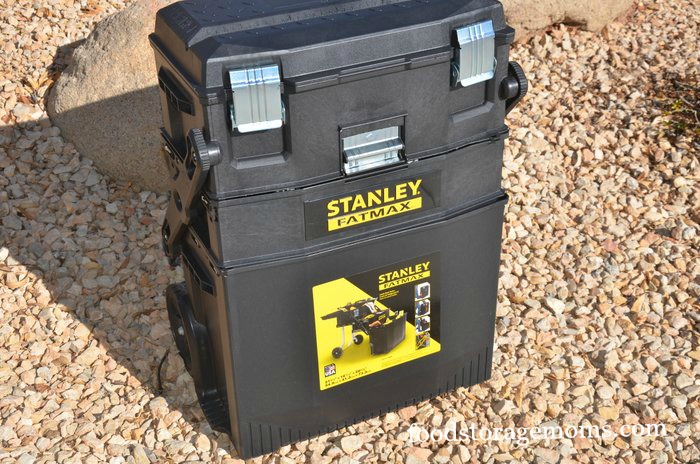 I will tell you row by row what I put in each section. The first top "tool" container/compartment sits on top of the top opening that has my dishwasher liquid soap (in a ziplock bag). I have 2 light sticks and six kitchen knives enclosed in knife sheaths. This section sits on top of the second compartment. A portable kitchen, who can use one of these for camping?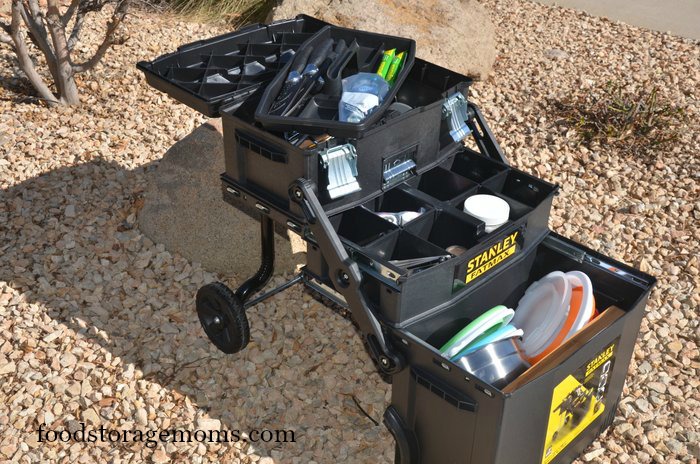 Top Compartment:
Dishwasher soap
Six kitchen razor-sharp knives with protective sheaths, 8″ chef knife, 8″ slicing knife, 7″ Santoku knife, 5″ Santoku knife, 5″ utility knife and a 3″ paring knife. Chef Essential 6 Piece Knife Set With Matching Sheaths, Black
Two light sticks
Two bottle openers
Second Compartment:
Flashlight: batteries do not store well here in So. Utah so I opt for solar flashlights. This is the one I recommend: Goal Zero Torch 250 Flashlight with Integrated Solar Panel
Silpat mat: you can use these inside cookie sheets, but you can also set hot pans on it
Hand-egg beater: Danesco 12-Inch Rotary Egg Beater
Rolling Pin: I use a rolling pin to make cinnamon rolls and roll out my pizza dough, I'm sure a lot of people make pies….
Pizza Cutter: I love pizza baked outside on a cast iron pizza pan: Lodge Pro-Logic P14P3 Cast Iron Pizza Pan, Black, 14-inch
Danish Whisk
3-piece silicone spatula set (12-inch, 9-inch, and 7-inch) Heat resistant to 450 degrees
Two stainless steel whisks: one thing I must say, I bought a set of three whisks from Amazon and ended sending them back because they would have bent just scrambling some eggs. I opted for these: Norpro 2314 Krona 9-inch Stainless Steel Whisk
 and these: Norpro 2316 Stainless Steel Krona Whisk, 13-Inch
One pancake turner
One slotted spoon
Kitchen shears with sheath cover
(25)  33-gallon size garbage bags
Tongs: short for cooking and long ones to move the hot coals around if you are using a Dutch oven, etc.
Two aprons with pockets
Third Compartment
Measuring cups
Measuring spoons
Toothpicks
Salt & Pepper: I decided against storing any other spices besides salt and pepper (this is my disaster mobile portable kitchen) need I say more?
Two bottle openers
Matches
Coconut oil: I chose coconut oil because it will last longer than olive oil, or any other oil for that matter.
Vegetable peeler
Hand sanitizer
Baby wipes
Firestarter: Aurora Fire Starter
Fourth Compartment
Collapsible colanders
Stainless steel bowls with lids: five, three and 1.5 quarts. I need at least a 5 quart to make two loaves of bread. Remember the bowl needs to fit in this Stanley Fatmax. I bought these: Cuisinart CTG-00-SMB Stainless Steel Mixing Bowls with Lids, Set of 3
Dish rags
Dish towels
Cloth Diapers: (instead of paper towels), these can be used for so many things. Gerber Birdseye 3-Ply Prefold Cloth Diapers, White, 10 Count
Red silicone hand gloves: heat resistant to 425 degrees Oven Mitts Gloves, Heat Resistant Silicone Gloves BBQ Grilling Gloves for Cooking Baking Barbecue Potholder
Red silicone hot pads
Heavy duty hot pads
Aluminum foil
Plastic wrap
Parchment paper
Ziploc gallon size baggies
Dough scraper: I use this when I make bread, cinnamon rolls and so much more: OXO Good Grips Multi-purpose stainless steel scraper & chopper
Bamboo wooden cutting board with interchangeable plastic inserts: Seville Classics Bamboo Cutting Board with Removable Cutting Mats
I actually added more items to my portable kitchen as I filled it because it had more room than I thought. One thing I added was a rolling pin and a pizza cutter (not shown in picture). It has plenty of room for several spices or small containers. I also added a package of baby wipes and a bottle of hand sanitizer (also not shown in picture). If your family likes spending time in the mountains, by the lake, or just around the corner at the local park, you'll love having one of these Stanley units.  Stanley is known for quality as evidenced by the great tools they make. If cared for, this unit will last you a long time. Consider buying one as a family and be willing to share for all to enjoy. Get one and start making some memories, besides being as prepared as possible for the unexpected events that come our way when we least expect them. Please let me know if you make a portable kitchen! Enjoy!
FREE PRINTABLE: Mobile-Portable-Kitchen-by-Food-Storage-Moms 2016
Comments from readers:
Margene has a very similar post to mine:  DIYPreparedness Kitchen
Sammie: I would add a nail brush or 2. One for your nails and one for veggies etc. I just got some super ones from Lee Valley. These are the best one's I've found and much cheaper than those at the kitchen shops etc.