20 Refreshing Homemade Popsicles
Stay cool and hydrated with these refreshing homemade popsicles that are guaranteed to be a hit with kids as well as adults! Popsicles are not only easy to make, but they're usually far healthier since you know exactly what's going into them. Take advantage of fresh fruit such as strawberries, melons, peaches, blueberries, kiwi, lemon, and watermelon to add flavor and color to these icy treats.
Add creaminess to homemade popsicles with coconut milk, yogurt, almond milk, and more. Tasty inclusions like bananas, peanut butter, chocolate, and even crushed cookies can add a fun twist to these ice pops. You'll love the range of recipes to explore and make with this homemade popsicle collection. Which one will you try first? Popsicle Molds
In case you missed this post, 20 Summer Farmer's Market Recipes
20 Refreshing Homemade Popsicles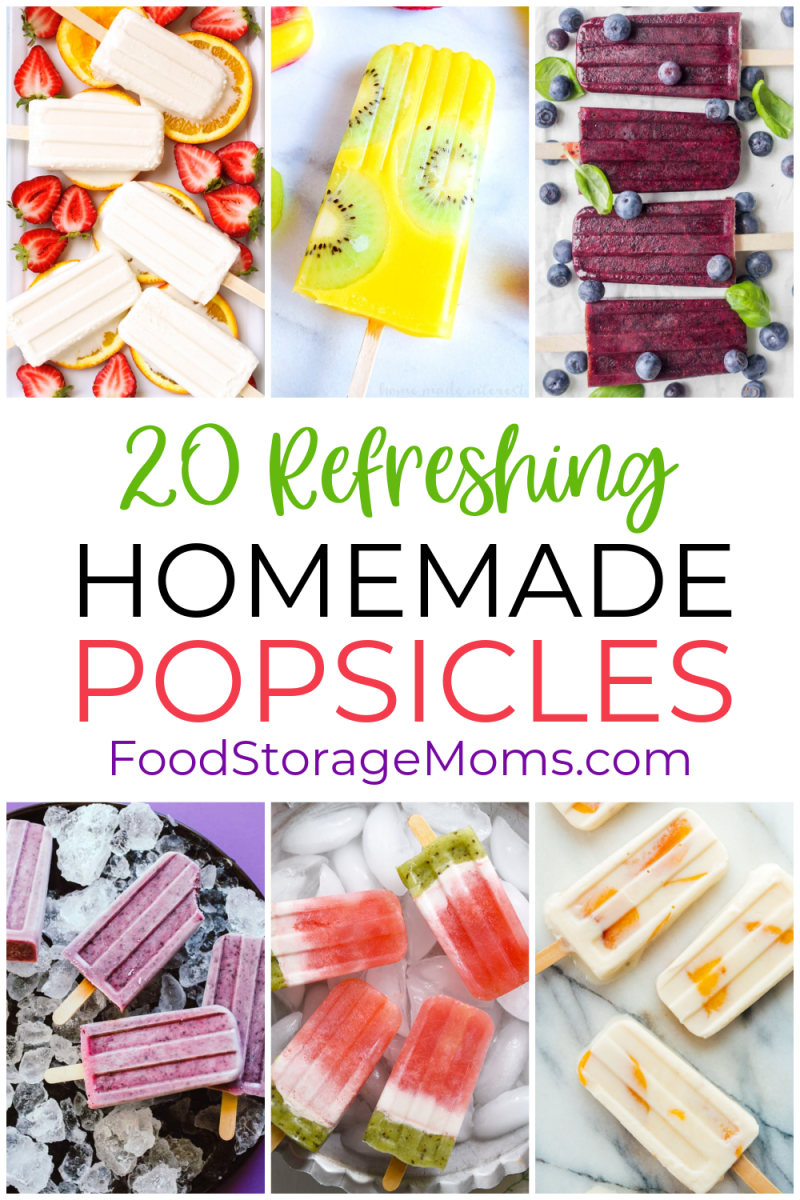 Homemade Watermelon Popsicles by Mighty Mrs
Thanks to its natural water and sugar content, watermelon freezes into wonderful popsicles. You can easily replicate the green, pink, and white colors of watermelon by using this creative recipe that adds a little layer of yogurt and finishes the molds by adding pureed kiwis. It's a delightful popsicle that looks just like a watermelon!
Key Lime Popsicles by Tutti Dolci
Tart and sweet, these lovely popsicles will remind you of a summery key lime pie. The base is a delectable mixture of sweetened coconut milk, lime zest, and lime juice for a tangy punch of flavor. Pour it into the molds and add a layer of graham cracker crumb for that classic pie taste. What could be better?
Naturally Sweet Blueberry Popsicles by What Molly Ma
Gorgeous and healthy, these blueberry popsicles are almost too lovely to eat…almost! Made with fresh blueberries, a little honey, and optional but highly recommended fresh basil, blend up these ingredients and pour them into popsicle molds. These fruity pops are a guaranteed crowd pleaser!
Cherry Yogurt Popsicles by Recipe From A Pantry
Perfect for a snack or as a breakfast item, these yogurt-based popsicles offer pitted cherries as a sweet fruit and a smattering of granola for a bit of crunch. They're a great way to get kids (or adults) to start their day with a healthy treat. No cherries? No problem. Just try another fruit!
Chocolate Banana Popsicles by Caramel And Cashews
Bananas and chocolate are a favorite flavor combo and here they join forces to produce a mouth-watering frozen treat. These 3 layer popsicles are formed from a chocolate layer, a peanut butter layer, and a chocolate chip crunchy layer. Super easy, super delish, and completely irresistible!
Mango And Fruit Popsicles by Homemade Interest
Suspend sliced kiwi and strawberries in this lovely mango popsicle base for a scrumptious frozen treat. There's no added sweetener, just the natural sweetness from the pureed mango. Add the sliced fruit to your popsicle molds and then fill the molds with the mango puree and freeze. Stunning!
Cookies And Cream Popsicles by Salt And Baker
Crushed Oreo cookies in a base of cream cheese, milk, and yogurt offer a delectable frozen treat that's sure to satisfy your sweet tooth. Keep the base creamy by using a hand mixer to ensure there are no lumps before adding the crushed cookies and pouring them into the popsicle molds. Ready in just 4 hours, these freezer pops are always a hit!
Iced Coffee Popsicles by The Flavor Bender
No worries! You can get your caffeine fix in this frozen form that's perfect for hot afternoons. You'll love this recipe that infuses ground coffee with coconut milk. This way, the popsicle is creamy and milky without being overpowered by a strong coffee flavor. So good!
Homemade Strawberry Yogurt Popsicles by Tastes Of Lizzy T
Fresh strawberries season is the best time to make this sweet berry and yogurt popsicle. Puree a fresh berry mixture and set aside. Mix a sweet yogurt combo and set aside. Start with pouring the strawberry puree into the molds, then add the yogurt mixture and finish with just a few spoonfuls of strawberry. You'll get a lovely layered look that's ready for an overnight session in the freezer.
Peach Honey Popsicles by Cookie and Kate
Infuse yogurt with the sweet taste of roasted and juicy peaches in this easy popsicle recipe. You need a little honey mixed with full-fat plain yogurt, vanilla extract, and a bit of lemon juice for the most creamy and luscious peach popsicle you've ever eaten. Swoon!
Mint Chocolate Chip Greek Yogurt Popsicles by Marsha's Baking Addiction
Two complimentary flavors come together in this mint and chocolate popsicle with a yogurt base that's boosted by refreshing peppermint extract. A smidge of green food coloring will lend the characteristic green color that looks simply smashing against the dark brown chocolate layer that the frozen pops are dipped in before serving. So dreamy!
Banana Cream Pie Popsicles by Big Bears Wife
This dessert-inspired popsicle tastes just like a banana cream pie. The pops even have the classic vanilla wafer as a crunchy garnish! These popsicles start on the stovetop to replicate the creamy banana pie flavors before adding the mashed bananas, spices and whipped topping. Mix together and pour into the molds. Kids, as well as adults, love these awesome pops!
Honeydew Mint Popsicles by The Chunky Chef
Melons make awesome ingredients for popsicles due to their high water content. Here, honeydew melon pairs with a little lime juice, a little sugar, and fresh mint leaves for a gorgeous and refreshing frozen treat. You'll love the flavor combination from these easy-to-make pops.
Cherry Pineapple Popsicles by The Little Epicurean
Pineapple and pitted dark cherries give these popsicles a pretty hue as well as a punch of summer fruit goodness. Layer the frozen pineapple puree along with the cherry puree for this dramatic look. One taste and these will be your new favorite popsicles, they are so good.
Coconut Popsicles by Little Spice Jar
Go tropical with these 4-ingredient popsicles that are full of shredded coconut flakes in a creamy base. Sweetened condensed milk, coconut milk, and heavy cream create the heavenly mixture that's studded with coconut flakes. Pour into the molds and freeze. What could be easier?
Blueberry Cheesecake Popsicles by Amanda's Cookin'
Blueberries, yogurt, cream cheese, and a dash of honey are a sweet blend that gets poured into popsicle molds for a delicious and pretty frozen pop. It's cheesecake on a stick! It's a healthy and refreshing way to eat one of the summer's favorite berries!
Dairy-Free Fudge Pops by Kleinworth Co
Pure chocolate flavor enhanced with coconut milk and a dollop of honey is what you get with this cocoa powder is frozen fudge pop recipe. Blend, pour and freeze this classic frozen treat that's a favorite with kids as well as adults.
Orange Creamsicles by Vegan Huggs
You'll enjoy the punch of sweet citrus with these orange creamsicles that use fresh oranges, coconut milk, and orange zest to create these hydrating pops. Your blender does the hard part and your freezer finishes the job. What could be better on a hot summer day?
Raspberry Lemonade Popsicles by Coffee With Us 3
What's more refreshing than the bright taste of lemonade infused with fruity raspberry? Here, you'll make lemonade popsicles with fresh raspberries peaking through the nearly translucent pops. Simple, pretty, and refreshingly delicious!
Chocolate Chip Cookie Dough Popsicle by Pass Me Some Tasty
These chocolate chip cookie pops are the perfect way to indulge in your cookie craving when it's too hot to bake! Made with almond milk, almond butter, and studded with chocolate chips, this recipe is a fun way to eat cookie dough in a healthy and frozen form!
Final Word
I can remember making homemade popsicles when my daughters were young, oh the great memories. Let me know if you make your own popsicles. It's all about cooking or freezing from scratch with our kiddos. May God Bless this world, Linda