Hygiene Tips for an End of the World Scenario
Today, it's all about the hygiene tips that everyone needs during an end-of-the-world scenario. When a disaster strikes, most people tend to focus only on their immediate needs, like making sure they have shelter and enough food and water to hold them over. Yet many preppers don't even realize the ramifications of neglecting their personal hygiene during that period of time.
It may be hard for some of you to believe, but failing to keep good hygiene would not only take a toll on your health, but it could also prove fatal at an end of the world scenario. So I'd like to spend a little time with you and go over a few tips that would be essential if S ever HTF. Let me remind you that I prep for unexpected situations, not necessarily for the end of the world.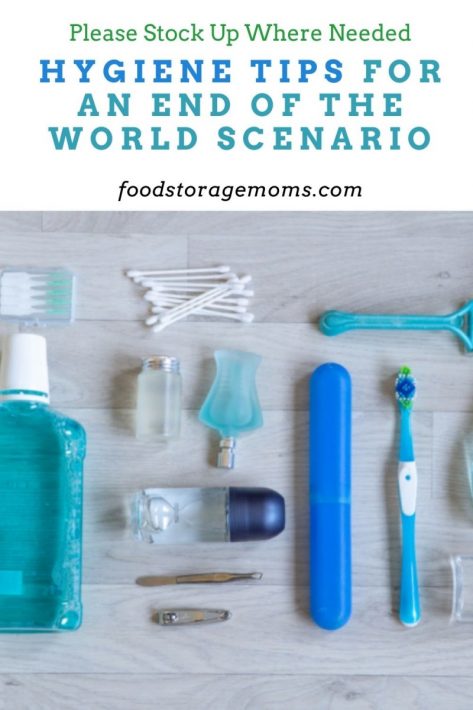 Ensure that You Have Clean Water
Without a supply of clean water, you will have a hard, if not an impossible time maintaining good hygiene. It's already the number one essential supply item that every prepper should have for their drinking purposes during an emergency, but having clean water also for your hygiene is something that should not be ignored. By now you know I recommend 4-gallons of water per person in your family per day. The American Red Cross recommends one gallon per person per day. That's just not enough, my friends.
Filling your bathtub with water, along with stocking up on dozens of cases of bottled water will be an immediate solution, but that will only get you so far. For an end of the world scenario, you will need a drinking source once your stockpile of drinking water has run out. If you have to leave your home and head off the grid, it would be crucial if you lived close to a stream or lake. Digging a well for your water supply would be even better. Lastly, consider using rain barrels for backup, and boil your water to make sure that all parasites and bacteria have been killed.
You can consider checking into and using a WAPI. I quote Sun Oven WAPI, "A WAPI is a reusable transparent tube which contains wax. The wax melts and drops to the bottom of the tube when it reaches 150°F (65°C) for 6 minutes indicating that the water has been pasteurized and is now safe to drink."
Stock Up on Supplies
As a prepper, it's imperative that you plan and prepare ahead for an emergency, and even more so if you're gathering enough supplies for your entire family during an end of the world scenario. These are some of the hygiene items that you will need to stockpile to maintain good healthcare:
Antibacterial soap
Shampoo
Deodorant
Hand sanitizer
Toilet paper
Wet wipes (anti-bacterial and regular)
Tampons
First aid kit
Castile Soap (is great to stock up on) Incase you missed this post, What is Castile Soap and Why You Need It?
Getting Clean
As long as you have a supply of clean water, staying hygienic will still be possible. But if you no longer can get hot water from the shower in your home, fret not, all hope is not lost. You can still use a camp shower or a solar shower to get clean. You'll just need to fill the bladder with water and then hang it from a tree branch. The sun will heat the water so that you can still enjoy a warm shower, even if it is the end of the world.
Keeping "Your Business" Sanitary
Even if your home septic system is still working following a major disaster, that will be the case only for a short period of time. You will need to have another sanitary method, especially when you have to go number two. If you're able to remain in the comfort of your own home, you can always use a bucket of water to flush your waste.
If you're living off the grid, you will need to dig a pit so that you can use it as a pit toilet. Just make sure you dig the hole at least 200 feet away from any water source. Make sure that your family members wash their hands with soap and warm water, or at least use hand sanitizer every time they use the pit "restroom." Here are more waste disposal methods that you may find helpful.
Don't Neglect Your Dental Health
While you certainly will have your hands full during an end-of-the-world scenario, it's still not the time to get lazy about taking care of your mouth and teeth. Your dental health affects not just your teeth and gums, but can also play a huge impact on other areas of your body, including your heart.
Consider stocking up on not only toothpaste, but also sugar-free gum, mouth wash, toothpicks, and dental floss. Baking soda is another substitute that you can use in the place of toothpaste if you one day you were to run out, so don't hesitate to stock up on that. Another thing you can do if your situation gets desperate enough, is to chew on sticks like the Ancient Egyptians, Greeks, and Romans did.
You may want some temporary tooth filling/crown repair for emergencies Den Tek or Den Tek Instant Oral Pain Relief
Managing "That Time of the Month"
Unfortunately, a menstrual cycle isn't going to wait around until your situation improves. It's gonna show up just like it always does, so don't allow that time of the month to surprise you by not having enough feminine supplies to hold you over. Don't hesitate to gather more tampons, pads, and sanitary napkins than you know what to do with, because following a major disaster, they still will only last you so long.
If you're looking for a long-term solution besides these, reusable rubber cups are a way to go. They'll last for a long time, as long as you store them in a dry sealed container each time after they've been washed. You can always make Reusable/Washable Menstrual Pads with my pattern, How To Make Reusable Menstrual Pads
Keep Up with the Dishes
Most of us take for granted that we have dishwashers to help us keep up with all our other household chores. However, if your home no longer has electricity, you'll be left cleaning them by hand. This is important so that bacteria don't start to grow. You will have to find a way to heat some water, and use soap to keep your dishes clean.
I'd also encourage you to have an abundance of paper plates, cups, and eating utensils. This will help balance out your stockpile of soap and fuel to heat the soapy water and rinse water. If you're sharing your dishes with a group of people, it wouldn't hurt if you rinse your dishes with a light bleach solution.
Keep Up with Laundry
If I see or hear that a storm is coming, my prepping instinct kicks in by way of looking in the laundry bin. The power may stay on or it may stop without any warning. So, I start the laundry immediately, I rarely have more than two loads of wash since we are empty nesters. But, I would rather have all the laundry done before I have to wash it by hand or hang it up to dry. I hope you have thought about having an emergency washing machine, yes, you can use your bathtub as long as the sewers are not backed up. If you can't drain the water, you will be sorry, just giving you the heads up here.
In case you missed this post on laundry, How To Clean Your Laundry After A Disaster. My new favorite emergency washing unit is now the Lavario, (currently unavailable), it can do sheets and blue jeans.
Hygiene Tips for an End of the World Scenario
Final Word
These are a handful of hygiene tips for an end of the world scenario. Hopefully you found them to be both insightful and informative while noting the steps that you should take to keep you and your family healthy following a cataclysmic event. What are some other things that you could do to maintain good hygiene? May God Bless this world, Linda.
Copyright Images: Personal Hygiene AdobeStock_346924327 by HildaWeges