How to Make Your Water Safe

Having safe drinking water is essential for everyone's survival following a major disaster, but that's usually one of the first things that go. Whether you're dealing with a boil water notice, flooding, or even an earthquake, the clean tap water from your kitchen sink may have been compromised. Would you know how to provide your family members with their next glass of water?
Following a disaster, it's extremely important that you make sure that your drinking water is safe to drink. Failing to do so could risk not only you but one of your family members from getting seriously sick. Listed below I have a handful of different methods that you can use to ensure that you have clean water to drink. Here's more on how to make your water safe.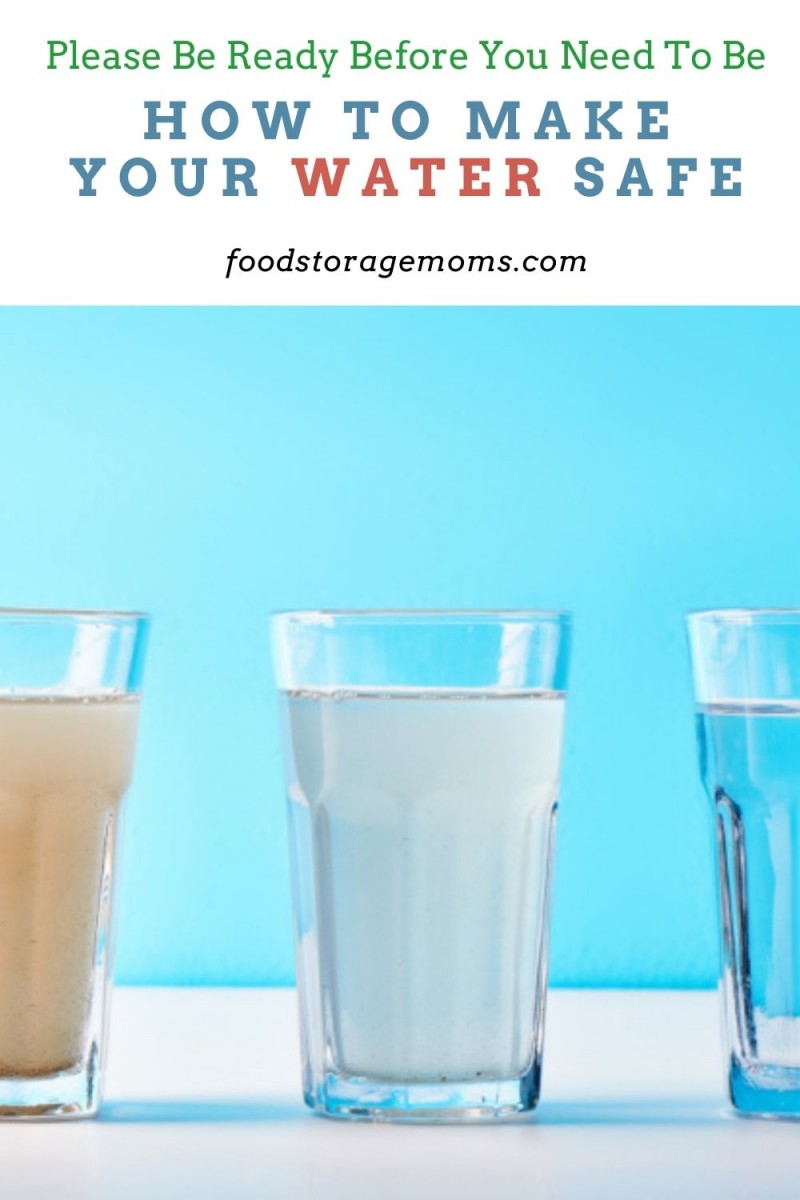 Boil Your Water
The boiling method is probably the best natural way that you can use to make sure that your tap water is safe to drink. It will ensure that all parasites, bacteria, and viruses have been killed in your drinking water. If you live in a big city, or a remote area, you may already be doing this with your water. However, before you boil it, see if your water is cloudy. If so, you will need to filter it through a clean cloth or a coffee filter in order to remove larger particles in the water. You may need to repeat this process more than one time. Please get a Butane Stove with Fuel to boil water if need be.
Now it's time to put your pot of water on the stove and bring it to a rolling boil.
Allow the water to boil for a little over a minute, but if you live in a region that is above 5,000 feet in elevation, boil your water for at least 3 minutes.
Allow it to cool and then move it to a different container that you can put a lid on.
Before drinking, move the water from side to side.
This will help improve the taste. You could also try and pour it into a different container that you could drink from, which would also help with the flavor. 
This is something you can do to make your water safe.
I quote the CDC on Boiling Water:
"Bring the clear water to a rolling boil for 1 minute (at elevations above 6,500 feet, boil for three minutes).
Let the boiled water cool.
Store the boiled water in clean sanitized containers with tight covers."
Use a Disinfectant: Household Bleach
There are times when boiling water is simply not an option. If this is your current situation, the next best thing that the CDC encourages you to do is to use household liquid bleach to purify your drinking water. This method should kill a vast majority of the parasites or bacteria that may be lurking in your water, but it may not kill 100% of them. Another thing that you need to think about is if your drinking water has been contaminated by a certain chemical, adding a disinfectant will not make your tap water safe for drinking purposes.
When using household bleach to clean your water, make sure that you are using an unscented bleach that contains 4% to 6% chlorine.
Also, if your drinking water happens to be cloudy, you will need to filter it in some fashion first.
Using a coffee filter as many times as you need to is one solution.
For every liter of water that you use, you will need to add 2 drops of unscented bleach (using an eyedropper) to it.
When you're working with a gallon of water, you will need to add 8 drops.
Give it a good shake and allow it to sit for at least 30 to 45 minutes before you drink it.
Chlorine Tablets/Packs
If you're worried about measurements or need a better option for remote living, you could always use chlorine tablets instead. In as little as 30 to 45 minutes, bacteria and viruses will have been killed and your drinking water will be good to go. You can easily carry these tablets anywhere and is definitely recommended if you're visiting a location that has poor drinking water. You can get some from Walmart, Bleach Packs
Filtration
When it comes to water filters, keep in mind that each one is created differently. Pretty much all of them are capable of removing larger particles, but that's where the line is drawn. Make sure that you invest in a high-quality one that also filters out viruses and doesn't necessarily require disinfecting before filtering. The method of filtration will also help to make your drinking water more tolerable to drink after it's been disinfected.
When you're on the go, you will be needing a portable water filter that can be used on any water source. LifeStraw is amongst the best brands out there because it's lightweight and durable, and especially due to how well it works. LifeStraw Filters
Buy a DIY Water Test Kit
If your area is under a boil water notice, you can still check your water to see if it applies to your home. There are water testing kits out there like this one, that determine if your drinking water has any one of the 12 contaminants that it screens for. If you would still like more information, here's how to tell if your drinking water is contaminated.
You can consider checking into and using a WAPI. I quote Sun Oven WAPI, "A WAPI is a reusable transparent tube which contains wax. The wax melts and drops to the bottom of the tube when it reaches 150°F (65°C) for 6 minutes indicating that the water has been pasteurized and is now safe to drink."
Stock Up on Cases of Water
If you're still suspicious of whether your drinking water is safe or not, remove all doubt by opening up one of the cases of bottled water you have stockpiled for emergency situations. Out of all of these methods on this list, this is the safest option if you're on the fence about whether you should trust your tap water or not. That's why it's so critical that you have a stockpile of drinking water already prepared for emergencies, that way your family will have water to drink and can focus on other matters.
Bottled Water: Is It Safe to Drink?
How To Store Water-Pros And Cons
How to Make Your Water Safe
Final Word
These days there are dozens of ways that you can make your drinking water safe. Iodine tablets, reverse osmosis, distilling your water, and even using a UV light purifier are other options you could try. Which of these methods do you plan on, or have used during an emergency situation? What tips would you add for how to make your water safe? May God Bless this world, Linda.
Copyright Images: Water Filters AdobeStock_240451828 by amixstudio