Emergency Essentials Every Child Needs
On my blog, I talk a lot about what adults need in an emergency. However, there are emergency essentials every child needs. This means in an emergency situation, a child would have most everything they need. They will be able to know where this emergency kit is and get into it when needed. They also need to know how to use everything in their kit on an age-appropriate basis. An adult may not be able to help the child in an emergency situation, so it's vital the child knows where everything is and how to use every single item. Here is what you will need in an emergency essentials kit for a child.
In case you missed this post, 25 Emergency Items You Need or my post, Urban Survival Class: How to Make a Bug Out Lanyard
Emergency Essentials Every Child Needs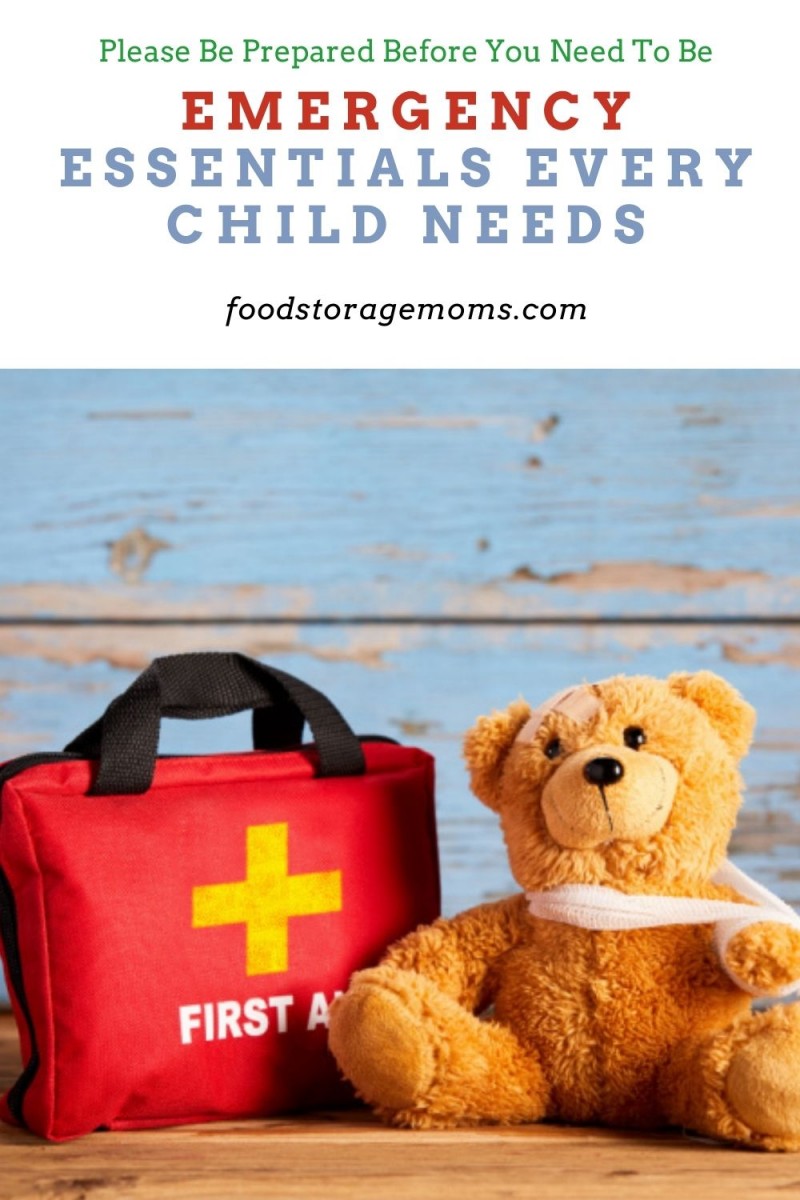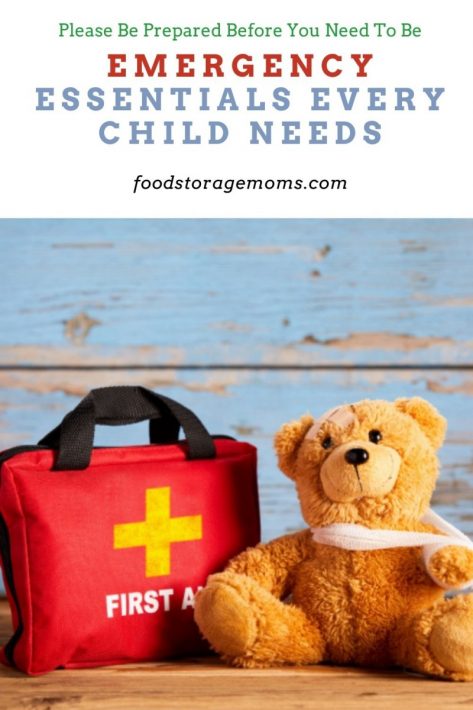 Headlamps
Think about the power of headlamps. A child will need a headlamp to help them get around and see at night. A headlamp is essential to make sure everyone in the family can see, including a child. This is particularly essential when your home loses power. Headlamps
Backpack
Adults are already going to be carrying around enough items. A backpack per child is important. This allows the child to have what they need in their backpack without the adult having to worry about it. You may want to look at backpacks with wheels because sometimes a backpack is too heavy for a child. Backpack with Wheels. Here's the deal, you can always start with a box and fill it as your budget allows and as the child gets older. These make great Christmas gifts.
Flashlights
Just like a headlamp, every child needs to have access to flashlights. You can buy smaller flashlights to accommodate a child's smaller hand. Plus, besides flashlights being needed in an emergency, they are fun for kids to have close by. Flashlights with Batteries
First Aid Kit
If a child learns some basic first aid skills, it would be so helpful if a minor emergency were to happen. We are not expecting our young kids to perform CPR, but basic skills such as cleaning and applying ointment to a minor scratch when mom or dad is not around would be awesome. We need to explain why we need to keep a minor wound clean and free from bacteria so a First Aid Kit would be a perfect addition. Adding some hand sanitizer would be awesome as well.
Games/Cards
Without electronics to keep your kids busy, you are going to need something on hand. Having games or cards in an emergency essentials bag is important. You will be glad you took the time to have these items on hand for the child in your life. In case you missed this post, 13 Family Games You Need After A Disaster or Emergency
Mylar Blanket
Sometimes you have to get a little creative with what you have in the emergency essentials kit. You will find that Mylar Blankets are also called space blankets. They are used to help reduce heat loss. They can help in an emergency and in first aid situations.
Water Purifier/Filter
Most of the time you have enough tools for an adult, but what about the kids? You will want to make sure the kids in your life also have access to a water purifier or filter and some simple instructions about its use. Life Straw Water Filter/Purifier or Berkey Sports Bottle
Freeze-Dried Food
It's vital to have freeze-dried food on hand. Freeze-dried food will last longer, depending on the brand you buy. I'm talking about freeze-dried fruits and vegetables. And in most cases, no cooking is required and you can eat it right out of the can. Plus, you get the same nutritional value as fresh food. In an emergency situation, it's important that kids have nutrients. You can add some chicken and cracker or cheese and cracker packages (prepackaged sets) and you are set. These packages would have a shorter shelf-life, so keep them towards the top to rotate more often. Rotate the food as needed.
Tent/Tarp/Mat
A tent or tarp can help in so many situations. Emergency essentials every child needs include a tarp, tent, or mat. This can be used for emergency shelters. Something like this can help in bad weather or even medical situations. Having one on hand is one of those emergency essentials every child needs. Tent for Two
Ax/Hammer/Multi-Tool
A hammer may come in hand in several situations. If your child needs to build something or break something apart to free themselves, having a hammer on hand is important. An ax can help to chop wood, harvest timber, or it can be used as a weapon in an emergency. SOG Tomahawk Axe If the kids are younger a beginning Swiss Army Multi-Tool would be a great asset to teach the kids how to use safely.
Sleeping Bag
Most people would know that a child needs a sleeping bag. It is vital that you have a sleeping bag for every person in your family. This can help keep your children warm in an emergency situation.
Poncho
Unfortunately, emergency situations don't care if you are outside or inside. A Poncho can help keep your child and their supplies dry.
Hiking Boots/Wool Socks
Emergency essentials every child needs include hiking boots and wool socks. The wool socks help keep your feet dry and from getting blisters. The hiking boots will help a child walk over almost any terrain. Merino Wool Socks
Canteen/Mess Kit
Depending on the brand and configuration, a mess kit can contain items like a skillet, a kettle, a plate, a cup, and cutlery. A canteen holds water, so when your child is thirsty, they have something to drink from. Having these items on hand is essential to any emergency. Mess Kit and Stansport 3 in 1 Can Opener
Matches
What does your child need to start a fire or have light available to them? Matches are one of the quickest items to have for anyone. Teach your child how to use a match safely now, so they are prepared when there is an emergency. Waterproof Matches
Water
Every person in this world needs water to survive. In an emergency, water is going to be harder to come by. Start stocking up now on water and make sure this is in the kit for the emergency essentials you have available for your child. This water is great for backpacks: Water Packets
Extra Clothes/Jacket
The bottom line is that you need to have extra clothes and a jacket available for your children. In an emergency situation, a change of clothes will be necessary, particularly in wet weather. If your child gets wet, a change of clothes is vital. In a fire situation clothes will more than likely stink from the smoke. Don't forget this part as you are putting together an emergency essentials kid for your kids.
Gloves/Hand Warmers
When the power outage happened in Texas, I bet everyone wishes they had a pair of gloves or hand warmers in their kit. So, even if you live in warm weather, it's not a bad idea to have this on hand. With the way the world is these days, we need to be prepared for all situations. Hand Warmers
Cooling Tubes/Cloths
The really cool thing about cooling tubes is that you wet these and they become instantly cool. You rewet them and you will always stay cool. This may not be something you have thought about before, but it makes sense to have this in an emergency essentials kit for a child. Frogg Toggs Chilly Pads
Content That Relates
25 Survival Items You Forgot to Buy
10 Ways To Stay Cool Without Electricity
Final Word
It only makes sense to make sure every person in your family is prepared. These emergency essentials every child needs is going to help you put together a kit that is usable. I would love to hear what you plan on putting in your kit. Remember to start this process now, so that you are prepared when an emergency strikes. May God Bless this world, Linda.
Copyright Images: Teddy Bear with First Aid Kit AdobeStock_189610697 by Exclusive-Design