Are Emergency Supplies Still Relevant?
In this day and age, it's important to be prepared for anything. Emergency supplies can help you weather a severe storm, floods, power outages, and other disasters. But are the supplies still relevant based on our own experiences?
I realize so many of us are prepared with emergency supplies, but some people may just be getting started. If you can share this article with those who may be interested in stocking supplies that would be a bonus for all of us.
It's a bit overwhelming when starting out. Please gather a few items, and then add others to your inventory as needed. The dollar-type stores have some great prices, even if they have gone up a bit in price.

What are Emergency Supplies
Emergency supplies are those items that you would need in the event of all kinds of emergencies. This could be a natural disaster, such as a hurricane or tornado, or it could be a man-made disaster, such as a fire or power outage. Emergency supplies can include food, water, and clothing, as well as items like flashlights and batteries.
It's important to have an emergency supply plan in place, along with the needed supplies, so you and your family are properly prepared ahead of time so that you're not caught off guard if an emergency should occur. By being prepared, you can help to ensure your safety and the safety of your loved ones.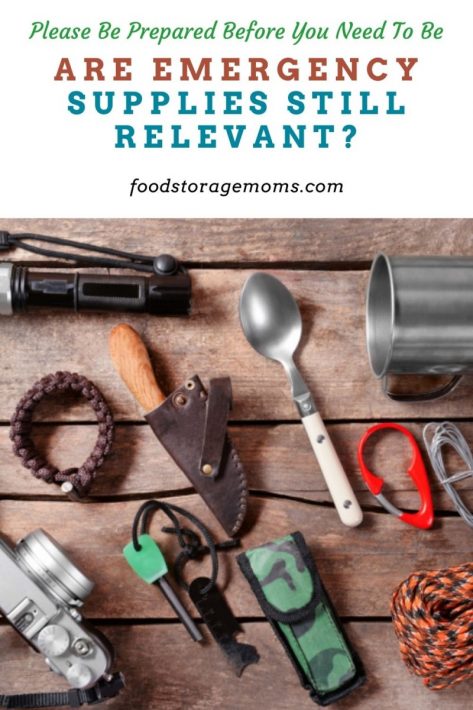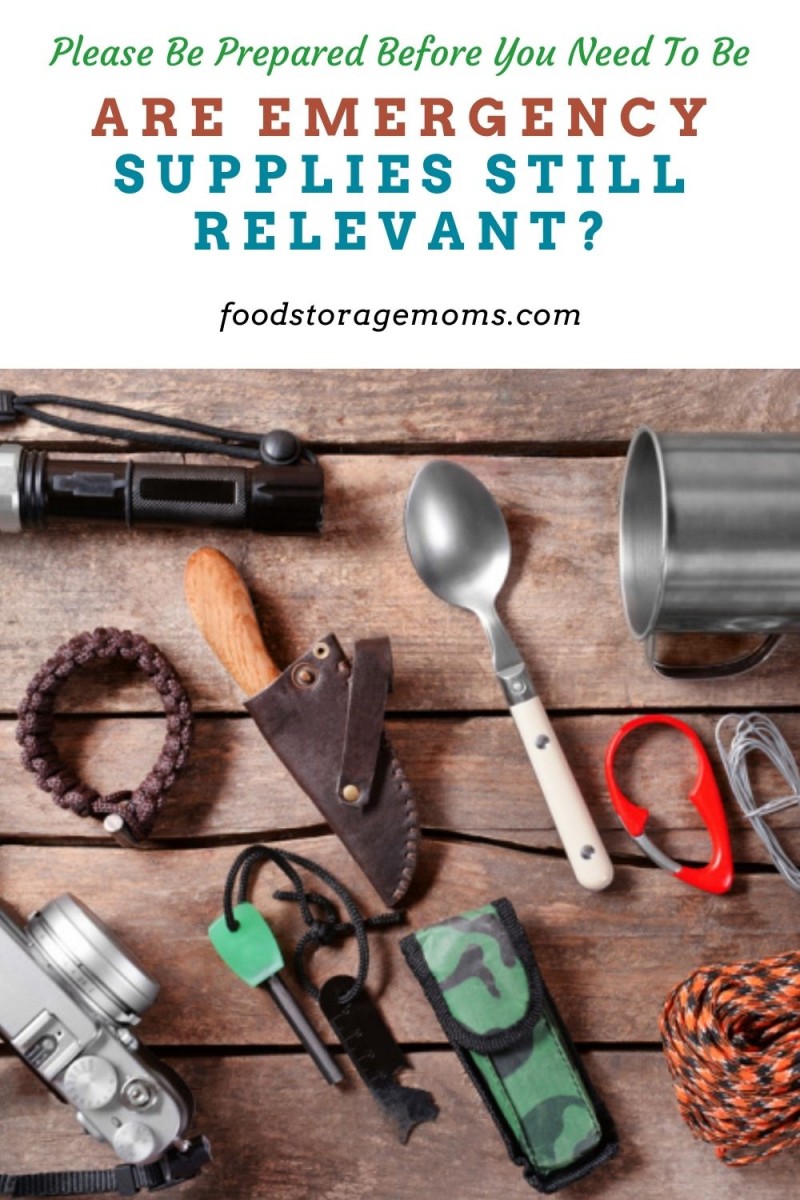 Are Emergency Supplies Still Relevant?
There's no doubt that emergency supplies are still relevant. They're actually more important than ever. With the increasing frequency of natural disasters and the cost of everything going up, it's essential to be prepared for as many contingencies as possible. 
7 Reasons Why You Need Emergency Supplies
Emergency supplies can help you in many different situations. Here are a number of reasons why emergency supplies are still relevant:
Power Outage
If there's a power outage, you'll need food that doesn't require cooking, some freshwater, and flashlights or lanterns to help you see around your home and property. Depending on the amount of time the power is out, you may also need blankets, a backup cooking device, a first aid kit, and more.  Emergency supplies can help you weather a power outage.
Medical Emergency
If there's a medical emergency, emergency supplies can help you stay safe and comfortable until help arrives. You should always have an extra supply of those prescriptions you and others in the home take on a regular basis. Now is NOT the time to be out of stock, and out of luck!
Economic Emergency
If there's an economic emergency, emergency supplies can help you stay afloat until things improve. The economic emergency can be a result of an accident, job layoff, sickness that keeps you home, a broken-down car, or unexpected home repairs. The sky is the limit when it comes to things that can affect your pocketbook.
It also may be a severe disaster that affects your whole community such that banks and ATMs are closed or shut down, making access to your funds very limited or non-existent. If you have food and water stored you can survive for a few days, or weeks, depending on the inventory in your pantry or storage room.
Car Breakdown
If you're stranded on the side of the road, you may need a first-aid kit, water, snacks, a tool kit, a light source if at night, and more. Think about what could happen on your next trip and start setting things aside, just in case. I have a car emergency kit stored in my car all the time.
Natural Disaster
And, if there's a natural disaster, you may need emergency supplies to help you survive until help arrives. Most people think some government agency will come running to their rescue. Don't plan on it! If the disaster affects lots of people, who knows how long it may be for your turn to be helped.
I strongly suggest we all learn to be more self-reliant, and that includes food and water storage, along with all the other items I've talked about for years. Check out my archive on this website for many important posts that can help you determine what you should have, and how to get started with your own personal preparedness plan.
Inflation
Inflation is another reason to have emergency supplies. If the economy crashes, your savings will be worth much less, if you even have access to your funds. Emergency supplies can help tide you over until things improve. If you have food stored away you can use that instead of paying the current high prices for staples needed. Once things get back to a more normal state cost-wise, then you can replace them at a more reasonable level.
Gas Prices
Gas prices are another reason to have emergency supplies. Gas prices are soaring and they're only going to go up. If you have emergency supplies, you won't have to worry about getting to the store right now, or running out of gas because you can't afford to stop and fill up.
They announced on the news today that certain "experts" are expecting the national average price of gas by the end of summer 2022 to be over $6.00! You don't want to be using the gas you have just to go to the store every other day. You may need to hunker down and spend more time at home.
How to Choose Emergency Supplies
When choosing emergency supplies, it's important to consider your needs. If you have allergies, you'll need to include medication in your kit. If you have pets, you'll need to include food and water for them as well. If you have a baby or elderly person in the home with special food needs, be sure to take that into account.
You should also consider the climate where you live. If you live in a cold climate, you'll need supplies to keep you warm. And, if you live in a hot climate, you'll need supplies to help keep you cool.
What Emergency Supplies Do You Need?
The supplies you'll need depend on the type of emergencies you're likely to face. If you live in an area that's prone to hurricanes, you'll need different supplies than someone who lives in an earthquake zone. But, there are some basic supplies that everyone should have.
Water
You should have a month's worth of water for every member of your household. You should have 1 gallon of water per person per day. However, I would encourage you to stock more for cleaning and cooking. If you need more help with storing water, read How to Store Water for Drinking and Cooking.
Food
You should have a month's worth of non-perishable food for every member of your household. Canned Foods are great non-perishable items. Check out some of my other posts if you need help with what to buy and stock up on:
You could also purchase ER bars. ER bars are 2400 to 3600 calorie food bars. They can provide an average person with about 72-hours of nourishment. Additionally, they are shelf-stable for up to 5-years and can be stored in fluctuating temperatures.
First Aid Kit
A first-aid kit is an essential part of any emergency kit. Be sure to include bandages, pain medication, and anything else you might need. Make sure to have one in your home, as well as in your car. Read What's In Your First Aid Kit for a checklist.
Flashlights & Radio
Flashlights are essential for power outages. Be sure to include extra batteries. A radio can help you stay up-to-date on the latest weather and news reports. You can buy a crank radio as an extra precaution. Get a radio That has a weather band capability.
I love my solar flashlights. I keep them charged up by storing them on the front windowsill.
Hygiene and Sanitation Supplies
Hygiene and sanitation are important during an emergency. Include soap, toothpaste, toilet paper, and feminine hygiene products.
Emergency Shelter Supplies
If you need to evacuate, make sure you have a bag packed with all the essentials. This should include a change of clothes, prescription medications, and important documents.
Some other items you might want to consider are:
How to Get Started
If you don't have any emergency supplies, it's not too late to get started. Begin by making a list of what you would need in different types of emergencies. Then, slowly start stockpiling items. Don't forget to rotate your supplies so they don't expire. Emergency supplies are an important part of being prepared for anything. So, make sure you have what you need to weather any storm.
Purchasing Emergency Supplies
If you don't want to take the time to gather everything yourself, there are companies that specialize in emergency supplies. These kits come with everything you need to get through different types of emergencies. Here are a few companies that offer emergency supply kits:
Final Word
Whether you choose to gather your supplies piecemeal or purchase a kit, emergency supplies are an important part of being prepared. So, make sure you have what you need to weather any storm. May God Bless this world, Linda
Copyright Images: Emergency Supplies Depositphotos_110563802_S by Belchonock