Fear Can Fuel Transformation
Most of us think of fear as a negative emotion; something we should try to avoid. Some fear drives negative behaviors and clouds our reasoning. But, fear is also an emotionally influenced response to danger or threat and it motivates us to mitigate the danger or the threat that we see coming. Logical fear can actually fuel transformation that can help us along the way, especially in preparedness.
Fear Can Fuel Transformation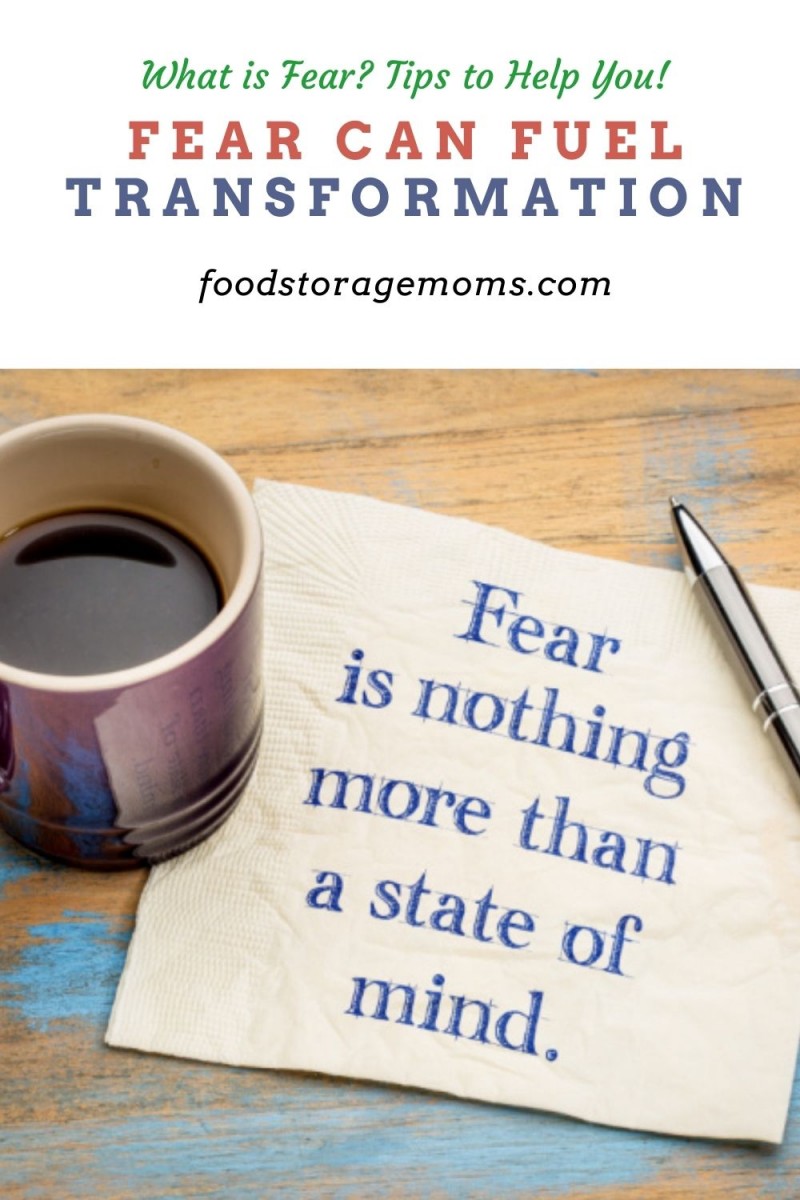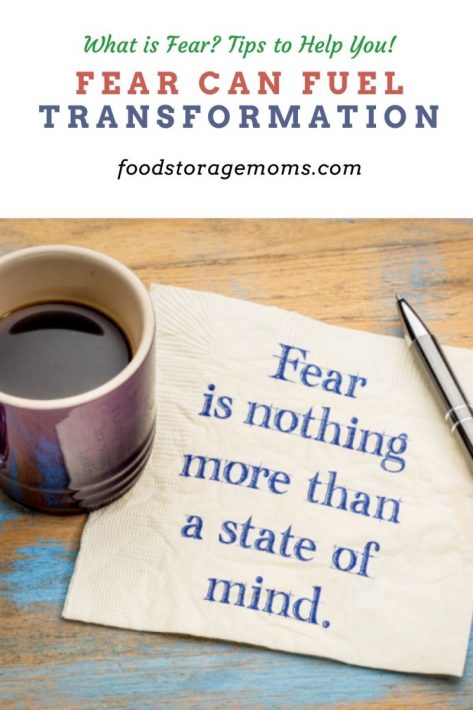 What is Fear?
Fear can be experienced due to all kinds of circumstances. At its most basic level, fear is categorized into two types: survival fear and irrational fear.
#1 Survival Fear
When you approach the edge of a cliff or face a predator and you feel fear, that is a survival fear. Survival fear is the fear you feel when you know your life is in danger, whether it be today, tomorrow, or a few months from now. 
#2 Irrational Fear
Irrational fear is the fear that something bad will happen with absolutely no evidence that it will. For example, you have a dream that you will be in grave danger at work. You may have a little intuition and need to be cautious, but it's completely irrational to just quit your job over fear from a dream.
Fears can be myriad, but most often they are steeped in irrational thoughts. Fear can have you believe things that prevent you from living life to the fullest. The challenge when faced with fear is learning how to identify the type of fear you are experiencing. This means you face the fear and get to know it!
Elements of Fear
We all react to fear in different ways. Thus, behaviors will vary when our fear response is triggered. There are three common elements of fear:
Perception of danger: When we see, hear, or become aware of danger or a threat, it triggers a response.
Seriousness of engagement: We determine how serious the threat or danger is. Is it a risk to our survival?
Presence: Then, we need to know how imminent the danger is. Will it happen in seconds, months or years.
Obviously, the higher the seriousness or presence is, the higher the level of fear we will have. The higher level of fear we have, the more motivated we are to act in some way to mitigate, or get rid of, the fear.
How Do We Mitigate Fear?
Each of us reacts differently to fear. When we are fearful, we tend to be on edge and have anxiety. Thus, we want to mitigate the fear to feel calm again. Because fear is viewed as a negative emotion, many of us develop coping mechanisms such as denial and avoidance. Here are a few responses that people use to try to mitigate fear:
Lash out in anger.
Avoid the situation that makes us fearful.
Deny the fear exists.
Do something to prevent you from feeling fearful.
Take medications to help with the anxiety.
Most of us think of fear as a negative emotion because a lot of us respond in a negative way when trying to mitigate our fear. We don't like the feeling, so we try to get rid of it in any way possible. The truth is that we have to learn to use fear to fuel transformation. 
How to Identify Fear?
As stated above, to determine if your fears are rational or irrational, you must face your fears. We must look at the element prompting the fear. Are we in imminent danger? If not, will we be in danger of surviving at some point? As preppers, our fear is usually rational, but when we see things on social media or hear things from other people, we may have irrational fears. The best way we can mitigate our fear is to use it to face the fear head-on and identify where it came from. If you aren't sure if your fear is rational or irrational, here are some steps you can take to figure it out:
Familiarize Yourself with It
Take out a piece of paper and write down the fears you are having, you may have more than one. For example, you may be afraid of the political environment. Write down exactly what you are afraid of. For example, if you are afraid the government will force you to do something against your will, write that down. Once you know what your fear is, you can begin to break down whether it's rational or irrational. 
Determine Where It Came From
For each fear ask yourself the following questions:
Where does this fear come from?
Did someone tell me this?
Why am I afraid of this?
How will this situation or fear affect me personally?
Reframe Your It
Once you know what fear you have and where it came from, it's important to try to look at it in a different light. Fear is a reaction that you get to protect you from danger, so try reframing your fear to see if it's actually a danger. Ask yourself the following questions for each fear:
Am I in danger? (typically the answer is no, or at least not imminent danger).
What will that danger look like if I am? Is it death, poverty, hardship, or something else?
What is this fear trying to tell me?
Are there outcomes that could be positive? What if what I am afraid of doesn't happen…what would be the ideal outcome?
Could this fear actually have a positive impact on my life even if I am afraid for it to happen?
What is the worst thing or circumstance that could happen?
Is there evidence or proof that it could happen?
How do I know this evidence is true? Have I fully researched all aspects? (if no do so)
Reframing the fear and learning more about it could make you realize that maybe you aren't in that much danger and it's really not something to freak out about. Or, it could make you realize it's a rational fear and protective steps do need to be taken. 
Identify Your Fear
If you have found that the evidence for your fear is not sound, that you really aren't in danger of surviving, or that what you are afraid of probably won't happen, it is probably an irrational fear. However, if your fear could hinder your survival imminently or in the near future, it is a rational fear. If you are in danger, it is a rational fear. Once you have asked all the questions, go back to your fears and label them irrational or rational.
Using Fear to Fuel Transformation
Once you have identified your fears, you can use your fear to transform your life and motivate you to positive changes. For example, if you are afraid to apply for that job because you don't think you qualify, that's an irrational fear. Face it, and apply for that job. However, if you have a rational fear, it's time to take action!
For preppers, our fears include natural disasters, global pandemics, job loss, or situations that would make it difficult to provide for our family which is essential to our survival and the survival of our family. These are rational fears because natural disasters happen, we just had a pandemic, and we never know when a company will be forced to lay people off. These are all threats to our survival. However, they are NOT imminent danger situations! So, do we sit around freaking out all day?? Do we attack friends and family that don't agree with us?? Do we become paralyzed with fear?? Do we keep thinking about the "what ifs"?
NO!!!!
Instead, we use that fear to fuel transformation in our lives and the lives of people around us. We educate ourselves and others about how to take care of themselves if something were to happen. We take action! As preppers we prepare for the worst and hope for the best. Fear does not paralyze us, it drives us and motivates us to be prepared for survival. 
How Can We Use Fear to Prepare?
If you are afraid we won't be able to get into a store to buy food for one reason or another, prepare! If you are afraid that long term power outages could happen, prepare! If you aren't sure how to prepare, here are a few posts to get you started:
Final Thoughts
Never let fear drive you to inaction. You don't have to sit back and be in denial, but you also don't have to constantly be afraid of what could happen. Instead, use that fear to prepare your family and home for survival. Please keep prepping, we must. May God Bless this world, Linda
Copyright Images: Fear AdobeStock_184742408 by MarekPhotoDesign.com