Proper Waste Disposal During an Emergency
During the Middle Ages, the Bubonic plague swept its way through most of Europe, killing an estimated ⅓ of its entire population. That's about 100 million people, to give you some perspective. Several scholars believe that it originated in China, while it traveled on carriers such as flies, fleas, and rodents, while aboard trading ships and caravans. What was the main culprit for such a travesty? Improper waste disposal. Of course, they didn't know there is the ability for proper waste disposal during an emergency.
Back then, people would just throw their garbage out anywhere, giving little thought to what effect what they were actually doing had on themselves and others. This not only affected the soil for agriculture, which had a negative effect on the environment, but it also had an indisputable impact on human health. In case you missed this post, How to Prepare for the Threat of Garbage
Proper Waste Disposal During an Emergency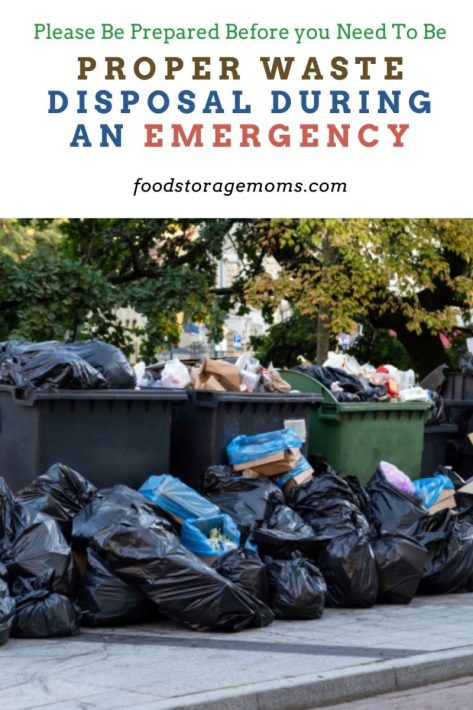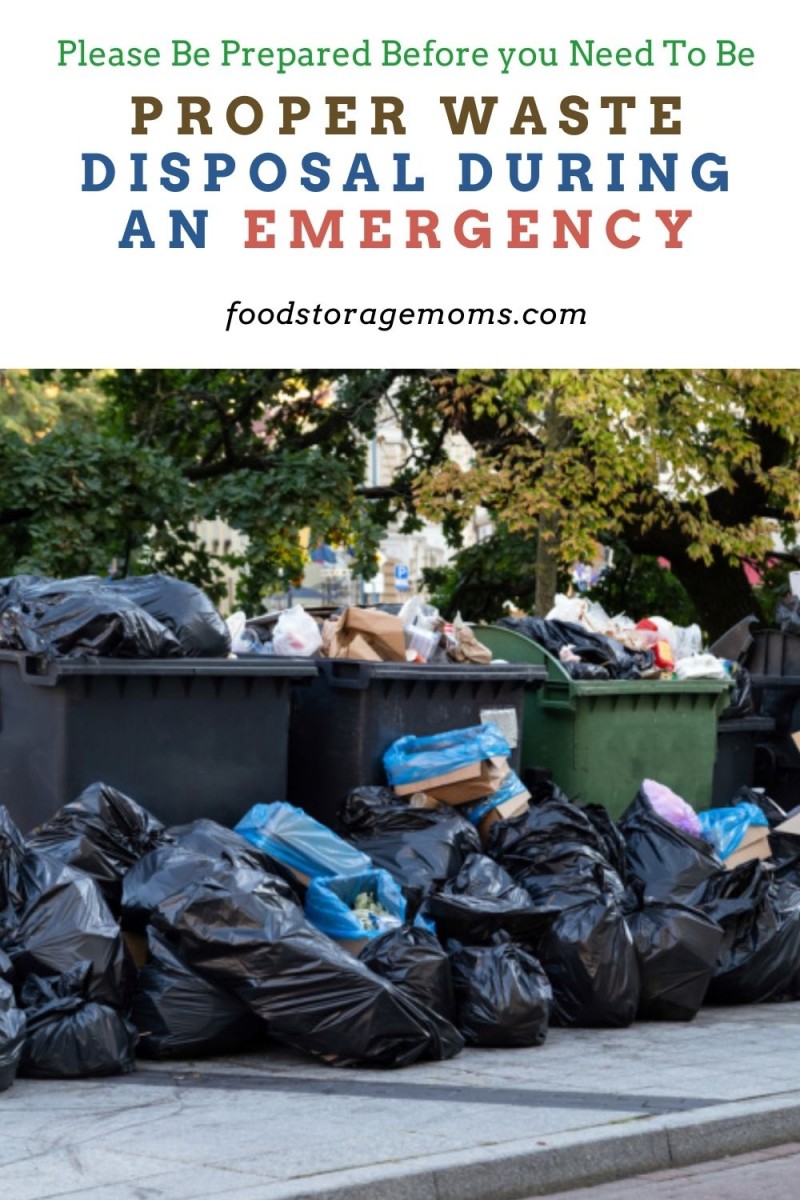 Hopefully, now you can see just how important proper waste management actually is, especially during an emergency. If your region is left in the dark for a longer period of time than expected, it wouldn't be long before your neighborhood would become a breeding ground for several diseases. You, along with everyone else, would have to do your part to ensure that this didn't happen. Here's more on proper waste disposal if you're ever faced with a major emergency.
Reduce, Reuse, Recycle
First off, burying all of your trash in the ground shouldn't be your first go-to. While it is one of the methods that you can use for properly disposing of your trash, it won't take long before you have mounds and mounds of buried trash everywhere. You want to cut down on your waste as much as you possibly can, using the 3 R's: Reduce, reuse, recycle. Here's what each of them entails:
Reduce
Reducing the amount of garbage that you have is the best thing that you can do to help keep things sanitary following a disaster. There are a number of different ways that you can do this. Cutting back on how much food that you make so that you have little throwouts is one way. Eating whole foods instead of feeding your family processed meals is another.
It will take more patience on your part, but you could also only buy foods that come in paper-packaged cartons and containers instead of non-biodegradable plastic. These are all greener choices that you could already be doing to be kinder to the environment.
Reuse
Most of us are more hesitant when it comes to this one and may be thinking "yuck," but it's actually a great practice to put in place during a major emergency.
The next time you're done using a spaghetti sauce jar or a cottage cheese container, think of other ways that you could use them. They could be used as something that you could drink out of, or as a starter pot for seedlings. You could use baby jars for storing small items.
Recycle
Recycling is something that Americans do a better job of than what we did 20 years ago, but it would be even more important during an emergency. Because you never know how long your situation will last, you should recycle food and animal remains by turning them into compost. This will provide your plants and soil with a natural fertilizer, versus using a chemical fertilizer that may be doing more harm than good.
What to Do with the Rest of Your Garbage
After all of your hard work, you will still be left with garbage that can't be reduced, reused, or recycled. For those situations, you have two methods that you can choose from. You can bury it deep in the ground, or burn it. Burning your waste provides you with fuel for a fire so that you can stay warm, and also to cook your meals. One of the major drawbacks to burning trash is that it can emit unpleasant odors. For this, I would advise you to use a chimera. Not only does it help to block the bad smells, but it also decreases the chances of a wildfire. Keep in mind that some garbage is wet and can't be burned without trying to dry it out, which could prove to more of a challenge. Try sorting things out, putting the dry garbage like cereal boxes in one container to be burned, and the wet garbage like leftover vegetables in another to be buried.
Managing Human Waste
Dealing with fecal matter is a messy business, especially if your city's sewage system gets backed up following a disaster. If you have your own septic tank outside the city, you should be good for a while, but it wouldn't be an option for you forever if the emergency became long-term. What you could do in the meantime, is flush only your waste down the toilet. If the power is out, you can use buckets of water to help flush the toilet. Though it's inconvenient, consider burying your toilet paper outside to prevent clogging and getting backed up.
Bidets are another option for cleaning up afterward and are better for the environment. This method requires running water, which is something you may not have. Digging a hole in the ground that is far away from your water source is something that you may have to do to bury the fecal matter. You could rely on a portable camping toilet that you could situate over the dug hole. Compost toilets are the most eco-friendly solution that you have, but they are costly. The same goes for latrines, but it's a great way to keep your situation as sanitary as possible.
Please be safe and bury your waste at least 200 feet away from any water source and at least 6-8 inches deep. Leave No Trace
Burn Barrel
My friend, Matt sent me some pictures of how he made his burn barrel. He bought a used 55-gallon barrel, the top was removed with saws and a metal blade. He cut the lid so it would drop to the bottom to make that area stronger. You can see he has drilled several holes to help circulate the air. If you decide to make something like this be sure and check your local laws as they will vary in every state.
Inside of the Barrel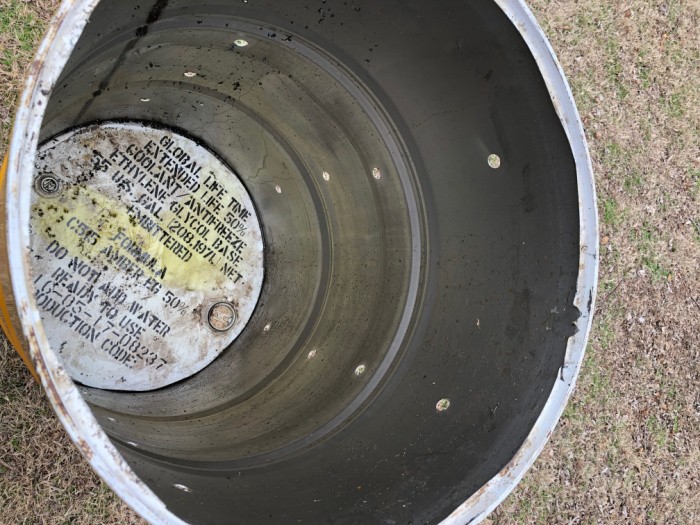 Outside of the Barrel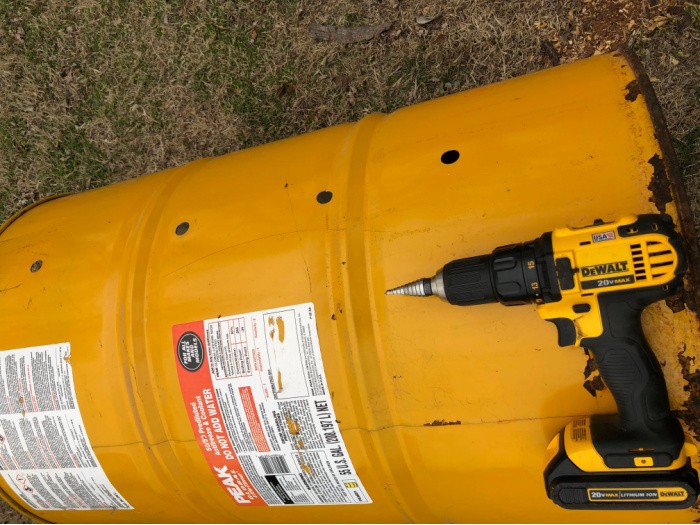 Waste Disposal Checklist
In order to properly manage all of your waste during an emergency, you will be needing a small list of items to see that the job is done right. Here are the most obvious ones that stand out:
Shovel
5 Gallon plastic buckets
A Chiminea or another type of burning enclosure 
Compost bin
Portable toilet, compost toilet, or slop jar
Hand soap or Hand Sanitizer
Proper Waste Disposal During an Emergency
Final Word
These are some safe ways to dispose of your family's waste when you're faced with an emergency situation. If everyone does their part, it would greatly reduce the chances of diseases spreading. This would not only keep the environment healthier, but everyone living in it as well. What are some proper waste disposal options during an emergency that you would have used? May God Bless this world, Linda.
Copyright Images: Garbage Pile Deposit photos_308888746_s-2019