Living Without the Grocery Store

Heaven forbid, but what if one day you woke up and heading to the grocery store was no longer an option? Sure. Maybe I'm being a bit dramatic here, but seriously, would you be able to survive? You would need to have acquired certain skills, food prep knowledge, and food supplies to be able to keep food on the table for your family during a time like that. Maybe you're not there yet? I have several tips that would help you be able to manage that kind of situation. There are many homesteaders out there who have been doing this for a long time now, and I'd love to share ways that they have done it. Here are several ways of living without the grocery store.
Living Without the Grocery Store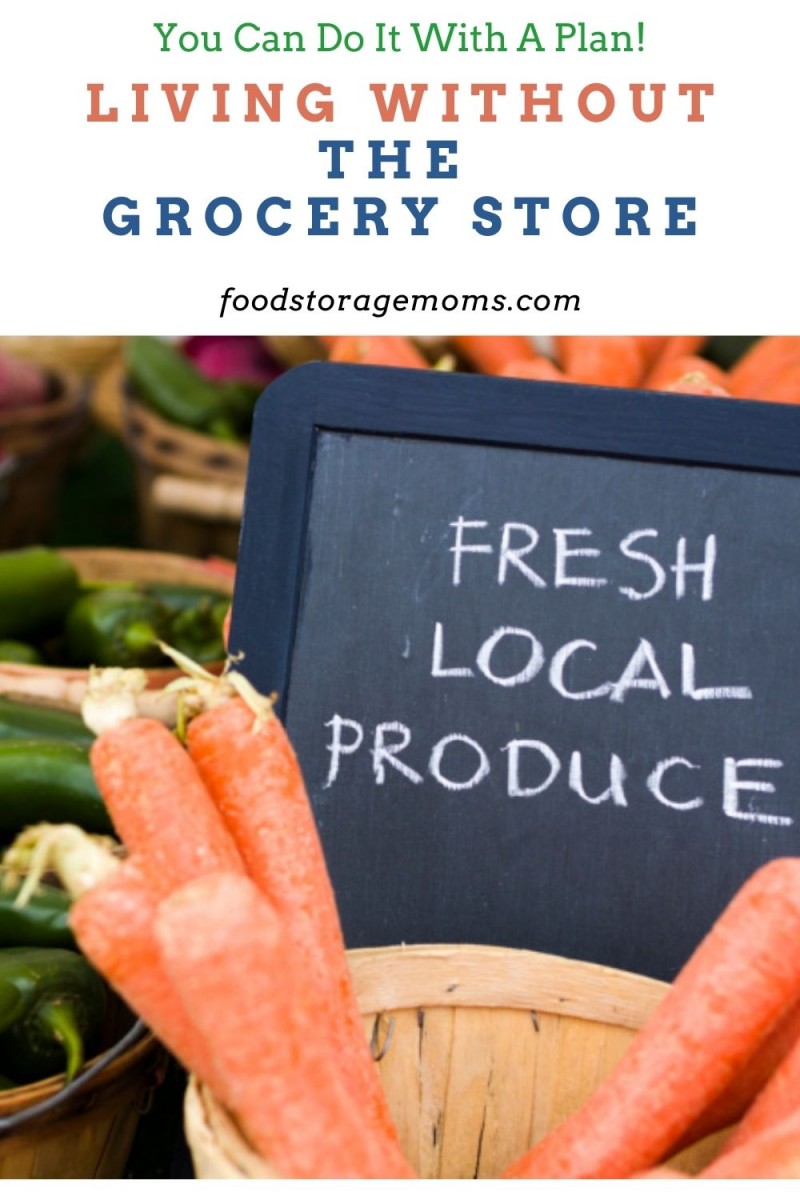 Hit Up the Farmer's Market
Just because you're not using the grocery store, doesn't mean that you have to avoid the farmer's market too. At a farmer's market, you will find the freshest fruit, vegetables, and other foods, and you can be guaranteed that they have a much longer shelf life than what you will find at any grocery store. The only downside of a farmer's market is that they generally aren't open year-round. In case you missed this post, 20 Delicious Farmers Market Salads
Start Gardening
This is probably the most obvious bit of advice on my list that you knew was coming. Learning how to garden not only offers you wonderful tasting vegetables, it also gives you the satisfaction of knowing what you were able to do with your own green thumb. Believe me, those tomatoes that you were able to grow will taste better than any that you will find at the store. In case you missed this post, Tips For Growing Sweet Tomatoes
Consider Raising a Cow or Chickens
Just think about it for a moment. Having a cow that could provide you with milk, and grass-fed chickens that lay eggs on demand, would more than cover your family's morning breakfast for many years to come. Even if this isn't an option for you, you can stop in at an Amish community or a local farmer to get these dairy items. You could also learn to make your own cheeses and yogurt so that you don't have to rely on someone else. 
Make Bread by Grinding Your Own Grain
You can get your grains whole at an Amish market or a small farm in order to provide your family with bread and other delicious baked goods. If this is something you don't know how to do, here's how you can get started.  
Preserving
Preserving the crops that you've grown in your garden earlier in the year will ensure that you can enjoy them all throughout the year. They taste so much better that way too! If you don't know how to can and preserve your food, take classes from your local State Extension Service. I had been canning for over 50 years and talked my husband into getting our Master Canner, Preserving Certificates! It's so much fun and canning has changed over the years. Or at least the food has so we wanted to learn the new way of canning.
Stop Using Paper Products
Have I already mentioned that living without the grocery store can save you money? It's true. While paper products are certainly more convenient, they're costly. That, and you already have other alternatives right in front of you. You don't need paper plates and paper towels when you already have regular dishes and a dishrag folded neatly in the closet.
Cloth diapers have also been around for ages and can be used time and time again. Mark and I have been using cloth diapers as our meal napkins for a few years now. Of course, we don't use them with meal guests, but they work fine for us when eating alone. Believe it or not, you can survive without toilet paper and one-and-done feminine products because family cloth and reusable feminine products are real things. 
I still buy paper towels for emergencies, but I use thin diapers and wash them. It's great and saves me money. In case you missed this post, How To Save Money On Your Paper Products
Make Your Own Cleaning and Laundry Supplies
I don't know about you, but I always find it irritating that many cleaning supplies only work on one or two areas in your home, so you end up with a whole pantry filled with them. Not only are they expensive, but there are ingredients in them that may be harmful. As it turns out, making your own cleaning supplies isn't as hard as you may think. Here are 8 homemade cleaners and natural laundry detergents that you should consider making that actually work. 
Become a Beekeeper
For those of you who have never enjoyed eating a raw honeycomb, it's a delicacy that you don't know what you've been missing. Becoming a beekeeper would provide you with beeswax to make candles and yummy-delicious honey that can be used as a natural sweetener in almost any food dish and baked goods. You'd also be doing the bee population and the environment a huge favor because the honey bee is moving closer and closer to extinction.   
Learn How to Forage
If you have a big backyard or have access to woods or a public park that's close by, you may be surprised how many edible weeds and berries you can find. You don't just want to put anything into your mouth that you find. It's best to do your research on what those edible things are so that you don't eat something that may be poisonous. 
Go Hunting
Some of you may think it's inhumane to hunt for animals, but I'm not suggesting that you hunt them for the mere sport of it. I'm talking about providing meat for your family, a survival skill that you may need to have during a widespread emergency. There would be deer laying all over the side of the road from overpopulation if hunting was no longer allowed. Think about that.   
Go Fishing
Eating fish that comes from a fish farm is certainly not the healthiest way for your family to be getting their seafood. Fishing is relaxing, and great to teach your kids a fun skill. Plus, it's fun to catch your next meal. Hopefully, someone in your family has enough stomach to dress it for you if you aren't able to.
Find Out More about Natural Remedies
When you're choosing to no longer rely on the grocery store for your medicinal needs, you may want to learn about how ancient peoples used certain herbs to heal them various ailments. It's a natural solution instead of throwing a coated tablet of Advil in your mouth. You can find many of these remedies while you're out hiking in the woods, or when you choose to grow these herbs yourself.  
Work with What's In Season
I know that there might be a time when you want a slice of watermelon or a juicy-red strawberry in the dead of winter, but when you're living without the grocery store that probably won't be an option. You have to work with whatever season you may be in. A root cellar would help keep your home-grown fruits and vegetables for a longer period of time, so that might be an option to consider. 
Final Word
Living without the grocery store will have its challenges and getting used to, but it is possible. You'll save money, and feel better that you aren't having to rely so heavily on others for your every need. Maybe you can try some of these and let the others go to people with more land or who may be handier. How do you plan on living without a grocery store? May God Bless this world, Linda.
Copyright Images: Fresh Produce Deposit photos_25950577_s-2019