20 Delicious Farmers Market Salads
Enjoy the freshness of farmer's market produce with these 20 delicious salad recipes that combine taste, texture, and flavor from the freshest ingredients that you can procure. Lettuce greens, vegetables, fruits, cheese, and nuts combine to make unique salads that are perfect for summer and beyond.
These salads are perfect for pairing with almost any meal as a side dish. Some are hearty enough to serve as an entree. From kale and spinach to broccoli and squash, and from tomatoes and peaches to berries and cheeses, you'll find an eclectic array of ways to assemble a salad to celebrate delicious seasonal food. In case you missed this post How To Make 8 Vegetable Salads You Will Love
Kitchen Tools Needed:
Good knives
Large serving spoons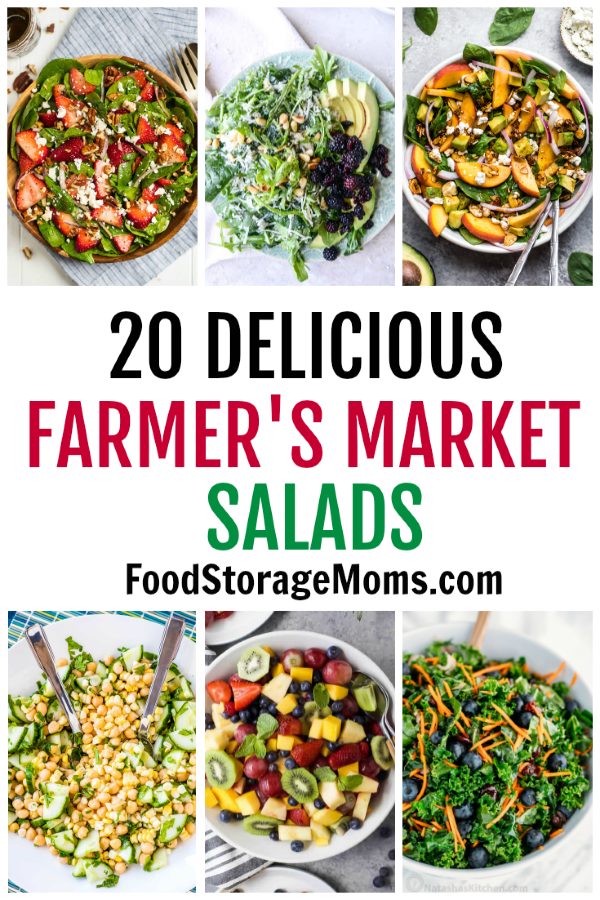 20 Delicious Farmers Market Salads
Choose any one of these recipes to make a stunning salad from your farmer's market produce.
Heirloom Tomato Salad with Toasted Walnuts and Smoked Blue Cheese by Feasting At Home
Summer brings tomatoes out in full force, and multi-hued heirloom tomatoes make a beautiful base for a salad. Here, they're paired with blue cheese, fresh dill, and toasted walnuts. All it needs is a simple dressing of olive oil and garlic to let this deliciousness shine through.
Super Fresh Cucumber Salad by Budget Bytes
Fresh summer produce abounds in this delightful salad full of diced cucumber, red onion, green bell pepper, tomatoes, and feta cheese. A dressing of red wine vinegar, olive oil, and spices enhances the flavors.
Spinach Strawberry Salad by Well Plated
Strawberries lend a sweet touch to this fresh spinach salad. Add in some creamy feta cheese and toasted pecans, too. A honey, balsamic, and poppy seed dressing makes this an irresistible salad that you'll want to make all summer long!
Grilled Romaine Salad with Jalapeno Ranch by Isabel Eats
Try grilling those large Romaine lettuce leaves for a lightly smoky flavor. Don't worry – they won't wilt! Blister some tomatoes on the grill, too, and char some ears of corn. All of this and more will make a spectacular salad presentation. Give it a try!
Shaved Broccoli, Brussels Sprouts And Kale Salad by A Beautiful Plate
Make this shaved salad by using a mandolin for the broccoli and sprouts. Thinly slice the kale leaves. The real star is the homemade Parmesan, Dijon, and garlic dressing; it's perfect for this freshly shaved salad.
Spiralized Zucchini Salad by Spend With Pennies
As you know, zucchini is always in stock at the farner's market in the summer! Give it a different visual appearance by spiralizing it. Just add in a little onion, dill, feta cheese, and parsley for a simple and fresh salad that's a perfect side for just about any meal.
Summer Corn Chickpea Salad by Homemade Hooplah
Fresh summer corn off of the cob plus sliced cucumber, chickpeas, green onion, and cilantro make a crunchy salad perfect for your next BBQ. Dress it lightly with a little lime juice and olive oil. So good!
Melon Salad by Simply Scratch
Melons are always in stock at farmer's markets in the summer, so this beautiful melon salad is just the thing to serve at your summer cookouts. If you have a melon baller, make your salad pretty by scooping cantaloupe, honeydew, and watermelon with it. Drizzle a little honey and lime juice on it and refrigerate until ready to serve. Lovely!
Three Pepper Salad by The Bewitchin Kitchen
Summer farmer's markets are full of peppers in all colors and varieties. Here, long strips of red, yellow, and orange bell peppers get marinated in a mixture of rice vinegar and sesame oil. Add in some feta cheese and serve. So pretty!
Napa Cabbage Picnic Salad by Simply Recipes
A zesty cabbage salad uses sturdy Napa cabbage as its base, joined by sliced radishes, snow peas, and sliced green onions. It's crunchy, it's hearty, and it's drizzled with a spicy rice vinegar dressing. Yum!
Arugula Watermelon Salad by Cookie And Kate
Pair watermelon with arugula, feta cheese, and Kalamata olives for a lovely taste that's up-leveled with a red wine vinegar dressing. It's the type of salad that's perfect on a hot summer day while you're dining outside.
Asparagus Bacon and Egg Salad with Dijon Vinaigrette by To Simply Inspire
Here's a fresh way to enjoy asparagus in salad form: pair it with bacon and sliced hard-boiled eggs. A dijon dressing ties it all together. It's a bright, tangy, and delicious salad that would make a great side dish for a steak dinner!
Carrot Salad by Detoxinista
Crunchy carrot salad is just the thing to make when you score a bunch of fresh carrots from the farmer's market. Carrots are naturally sweet, so this salad is super easy to dress with a light homemade dressing. Add in onions for some zest, and optionally, raisins and pecans.
Avocado Beet Salad With Citrus Vinaigrette by Simply Recipes
Creamy and mild avocado plays off of yellow beets in this mixed greens salad. Go ahead and get decorative and arrange your beet and avocado slices in a pretty pattern. Add a little crunch with pistachios and drizzle it with a citrus vinaigrette.
Summer Peach Spinach Salad by Ambitious Kitchen
Fresh and juicy summer peaches lend a luscious taste to this spinach and feta cheese salad. Garnish with avocado chunks and toasted almonds. Drizzle with a balsamic vinaigrette for a refreshingly delicious salad.
Broccoli Salad by Love And Lemons
This healthy salad chops the broccoli in small pieces and lets it marinate in a tasty sauce to infuse the flavor. Add in diced red onions and dried cranberries. Garnish with smoky almonds. Savory!
Arugula Kale Reggiano Salad by How Sweet Eats
Baby kale leaves are a tender option for this cheesy arugula salad. It's so easy to throw together! Add some toasted pine nuts and bring it all together with a champagne vinaigrette. It's an easy and light summery salad!
Creamy Cucumber Salad Low Carb by Wholesome Yum
If you're looking for a creamy cucumber recipe that's healthy, here it is! Sliced cucumber, fresh dill, and thinly sliced red onion get tossed with sour cream and seasonings. Chill well before serving.
Kale Salad With Blueberries by Natasha's Kitchen
Kale, onion, carrots, and fresh blueberries make up this summer delight of a salad. The carrots and blueberries give a little sweetness to this salad, along with a simple and savory dressing of olive oil and apple cider vinegar.
The Best Summer Fruit Salad by Joyful Healthy Eats
Summer fruit that you get from the farmer's market can be made into this family favorite salad that can be served as a dessert. Strawberries, blueberries, kiwi, raspberries, mango, and pineapple chunks get tossed together, chilled, and served. There's no need for a dressing with this juicy and colorful salad. Enjoy!
Final Word
Today, I picked my first three zucchini, life is so awesome with fresh vegetables! If you are unable to have a garden, then try out your local Farmer's Markets. Let me know if you have access to a Farmer's Market, we have one here in Southern Utah I like to visit every Saturday. Life is so good with fresh fruits and vegetables, right? May God bless this world, Linda