How to Use a Grill as an Emergency Cooking Option
Have you ever been put in an emergency situation where the power was out for a few days and you didn't have the option of preparing warm meals for your family? Or maybe you've never been put in that situation, but it's one you've given some thought to in the past? So today, let's talk about how to use a grill as an emergency cooking option.
Please replace your old grill cleaners if the wire brushes are bent, they may break off in your food. Swallowed Bristles Article Replace as needed: Weber Grill Scraper
Using a Grill as an Emergency Cooking Option
The good news is, you can use the grill that is sitting in your backyard to prepare your meals in the meantime. Most people have them, and they are just as easy to use as the burner on top of your kitchen stove. And don't think for a minute that you have to be limited to eating your typical everyday grilling food. There are so many different types of food that you can slap on the grill that you may have never thought about. Here's how to use a grill properly as an emergency cooking option.
What You Can Cook Outside
Foil dinners (foil greased, add a piece of meat, some sliced onions, potatoes, chopped carrots, salt, and pepper) wrap in two layers of foil, roll the ends to keep the juices from running out. Bake for 30-40 minutes, depending on how thin you sliced the vegetables.
Boil water
Grill meat
Corn on the cob (in foil)
Zucchini
Grilled pineapple
Peaches
Pizza: In case you missed my BBQ pizza post: Make Pizza Dough In Minutes
Charcoal Grill-For Outside Use Only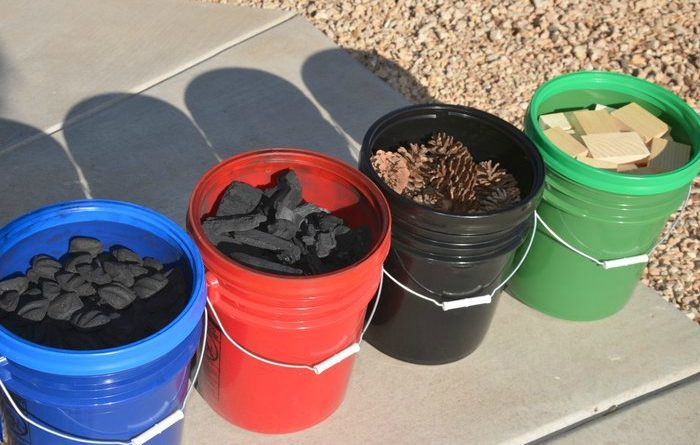 Maybe it's just my humble opinion, but charcoal grills make your food taste so much better than a gas grill, but the downside to them is that they take longer to heat up and cook your food. That, and they aren't as convenient to use when you're only making a smaller portion of food. But if you happen to own a charcoal grill, it will certainly handle the job during your emergency situation. In case you missed my My Favorite Emergency Fuels To Store For Survival
Just remember that you should never bring a charcoal grill into your home or inside a closed garage no matter your emergency situation. The carbon monoxide that is released has the possibility of killing you even when you can't smell it. Also, keep your grill away from combustible materials that can make your current disaster that much worse.
If you plan on using this cooking method, I'd encourage you to spend a little extra by purchasing a Weber Cylinder Chimney Starter. This tool will allow you to start a fire to your briquettes without having to use lighter fluid. Just remember that you'll need to plan for an extra 20 to 30 minutes for your charcoal grill to heat up before grilling.
Propane Grill-For Outside Use Only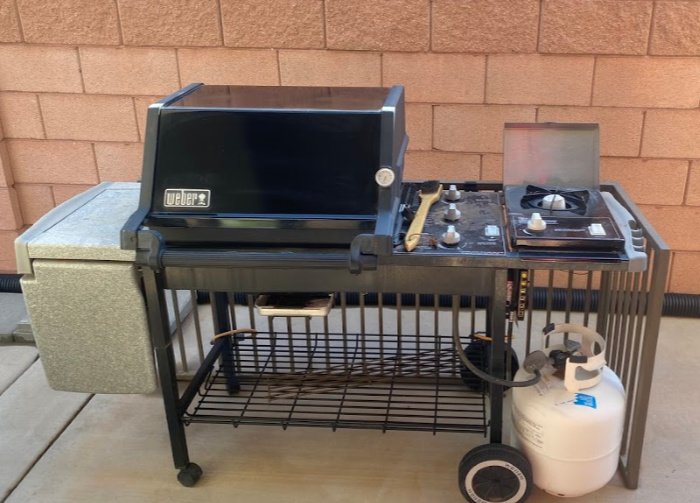 When you're in an emergency situation and limited with your options as far as cooking methods are concerned, your propane grill will also do the trick. Propane grills prepare your food much quicker than the charcoal option. They are super easy to cook with and most people already know how to use them.
If your gas/propane barbecue has a "stovetop" mini stove on the side, that's a bonus. It's better to boil water or cook a can of beans on the smaller stove than using the grill section because less fuel will be used due to the concentrated heat that's generated.
But just like the charcoal grill, propane grills should never be used indoors, because doing so may cause bodily harm, or even death. Unfortunately this can make this cooking method difficult, especially if you are dealing with flooding conditions or a wintery blizzard outside.
Be sure to keep an extra propane tank or two set aside for emergency situations that go on for an extended period of time. Your propane tanks should be kept in an upright position and should never be left in your home or the garage. Combustible materials are another thing that you should look out for.
It's also important if you do decide to store extra propane tanks, that you make sure that the tank does not begin to rust. This can cause a malfunction and possibly cause bodily harm.
Oh, and one last note about propane grills. This type of grill produces a clean fire that unfortunately often forfeits some of the flavors you enjoy. To help with this, consider grilling using flavored wood chips that will add delicious flavor and aromas. Now you'll be a true grill master during an emergency and your family will be thankful and amazed at your grilling expertise.
Final Word
When a disaster strikes, limitations always seem to follow. When the power is out and it's impossible to prepare a warm meal for your family, remember that the propane or charcoal grill you have sitting out back is one small way you can regain some much-needed normalcy and comfort.
But don't continue to limit yourself by simply cooking hotdogs, hamburgers, and one or two other different meats. Here's a list of surprising foods that you can throw on the grill to broaden your grilling horizon. Please keep prepping, we must. May God bless this world, Linda
Copyright Images: Black BBQ Deposit photos_77684414_s-2019