The Best Dutch Oven Pizza Recipe
Today it's all about how to make and cook the best Dutch oven pizza! Who loves pizza as much as I do? There is something fabulous about cooking pizza outside, especially in a Dutch oven. I have a printable list for you if you are ready to cook Dutch oven style, complete with temperatures and charcoal briquettes you will need. I contacted Lodge Manufacturing and talked to them about sharing some of their information on baking. This recipe is so easy and fun to make for a party!
Items Needed To Cook
12-inch Dutch Oven, I prefer the Lodge brand: Lodge Camp Dutch Oven, 6 Qt
Charcoal fire starter: Weber 7416 Rapidfire Chimney Starter
Charcoal Briquettes-with this recipe I use 8-9 coals on the bottom and 14-16 coals on the lid
Kindling or shredded newspapers
Matches
Shopping List To Make Dutch Oven Pizza:
Premade pizza dough or my pizza dough recipe in a jar recipe: Pizza Dough In A Jar
1-14 ounce jar of pizza sauce
Pepperoni or other cooked meat, if desired
Vegetables, like chopped onions, bell peppers, mushrooms, basil, etc.
3-4 cups shredded mozzarella cheese
Dutch Oven Baking Temperatures List: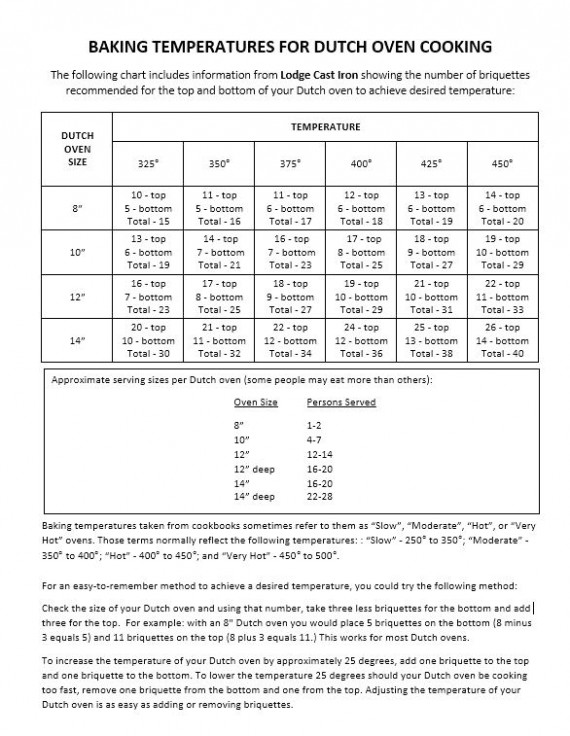 FREE Printable List for you: Dutch Oven Chart
Dutch Oven Pizza Steps:
Step1:
I started the charcoal firestarter with crumpled newspaper and counted out the number of briquettes I needed for today's recipe. I counted out  24-25 briquettes. I wanted the temperature to be 350 degrees. I put 10 briquettes below the 12-inch Dutch oven and the other 14-15 briquettes on the lid. I buy the Lodge Dutch ovens with a lip so I can stack other ovens vertically on top, and also hold the hot briquettes.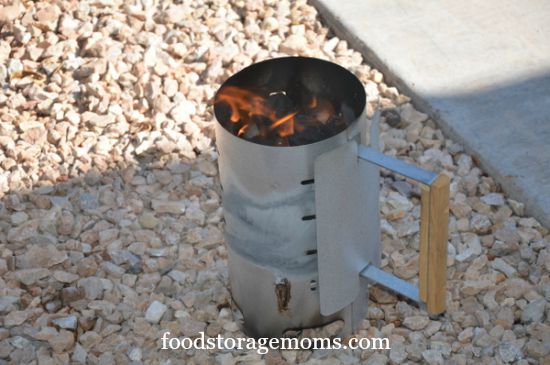 Step 2:
I used a 12-inch Lodge Dutch oven that I have had for years. They are the best ones to buy, in my opinion. I would check out all thrift stores or antique shops to see if you can get them cheaper than your local stores. If they have rust on them you can usually scrub them with soap and water and season them in the oven by spraying them with vegetable oil and baking for one hour at 350 degrees.
Be sure and place a large piece of foil below the oven and lid during this seasoning process. The oil drips off and you can collect it on the sheet of foil and discard it after cooling. The stand shown below that holds the Dutch oven while cooking was made by my brother-in-law, Duane, and it rocks!
Here is a link to learn how to make the Dutch oven stand: How To Make A Dutch Oven Stand made by Food Storage Moms. I placed 10 briquettes on the bottom of the stand and placed the oven in the stand above the briquettes. I wanted the oven to be hot before I placed the pizza dough in the bottom of the pan.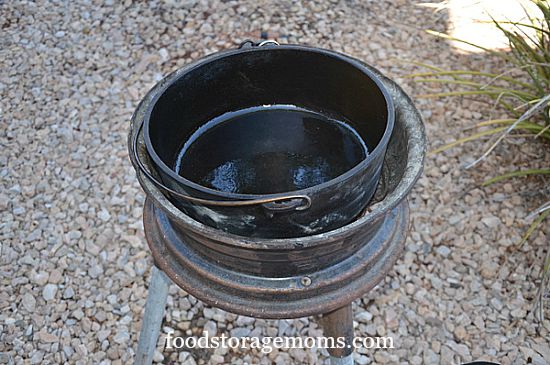 Step 3:
Now I put the other remaining 14-15 hot charcoal briquettes on the lid. I need the lid to be hot because I need to bake the pizza dough at 350 degrees.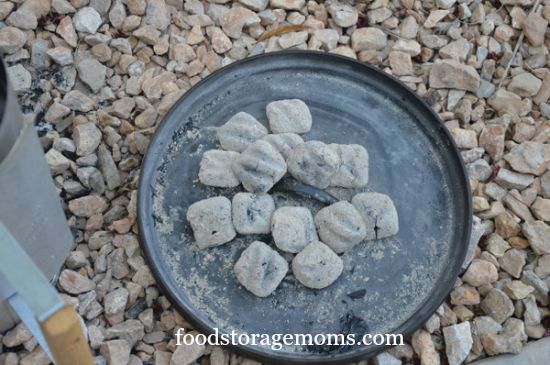 Step 4:
Next, I made my pizza dough using the recipe ingredients that are in a jar (takes 5 minutes). All you do is add oil and warm water and roll it out.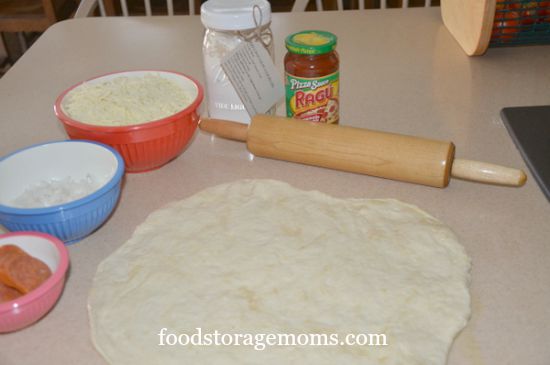 Step 5: 
I folded the dough in half and then into fourths. I carried the dough out to the greased Dutch oven that was hot and ready to bake the pizza dough. This time I let the dough rise in the oven using the lid with the charcoal on top and let it bake for about 15 minutes before adding the toppings or cheese.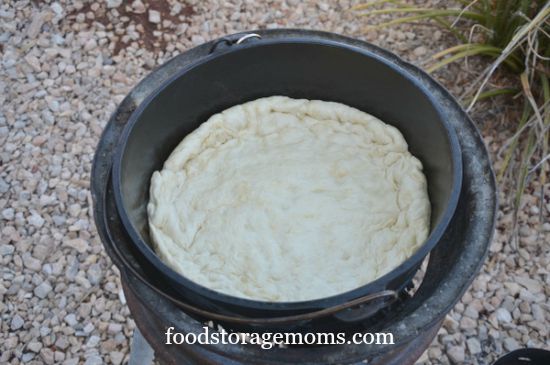 Step 6:
After baking the dough for about 15 minutes I spread the pizza sauce over the partially cooked dough. Then I sprinkled chopped onions on top of the sauce and separated the pepperoni slices and spread them over that layer. I placed the lid back on top to continue baking for another 30 minutes or so. The cheese goes on later.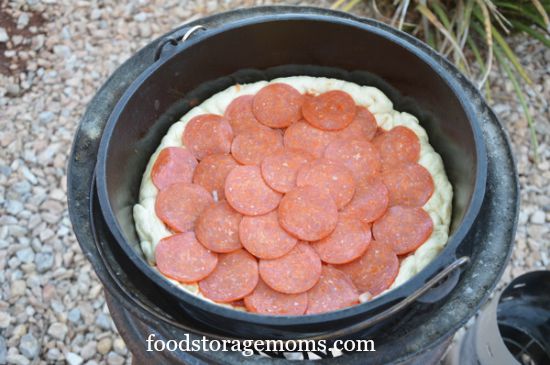 Step 7:
The last step is after the Dutch oven pizza is finished baking you sprinkle the grated mozzarella cheese on top of the pepperoni and return the lid to bake another 5 minutes or until the cheese is melted. I used two large spatulas to lift the pizza out onto a pizza pan to serve.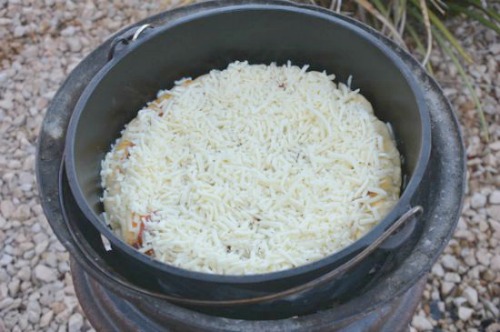 I hope you try making this recipe! My husband and I ate the pizza for dinner.  It was delicious. The crust turned out a little thicker than I had pictured. The bottom of the crust was a little "crispy", but you could use fewer briquettes if you wanted it a bit softer.  You could also put your own favorite toppings rather than pepperoni and/or onions.  Try some other toppings like mushrooms, bell peppers, pineapple, ham, chicken, etc. Nothing better than a hot pizza for Friday movie night at home. Enjoy!
Dutch Oven Pizza Dough Recipe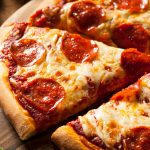 Pizza Dough Recipe
Ingredients
3

cups

flour

2

teaspoons

SAF instant yeast

1

teaspoon

salt

1

tablespoon

sugar

2

tablespoons

oil

1-1/4

cup

warm water

1-14-

ounce

jar pizza sauce or an equal amount of homemade sauce

3-4

cups

grated mozzarella

sliced pepperoni

chopped veggies like onions, bell peppers, or olives
Instructions
Start getting your coals ready, they need to be hot and ready to cook. I use 8-9 coals below the 12-inch Dutch Oven. I use 14-16 coals on top of the lid. So, start with kindling to get 20 briquettes ready.

Mix the dough by hand and make a circle the best you can to fit a 12-inch Dutch oven. Grease the Dutch oven or use a disposable liner. I like to cook one side of the pizza dough then flip it over to cook a little more. I then add the sauce, meats, and veggies. When the pizza is done I remove it from the coals and add the cheese. Put the lid back on and let it melt/cook for 5 minutes until the cheese is melted.

You can also bake this pizza in your oven on a greased pizza pan at 350 degrees for 20-40 minutes depending on how much cheese you put on it.
There is something about making homemade Dutch oven pizza, you can bake this in the oven at 350 degrees for about 30-40 minutes or until the cheese melts. Thanks again for being prepared for the unexpected. May God bless this world. Linda