20 Delicious Recipes That Use Bisquick®
Making cooking and baking more convenient since the 1930s, Bisquick® is still here, decades later, continuing to live up to its name. Bisquick® combines flour, baking soda, and other ingredients in its pre-made mix to save you several steps in the kitchen.
This collection shares 20 delicious recipes that use Bisquick® to help you whip up tasty meal items. You'll find cakes and cobblers, dessert pies, and zesty dinner pies, biscuits, cookies, donuts, and cinnamon rolls, as well as quiche and other casseroles that your family will love.
Keep a box or two of Bisquick® in your pantry and you'll always have a quick go-to meal that you can prepare without a fuss. Which one of these delicious Bisquick® time-saver recipes will you try first?
20 Delicious Recipes That Use Bisquick®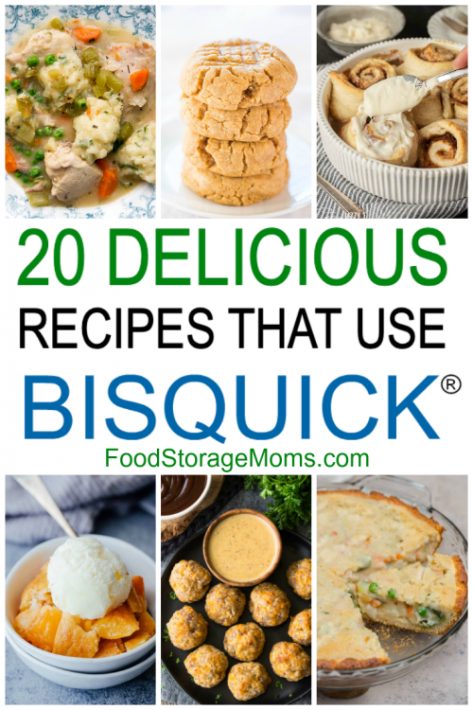 Cheeseburger Pie by Dinner by At The Zoo
This deconstructed cheeseburger meal is a delicious way to bake up all the flavors of your favorite hand-held burger in the form of a pie. A tasty ground beef mixture goes down in a pie plate covered with a layer of shredded cheddar cheese. The Bisquick® batter follows on top and is baked. You'll love this new way to enjoy a cheeseburger!
Old Fashioned Strawberry Shortcake by Two Kooks In The Kitchen
Strawberry shortcake is summer's classic dessert. Here, take a delicious shortcut and use Bisquick® to make those biscuits. Did you know that you can make the biscuits lighter by cutting in cold butter with the Bisquick? Do this and your shortcakes will be scrumptious with those fresh strawberries and sweetened whipped cream.
Chicken And Dumplings by Simply Recipes
The ultimate in comfort food has to be chicken and dumplings. Bisquick® is perfect for making light and fluffy dumplings. Your homemade chicken stew gets topped with dollops of the dumpling batter and allowed to cook through and steam with the lid on. Brilliant!
Impossible Coconut Custard Pie by Grateful Prayer Thankful Heart
You won't believe how easy it is to assemble this pie! Combine all the ingredients, except the coconut, in a blender and blend. Yes, the Bisquick® gets blended in there, too! Pour into a pie plate and sprinkle the coconut on top. All that's left to do is bake it until lightly golden.
Bisquick® Donuts by Something Swanky
Bisquick® and milk make the perfect dough for cutting and frying doughnuts. It's not messy and it's a great way to make adorable small bite-sized doughnuts that you can cover with a chocolate ganache and sprinkles. Learn the best way to keep this easy and mess-free with her frying tips!
Crustless Broccoli Bacon And Cheddar Quiche by Bowl Of Delicious
The easy way to make a quiche without a crust is to incorporate a crust mixture right into the egg batter. Use Bisquick® to get this delicious crust-like taste throughout the quiche. Cheese, bacon, broccoli, and seasonings make this a perfect brunch menu item that's quickly assembled and baked.
4 Ingredient Peanut Butter Cookies by Averie Cooks
Peanut butter cookies should be soft, moist, and delicious, which is exactly what you get with these 4 ingredient cookies that require no eggs! Just mix together Bisquick®, peanut butter, sweetened condensed milk, and vanilla extract for a scrumptious dough that needs to be refrigerated for just a few hours before baking. It's worth it!
Oven-Fried Chicken by Dinner Then Dessert
Your family will never know that you didn't deep fry this chicken. Using a special blend of Bisquick® and zesty seasoning, coupled with butter. Coat the chicken thighs and drumsticks with it before baking. Flip the chicken halfway through so all sides get equal exposure to the heat.
Bisquick® Sausage Balls by Gonna Want Seconds
These sausage balls work well for an appetizer or snack. They're basically a meatball with cheese! Combine pork sausage, cheddar cheese, Bisquick®, milk, and seasoning to form into mini balls of zesty flavor. Bake and enjoy them!
Bisquick® Peach Cobbler by Easy Peazy Meals
Peaches are a summer favorite, especially when you can turn them into a yummy cobbler with the help of Bisquick®. The cobbler crust uses Bisquick® that's spiced with vanilla, cinnamon, and nutmeg. Use fresh, canned, or frozen peaches, lightly sweetened with sugar, that you pour over the Bisquick® crust. Bake until golden. Serve with a scoop of vanilla ice cream. Heavenly!
Cheesy Bisquick® Breakfast Pie by Lil Luna
Mornings can be hectic, but you can assemble this quick breakfast pie in 10 minutes and slide it in the oven to bake to perfection in a short time. Use eggs, frozen hash browns, cooked bacon, shredded cheese, milk, and Bisquick®. You'll love the taste and texture of this easy meal!
Bisquick® Cinnamon Rolls by Tastes Of Lizzy T
You'll appreciate the no yeast, no kneading, no waiting cinnamon roll dough that you can make with Bisquick®. You can mix up this dough using buttermilk, roll it out, sugar and spice it, roll up the dough, slice it, put the rolls in a pan, pour cream over them, and bake. Gooey and delicious is what you'll get!
Bisquick® Chicken Pot Pie by Brown Eyed Baker
Chicken pot pie gets an easy makeover thanks to Bisquick® crusts. You can assemble the whole pie in about 20 minutes by using Bisquick®, frozen vegetables, and a rotisserie or leftover chicken. You'll make the crust twice: once for the bottom of the pie pan and one for the top. So good!
Blueberry Coffee Cake by A Table Full Of Joy
Blueberry season is the time to make this quick dessert using those fresh berries! Fold blueberries into the simple Bisquick® mix cake batter. Sprinkle the top with a sweet Bisquick streusel and bake. Drizzle the simple powdered sugar glaze over the top before serving. Perfection!
Bisquick® Pizza Dough by Mama Loves Food
Homemade pizza gets a quick and yeast-free crust thanks to Bisquick®. And if you're looking for a gluten-free version, just use Bisquick's® version without gluten. Making crusts with Bisquick® is perfect for quick personal-sized pizzas as well as family size. Consider this recipe when you don't want to use a cardboard frozen pizza crust!
How To Make Bisquick® Pancakes by The Kitchen Magpie
Super quick pancake mix can be made from Biquick®, milk, and eggs. Use this basic recipe for fluffy pancakes topped with melted butter and your favorite syrup. Don't forget optional add-ins like blueberries or chocolate chips when you want that something extra!
Bisquick® Burrito Bake by The Country Cook
Ground chuck, refried beans, taco sauce, cheese, and Bisquick® make this easy burrito bake a quick meal on busy nights. Make a crust from combining Bisquick® and refried beans. Layer the crust with browned beef and sauce. Top with shredded cheese and bake. It's that easy!
Sweet Strawberry Cobbler by Mostly Homemade Mom
This is ridiculously easy to prepare! Quarter your strawberries and place them in a baking dish. Mix the Bisquick® and sugar and then stir in an egg. Sprinkle the mixture over the strawberries, drizzle with melted butter, and bake. Forty minutes later you have a delectable fruit dessert that your family and friends will love!
Bisquick® Chocolate Chip Cookies by Sweet Little Blue Bird
This is possibly the easiest batter you'll ever mix for chocolate chip cookies. It's just 6 simple ingredients you probably already have. You could probably even mix it all by hand if you want a little work out to cream the butter and sugar. Add an egg, Bisquick®, vanilla extract, and chocolate chips and stir to combine. Drop on a cookie sheet and bake. Easy and delicious!
Copycat Red Lobster Cheddar Bay Biscuits by Cincy Shopper
These biscuits are hard to resist with their cheesy and garlic-infused flavors. You'll be delighted to know that they're easily made with Bisquick®, shredded cheese, powdered garlic, butter, and milk. Mix it, drop them on a greased cookie sheet, bake and then add melted butter, garlic, and parsley drizzle. Oh, my!
Final Word
Are you like me when you see recipes that use Bisquick®, your childhood memories starting flowing? I can still picture my mom with no apron, most of the time, using a spoon to whip up some pancakes for breakfast! Have you ever used a Danish Whisk? This one is my favorite: 12-inch Danish Whisk
The griddle was getting hot and the syrup was being warmed up. The butter was soft and ready to spread on the cooked pancakes. Life is so good! May God bless this world, Linda
10 Pioneer Recipes We Need To Know
Copyright Images: Strawberry Shortcake Deposit photos_192224324_s-2019