How To Make Almond Extract
Have you always wondered how to make an almond extract? It only takes two ingredients and is so easy to make you'll wonder why you've been buying it all these years.
Now, to be fair, you will have to exercise a bit of patience before using your almond extract. The extract takes about two to three months before it's ready to be added to all those delicious baked goods like cakes, cookies, desserts, and candies that you want to make. As the saying goes, anything worth having is worth waiting for. If you can go longer than two months, even better. You definitely want to wait for this! Once your extract is ready to use and you uncap it for the first time, be prepared for the most luscious and intoxicating smell you've ever encountered.
This stuff is concentrated, which is why you'll see in recipes that you need a very small amount to flavor your baked goods. And if you ever put in too much extract, you'll know it once you taste the final product. So, a little goes a very long way with almond extract.
Ingredients Needed
Vodka
Raw organic sweet almonds (I used slivered ones-the skins are removed)
The brand of vodka is not important, get whatever you like, but just make sure it's 80 proof. Choose almonds without skins, unless you want to boil them to remove the skins yourself.
Bitter Almonds vs. Sweet Almonds
Traditionally, almond extract was made from bitter almonds and bits of stone fruit, such as the kernels from apricot pits. Did you know that bitter almonds, as well as the pits of cherries, peaches, plums, apple seeds, and apricot kernels, all contain a small amount of amygdalin, which is a naturally occurring chemical compound which is also a precursor of cyanide? Heat destroys the toxicity found in traditionally made almond extract, which is why it's considered safe to add to baked goods.
But don't worry! You won't be using bitter almonds when you make your extract because they are not allowed to be sold in the United States. Here, what you'll find in your stores are classified as sweet almonds, which are a different category of almonds.
But one more safety note: if you or anyone in your family has a nut allergy, they should not consume foods that contain almond extract.
Okay, on to the fun stuff! Here's what you'll need to make the homemade almond extract.
How To Make Almond Extract
For every 1/2 cup of vodka, use 1 1/2 Tablespoons of raw, organic slivered almonds.
Add the almonds to your jar.
Add vodka to the jar, and use a funnel, if necessary.
Cap tightly.
Label your jar so that you know what it is and when you made it.
Give the jar a little shake and place it in a cool, dark place.
Here's where we have to be patient, wait two months minimum before opening the bottle.
Kitchen Tools You Will Need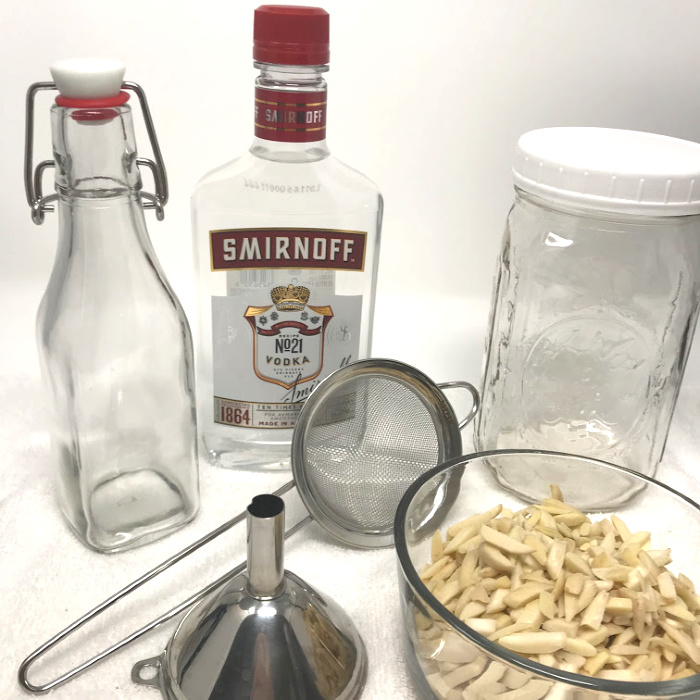 Almond Extract-Day One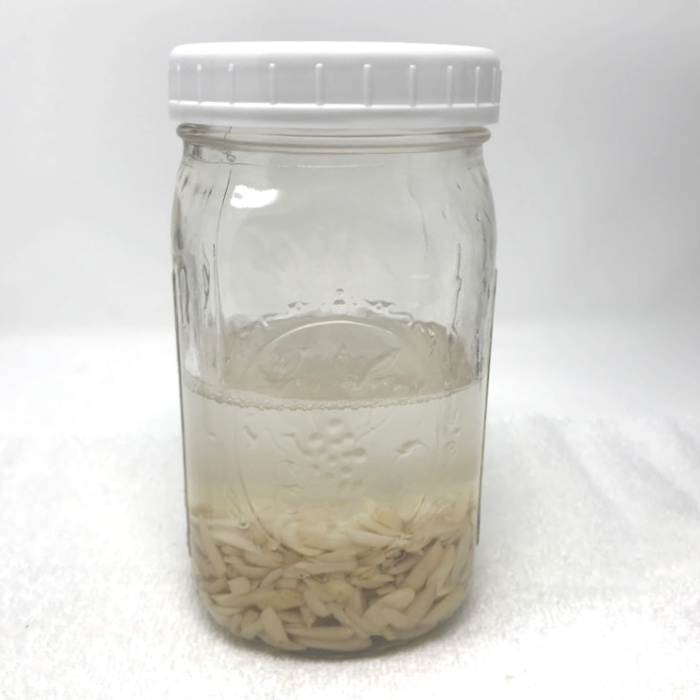 The Best Option For Almonds
I personally didn't want to boil the raw almonds, so I opted for organic raw slivered almonds. When I opened the bag, I could tell they were fresh because of the smell radiating from the bag. Now, they were processed I know, but they still had this amazing almond fragrance that was awesome! I doubt they were on the grocery store shelf for very long.
If the almonds taste good and smell fabulous, the better chance you have of having a successful batch. You don't want to use the almonds with the skins because that will make the extract bitter.
How Do I Store It
Keep your bottle of extract in a cool, dark place away from heat. During the first few months, try to give the jar a little shake every couple of days. Don't uncap it; just give it a small shake and replace it back on the shelf. Your extract will be ready to use in about two or three months.
How Long Is The Shelf-Life
Almond extract lasts indefinitely because the alcohol is a preservative. But, let's be real here, I would use mine within a year or two. When you see that you're getting low on extract, just start another bottle, label it, and it will be ready to go by the time you run out of your first bottle!
Finished Product-Two Months Later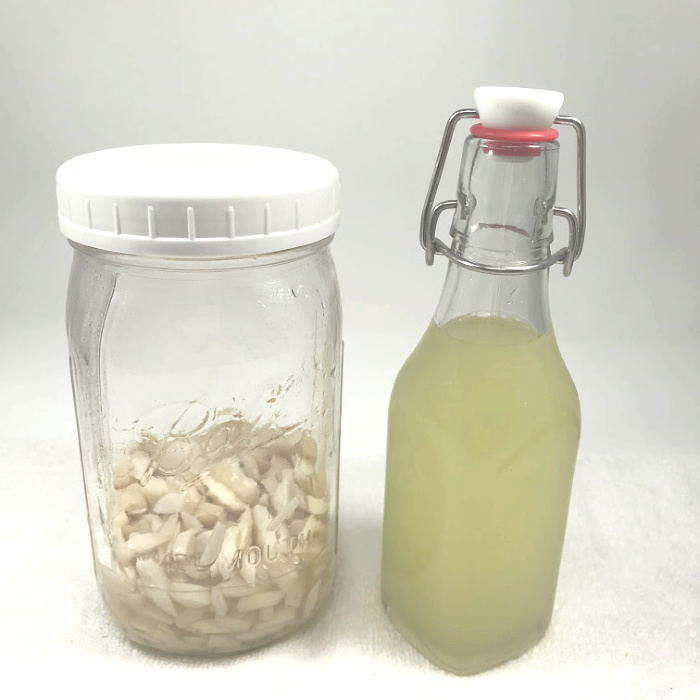 Bonus Recipes Using Almond Extract
Here are 5 delicious almond recipes that use almond extract.
Melt-A-Way Almond Cookies by This Silly Girl's Kitchen
These almond bars are a tasty treat that can be made in large batches and frozen. They also make great holiday gifts for people who love baked goods!
Almond Bars by Barefeet In The Kitchen
Do you know those cookies where you "can't stop at just one?" Well, this is it! The cream cheese in these cookies makes them soft and melty and oh, so delicious.
Lemon Almond Pudding Cake by How Sweet Eats
For an almost soufflé-like lemon dessert, try this pudding cake. It's easy, light, fresh, and perfect for summer.
Cherry Almond Cupcake by Tide And Thyme
If you love the taste of cherries and almonds, try these cupcakes. Both the cupcakes and the frosting are flavored with almond extract. Put a cherry on top and call it done!
Perfect Every Time Almond Pound Cake by Saving Dessert
Who doesn't love pound cake? This awesome cake is amazing on its own, or you can garnish it with fruit or a scoop of ice cream. Plus, it gives you a chance to use your pretty bundt cake pan!
Final Word
I hope you try making your own almond extract very soon. It's so wonderful to know what we are putting in our bodies, right? You can teach others how to make their own homemade extracts now. And while you're at it make some cookies with your very own homemade batch! Here's to being prepared for the unexpected. May God bless this world, Linda