30+ Things You Can Do with Mason Jars
Have you ever looked at your mason jars and wondered what you could do with them? I love having mason jars on hand and seeing all of the different things I can do with them.
They are great for storage and you can do so many other things with them. I wanted to take some time to show you 30+ things you can do with mason jars!
Things You Can Do with Mason Jars
Did you know that mason jars were invented by a Vineland tinsmith named John Landis Mason in 1858? Thanks to him, millions of people own mason jars.
Of course, there are literally dozens of sizes, shapes, and ideas for uses of the mason jar. The ideas I'm giving you are for the traditional canning style mason jar.
I always love using something in my home that has been around for a long time. It shows that the invention was a hit!
1. Canning-Use your mason jars for what they were originally designed for, to preserve delicious foods like peaches, salsas, strawberry, or raspberry jam. These are the jars I used to make my frozen raspberry jam shown below. How To Make Freezer Jam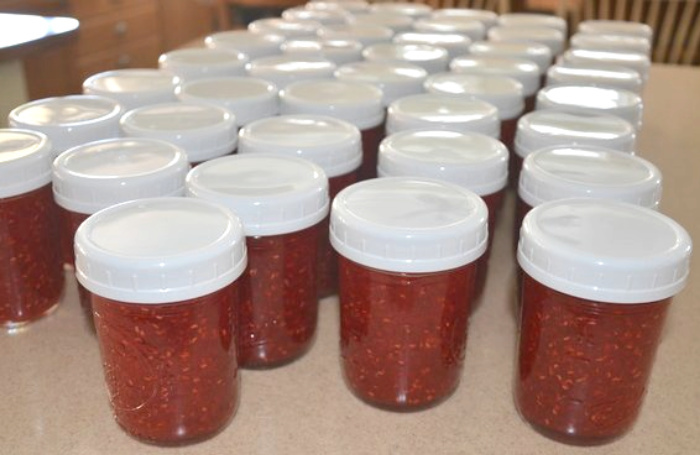 2. Candle Holder-Mason jars are just the perfect size for candles. You can even get creative by adding design or color on the outside.
3. Sewing Kit Supplies Holder-Store all your sewing kit supplies in them, and have a pin cushion equipped on the lid.
4. Drinking Glasses-Mason jars are also an ideal drinking glass, at least my family thinks so.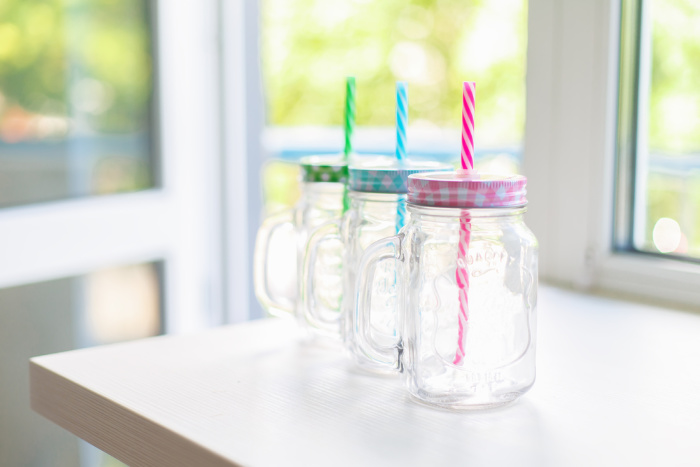 5. Spice Containers-Small mason jars with chalkboard topped lids make it easy for storing and labeling so you can easily find your favorite spices.
6. Flower Vase-You can even use them as a vase for recently picked wildflowers or Gardenias from your very own yard.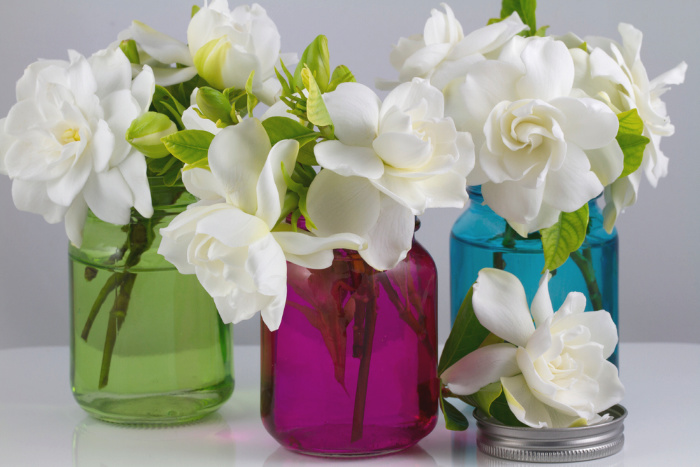 7. Cupcake Liner Container- Wanting to keep your cupcake liners more organized? No problem, grab a mason jar.
8. Pencil or Crayon Holder-Add some organization to your workspace while using one.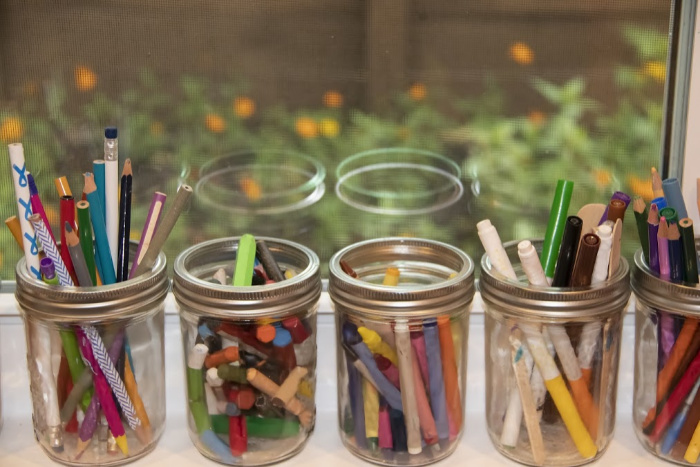 9. Moss Terrariums-Moss Terrariums are a fun project to do with the kids. It's neat to see the many sentimental layers represented down deep beneath the surface of your mason jar.
10. Beach Terrariums-Missing the beach? Now you can bring it home with you when you create a stylish beach terrarium using a mason jar.
11. Candy or Nut Jars-Mason jars also look great as candy or nut storage jars when they're filled with an assortment of different colored candies or different nuts. I use my FoodSaver to store these items for up to 6 months in my pantry.
I hand wash the lids with my labels. Mark and I are snackers, so I have nuts on hand at all times. Ball White Lids Just giving you the heads up if you have an ACE Hardware store near you, you may be able to find these a lot cheaper in their stores.
This is my label maker: Label Maker (They are easily removable if you buy the right ones.)
All nuts need to be placed in the freezer for longer storage for up to 2 years. Yes, I have had walnuts longer than that in the freezer, and we still eat them.
12. Branch Vase– Let's take it a step further by hot-gluing sticks and branches around your mason jar and placing a beautiful arrangement of flowers in it.
13. Paint Storage- Are your gallons of leftover paint taking up too much space? Pour them into smaller mason jars that can be pulled out again when you need a touch-up.
14. Light Fixtures-What do you say about having a mason jar hanging light fixture or a chandelier?
15. Mini Pie Holders-A fruit pie doesn't get any cuter or personal than when it's packed into a tiny mason jar. Check out these delicious recipes.
16. Toothbrush Holder-Some people even use mason jars as a toothbrush holder. You can use wiring to keep the toothbrushes separate.
17. Bathroom Organizer- You can tuck away all your makeup brushes, tweezers, and Q-tips in them and have the jars mounted onto a wooden pallet on your bathroom wall.
18. Growing Herbs-Convert mason jars into kitchen plant containers and snip the herbs when needed.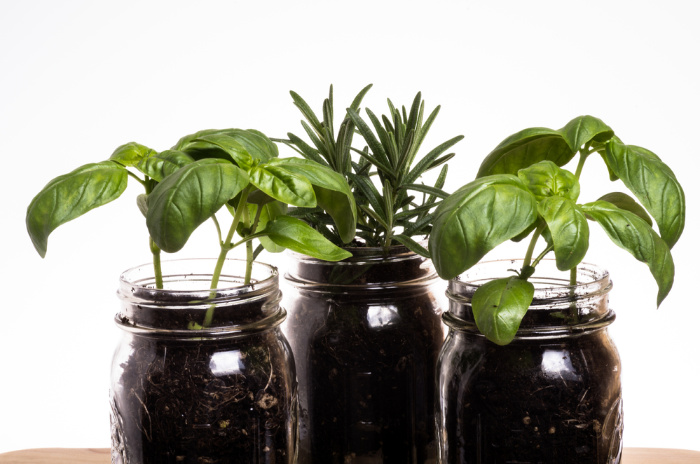 19. Snow Globes-Create a homemade winter wonderland while using them.
20. Tiki Torches-Make tiki torches in under 5 minutes with them to keep the mosquitoes away.
21. Planter-You can make these cute and adorable planters.
22. Party Centerpiece-Whether it's for a wedding, birthday party, or bridal shower, design beautiful party centerpieces using mason jars.
23. Bird Feeder-This is one of my favorites. You just need a mason jar, twine, and a chicken feeder and you'll be feeding the birds in no time.
24. Lamp Base- You can get creative by making your DIY lamp base and shade.
25. Salt and Pepper Shaker-All you need are a few well-placed holes in the lids and you can store more salt and pepper in your homemade DIY salt and pepper shakers.
26. Sugar Shaker-Why stop with only a salt and pepper shaker? Create a shaker for cinnamon, powdered sugar, as well as plain sugar.
27. Cocktail Shaker- Take an ordinary mason jar and transform it into a decorative cocktail shaker.
28. Drink Tumbler-How about drinking your iced tea inside of just the right sized mason jar that fits in your car's cup holder? It's the perfect drink tumbler while you're on the go. Make several lemonades for your friends and family and enjoy the drink on your patio.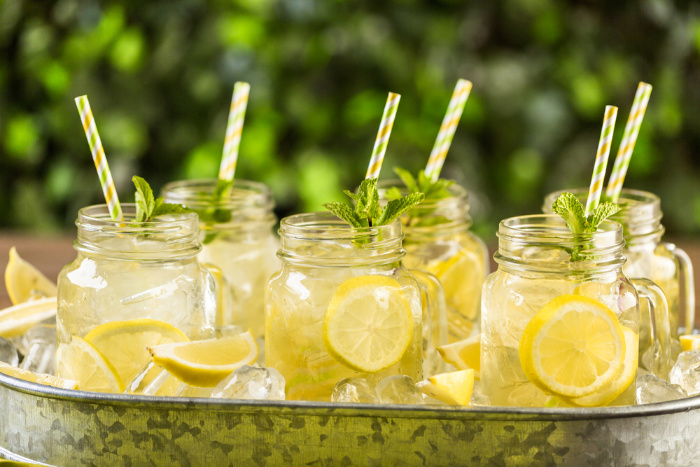 29. Soap Dispenser-You can't get more clever and vintage than a DIY mason jar soap dispenser.
30. Salad in a Jar-There is something awesome about making a salad for a week. I wrote this years ago. 6 Different Healthy Salads For 6 Days
31. Photo Frames-Wanting to try something outside the box? Use mason jars as a picture frame to display your photos in a unique way.
32. Matchbox- Place all your matches in one and create a striker on top of the lid.
33. Travel Time Capsule-Who has time for scrapbooking when you can store your tickets, mementos, and souvenirs in a mason jar?
34. String Lights-Wanting to add charm to your backyard barbecue? Build your own string lights using cable and tea light candles placed in your mason jars and wrap it around your patio.
These are my favorite 30+ things you can do with mason jars. I hope you enjoy these ideas just as much as I do. It's always fun to find a new use for a mason jar that doesn't have a home.
Final Word
There are just so many things that you can do with mason jars besides simply canning. They are great for art projects and storing away spices, and even for use as a flower vase.
What are some other clever ways you use mason jars in your home? Life is so good, right? May God bless this world, Linda
Copyright Images: Mason Jars Deposit photos_144899041_s-2019, Mason Jar Herbs Depositphotos_11660521_s-2019, Mason Jars with Flowers Depositphotos_85539980_s-2019, Mason Jars with Fruit Shakes Depositphotos_80605726_s-2019, 3 Canning Jars Depositphotos_119456258_s-2019, Canning Jars for Pencils AdobeStock_227982854 by Susan Vineyard