How To Make A Frugal Whole Wheat Berry Salad
I'm going to show you how to make a frugal whole wheat berry salad today. If you have a lot of whole wheat berries (hard white or red whole wheat) stored you will love this recipe! Here's the deal, there is a really awesome grocery store here in St. George, Utah that I love to go to and check out their freshly made food items. Well, I sampled a whole wheat berry salad and I thought to myself I am not paying $8.00 for that small container, I can make that. I'm thinking, wow, this cooked whole wheat berry idea is fantastic. I have friends that make hot whole wheat berry cereal every morning for their families. Keep in mind you will have to slowly add cooked wheat berries to your diet or you will be running to the bathroom all day. Just start with a small amount of cooked wheat and let your body adjust to it. You will need a fine strainer like this one to rinse the wheat: OXO Good Grips 8-Inch Fine Mesh Strainer
 for this recipe.
I had an awesome reader mention to me that the recipe I had posted before made her wheat berries too crispy and she was going to reduce the time to cook them in her slow cooker. I have since updated that post, I'm so glad she mentioned this to me. We're all here to share ideas and learn from each other. This made me think, is my slow cooker old and the cooking time no longer accurate. I saw a Crock Pot that was on sale and it was purple and small so I bought it. This is the one: Crock Pot SCR250-POLKA 2-1/2-Quart Slow Cooker, Polka Dot Pattern
. Purple is my favorite color, so it was only natural for my kitchen to have a purple Crock Pot, right?
Whole Wheat Berry Salad
I must tell you that cooking the wheat berries was a cartwheel moment for me! I thought to myself, these would be yummy with a little honey from Cox's Honey some raisins, craisins, walnuts or whatever you put in your oatmeal. BUT, these are so much cheaper, good grief I can feed the neighborhood for weeks with a 45-pound bucket of my hard white wheat. As long as we all have water we could survive for a very long time if we added some canned goods, freeze dried vegetables and fruits. Then bring on the garden items we harvest and we are set.
You only need one cup of whole wheat berries, three cups of water and 1/4 teaspoon of salt. The first thing you need to do is rinse the wheat with a very fine mesh strainer. Drain the wheat and dump them in the slow cooker, add the three cups water and 1/4 teaspoon salt. Put the lid on and turn to low for 8-10 hours. Or, you can add the rinsed wheat and salt to 3 cups of boiling water and cook uncovered for one hour and then drain. One more way is to use your electric pressure cooker: one cup wheat berries, three cups water, 1/4 teaspoon salt and cook on high for 30 minutes and you will use the natural release technique (this means you let the pressure come down naturally on its own). No worries, I have the PRINTABLE recipe below.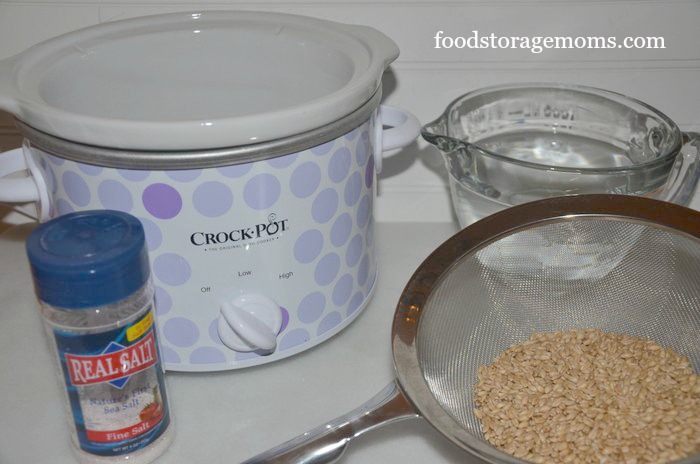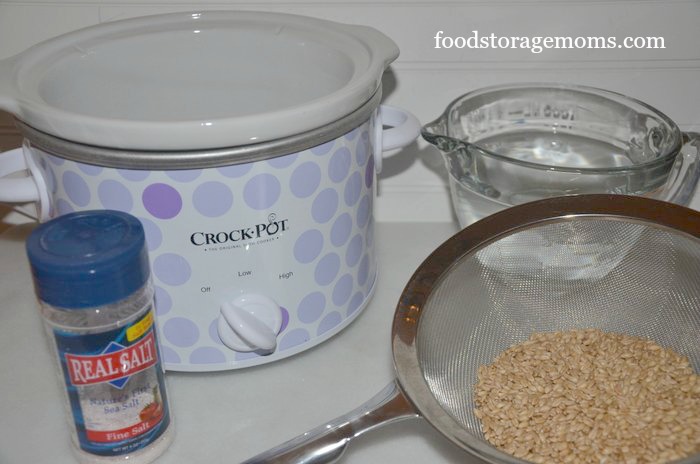 You can see how the whole wheat berries below are covered with the three cups of water and ready to cook. I think I actually cooked them about an hour too long but that's okay, we are still eating them. It's a new Crock-Pot and I need to learn how the temperature will be on low and high.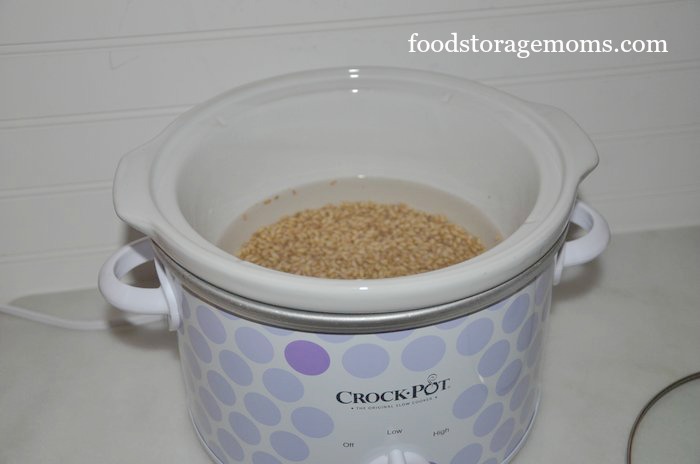 This is how they look after cooking for ten hours on low. I had very little liquid (water) to drain off. I will only do eight hours next time, but they still taste fabulous, even plain! I love oatmeal so what can I say.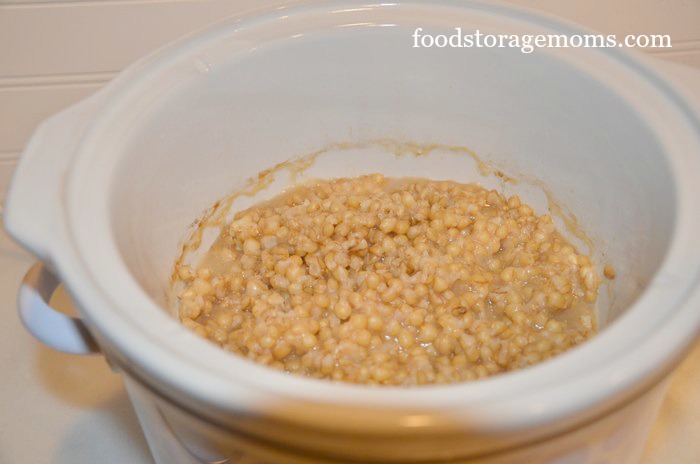 Here's the deal, I did not want to go to the store to buy anything to make this recipe, although I did buy some peanuts. You can add almost anything to a wheat berry salad. I had craisins, red bell peppers, yellow bell peppers, and carrots. Next time I will add green onions, onions, celery, parsley, walnuts or pecans. I say whatever your taste buds feel like I would add it to the cooked whole wheat berries. As a final step, you add olive oil, salt and pepper and a little lemon juice.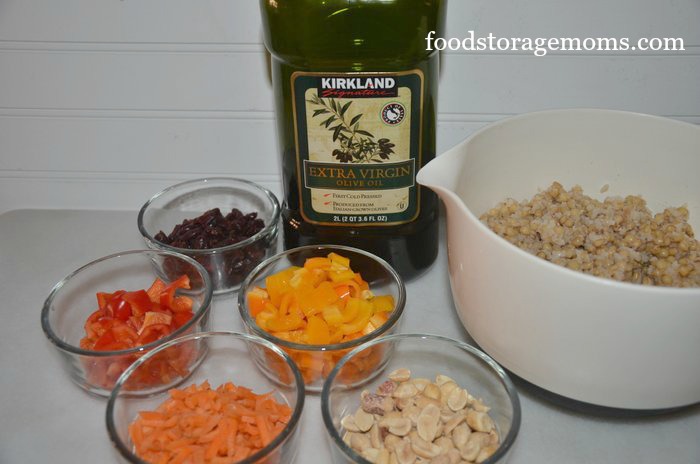 Whole Wheat Berry Salad Recipe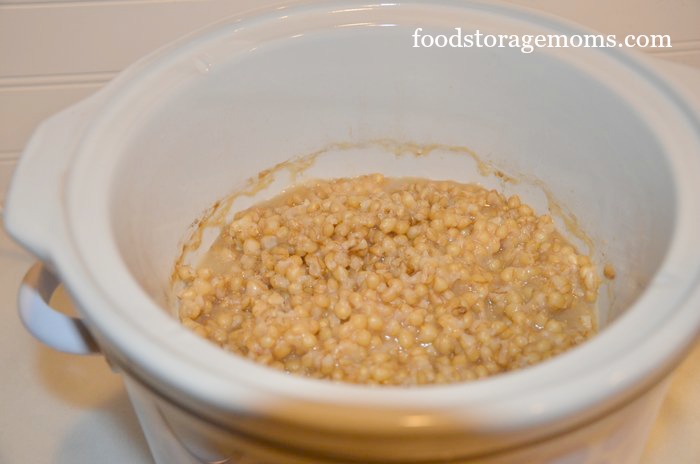 Cooked Whole Wheat Berries
Ingredients
1

cup

uncooked whole wheat berries,

rinse with water in a fine strainer

3

cups

water

1/4

teaspoon

salt
Instructions
Three Ways To Cook It
SLOW COOKER: cook all the ingredients listed above for 8-9 hours on low in a slow cooker.

STOVE TOP: add the rinsed wheat and salt to three cups of boiling water and cook uncovered on the stove for one hour or until tender.

PRESSURE COOKER: add all of the ingredients above into your electric pressure cooker and cook on high for 30 minutes. You will use "natural release," let the pressure come down naturally.
Things you can add:
3-5 tablespoons olive oil
Salt and pepper to taste
Red, green or yellow bell peppers, celery, cucumbers, fresh zucchini, beans, or parsley
Green onions, craisins, carrots, peanuts, walnuts or pecans
Mix the ingredients you choose and refrigerate until chilled
Let me know how you use your whole wheat berries, I would love to hear! Let's be prepared for the unexpected!
Don't forget my book: Prepare Your Family for Survival: How to Be Ready for Any Emergency or Disaster Situation
How to use buckets to store stuff by Linda
READERS:
Mary: I love to cook wheat berries in water until VERY tender. (Not chewy). Then I stir in some butter to melt add salt last. They have a flavor resembling sweet corn. Yum!