What You Should Buy At Thrift Stores
Today, it's all about what you should buy at thrift stores. If you're planning to visit local thrift stores in the coming days or weeks, knowing what to buy while you're there is a must!
While some items aren't worth purchasing at the thrift store, such as plastic cups and other cheap things that you can usually get for around the same price brand new, there are many items you can find at the thrift store that are hidden treasures. One of my granddaughters married a great young man who finds collectibles and designer fashions at his local thrift stores, buys them at a drastic discount, and then sells them on eBay. He does very well!
If you'd like to save money on neat items, or even collect items to sell for profit, these are some of the best things to look for while you're visiting the thrift stores.
In case you haven't purchased my book, check it out "Prepare Your Family For Survival", If you have, I thank you from the bottom of my heart.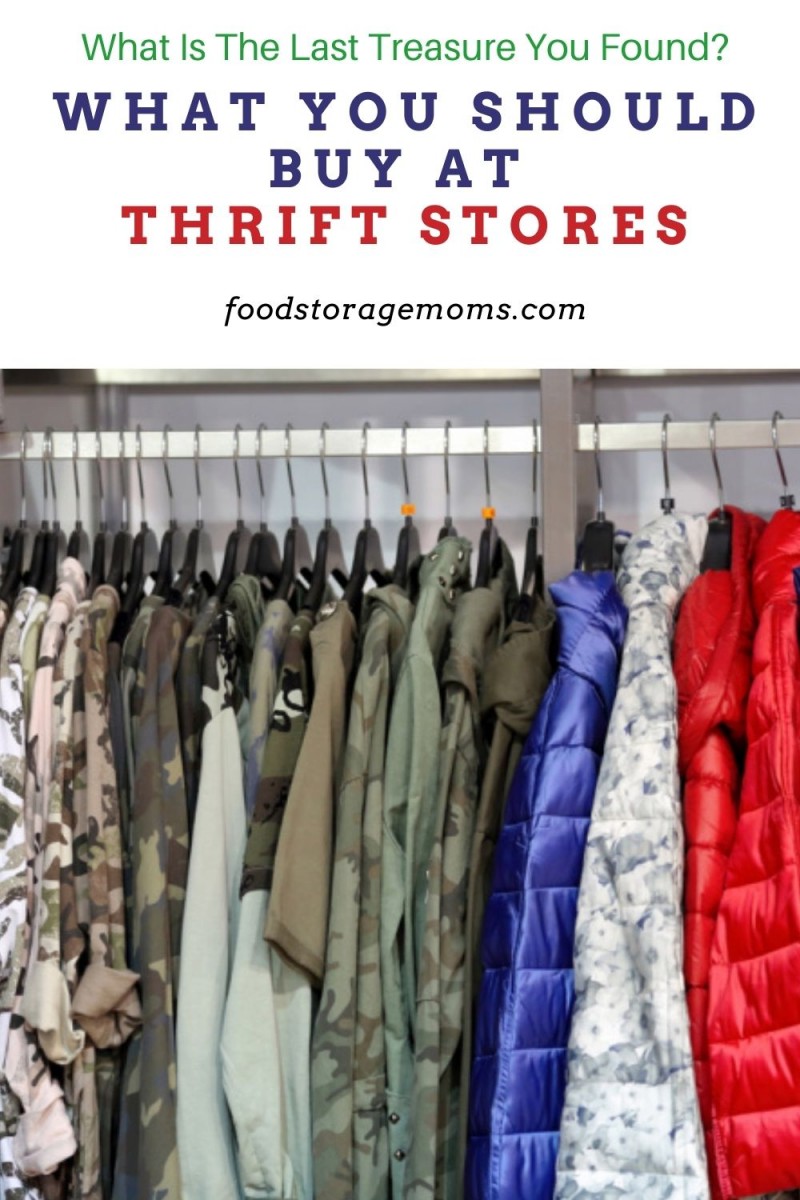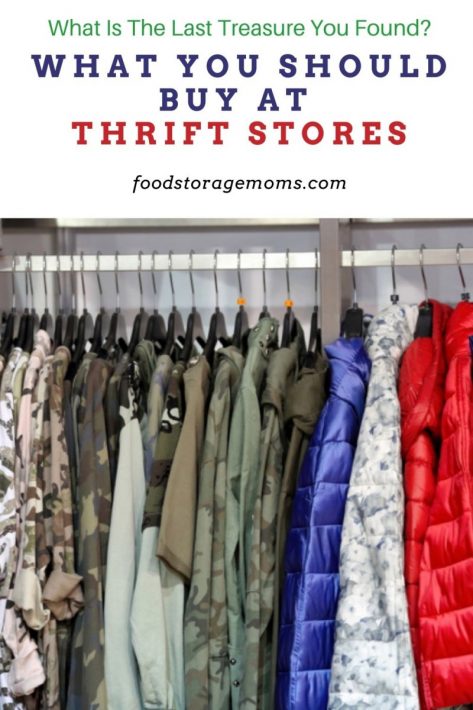 Pyrex Baking Dishes
People love Pyrex! If you can find some of these high-quality glass dishes, it's worth it to buy them at the thrift store. The brand isn't cheap, but the quality of the products makes it worth the price you'd pay at a traditional store, such as Target or Wal-Mart.
The brand makes glass food storage containers, casserole dishes, and other quality kitchen items valuable and worth buying. If you spot these items at the thrift store, you can get them for a significantly lower price than retail, meaning you'll save big on high-quality kitchen supplies designed to last a long time.
Corningware
Did you know that Corningware is a big deal? Some people will pay good money for certain Corningware pieces from different collections made over the years. So, if you can find these casserole dishes and other high-end products, be sure to grab them.
Even if you don't need them, you can make decent money by selling them to others. If you don't believe it's possible, look at the going rate for some Corningware collections on sites like eBay. It's surprising!
Cast Iron Pans
This is where it's critical to know the prices before you go. The last time I visited my local thrift store I spotted a Lodge cast-iron 10-inch skillet. The thrift store wanted $49.00 and I could see it needed some elbow grease.
The store must have thought it was valuable, it was behind a locked glass door. Now, I'm not afraid of a little scrubbing it clean project, but cast iron can be warped and will not cook evenly.
Here again, know your prices before you go. I knew I could get a brand new seasoned one for less. Check the pieces for condition by placing them on a countertop to be sure they are flat and not warped. You want quality at a fair "used" price, that's why your there in the first place!
Books
It's never a bad idea to buy books at the thrift store. Once you read a book, you might not want to save it because you've already gone through it. In that case, you can buy affordable books to read at the thrift store and then pass them along to someone else when you're done.
In some cases, you may even find educational textbooks at the thrift store that you can use for school! It doesn't hurt to look around and see what your thrift store has available.
You may also find some kid-friendly books that are perfect for the children in your home. If you work at a school or provide babysitting services, getting these books for a low price at the thrift store is a significant convenience.
Cookbooks
In some areas, you may find a treasure, a cookbook you remember seeing your mother or grandmother had. Here is where it takes patience, you have to dig through hundreds of cookbooks. Luckily, most stores place them in categories, which helps a lot. My favorite ones are old cookbooks using regular ingredients we all have in our pantries. You know me, I love cooking from scratch and teaching others to do the same.
Designer Clothes
Why pay a lot of money for designer clothes when you can hunt for them at the thrift store? Sure, there are no guarantees as to what you might find, but many thrift stores have items donated to them that are valuable and still in good condition. You never know what brands you'll find, but the element of surprise is what makes everything more exciting and enjoyable.
If you're looking for fashionable shirts, bottoms, handbags, and other accessories, scour the thrift stores to see what you can find because you might just come across designer options at deeply discounted rates. It's always great when someone else's discarded item becomes your true treasure.
Sweaters and Sweatshirts
If you love wearing an oversized sweater or sweatshirt during the colder winter months, why not grab a bunch of them from the thrift store?
One thing you'll notice is that thrift stores have no shortage of these garments in their establishment. You can find sweatshirts and sweaters in different colors, some of which may have fun designs on them. Buy what you like and what you think you'll actually wear. You may find something in such good shape you'll buy it as a gift for someone you know will appreciate it.
It's ideal to find these accessories at thrift stores, especially since some department stores charge high fees for sweaters and sweatshirts.
If you get lucky, you can find some good options for a few bucks apiece, which is a great way to add more excitement to your closet without spending too much money.
Costume Jewelry
When you want to add some costume jewelry to your collection, there is no better place to look for what you need than the local thrift store. You may find bracelets, necklaces, earrings, and other pieces that you can wear with different clothes to accessorize your outfits.
In addition, the costume jewelry at thrift stores is often available at such low prices, making it worth spending money on because it's a lot cheaper than costume jewelry found in regular department stores. 
It's even possible to find real gold and silver jewelry at the thrift store for lower prices. These items may cost more than the costume jewelry, but still cost less than they would if you were to go to a jewelry store to get them. It could be the staff at the thrift store don't realize the real value of the item, and you've found a true "treasure."
Furniture
It's not a bad idea to buy furniture from a thrift store, but you'll need to be careful when doing so. Some items are convenient to buy and use at home. For example, you may need an office desk for your home office, but don't want to spend too much money. In that case, you could find the perfect desk at the thrift store at a much lower price. 
However, be careful with any furniture you decide to get. It would help if you made sure no rodents or insects are living in the furniture because you don't want to bring those problems home with you.
If you don't see any issues with the furniture you'd like to get, consider buying it from the thrift store to save cash while getting what you need.
I know the local thrift stores here no longer take box springs or mattresses for fear of bed bugs. The last I heard they will not take used washers, dryers, refrigerators, stoves, freezers, and rear projection TVs are not accepted. Most of these stores don't have the trained staff to test them out and perform repairs if necessary. Also, if repair parts are needed to make them functional, then the store could end up spending more than they expected getting them up and running.
In case you missed this post, Thrift Store Items To Stock Up On or this one, Prepping Items You Can Find at Thrift Stores.
Final Word
Do you know what to buy when you go to the thrift store? If you're unsure which items are worth purchasing and which are best to avoid, consider this list of the best things to get at the thrift store.
You can find many valuable items at the thrift store, including high-quality cookware, designer clothes, and even some furniture that you can use in different parts of your home. However, not everything is in excellent condition when being displayed. Be sure to check everything before you buy anything to make sure it's worth it. If based on your own experience you have other suggestions, please let me know so I can share your experiences with my valued readers. May God Bless this world, Linda 
Copyright Images: Clothes Hanging Up Depositphotos_146927861_s-2019