10 Reasons to Refinance Your Home Now
Purchasing a new home is always an exciting time in our lives, but as the years start to fly by, that monthly payment gradually starts to eat away at you. Or maybe your interest rate isn't all that bad, but you're currently living in a desperate situation where you need a little extra cash? Whatever your situation, maybe refinancing your home can help you save a ton of money, or at least help simply survive from month to month. These are 10 reasons why you need to refinance your home now. Check out these 10 reasons to refinance your home now.
"Prepare Your Family For Survival" by Linda Loosli
11 Things You Should Do Before You Die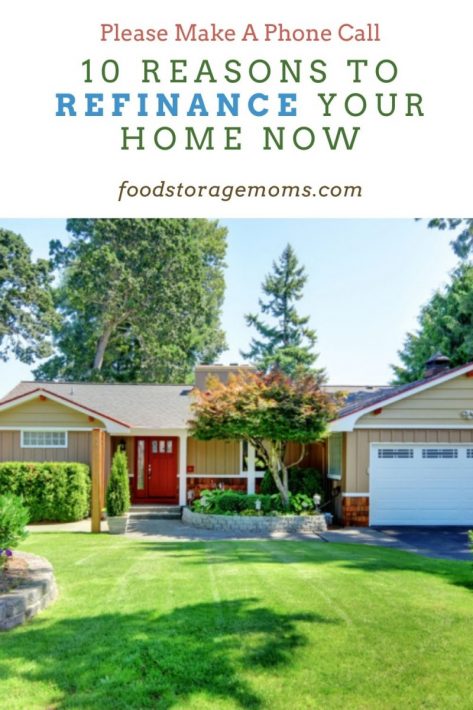 #1. A Lower Interest Rate, Along with a Lower Payment
Making the decision to refinance your home by going with a lower interest rate and the resulting lower mortgage payment will save you a bunch of money over the years. But it's important that you do your homework ahead of time so that the structure of the loan is what you are looking for. This includes what interest rate, when to lock, and how long a period you're getting locked in for.
If you're not satisfied with the rate that a certain lender is offering you, you still have the option to shop around even after you've already been pre-approved. Nowadays, the rate is primarily based on your credit score and the length of the term for your loan.
#2. Reduces the Life of the Loan
Refinancing your mortgage will give you the option to shorten the term of the loan. Who doesn't want to get out of making monthly payments earlier? Doing so can greatly reduce the amount of money that you are paying out throughout the rest of the life of the loan. That's because the interest rate will be reasonably lower, saving you tens of thousands of dollars.
Yes, you might have to pull more money out of your wallet each month for a payment, but more of that payment will be directly put towards the principle of the loan. You'll have many more years afterwards to save that money and use it in whatever way you choose. This is one of the major reasons to refinance your home now.
#3. To Increase the Loan Term
This is the exact opposite of what I just went over with you, but everyone's circumstances look a little different. For some people it's extremely hard for them to make their current monthly payment and they need some sort of a break. If this sounds like you, you have the option to increase the life of the loan so that your monthly payment is more manageable for you and your family. While you'll pay more money throughout the life of the loan, it will be much more reasonable for your current situation.
#4. Your Credit Score Has Significantly Improved
Your credit score may not have been all that great when you first purchased your home. If your credit score has gone up at least 20 points, it may be enough to reduce your rate and save you thousands by the time the life of the loan is finished.
#5. Home Equity Rising
Are you currently dealing with expensive insurance premiums with your FHA loan because you were unable to put up to 20% down when you purchased your home? Refinancing your FHA mortgage is one of a couple of ways that you can do away with them.
There's also a good chance that your home value has gone up in recent years. With your home equity appreciating over the past few years, your home may have reached 20 percent equity already. If you are used to making that payment, after you refinance continue making that payment because now that extra amount will go right to the principal instead of mortgage insurance. Be sure and specify the extra amount as a principal payment. Therefore, your mortgage will be paid off sooner.
#6. Get Cash Back to Help with Other Bills
Are you in dire need of cash now to help pay for other bills that you're struggling to pay? Refinancing your home to get cash back might make sense for you. Just keep in mind that cash-back refinancing typically involves refinancing your mortgage for a larger sum of money than what you currently owe, and the bank still views your home as collateral.
Getting cash back when you refinance can help you pay off high-interest credit cards and other debts. Many people use that money to make home improvements too.
#7. Reduce or Shorten Your PMI (Private Mortgage Insurance)
A handful of years ago, the Federal Housing Administration (FHA) changed its rules about homeowners having to pay for mortgage insurance for the entire life of the loan, especially for those that were not able to put at least 20% down.
When you choose to lower your interest rate by shortening the life of your loan to a 15 to 20 year refi, it gives you more flexibility by lowering or getting rid of your private mortgage insurance. That can save you a lot of money by the time the life of the loan is complete. There's also the possibility that you can still get cash back on your home.
#8. Rates Could Be On the Rise Soon
If the interest rate on your home is more than 5%, there's no reason that you can't get a lower one by refinancing. Mortgage interest rates have been at an all-time low for a couple of years now, but those rates are starting to trend up again. With interest rates that are expected to rise, choosing to refinance today will provide you a number of benefits within a year and in the years to come.
#9. A Fixed Rate Could Save You Money In the Long Run
Do you currently have an adjustable rate mortgage with an interest rate that fluctuates? This can be expensive and aggravating as a homeowner when the ARM is moving upwards. If you are planning on living in your home for many years to come, making the decision to switch to a fixed rate loan will certainly be cheaper in the long-run.
#10. Getting a Divorce
When two people co-own a home together but are making the decision to separate, the spouse that is planning to continue on living there will want to consider refinancing their mortgage.
That way the other spouse is no longer connected with the loan on the house. There are also other instances where you may need to refinance your home. If you are looking to get out of sharing a loan with a friend, partner, relative, or a business partner, refinancing the loan will need to take place.
Final Word
The time for you to think about refinancing your mortgage has honestly never been better. These are 10 of the best reasons for doing so, but there may be others. Have any of you benefited from refinancing your home over the years? What's your story? Do you need to improve your credit score? These tips are for you! May God bless this world, Linda
Copyright Images: Home with Red Door Deposit photos_8751337_s-2019