11 Things You Should Do Before You Die
I decided to write about 11 things you should do before you die, in other words, what we may all want to consider doing. As an example, sometimes we need a little push to gather important documents together and put them in a binder like the one I designed. Food Storage Moms FREE Printable Emergency Binder Download
Please be patient for it to load and the PDF document should show up on your computer on the bottom left side of your laptop screen or computer monitor. Once the document finishes loading it will be ready to click and print. I prefer printing it on cardstock, and it's actually in color if you want to print with a color printer.
11 Things You Should Do Before You Die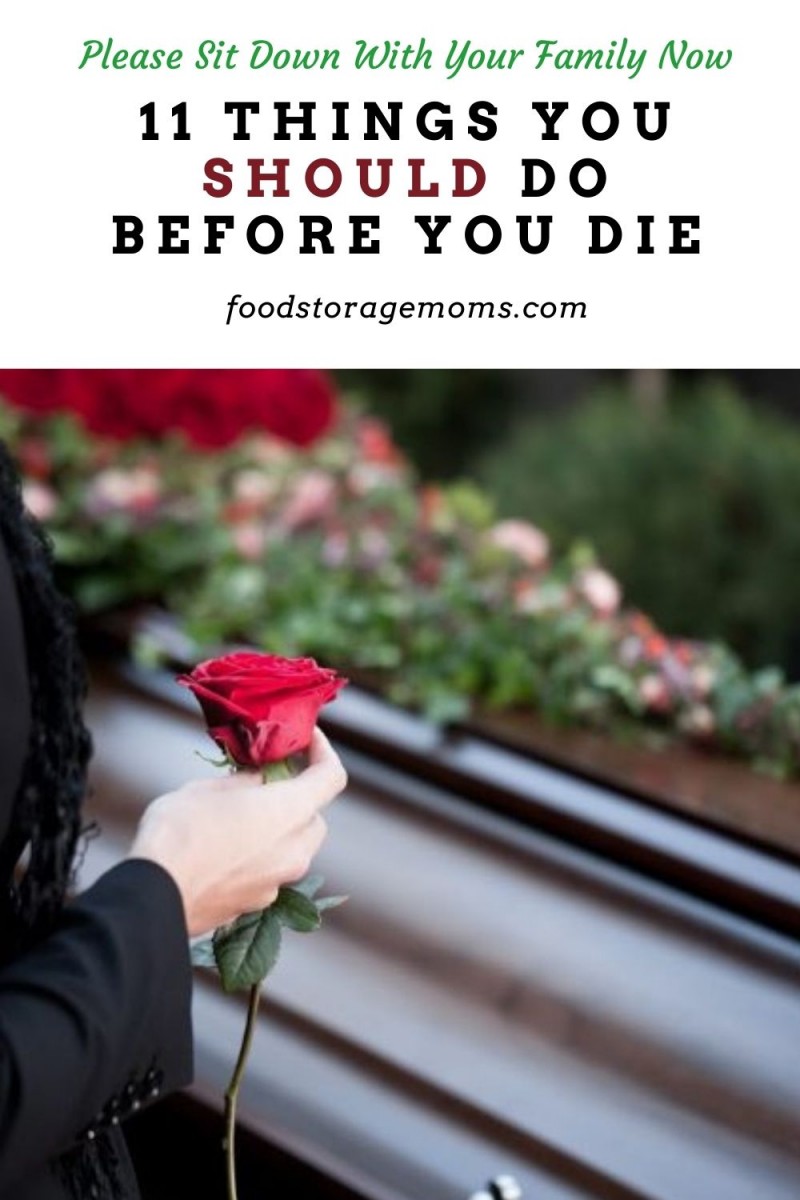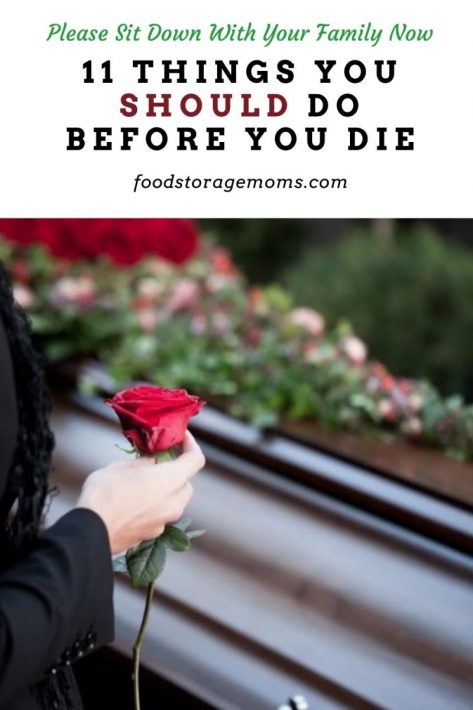 My Granddaughter Emmie
Here's the deal, no one wants to talk about death, in most cases, I get it. I have to tell you a funny story about one of my cute granddaughters, Emmie. One day she came to visit and said to me "Grandma, did you know you're going to die?" I said well, "how did this topic come up today?" She was about six or seven at the time and she had recently had a Sunday School lesson where they had talked about death. Well, Emmie looked me in the eye and said, "well you're gonna die, Grandma!" I am known to laugh a lot and I tried to keep a straight face, but I got the giggles so bad only because she was so serious. We then discussed what she had learned in her class. Yes, indeed we will all die.
Close Call with Death
Over the last few years, we have all had a family member die, a special friend, or someone we really admired pass away. Well, a few years ago I went up to Salt Lake City, Utah for the holidays. Whenever I go up north I love seeing my family and I love going to visit my very special close friends. I visited one family and learned she had had a very close call with death and she has two young children.
We talked about the fact that we have both been very healthy over the years and in one afternoon her whole life changed. Drastically changed with some serious health issues. She is not out of the woods yet, and this saddens me deeply.
On Christmas morning, my daughter received a call that her best friend was headed to the hospital in an ambulance. Her daughter had called my daughter to make a few phone calls to help them get in contact with her friends and family ASAP so they would know what was going on with their mother.
Well, the friend lives in Park City, Utah and we had the most beautiful snowstorm for Christmas day. But this snowstorm was treacherous to drive in. My daughter knew she had to drive up the canyon to support her friend, but soon realized she wouldn't make it up Parley's Canyon and turned around and came back.
Be Prepared Before Someone Dies
So after much thought, I decided I must write a post about my thoughts to help families be prepared before someone in their family dies. I know it is hard because I have had to help friends figure out where their bank accounts are, mortgage company information, insurance companies, and policy numbers, etc. It's hard when only one member of the family takes care of the bills and the other partner knows very little or nothing about family finances. I mean nothing.
Unexpected Death
Once one of my friend's husbands committed suicide and she had never written a check or had a debit card. She didn't have a clue about money or debt. Plus, the family had zero life insurance and she had very small children under the age of ten. She had never worked. Now, this could be a young mother, young father, or an elderly person who dies. It's like Emmie said, "well you're gonna die, Grandma."
Now keep in mind I am not a lawyer or anyone in the legal system. These are my thoughts and what I have done with my four daughters. You must decide what works for you. My husband and I have both worked in our careers with legal documents and we know how important some of the things I will list below are for any family.
Of course, if you are worth millions of dollars you probably have already had an estate planner work these deals out with you. I worked with estate planning with my clients on a very small scale during my banking career and directed them to other professionals to finish up their "affairs" before they died. Keep in mind, this is the very minimum number of items I am suggesting you do for yourself and your loved ones before you die.
11 Things You Should Do Before You Die
1. Talk About Death
Talk about death with your family members, not every day, but we need to talk about it. I know I'm going to die and I have had a good life. I've been blessed beyond words. When it's my time, it's my time to go.
2. Important Documents
Gather up your important documents and store them in a binder, folder, or whatever is convenient, and then place them in one secure place. Let your loved ones know where you have these items stored, like birth certificates, bank accounts, investments accounts, your will or trust binder, etc. This way they are not frustrated as they try to help the family member(s) that are left behind.
I'm assuming you all have a Will or Trust. If not, get one now or the state where you live may have to determine what happens to your estate/assets when you pass away. As part of that effort, be sure to seriously consider who you want to act as your executor, administrator, or personal representative. Money can make people do some strange things.
3. Passwords To Accounts
Label the passwords to accounts, if you feel comfortable sharing them with those who will help take care of those left behind who may need some help with paperwork. Of course, you will want to put these in a safe location.
4. Funerals or Cremations
Talk about funerals or cremations and burial plots, whatever you decide you want for your funeral, or in my case a celebration at a park with food catered. Our best friend's son died and he had the best non-funeral I have ever been to. It was at a park with no casket, no solemn faces. They had music, food catered, and bouncy playthings for the kids. Of course, we all cried, but we laughed and giggled about the life he lived.
He was the cutest dad ever, and the memories I have will be cherished forever. He was a hockey player and coach and I bet the park was filled with about 400-500 people coming to enjoy his non-funeral. He lived longer than the doctors thought he would, he left behind a beautiful wife and three small children.
5. Declutter Your House
This one is silly maybe, but I have been decluttering my house because I don't want my daughters to have to deal with my "stuff" after I die. I have helped move many people and sometimes I think, wow, why are we moving this stuff. I'm just saying, think about moving, oh, it is not fun. Well, just think of the stuff that's in your home that maybe could be donated, or in some cases put in the trash. I'm not talking about Aunt Mable's heirloom hankies, although I have trashed many of those types of items. If those hankies or other things are important to you then save them. But, sometimes I think our kids will trash them. They may not be treasures to our kids. Just thinking out loud here.
6. Sentimental Items
I remember my mom asking me before she died if there was anything she had that I wanted. I think I hurt her feelings because I said I didn't need or want anything. I know there are a few things my daughters have mentioned they would like. I have given my china to them, I no longer entertain like I used to. Life changes. There are a few other memory-filled or useful things they may want. I might as well give them now if I don't need/use them.
7. Life Insurance
Decide if life insurance is right for you. I have seen many young mothers and fathers die who leave their loved ones behind in a financial disaster. I have also seen where the families planned ahead. Thank you, God, for inspiring them to do be prepared with life insurance to at least pay off their home and have some money to live on until they can get back on their feet to provide for the family. Term insurance is very inexpensive when you are young and have a family. Keep in mind the premiums go up considerably as you get older. Maybe a mixture of term, whole life, or other types of life insurance should be considered.
8. Loss of Income
Talk about budgets before you die. What income will you lose if the breadwinner should die without warning? The income and budget should not be a secret. Have a family meeting and talk about how much money comes in and needs to go out each month. Make it a positive experience. It's a good thing to talk about budgets with your kids, we have all heard that phrase, "money does not grow on trees." The more mature children need to understand where the family stands financially.
9. Donate Organs
Think about donating your organs. This decision needs to be made BEFORE you die. What a difference this can make in the lives of others who need the blessing of a replacement organ to survive!
10. Write Your Obituary
This may seem crazy, but I told Mark if he wants an obituary, he better write one TODAY or there will not be one. Here's the deal, I can't remember all the things I want in my Obituary, or for that matter, whether I want my kids to waste the money publishing one. So, there you have it, write your own obituary (minus the dates) if you want one.
11. Care Centers
Talk to your family about rest homes, care centers, or whatever you want to call them. I don't want to waste my daughters' time and energy taking care of me. If in fact, I don't know who I am after a certain age in my life, I am telling you NOW that's it's okay to have someone else care for me in a Medicare facility. Also, please remember to have a "right to die or let me go if I am gone mentally" paper signed if you feel comfortable with that. I do, for sure. The hospital will need this legal document if your state allows it. It is often referred to as a Living Will.
I hope this post helps just one family be better prepared for the death of a family member or friend. May God bless you in your preparedness in every aspect of your life.
Final Word
I hope today's post about 11 things you should do before you die prompts you to prepare your family for that final step in your life. Please be prepared before you have to be. May God bless this world. Linda
My favorite things: