Suicide-Why Is This Happening All Around Us?
Suicide is a sad thing for everyone. It may be totally unexpected, it might even be accidental as when an individual takes too many prescription drugs when under the influence of alcohol. I went to a funeral of a young family member who committed suicide and I can still remember watching his poor son look in the casket and just stare. The room was silent, of course, all of us were crying thinking of his only child wishing his dad was still here.
Within the last month I heard about friends who have lost family members to suicide or accidental overdoses from drugs. It doesn't matter how they died, they were hurting inside and needed help. We as family members and friends ache for them.
The reason I want to address this topic today is because it could happen to any of us. As we picture all the front doors in our neighborhood we seem to think everything is wonderful and fabulous behind that wooden door with the cute doorknob. Maybe a wreath is hanging on the door with a welcome sign attached to the door. What we don't know is what each family in the neighborhood is going through as they face the daily challenges of kids, jobs, health and financial issues.
I don't want this to be a gloom and doom article. This is about real people needing to be prepared for the unexpected. I have dealt with older couples in my previous job assignment when one of them died (not suicide) and the other didn't know where the bank statements were or how to use a debit card. The wife had never filled her car with gas. Now she has to learn to be independent at 70 years of age.
I have seen electricity meters shut off or removed from a house because the single widow now didn't know how to pay the electric bill and the utility company cut off her service. I want to talk about this because I used to teach people how to get out of debt and get their affairs in order so they are prepared for whatever might happen to them. We often talk about planning ahead for the kid's college expenses, our own personal retirement, or setting aside funds to help out our parents when they may need our financial help. These are all worthy goals, and like the educational savings plans most states have, often the government even supports these effort so some extent. What I'm suggesting is that it may be prudent to not only have the proper insurance to cover things like disability, long term care and other challenging health challenges, but also to have funds set aside to cover the myriad of situations you and your family may find come your way. We Americans have for many years been negative savers, meaning we not only don't save, but we find ourselves in debt beyond what is prudent. If we tried diligently to put some funds away for "whatever" we might experience down the road the unexpected event won't be so devastating. The funds saved may not end up being used for things you had expected or planned for, yet they provided at least some of the financial support needed to get through the initial tough times, and maybe even for longer term help.
I was prompted to write this article today is because I have been thinking about a young woman who lost her husband unexpectedly a few months ago. She has several children, all under the age of ten. Some men or women handle all the family finances without dialogue with the spouse or adult children, that was the case with this family. If you were to lose your spouse or partner today do you know what is due or where to pay the household bills? I realize some people have separate accounts. I get that, but death doesn't get that. The bills still need to be paid.
The driveway has to be shoveled when it snows, the yard needs to be mowed, the car needs to be serviced, the children's homework is still there to be done. Some of the physical things you can let slip or neighbors and family will step in and help the one left behind. This post is for young families, middle age people and grandparents. I really want to talk about preparing yourself for the unexpected.
We Are Never Prepared For Suicide:
1. loss of the family member or friend is the first thing
2. burial expenses-they are not always planned and paid for in advance
3. loss of income-if the person is the main bread winner
4. the remaining partner, spouse or other family members now need start a job or return to work
5. if there are young children, daycare is now needed
6. life insurance proceeds available-yes or no?
7. if the death is a child, we never expect our children to die before us
Suicide-Possible Explanations:
1. I personally don't think there is any one answer
2. health issues-mentally or physically
3. they can't stop the pain
4. the sadness won't go away
5. they can't see any way to fix it-whatever they are feeling
6. they are unable to sleep or eat
7. they do not feel any self-worth
8. they think something they have done is unforgivable
9. they are being bullied and think it will never stop
10. they are depressed or have high anxiety issues
I still remember two friends from years years ago and what we all went through when their babies died shortly after their birth. I had just given birth to my second daughter. I was young, immature and didn't know what to say to them. So I didn't say anything. I regret that to this day, and that's been 40+ years ago. I wish I had reached out to them and hugged them. And hugged them again. I know this has nothing to do with suicide but death makes us freeze sometimes. I did anyway.
Some Things We May Not Want To Say after Someone Dies:
1. he or she is in a better place…
2. I know how you feel OR I understand (you may not know unless you were in a similar situation)
3. you're strong, you can get through this
4. thank goodness you have other children
5. you have so much to be thankful for
6. don't feel bad
7. don't cry
8. it's God's will
Please Do Not Ask Personal Questions:
1. was a note left behind
2. how did she or he do it
3. did you have to clean up the area
Some Things You May Want To Say:
1. I'm here for you.
2. How can I help you today? Can I run some errands or bring you lunch?
3. I am so sorry for your loss.
4. I love you and I will pray for your family.
5. Hugs say more than words….
My thoughts and prayers go out to everyone who has had to deal with a death or suicide in their family. May God bless you and your entire family.
Please get your affairs in order, make a plan and put it in motion. You may want to download my inexpensive but very comprehensive emergency binder contents to fill out this weekend. Not next month…..this will help with your plan to be prepared: Emergency Binder Printables by FoodStorageMoms. You can print them on cardstock and put in your own binder to keep all your important documents in one place.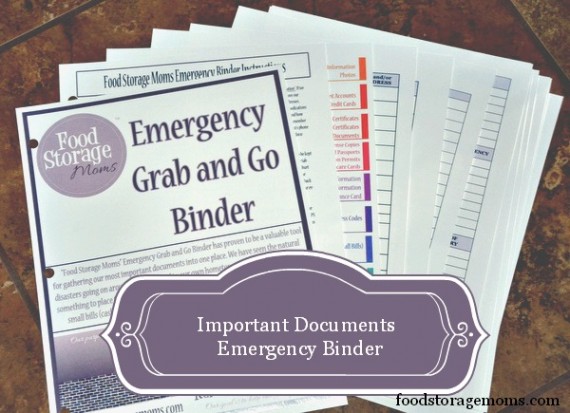 Suicide Prevention Lifeline : Suicide Prevention Lifeline.org. Please note** I took some of the examples above from the Suicide Prevention Lifeline website.
CDC-Suicide vs. Homicide Stats: (2010) CDC Stats Suicide vs. Homicide 2010.
National Suicide Prevention Lifeline: 1 (800) 273-8255