start with
that I feel we need in our emergency buckets, boxes or containers. Here's the deal, we all keep hearing about the different strains of FLU or MRSA. Let me explain what I call a Pandemic Flu Outbreak. In my opinion, Pandemic Flu is the virulent human flu that will cause a global outbreak or pandemic of a very serious illness. Right now there is currently no pandemic flu, 
but
because our bodies might have very little immunity to a HUGE outbreak, the disease can spread easily from person to person. In other words, a pandemic is a global disease, it's when
new influenza 
emerges and begins to cause serious illness. It passes from person to person and then spreads worldwide. In the last century, three Influenza Pandemics occurred: 1918-19, 1957-58 and 1968-69. Many scientists believe it is a matter of time before another influenza pandemic occurs. This is why I feel so strongly about having a Pandemic Essential bucket. I know we all have first aid kits. When was the last time we looked to see if we have current items or are we missing some badly needed Motrin or Tylenol for we adults and our kids? What are the dates on the medicine containers? How many alternative home remedies are we prepared to make or use? These 30 pandemic essentials are the bare minimum needed.
30 Pandemic Essentials We Need: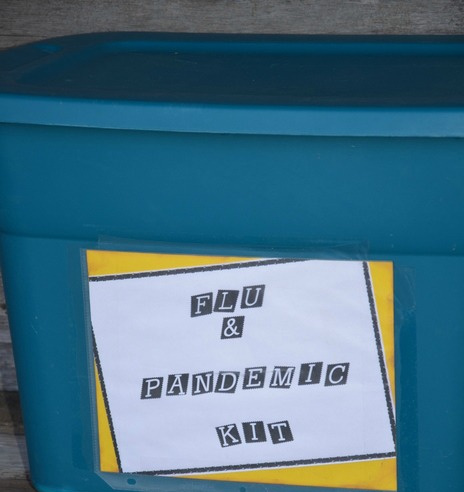 1. Face Masks (N-95's) To help stop the dust from an earthquake or infections spreading from sneezing (I store 100's of these-its who I am). 2. Diapers (cloth) They can be used for many things. Cleaning, babies, stop the bleeding from cuts, wash or dry dishes. Or you can add a scarf for your head as well. These are the diapers I recommend:
Gerber 10-Pack Cloth Diaper Prefold Premium 6-ply with absorbent padding
3. Cough Medicine, Fever Medications, Prescriptions As required (stock up on 90 days if possible) Hydrogen Peroxide and rubbing alcohol, Vicks VapoRub. Product for stitches, besides Butterfly Bandaids.
ZipStitch
4. Portable Radio Hopefully you have a crank one or some way to power it to hear what is going on locally if you lose power. 5. FlashlightS Please store extra batteries, or a solar flashlight is even better with a crank as well, my favorite is the
Solar Flashlight
6. Manual can opener This is a must-have for every kit. You might need to open other's food storage cans as well as your own. 7. Garbage bags and kitchen size bags These can be used for trash, body bags if need be, potty chairs. 8. Cans of juices (bag/cartons) I put 100% juice in this container-ten pouches, I am sure it has some sugar, I still need it in my bucket. 9. Fluids with Electrolytes I can also make my own electrolyte solution that is very similar, but I want one large bottle ready to serve. Drip Drop
Duct Tape
, it has a million ways we can use it. That's the link where I share 25 ways to use duct tape. 22. Borax Great for toilet provisions. It helps clean the potty chair, but also put a little in the bottom of the portable toilet to help control the odor. 23. Clothesline rope and clothes pins We might have a washing/rinsing bucket, but we might need to hang up some wet clothes to dry. 24. Laundry Soap Let's be ready to use it for washing our underwear, at the very least. We can wear shirts and shorts or pants several times, but it would be nice to have clean underwear. 25. Dawn Dish Soap This is my favorite liquid soap. It might cost a bit more, but the few extra cents of cost is totally worth the grease this stuff can clean. One of my readers mentioned using Dawn Soap in baggies with a little water to clean underwear, rinse and dry them. Plus, she uses Dawn Liquid Soap to wash her hair! 26. Kitty Litter Great for potty chairs (also a reader mentioned you can get "oil dry" much cheaper at automotive stores). 27. Water Filters and purification devices I use the LifeStraw and the Berkey Sports Water Bottle for filtering water. 28. Water containers Collection, storage, and carrying containers (never throw out a bucket). You can never have too many buckets for washing, rinsing or mixing large batches of meals for your neighborhood (food containers only for meal preparation). 29. Water LOTS of water needs. I have WaterBricks with handles to grab and go. 30. Food We need a minimum of 2 weeks of food for everyone in your family. 31. Lysol or Clorox Wipes We need to ba able to wipe down everything possible. 32. Sanitary napkins These can be used for so many things. 33. Regular unfolded diapers These can be used for scarves, bandages, slings, and for diapers. 34.
DRIP DROP
Designed by a doctor for dehydration. Thank you, Nurse Mom 35.
Disposable Aprons,
thank you, Holly.
Stock Your Home Pharmacy
Final Word
Here is a link to the
Weekly US Map Influenza
I am sure all the states have a website where you can view how they are prepared for a Pandemic Outbreak should one occur. Please remember, I am not a doctor or someone in the medical field. I just want to be prepared for the unexpected. These are just 30 Pandemic Essentials to get you started. It's one more step to being prepared for an unforeseen emergency or disaster. This is part one of my pandemic preparedness project. I'll be providing additional information in the days to come.
First aid kit by Linda
Copyright Images: Depositphotos_12301402_m-2015 and Depositphotos_36962601_s-2019
Below is a list of 30 Pandemic Essentials to