The Pros and Cons of Wearing a Mask Long Term
For most of 2020, nearly every business and restaurant across the country have required you to wear a mask or some type of face shield in the hope of reducing the spread of Covid-19. The number of cases has certainly tapered off over the past couple of months, but recently many states have begun to extend the facemask requirements even further. While wearing masks appear to be a very good thing for us in the present, wearing them long term could cause several negative effects on our health. Here is a look at several of the pros and cons of wearing a mask long term.
35 OTC Medications You Should Store
30 Items You Need To Survive A Pandemic
Pros of Wearing a Mask Long Term
When it comes to mask-wearing, there are some pros. I think it's important to look at each side of something and see what the positives can be! Here we are going to talk about the PROS of wearing a mask long term.
Reduces The Number of Droplets Expelled
Every time that we open our mouths to talk, laugh, sneeze, or cough, we are spitting out tiny droplets of mucus that we may not even see. If you are infected with the virus, it only takes one of those droplet sessions to get several other people around you sick. Masks can't completely stop every droplet, but it can drastically limit the number of droplets that land on other surfaces.
Corona Cases Have Gone Down
There have been positive reports coming back from Australia, when their government made the decision to make wearing masks mandatory as of April 6th. In just a matter of two weeks, the number of reported Covid-19 cases went down from 90 to 10 cases per one million people. Similar results have been found in other countries as well, including Slovakia and the Czech Republic.
Cons of Wearing a Mask Long Term
Just as I mentioned some pros from wearing a mask long term, I wanted to talk about the cons. Although I found more cons with wearing a mask long term, it doesn't mean I disagree with anyone that chooses to wear one long term.
Not All Masks are the Same
It may come as a surprise to some of you, but not all face coverings are as good as others. It's been proven that cloth face masks offer us only slight protection and should only be used as a last resort.
A while back there was a study done with healthcare workers working at 14 different hospitals. One group continued wearing medical masks, while the other group of medical workers wore cloth face masks. The outcome for those wearing the cloth masks showed the rate of infection was 13 times higher than those who wore medical masks.
Other masks, like the N95 mask, have a valve in it that protects the user, but not from them spreading the virus to others. The mask has also been linked to a number of health problems that could have lasting consequences more severe than the virus.
Wasting Resources
You may have noticed many people that are choosing to wear their masks even when they are doing an activity outside while being nowhere near the proximity of other people. I find this a bit extreme myself because there is no clear cut evidence that the virus has infected the air that we breathe while in the open outdoors.
So, if that's the case, it's entirely pointless. There's no benefit of wearing one while you are outdoors unless you are very close to others, and you're only wasting resources when you throw away your disposable mask once you go inside. We should be using these resources where they are actually going to be effective. Of course, we must all do what we feel comfortable doing.
Masks Don't Work on Their Own
There's no arguing against the fact that masks have helped slow the spread of the virus. The numbers over the past couple of months have certainly brought us to that conclusion. But if you are not social distancing, or practicing good hygiene by washing your hands often, wearing a mask will only get you so far.
A mask can prevent you and others from spreading the virus as easily, but washing your hands has been found to be the best way to keep you and others from getting sick.
Makes Us More Conscious of Our Face
Wearing a mask has only made us more aware of our faces, as we continually find ourselves adjusting our facemasks quite often. This can also lead to an increase in the chances of you getting sick since we've been told the virus can enter our body through the nose, mouth, and possibly the eyes.
Ignorance is NOT Bliss
Even if your mask does do its job and stops the infection from spreading to you and others, that reusable mask is still contaminated. Without you even knowing it, making the decision to repeatedly wear it increases the risk not only for you, but for others getting sick. Especially if you continue to touch and readjust your contaminated mask with your hands, you can easily spread the virus by using your hands after touching other surfaces that are contaminated.
Wearing Masks Could Lead to Harmful and Dangerous Effects
Wearing our masks long term may even be potentially dangerous for our overall health. There have been a number of studies done recently that have looked into the dangers of wearing a facemask long term and these are a few areas for you to be concerned about. Please remember to always consult with YOUR doctor or healthcare specialist to decide what is best for YOU. You've heard me say this before, I know my body, I typically only go to the doctor once a year and only for blood tests or they won't prescribe my two prescriptions.
More and more people have been experiencing an increase in headaches over the past several months, which can arguably be related to wearing masks for an extended period of time. We may also be exposing ourselves to breathing in too much carbon dioxide (hypercapnia) while not enough oxygen (hypoxemia), which can cause serious harm to our blood.
Another danger to look out for includes an increased airway restriction, which makes breathing and proper respiratory function much more difficult to come by. Wearing a mask while working out or doing sports could also be dangerous. You may remember back in May, there were two middle school students who died wearing masks while in gym class.
There is new evidence that suggests that the virus can even reach our brains, all while wearing a mask. When our masks have been contaminated on the inside, it's only a matter of time before this happens. The virus itself will move into our nasal passages, providing direct access into our olfactory nerves that can eventually reach our brains and cause even more extensive damage.
Final Word
Although wearing a facemask has shown us positive results, we still need to be careful how often we wear them, while also remembering to replace and wash them regularly. Social distancing and practicing good hygiene is the very best way to stop the virus from spreading. What do you think the pros and cons of wearing a mask are? I'd love to hear your tips!  Please keep prepping and stay safe. May God bless this world, Linda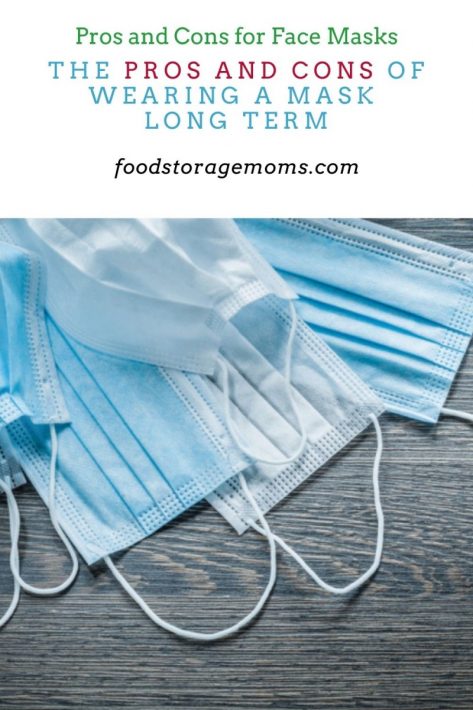 Copyright Images: Disposable Face Masks Deposit photos_172481272_s-2019