Skills Employers Look For During a Pandemic

The big "C" virus has affected most of us one way or another, while for some of us, it's taken a huge toll on not only our finances but our family's livelihood as well. Back in March millions of Americans were left without work for a considerable amount of time after many commercial businesses, including motels, airlines, restaurants, and other jobs were forced to close or drastically cut back. Check out these skills employers look for during a pandemic.
Skills Employers Look for During a Pandemic
In the meantime, for some businesses, those days are now fortunately behind us. But even though many of us have returned back to our normal everyday jobs, there are still those who have yet to pick up a paycheck.
It's hard to learn a different skill or trade overnight, but the pandemic is leaving a lot of us without any choice. If this sounds like you, it may be time for you to move on and find a new career, or a temporary full or part-time job to hold your family over.
It can be intimidating to even think about job interviews because it's been years since you've had to do so. Following the pandemic, employers are now looking for skills that were once not considered to be requirements for their job postings.
Times have changed and require you to have a different outlook. These are skills and traits that employers are looking for in an employee following the pandemic.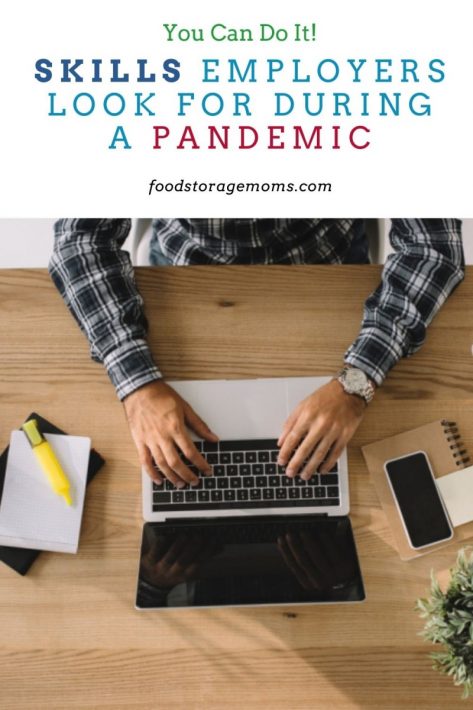 Be Adaptable and Flexible
More than ever before, this pandemic has required us to be flexible and more adaptable to changes, not only for our work but in the way that we manage our households. This is probably one of the most important traits and skills that you need to expand upon.
You may be required to be more open-minded since you may be required to work different hours than you're used to or learn a job that's outside your comfort zone.
Employers want to know that you are capable of adapting to the changes that have happened in just these few short months and that you are willing to adjust to the market shifts that have taken place so that you, as well as they, aren't left behind.
You'll Need Emotional Intelligence
Most jobs require you to have basic math and reading skills, but there's also emotional intelligence that is required. You need to know how to relate and deal with others and manage those relationships in a professional and understanding way. This includes dealing with other employees that you work with, vendors, and customers that you come into contact with each day.
Don't Forget Your Negotiating Skills
Less and less money is being spent these days. Because of this, having good negotiating skills becomes that much more important to stay competitive. It's all about profit and good customer service, and if businesses can see that you have good negotiating skills, you'll be ahead of the game throughout the interviewing process.
Critical Thinking and Problem Solving Skills
Another problem that this past pandemic has helped to create is that it has created more problems for companies and business practices to account for. If you have problem-solving and critical thinking skills, you may prove vital in helping those employers continue to push on and make the adjustments necessary to continue thriving following this pandemic.
You'll Need Leadership Skills
Having a good leader is important for an employer to have when difficult problems have to be dealt with. So it requires you to have the knowledge necessary and the leadership abilities to face certain challenges without caving to them. This can also lead employees beneath you to thrive and perform better at their own level because of the motivation that you bring.
Digital and Coding Skills
Remote positions are becoming more and more popular these days, and that's not entirely a bad thing! Knowing how to write, program or having digital and computer skills has become increasingly important like never before.
Maybe you're a bit rusty in this area? You can brush up on your skills with free and paid-for online classes to help you get the tools that you need. These include Microsoft training and tutorials and EdX classes to get you going in the right direction.
Though it's not as personal as a position that you've held in the past, these types of jobs still require you to be organized, efficient with your time, as well as having great communication skills. But this also gives you the benefits of working your own hours, cutting back on transportation expenses, and having the luxury of working from home.
You May Need Cybersecurity Skills
Following the pandemic, businesses have been required to move their practices and much of their work online for their employees. This has created challenges because there are more Internet-connected devices than ever before that could easily be breached. This has presented a new job market for cybersecurity so that businesses can continue to run as usual without any fear of cybercriminals that could create huge problems for those companies.
Don't Appear Desperate
As psyched out as you may be, it's important that you don't appear desperate because that isn't going to land you the job. Don't share with them that this is your last attempt to put food on the table for your family because that isn't going to sell you.
They want to see someone who is communicative, calm, confident, and resolute in their abilities to perform certain tasks. Your interviewing employer wants to know that you are capable of meeting challenges head-on and that they see someone who is emotionally and physically responsible and healthy enough to perform the job's requirements.    
Other Skills You May Need
Final Word
Coronavirus has required a lot of us to become more flexible and adaptable, even putting many of us in a position to start considering a different career path. This can be a scary thought after all these years. Yet it's nice to know ahead of time what employers are looking for in an employee, and that's where these tips come in.
With these skills, it will be hard for them to pass you up, especially when they need good employees like yourself who have a good head on their shoulders. What skills employers look for during a pandemic do you possess? May God bless this world, Linda
Copyright Images: Man Sitting At Computer Deposit photos_209178312_s-2019