20 Delicious Potato Salad Recipes
Picnics, barbecues, and potlucks just wouldn't be the same without a side dish of potato salad on the table. Go beyond your classic potato salad recipe and try something new and fresh with one of these 20 delicious recipes. You'll find different potato varieties, such as russet, Yukon gold, red, purple, fingerling, and even sweet potatoes highlighted in this collection.
From creamy to spicy and from mayo-based to vinegar-based, you'll find a diverse selection of delicious and satisfying potato salad recipes from which to choose. If you're used to a chilled potato salad, how about trying one of the warm potato salad recipes?
There are even some healthier options for those with dietary restrictions. Browse through this roundup of 20 mouth-watering potato salad recipes and whip up a new bowl of deliciousness that will delight your family and friends at your next gathering.
Tools You May Need:
20 Potato Salad Recipes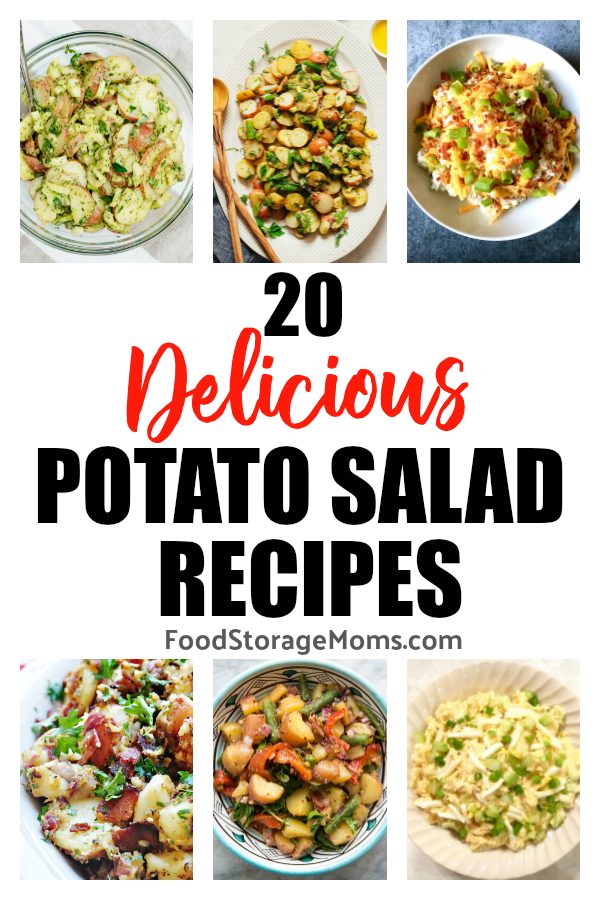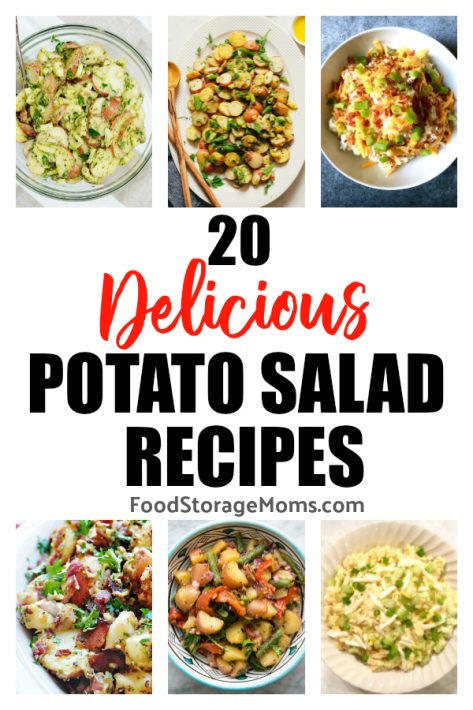 1. German Potato Salad
German Potato Salad by Five Heart Home
Learn how to make this tangy, warm potato salad which will be an instant hit at your next summer party!
2. Herbed Potato Salad
Herbed Potato Salad by Cookie And Kate
Here's a delicious no-mayo version of potato salad that's also vegan, gluten-free and egg free!
3. Bacon Potato Salad
Bacon Potato Salad by Averie Cooks
This vinegar-based potato salad takes it up a notch with fresh sweet corn, spinach, parsley, red onion, and a touch of garlic. Oh, and of course, bacon!
4. Easy No Mayo
Easy No Mayo Potato Salad by Zesty Olive
You can still get a creamy potato salad without using mayo. Try sour cream instead! And if you like it zesty, Dijon mustard will kick it up!
5. Greek Potato Salad
Greek Potato Salad by The Lemon Bowl
All the Greek flavors you love, such as tomatoes, creamy feta and Kalamata olives make an appearance in this colorful and zesty potato salad.
6. Cajun Potato Salad
Cajun Potato Salad by Lemon Tree Dwelling
Go for a spicy flavor profile in your potato salad with this zesty cajun-inspired recipe.
7. Potato Salad With Eggs
Potato Salad with Eggs by Courtney's Sweets
Looking for a classic potato salad recipe? This is it, just like grandma used to make!
8. Italian Potato Salad
Italian Potato Salad by Pinch And Swirl
This potato salad gets its Italian flavor profile from peppery olive oil, crunchy cucumber, tomatoes, olives and capers, just to name a few. Delicioso!
9. Instant Pot Potato Salad
Instant Pot Potato Salad by Julie's Eats And Treats
It's called the instant pot for a reason, and here's a great recipe to test it with. Your potatoes can be ready in under 5 minutes, and this dish on your table in under 15 minutes!
10. Jalapeno Popper
Jalapeno Popper Potato Salad by Spicy Southern Kitchen
If you love spicy foods, try this popper of a potato salad that is fully loaded with jalapeno peppers, cream cheese, and bacon.
11. Sweet Potato Salad
Sweet Potato Salad by Spend With Pennies
Go beyond white potatoes and try this savory sweet potato salad loaded with crunchy veggies.
12. Potato Salad w/ Honey Mustard Vinaigrette
Potato Salad With Honey Mustard Vinaigrette by Chew Out Loud
This potato salad gets a sweet twist with a honey mustard vinaigrette which is perfect for those summer picnics and barbecues.
13. Loaded Baked
Loaded Baked Potato Salad by Zesty Olive
Everything you love about potato salad is in this delicious side dish, including cheese. Serve it hot or cold and enjoy!
14. Mediterranean Potato Salad
Mediterranean Potato Salad by Simply Recipes
Visit the flavors of the mediterranean with this vinegar-based potato salad. You'll find green beans, roasted red bell peppers, red onion, olives, and parsley combined for a mouth-watering side dish.
15. Simple French Style Potato Salad
Simple French Style Potato Salad by Minimalist Baker
A light mustard vinaigrette dresses this simple potato salad flavored with fresh herbs and onion.
16. Tzatziki Potato
Tzatziki Potato Salad by Smitten Kitchen
Try this Tzatkiki inspired potato salad that will give you the delicious dill-flavored taste that pairs so well with potatoes.
17. Creamy Potato
Creamy Potato Salad by Natasha's Kitchen
Try this creamy salad with the addition of celery, cucumbers and radishes for that satisfying crunch!
18. Roasted Sweet Potato
Roasted Sweet Potato Salad by Averie Cooks
This sweet potato salad gets a toss with honey and dijon mustard and some added texture and crunch from red peppers and green onions, black beans and corn. Top with cilantro and you're done!
19. Japanese Potato
Japanese Potato Salad by Recipe Tin Eats
This is a more "mashed" potato salad that's mixed with vegetables, ham, egg, and mayonnaise. It's a unique and flavorful salad, if you're looking to expand your potato salad collection!
20. Potato Salad Recipe
Potato Salad Recipe by Lil Luna
Potatoes, eggs, dill pickles, and olives make up this simple, yet mouth-watering salad that's the perfect side dish for your next summer meal!
Final Word
It's that time of year when we have summer parties, family reunions, and friends over for dinner. I love potato salad recipes, and these will be great to print off and put in our recipe boxes. Thanks again for being prepared for the unexpected. Please stock up some food storage today, even if it's just one can. May God bless this world, Linda