Tips for Understanding How to Rotate Foods
Today I have some tips for understanding how to rotate foods. Do you have a method to the madness when it comes to keeping a fresh and rotated stock in your kitchen pantry?
Or maybe you have an emergency supply for use in case of a disaster and you're not entirely sure how to maintain it without everything becoming expired? You may not realize it but rotation is extremely important when it comes to your food supply.
It helps keep your supply fresh and up to date, and also keeps you from wasting a lot of money due to foods that you've had to throw out. If you're needing a bit of help with this, not to worry. Here are a few tips for understanding how to rotate foods.
Rotating Helps You with Inventory
I bought these shelves online from Costco. They are 72 inches tall by 48 inches wide and 18 inches deep. They have heavy-duty wheels and are made by Trinity. The shelves you may have seen that are similar to these I bought at Costco are not as heavy-duty.
I use bungee cords to hold them in place in case of an earthquake. It may be wishful thinking because an earthquake would topple these I'm sure. But I feel better knowing they are somewhat tied to the shelving.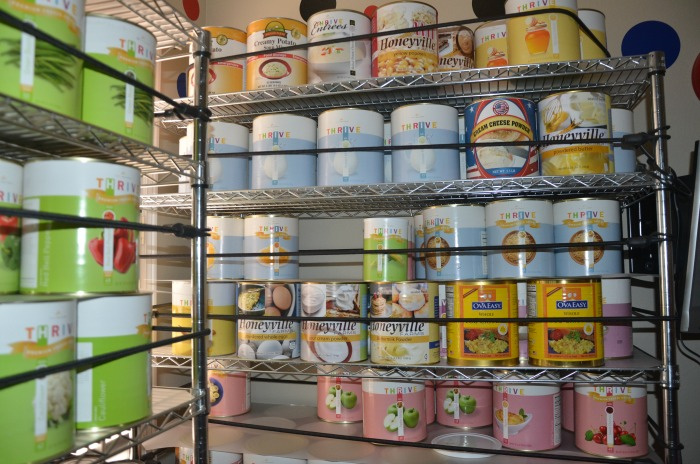 Not only does rotating help you maintain freshness in your pantry, but it also allows you to keep up with your inventory as well. You'll have a better idea of what needs replenishment and foods that you have an abundance of. You may want to keep an inventory sheet to help you track your supply easier, know how old they are, and when they need to be used or replaced.
These Printable Forms may be helpful to you:
Follow the Grocery Store Practice
The top plastic containers are 12-quart Rubbermaid commercial containers. The second row has 8-quart Rubbermaid commercial containers. The best place to find these are at Rubbermaid Commercial Containers (you have to order the lids and containers separately). I've seen them on Amazon as well.
I have a very small home, but these shelves from Costco (online-only) work for me. These shelves go in our guest bedroom that has two triple bunk beds for guests who come to visit.
They are rolled out when we have guests arrive. 40.5-Inch Trinity Shelving I wish I had my old basement food storage shelves, but we downsized and now this is our life.
I live in Southern Utah (the desert) and the temperatures sometimes get over 114-120 degrees here. So all my food storage must be stored in my house, not the garage, it's too hot.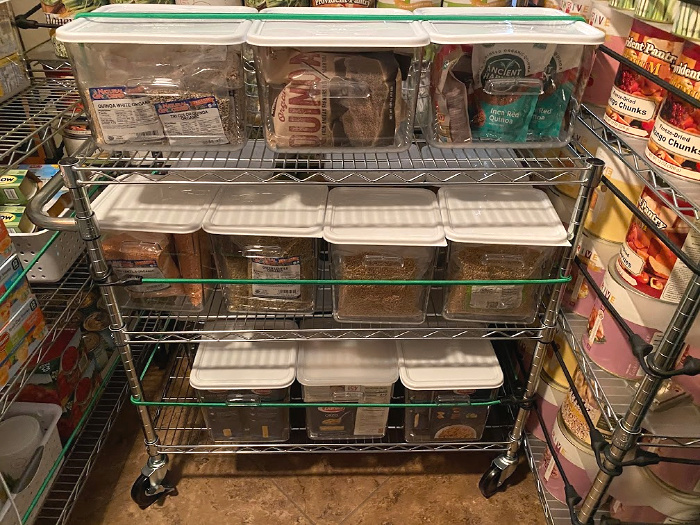 Aren't you thankful that grocery stores and restaurants practice rotating when it pertains to food items? This simple practice ensures that you're purchasing fresh product instead of an out of date can of Spaghettios.
While it takes more time to stock the shelves this way, it means a higher quality product and one less aggravated shopper. Take the time to do the same in your pantry by placing the older product in front and the newly dated ones towards the back.
Maybe you prefer to organize it in a way that's left to right? Find out what works best for you so that your pantry is on a first-in, first-out basis.
Keep an Eye Out for Spoilage
It's an important practice to also pay close attention to any signs of spoilage. You may notice evidence of a dented can or seeping liquid from one of them. In that situation, it's a good idea to go ahead and throw the product out so that you don't run the risk of getting food poisoning.
Make Use By Dates Bold
It can be really difficult to read sell-by dates, especially if your food supply is in a cellar or a basement that's dimly lit. Go ahead and grab a black sharpie and make those sell-by dates much easier for you to read by writing big and bold.
Stock Heavier Foods on the Bottom
Another useful tip when it comes to your pantry is to place heavier foods that come in cans or jars along your bottom shelf. The further a heavy object has to fall, the worse your smashed toe or explosion of food will become.
Also, having the heavy items on the lower shelves helps to keep the shelving balanced and less likely to tip over, particularly when moving them from room to room.
Incorporate Slanted Shelving
I must confess, I got rid of the shelves below because I felt they didn't hold enough #10 cans to my liking. I bought them at the time because they had wheels and I needed to move them from time to time. My Trinity 72-inch shelves I have now hold at least 3 times as many cans and take up less space since they are taller.
I also realize a lot of people love the Shelf Reliance shelving, and that's fine. Whatever works best for you is how your storage should go.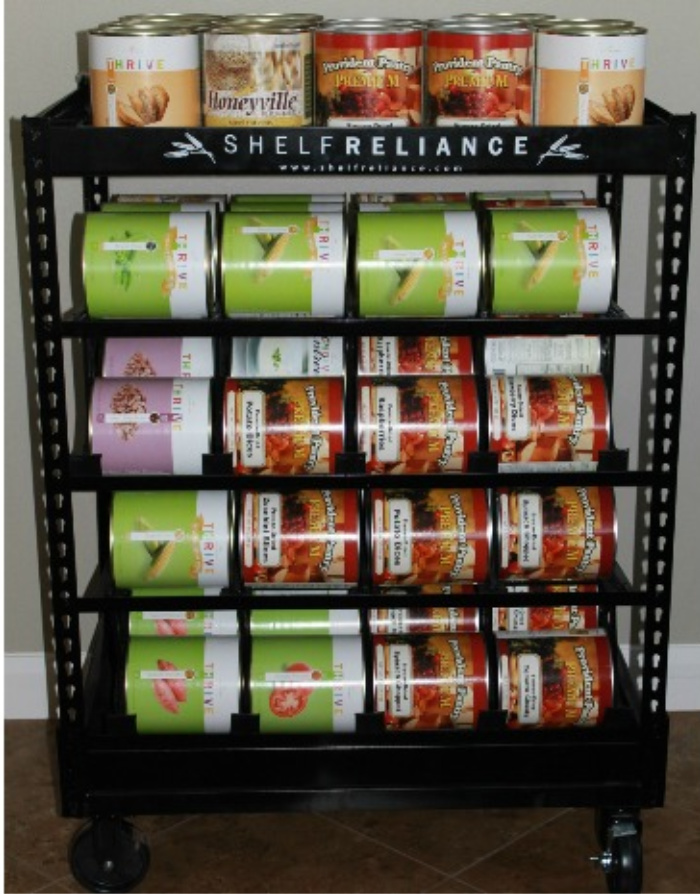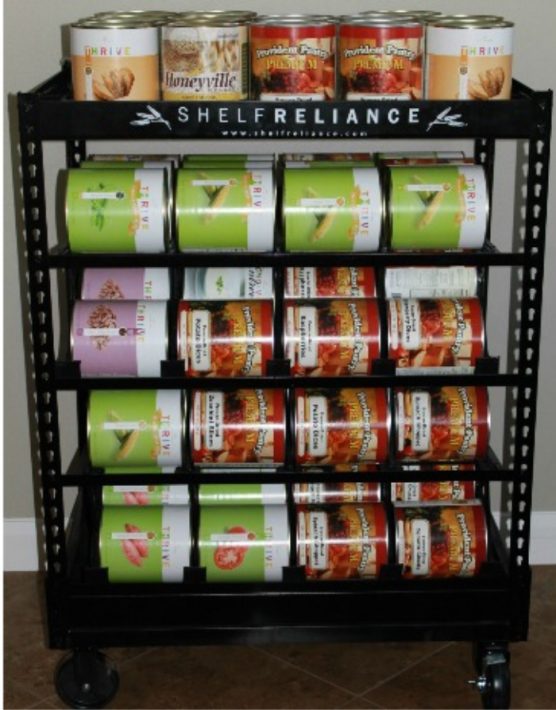 One really easy trick that you can use to help with rotating is to use slanted shelving. This neat bit of shelving will take care of the rotation for you and keep you from having to pull your stock forward every time.
Have Like Items Together
Does your food pantry lack organization and it's always a hunt to find what you're looking for? Stop wasting all that time and spend a few extra moments upfront by paring all your like food items together. This will also help you when you go to take inventory of your food pantry.
Consider Labeling Your Shelves
Do you have more than one person besides you that helps you replenish or take from your food supply? If so, it wouldn't hurt to label each section of your shelving so everyone knows exactly where they can look to grab or stash a container of pinto beans or a can of lima beans.
I use this label maker for everything in my house: Brother Label Maker and the Label Maker Refills
Rotate Older Foods Into Your Everyday Pantry
If you're like me and have an emergency supply of food stored away alongside your everyday pantry, kudos to you. But just like those other foods in your pantry, your emergency stash will eventually go out of date as well.
If you are noticing cans of food with dates for use that are coming up, go ahead and bring those canned goods into your pantry in your kitchen to be used up quickly. Just be sure to replenish your emergency supply when you do so.
Be sure and watch out for Pantry Moths: How To Get Rid Of Pantry Moths In Your Kitchen
Final Word
These are a few tips for you to understand how to properly rotate food. Hopefully, a few of them helped you find easier methods of maintaining quality in your pantry.
Do you know of any other ways to make your rotation in your food pantry easier? If so, I'd love to hear from you. Please keep stocking up, we must. May God bless this world, Linda
Copyright Images: Pantry Jars AdobeStock_222200726 by SheDiva