How To Get Rid Of Pantry Moths In Your Kitchen
I really never thought I would write a post about how to get rid of pantry moths in your kitchen. I had never heard of pantry moths or the Indian meal moth until about a month ago. I was at a friend's house and she mentioned, "I am so sick of these tiny moths in my kitchen!" They did not look like typical moths like the ones you see flying around outside light bulbs on your home. Well, of course, I had to look really close at the moths.
I am not sure why I did, but I always like learning new things. The thing that's different about these moths is the fact they are only about 1/2 an inch in length. I have only seen larger moths. I had my iPhone with me and we both decided to look up why these tiny moths could possibly be hanging out here. Lo and behold, they are called pantry moths.
How to Get Rid of Pantry Moths
Pantry moths aren't something that anyone really wants to see. Frankly, moths are kind of ugly and I surely don't want them hanging around my house. I want to share some tips for getting rid of them. And again, pantry moths aren't harmful, but they can do a lot of damage to the food in your pantry. Who wants that?
Invest in Airtight Containers
I store all my food products in hard commercial plastic containers like these: Rubbermaid Commercial FG630600CLR Space-Saving Container, 6-Quart Capacity
 with these lids: Rubbermaid Commercial 6509 8-3/4″ Length x 8.3″ Width, White Color, Linear Low-Density Polyethylene Lid for Space Saving Container
 They are air-tight and I store everything in them. I still buy some OXO containers, but these Rubbermaid ones are my favorite. You need to have airtight containers to keep these moths out of your food. Hopefully, you can grab some of these containers to help.
Inspect Your Pantry
It's one thing to have pantry moths and buy containers, but you really need to find the source of the infestation. Take the time to inspect your pantry and clean it out. It'll be worth it when you can get rid of the moths for good. You may not know this but moths love pasta, flour, cereal, and baking mixes. You will have to go through any food that is not sealed. It may truly amaze you what pantry moths can find themselves in. While you're inspecting your pantry, look for larvae too.
Freeze Your Grains
Over the years, I've found that freezing my grains is a really good idea. Obviously, moths can't get into the freezer, so this is a really good idea for storing any kind of grain item. You do want to make sure you clean out your pantry and get rid of any infested product. It's best to just store the newly bought items in the freezer. You can store any flour, baking product, or nuts in the freezer to help keep moths out of them.
Monitor Your Pantry
Once you get rid of the moths in your pantry, you need to keep monitoring the situation. Check back every so often, so that you can see if any pantry moths are there. Prevention is key, but you also need to make sure you're doing your due diligence and making sure there is nothing in your pantry.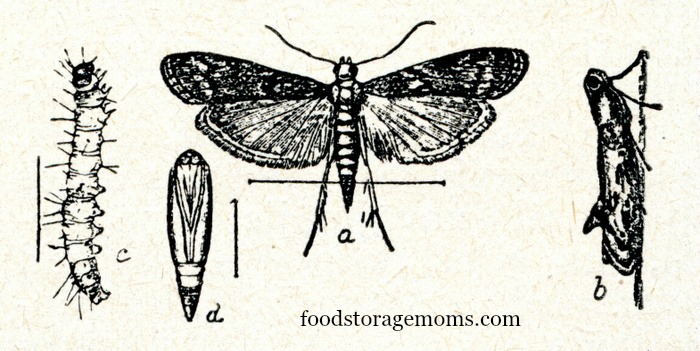 How Do Pantry Moths Come Into My House:
Pantry moths will come into your house via a package of flour, rice, beans, cracker or cereal, chips, or most any food item from the supermarket. They are teeny tiny, almost invisible eggs that are in food packages and hatch larvae that turn into moths. You may see these tiny black/brown beetles that are very tiny bugs in cornmeal, birdseed, flour, cereal, etc. You may see these cream-colored worm-like critters climbing on your walls. The first thing you need to do is look for the oldest packages of food or spices you have. Yep, they love all the unopened packages as well. Oh, and those partially closed spice containers are a dream come true for these babies.
Places To Look For Pantry Moths:
unopened packages, check the cereal boxes, the unopened bags, check the creases of the bags inside all boxes
cracks in your cupboards
spice containers
breadcrumbs, even if unopened
boxes with baggies-they love to hide
check dried flowers
check under lids, they can hide anywhere
cupboard hinges
vacuum all floor moldings, empty the bag and take the dust out to the trash
they hide in the cupboard pinholes, its a perfect place to lay eggs
use a pantry moth trap like this one: Pro-Pest Pantry Moth Traps – 6 Ready to Use Pre-baited Traps (3 Packs of 2 Traps) The female emits a similar pheromone substance as these traps when she is ready to mate. The male panty moths will follow the scent to the traps. The male critters will flock to the sticky mat looking for the female pantry moths. This should hopefully stop the pantry moth life cycle
some people think if they put their food in the freezer it will kill the pantry moths. They actually go into a dormant stage sometimes and wake up when back in the warm comfort of a cupboard.
pet treats and dog food are a delicacy to these critters
children's macaroni artwork is tasty, throw out the artwork when possible
dried fruit, they will chew right through those bags or cardboard containers
remove all cupboard liners, they hide underneath, vacuum everywhere
nuts
chocolate as in chocolate chips
never buy a damaged box of food at the store because they may have some eggs hiding inside
Jello gelatin boxes
they chew through baggies
How To Clean The Pantry Moth Hiding Places:
I helped my friend by totally taking EVERYTHING out of the cupboards. We inspected for webs, larvae, egg, and moths. We both washed down the top and underneath the shelves in each cabinet. Yep, they hide in crevices and corners.
Things you will need:
bleach/Clorox  spray
garbage bags
vacuum
paper towels to dispose of the webs, beetles, larvae, and moths
hot soapy water with rags you can throw out
wash all cupboards with hot soapy water. I went one step further, I brought out the BIG guns (bleach mixture): Clorox Clean-up Disinfectant Spray Cleaner with Bleach Value Pack (2-32ounce bottles) w- 4 SOS Sponge I picked it up at the local supermarket. We sprayed, wiped, and sprayed again all the cupboards, baseboards, countertops and, window seals. We wiped down everything we thought a moth family might use to hide. She has not seen ANY pantry moths for a month now. Hopefully, we got the infestation under control and eradicated.
Final Word
I hope you're able to use these tips to help you learn how to get rid of pantry moths in your kitchen. If you suspect that you have pantry moths, these tips should help you get rid of them. I'd love to know if you have any tips to add to this list. May God Bless this world, Linda.