How to Deal with a Rodent Infestation
Yikes! You just spotted a furry little critter zooming across your kitchen floor. When you find a mouse in your home, it's almost a guarantee that there's more than just one, and pest control experts will back me up on this one. Instead of turning a blind eye, now's the time to act.
OR – you may be dealing with another type of rodent and aren't sure how to get rid of them? I'll share with you what the signs are for a rodent infestation, how to discourage them, and how to get rid of them if that's not enough. Here's how to deal with a rodent infestation that may be going on in your home. These are the mousetraps I buy, Reusable Mousetraps.
One day, our grandson was looking in the large plastic container outside for some toys. He said to me "what are all these black things"? Well, I had never seen desert rat poop. They are the size of cooked rice. The next day I called the exterminator, and he set up rat traps with poison. Now, some may say this is inhumane, well I worry more about making my family sick.
We only had to use the traps one year, thank goodness. They looked like these, Rat Traps. I have since seen these traps outside restaurants and grocery stores. The joy of living in the desert. In case you missed this post, 12 Natural Pest Remedies
We used to put a plastic BBQ cover on our BBQ, nope, the desert rats thought it was a tent or canopy. We also used to put "covers" over our lawn furniture, nope. We had desert rat reunions. Now, nothing is covered and we have not seen desert rats for years.
My Mouse Story
My husband brought home a $5.00 bag full of baseball bats, mitts, and balls he bought at a garage sale. I was not happy, we are trying to declutter. Anyway, we soon found mice in our garage. EVERYWHERE. We put out mouse traps, we caught several. Then I saw mice pee and poops all over my preps in the garage. I store everything in zippered bags, thank goodness. We thought we got rid of them. Nope. Then we saw pieces of plastic all over our car. We found popcorn in the car and the garage floor, from the baseball bag. I was not happy. The pieces of plastic were from the darn mice chewing all the water bottle lids secured throughout the car for an emergency. They shredded the Kleenex box and the contents inside our glove box. Luckily they did not chew any wires in the car. We only have one car so it is used almost every day. It cost us about $200.00 in mouse traps and cleaning supplies to clean the garage and the car. So much for the $5.00 bag from the garage sale. Looking back it is funny but it was not at the time!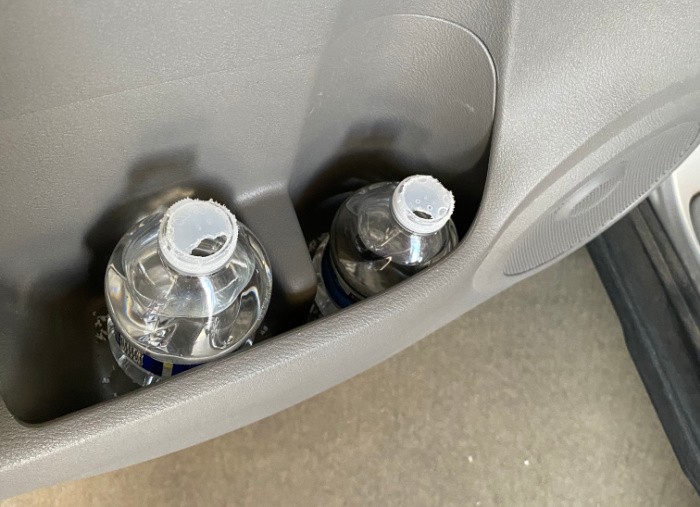 How to Deal with a Rodent Infestation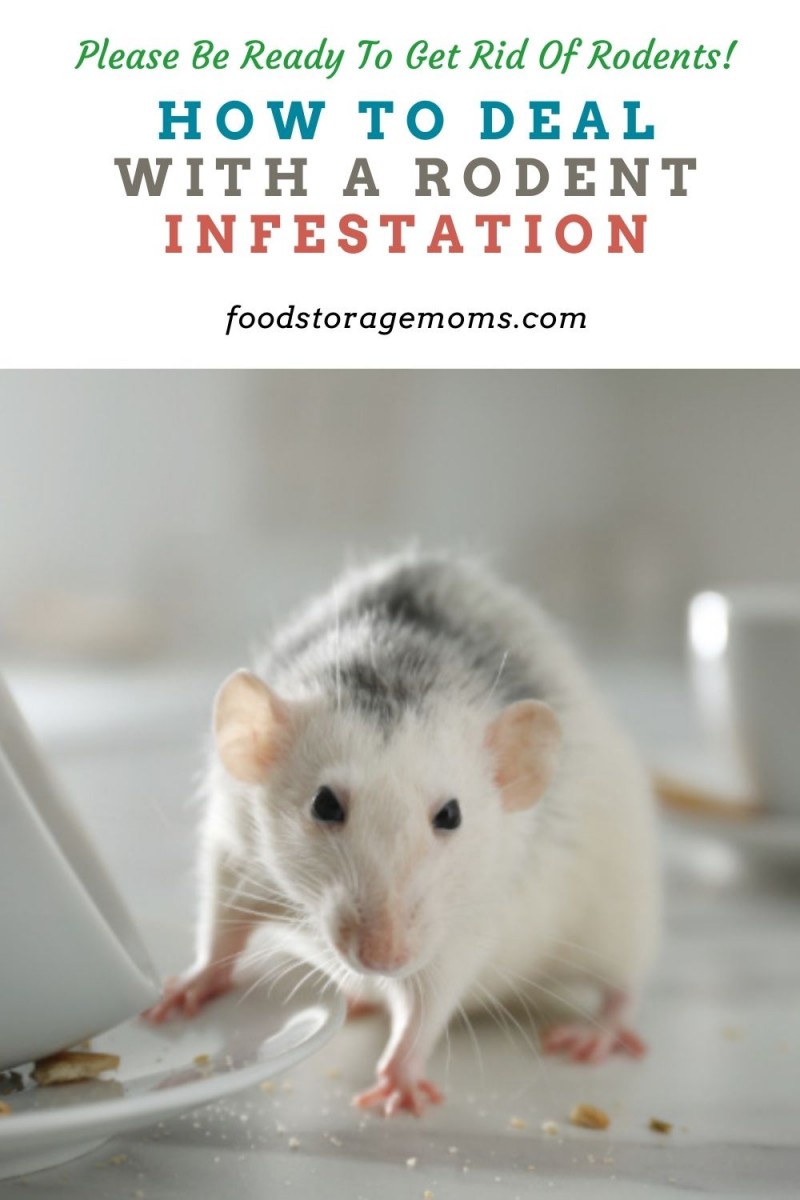 Signs of a Rodent Infestation
Unless you are dealing with a severe case of rodent infestation, you may never see the mouse or rat. Yet they do leave small telltale signs of their presence that you should be aware of. These are things to look for when you have a rodent infestation.
Rodent droppings in your cupboards or drawers.
Where there's a dead mouse or rat, there's sure to be more live ones.
Food packaging that has chew marks on them.
Shredded paper, fabric, or dried leaves being used for their nesting.
Holes in your floors or walls that may be used as an entry.
Unpleasant odor coming from small spaces.
How to Discourage Rodents from Living in Your Home
Once you have identified what kind of rodents you are dealing with, it's time to kick their keisters to the curb. Hopefully, taking away some of their most precious resources, the rodents that you are dealing with will get the hint and move on to someplace else.
This includes discovering where they are finding food, water, shelter, and other supplies inside your home and then preventing them from getting their little paws on any more of these resources. Here's a closer look at what I mean and some other preventive methods you can try.
Watch for these:
Don't encourage rodents by leaving food or fresh fruit sitting out on your kitchen countertop. They'll even get into a sealed loaf of bread if it's left where they can get to it. Make sure that all food is kept up high and sealed behind closed pantry doors.
Get rid of any rodent nests that you come across, along with removing anything that they can use to build a nest.
Make sure that you keep the garbage that's in your kitchen in the garbage can that has a lid on it.
Mice are able to squeeze through some amazingly small and tiny spaces. If you come across any holes or cracks in the floor or in your walls, that may be where they're coming in. You will especially want to check for them around your exterior doors, windows, and foundation. You will also want to check any access points where electrical wires, plumbing pipes, TV cables, or gas lines are coming into your home.
Now it's time to seal the holes, but don't only use caulk because that probably won't be enough. It may seem like overkill, but consider using steel wool and cement, which will work great together to patch up your holes.
Screen your vents and chimney.
Until you have your rodent infestation under control, stop feeding outdoor birds. Though it's meant for the birds, mice and rats will also eat birdseed.
If you have a compost pile outside, be sure to give it a good turn so that no food scraps are sitting on the surface that will provide them with a free meal.
Setting Live Traps
If you've tried all of these methods and you're still dealing with rodents, it's time to go to the next step. For those of my readers who don't necessarily want to do lasting harm to your furry little rodent home-invaders, you can resort to using live cage-like traps that will capture them. Once the rodent has been caught, it's up to you whether you kill them or release them out in the wild.
But if you do release them, you'll want to do so far away from your home. If you release them back out into your yard, they may come right back in without any hesitation. That's why it's so important that you discover where their point of entry is in your home, and seal it off.
Setting Lethal Traps or Poison Baits
You can also choose to set lethal traps, like the snap trap. It's meant to trap and kill the rodent so that there's no escape. Unless you're dealing with a large rat, a snap trap should do the trick. Bait the trap by placing a dab of peanut butter, or a small piece of chocolate for an irresistible treat.
When you are using poison baits, or rodenticides, you'll combine the poison with something that's edible that they will not be able to resist. Again, peanut butter has always been a good option.
Safety Precautions
When you're using lethal traps or poison baits, make sure that you are closely following the instructions on the label. You also want to make certain that you place them in a location that your children and pets won't get into them and cause any harm. This is why I would recommend that you set out live traps or tamper-resistant bait stations for rodents for those of you who have smaller children or pets.
Be sure to wear latex or rubber gloves when dealing with a nest or a dead rodent and place it inside of a plastic bag that you can seal up and dispose of. Lastly, you will need to use disinfectant spray, or a mixture of bleach and water to sanitize the area where the rodent was caught or died.
Final Word
After you've tried all of these methods, your rodent problem should be taken care of, but if it's not, you still have two options. It may be time for you to get yourself a cat, or you will want to look up the number for your local critter removal company so that they can better assist you. What are some other methods you've used in the past for dealing with a rodent infestation? Feel free to leave a comment down below so we can assist others who need our help. May God Bless this world, Linda.
Copyright Images: Rat by dirty dishes AdobeStock_350289774 New Africa