15 Ways to Clean Your Home with Borax

Did you know that you can use borax in several ways? It's a great product to have at home because it works wonders at cleaning all kinds of things. If you're not sure how to clean your home with borax, look at this list of the 15 ways to do so with ease! In case you missed this post, Uses For Borax Around The Home
What is Borax?
I quote Wikipedia, "Borax, also known as sodium borate, sodium tetraborate, or disodium tetraborate, is an important boron compound, a mineral, and a salt of boric acid. Powdered borax is white, consisting of soft colorless crystals that dissolve in water."
How do I store Borax, if I live where it's humid?
This is actually a really good question because humidity causes havoc with borax, over time it will become clumpy or even like a total brick. I highly recommend you store your borax in an airtight container as shown below.
These are the ones I have: 32-Ounce Mason Canister Jars I used a Stainless Steel Wide-mouth Funnel to fill them. These are the same ones I use for my brown sugar storage to try and keep it from getting too hard. I love them!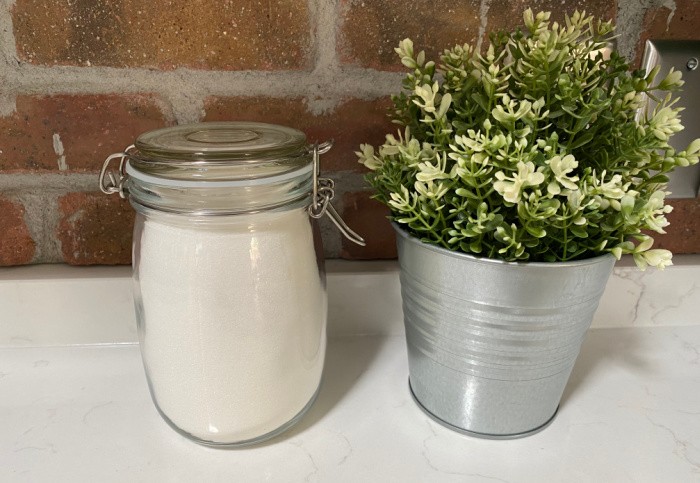 15 Ways to Clean Your Home with Borax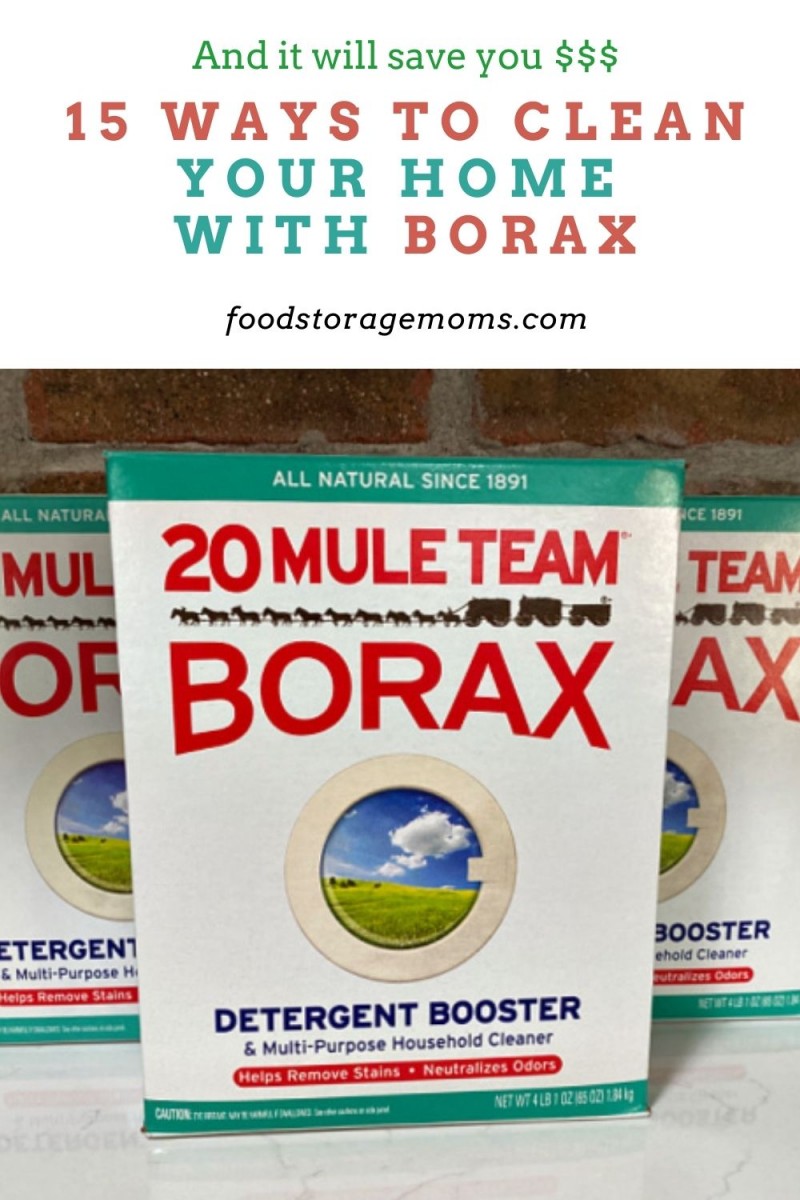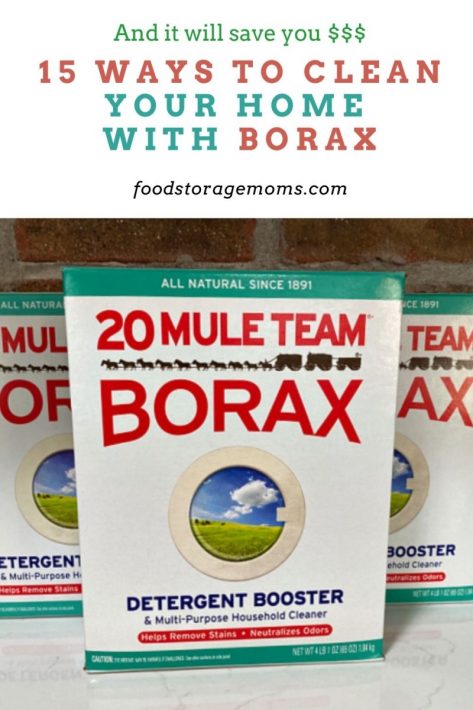 1. Use It to Clear Clogged Drains
Are you dealing with a clogged drain in your kitchen or bathroom? Take care of it before it gets any worse. You can use borax to clear clogged drains by pouring a cup of it into the drain.
Once you've added it to the drain, add two tablespoons of lemon juice and two tablespoons of vinegar into the drain, leaving the concoction to sit for 30-60 minutes. After allowing it to sit for a bit, run hot water down the drain to clear anything that might've been stuck.
2. Add It to Your Laundry in the Washing Machine
Borax is an incredible addition to your typical laundry routine. When adding it to white clothes, it leaves them looking whiter than before. However, you can add it to the washing machine full of clothes of any color.
It works great to get rid of odors and help to remove stains. If you have children who often get stains on their clothes, borax is a must-have.
3. Include Borax as Your Homemade All-Purpose Cleaning Solution
If you'd like to make cleaning products that are safer to use around the home, combine a cup of water with a cup of vinegar, two tablespoons of borax, and a teaspoon of your favorite dish detergent. Mix well, add to a spray bottle, and use as an all-purpose cleaning solution for any room in the home.
4. Make a Paste to Clean Your Grout
Combine equal parts of borax with baking soda and water to create a paste that works well at getting rid of dirt and grime on your grout. Apply the solution on the grout, let it sit for 15-20 minutes, and then scrub away with a scrub brush of your choice. Your grout will look even better than you can imagine.
5. Add It to the Water in Your Mop Bucket
Add two tablespoons of borax to your hot mop water. You don't need harsh chemicals or fancy products to clean your floors. It works well to get rid of the dirt that accumulates on the floor over time.
6. Make a Window Cleaner
Would you like your windows to shine? If you'd like to get rid of streaks and spots on your windows, add two tablespoons of borax to two cups of warm water. Use a gentle cloth, dipping it into the solution and then wiping the windows with a dry cloth and working from top to bottom.
7. Clean the Woodwork
If you have wood furniture in your home, such as dresser drawers and nightstands, you can dust them and then give them a thorough cleaning using warm water and borax. It's a simple way to ensure that the furniture looks its best without using any products that could potentially damage the furniture and strip it of its paint.
8. Create the Perfect Solution for Your Carpets
When you don't want to use harsh products that leave strong odors in the home while cleaning the carpets, use borax and water. If you have a carpet shampooer, add hot water and two tablespoons of borax to the chamber and get started. The solution works wonders to lift dirt, leaving the carpeted floor looking its best.
9. Scrub the Toilet
Get rid of those hard water stains and any mold that you might notice in your toilet by sprinkling a bit of borax inside the toilet bowl. Allow the borax to sit in the toilet for 10-15 minutes before scrubbing away with your toilet bowl brush.
10. Clean the Walls of Your Home
Remove dirt and other markings from the walls of your home using borax. You'll add two cups of hot water to a bucket, along with two tablespoons of borax and two tablespoons of your favorite dish detergent. Mix well and then dip a mop into the solution, using it to wipe the walls down.
11. Get Your Washing Machine Clean
After washing so many clothes in the washing machine, there will come a time when you need to clean the machine to get rid of any dirt or other residue left behind. Sprinkle borax and distilled white vinegar into the washing machine and allow it to run a complete cycle to clean it out. Don't put clothes in it during this time!
12. Remove Soap Scum and More from the Bathtub
If you've got soap scum, hard water stains, and other dirt marks in your bathtub, use borax to tackle the problem. Sprinkle the borax inside the tub, pour two tablespoons of vinegar on top, and allow the mixture to sit for 15-30 minutes before using a scrub brush to scrub away all the dirt and scum.
13. Clean Brass Fixtures
If you have any brass fixtures in your home, you can get them clean by combining vinegar and borax to create a paste. Apply the paste to these fixtures, let it sit for a few minutes, and then gently rub it off. Your brass will shine! Please check your manufacturer to be sure on is safe on your particular brass.
14. Get Rid of Couch Odors
Do you feel like your couch has an unpleasant smell to it? It's something that can happen over time, especially if you have pets in the home. You can sprinkle borax on the couch cushions, let it sit for 30 minutes, and then vacuum it. Borax is an effective deodorizer.
15. Make Your Cabinets Look New Again
Add two tablespoons of borax to a gallon of hot water, dip a microfiber cloth into the solution, and use it to wipe away any dirt and grime on your cabinets. By the time you finish, the cabinets will look new again.
Final Word
Now that you know 15 ways to clean your home with borax, it's an excellent time to stock up on this essential household item that you can put to good use. So which cleaning solution do you think you'll try first? Tell us about your experience with borax, we love to share ideas. May God Bless this world, Linda.