10 Ways to Get to Know Your Neighbors for Prepping Purposes
Today, let's talk about ways to get to know your neighbors for prepping purposes! Is it just me, or does it seem as if everything has been turned upside-down recently? While some of our country's leaders have ignorantly classified it as nothing more than "protesting," civil unrest has slowly begun revealing its ugly head in major cities all across the United States.
If these riots were to ever show up on your street one day, do you really think that your family alone would be enough to stop them?
As you've heard many times before, there's strength in numbers. Whether it's knowledge, wisdom, or physical strength, having your neighbors on your side would increase your family's chances of survival exponentially.
This goes for emergencies as well. Waiting for this scenario to happen is not the time to find out who your neighbors are and how willing they may be to organize for the protection of the neighborhood. These are ways to get to know your neighbors for prepping purposes.
My Favorite Preps
10 Ways to Get to Know Your Neighbors for Prepping Purposes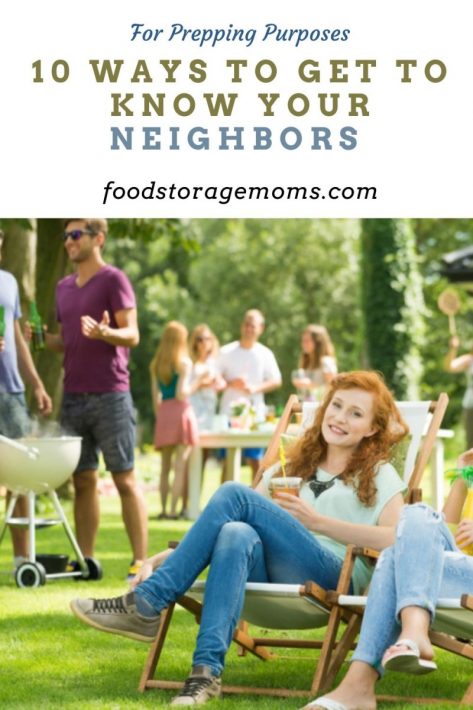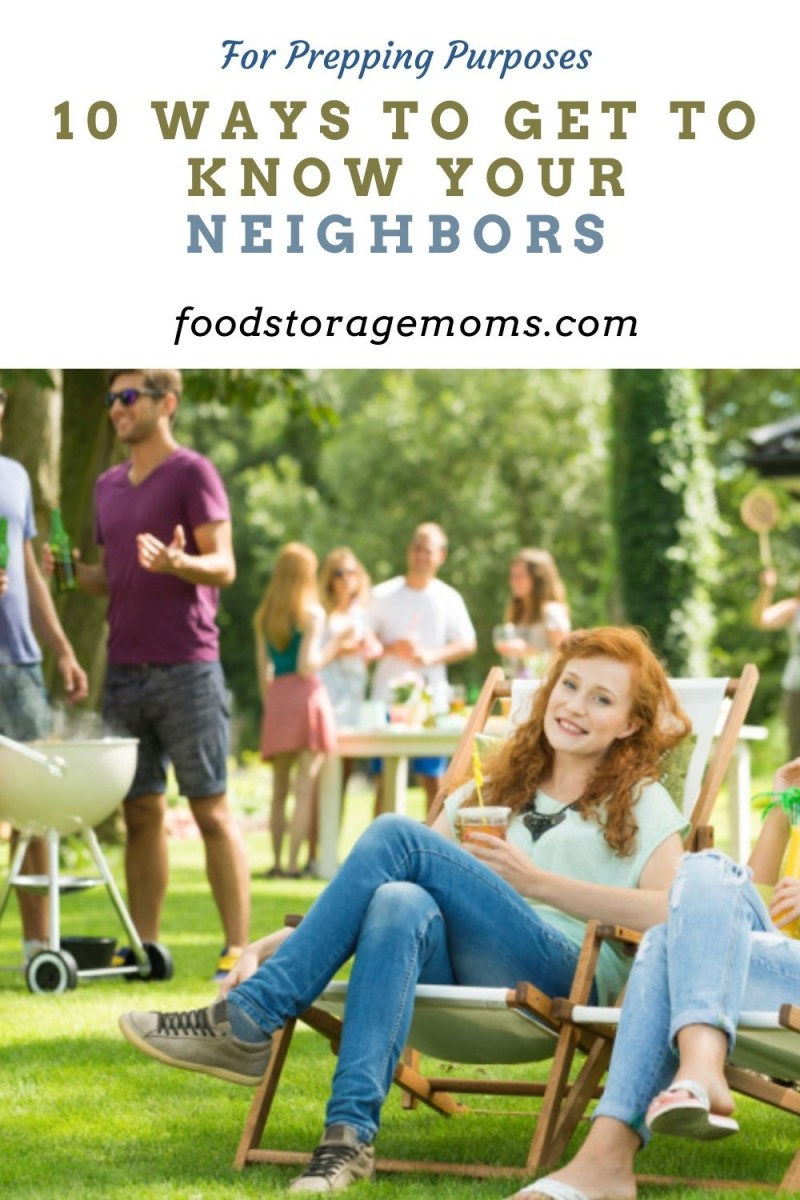 1. Knock on Their Door
This tip might seem like a no-brainer to some of you, but it takes some real guts to actually carry through with it while living in the 21st century. Especially since it seems that a majority of our neighbors would rather keep to themselves these days and we fear that we might be imposing by taking a moment of their time.
Truth is, many of them may just be scared to take that same step. So muster up your courage, knock on their door, and keep it short and straight to the point.
Maybe this method seems totally unnatural for you? It may just be easier for you to catch them while they're out getting the mail, walking the dog, or taking out their trash. That way you're not worried about ringing their doorbell when they're halfway through dinner or while their baby is taking a nap. This is such a simple way to get to know your neighbors for prepping purposes.
2. Drop Off a Personal Note
Sometimes leaving a personal or encouraging note is a great way to break the ice, in certain situations. All you have to do is introduce yourself, and say something nice that can start up a future conversation. You can tell them how great their lawn and garden look, or how wonderfully behaved their children are.
If you are ready to take it to the next level, invite their family over for dinner at their next convenience. Just leave the note taped to their door instead of placing it in their mailbox.
My current neighborhood is so different from any place I have lived. In years past I would knock on someone's door who had beautiful flowers in their yard and tell them I love to see their yard in full bloom. I wouldn't dare knock on a door where I live now, which makes me sad. We never see people, ever, it's crazy.
3. Deliver Flowers or Cookies to Them
A beautiful bouquet of flowers or freshly-baked cookies would be a welcoming gift to anyone. Not only will it brighten their day, but they'll be more willing to put themselves out there with you and your family. Though it should never be expected, you may be surprised how your neighbors return the small kindness to your family in some form sometime down the road.
4. Invite a Few Neighbors for a Barbecue
We all love to eat, especially when we hear the word "barbecue." Share with one family or a few of your neighbors that you'd be willing to take care of the meat, salad, and side dishes, if they could simply bring a desert or some type of drink.
I'm willing to bet that they'll show an eagerness to come with an offer like that. You'll find out all kinds of useful information from them while an opportunity may present itself for you to share with them how you have taken steps to keep your family safe during a handful of emergencies.
5. Walk Your Kids to the Bus Stop
There are a lot of parents who like to make sure that their children get on the bus safely, so if you have smaller children, this is a win for you. But even if you don't, this is the perfect time for you to go out on a walk and say "hi" and introduce yourself to them.
6. Throw a Block Party
Once you've met one or two of your neighbors, team up with them to host a block party in your small neck of the woods. Block parties are generally a great way to meet your neighbors, and you should have some success in meeting many of them at one time. Give your party a theme, whether it's a weenie or hog roast with lemonade for the summer, or warm apple cider and smores for cooler fall temperatures. In case you missed this post, 9 Easy To Make Refreshing Drinks
7. Have an Annual Game Night or Street Party
There are families out there that enjoy having a game night every now and then, or a street party if your street would work. If you are one of those families, maybe this time you can invite the neighbors you'd like to get acquainted with. This will create the perfect excuse to go up and talk with them. Our neighborhood has an annual Halloween party, which is nice.
We used to do a potluck until COVID hit, so we had to change it up a little bit. We served only store-purchased food to be safe. We did social distancing and wore masks (those that wanted to wear them).
8. Meet a Certain Need
There are always moments where you can go out of your way to show kindness to your neighbors. Maybe they have been at work all day and haven't had the chance to shovel the snow off of their sidewalk, or your elderly neighbor isn't able to get out and get their lawn mowed or their trash set out to the curb.
Take the time to be an example of what a good neighbor looks like. This is a great lesson that you can teach your children at the same time.
9. Set Up a Playdate with Another Mom
Moms are always setting their children up on playdates these days, so there's nothing weird about asking a neighbor if their children can hang out with yours. You can talk about your children and some of your hobbies, then move on to prepping topics.
10. Slowly Share with Them Your Prepping Plans
Once you've gotten to know your neighbors better after initial conversations, now's the time when you can start sharing with them that you like being prepared for the unexpected. But take the conversation slowly and be sure to pay close attention to their body language. Now, this statement may stop you in your tracks. I get it.
But, you can casually ask how they feel they are prepared for any type of emergency. I know a lot of people will back off like "why would we need to be prepared?" There's your answer about THAT neighbor and their willingness to participate in a neighborhood project! LOL!
Some of your neighbors may be all for joining your coalition, while others may take more time to come around to the idea. Please don't share your gun collection and stockpile of ammunition, some stuff needs to be kept to ourselves. For prepping purposes, this is super important!
How we stock food and preps should be kept private unless that neighbor becomes a close friend and someone you feel you can trust. They may even share with you what they are doing in the preparation department.
Because I write this blog, I know I'm an open book, but I want to teach people how to store food, and store preps. I'm also an author, my book, "Prepare Your Family For Survival", shows people what to store, how to store, it, and what preps to buy. It's crazy yesterday, I was in my backyard, and I swear I saw a drone flying around, am I paranoid?
No, but I'm aware of my surroundings. We must all pay attention to what is going on around us.
Final Word
Introducing yourself to your neighbors and then immediately showing them your prepping supplies is not the right way to get to know them. I assure you they may think you're crazy right off the bat. Reaching out to your neighbors is often as easy as smiling and waving at them or simply saying hello.
Other times you may have to be willing to step outside of your comfort zone in order to be that neighbor who wants to do more as a neighborhood partner in the prepping efforts that are needed. What are some other ways that you've been able to reach out to your neighbors for prepping purposes? May God Bless this world, Linda.
Copyright Images: Family Party Deposit photos_146135483_s-2019