How Long Are Eggs Good For?
When you buy eggs, do you often place them in the fridge and forget about them? While people often have a misconception that eggs will last forever when kept in the refrigerator, this isn't true. You need to know how long eggs typically last and when it's best to use them or dispose of them to avoid getting sick. Besides learning how long they tend to last, it's also helpful to know how to store them properly to keep them fresh for as long as you can.
I've heard that checking whether an egg sinks or floats is a common way to determine how fresh it is. However, it can't tell you if an egg has gone bad. When in doubt, throw it out.
In case you missed this post, What You Need to Know About Farm Fresh Eggs
How Long Do They Last?
If you put your eggs in the fridge after buying them at the grocery store, they'll stay fresh for a minimum of three weeks and a maximum of five weeks. After five weeks, they're no longer as fresh, and the quality starts going down. The eggs will no longer taste nearly as good as they would if consumed before that five-week period ended.
It's not always easy to tell if your eggs are old, especially if you've removed them from the carton and don't remember when you bought them. Eggs won't always give off a foul odor because they've gone bad, so you'll need to keep that in mind.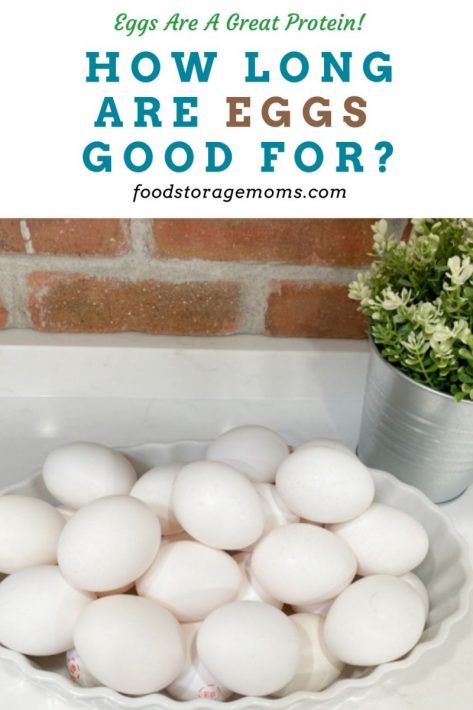 What Does the Sell By Date Mean on the Cartons?
Check out any carton of eggs, and you'll see that it has a sell-by date on it. The sell-by date is important, but it doesn't mean that your eggs are no longer good if it's already past that specific date. It's a date that the store uses to determine when they need to sell them to the customers. When you're at the grocery store looking for eggs, choose one with a later sell-by date because they're likely fresher. Your eggs will continue to stay fresh for five weeks after that date.
Is It Safe to Eat Old Eggs?
Some people eat old eggs, and nothing happens to them. However, it depends on how old those eggs are before you prepare them. It's best not to take chances. If you do eat old eggs, you may notice that the flavor isn't as good as when you had them for only a few days or weeks. While it's still possible to eat them, it's always best to get rid of old eggs if you're having doubts about whether they're still good to eat or not.
Why Is It Bad to Eat Expired Eggs?
Eating expired eggs isn't necessarily a bad thing, but it does come with risks. If you're eating eggs whose date expired months prior to preparing them, the eggs could upset your stomach. You may end up spending the rest of the day in the bathroom because those expired eggs didn't agree with you. If you don't want that to happen, make sure you're always eating the freshest eggs you can!
What Can I Do With Old Eggs?
You don't have to throw your old eggs out. Instead of tossing them in the trash, you can find other ways to make use of them. For example, you can prepare a homemade tightening mask using egg whites. You apply it to your face after washing it with your favorite cleanser, leave it on for about 15-20 minutes, and then rinse it off. It instantly makes the face feel tighter and look more youthful.
You might also want to consider making a hair mask with your old eggs, or using them to do different experiments with the kids. It's better to find a way to use them that doesn't involve eating them after they've gone bad.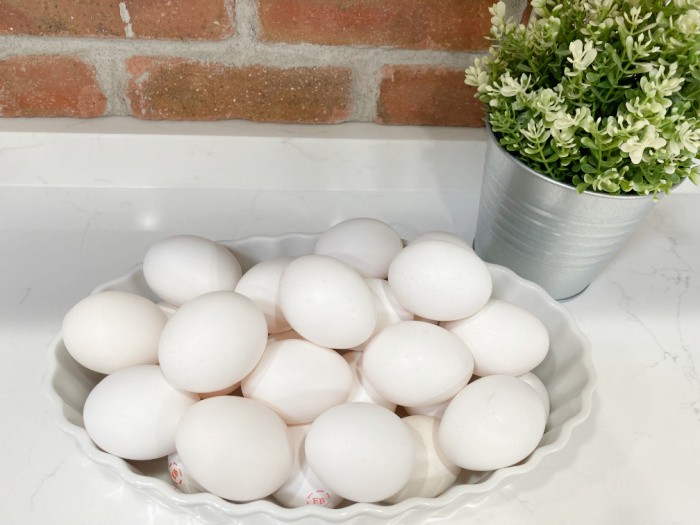 Wash your eggs with cold water, pat them dry, and then place them in an egg carton with a lid that you can put in your refrigerator. It's better to remove them from the traditional carton and use a plastic, reusable carton to keep the fridge organized and keep the eggs from getting cracked. Always make sure you're putting the eggs in the refrigerator, or else they'll start to go bad at a faster pace.
Can You Leave them at Room Temperature?
No, it's not a good idea to leave the eggs at room temperature. They need to be preserved in colder temperatures to stay fresh. If you accidentally leave your carton of eggs on the kitchen table overnight, consider using them in different ways that don't involve eating them because they're no longer fresh or good to eat.
Is It Possible to Freeze Them?
You can freeze eggs to keep them fresh for more extended periods. When placed in the freezer, you can expect the eggs to stay fresh for up to 12 months! It's a great way to make sure your eggs don't go to waste. You can remove a few from the freezer at a time and allow them to thaw in the fridge before you use them in meals at breakfast, or add them to any recipes that you're preparing. In case you missed this post, How to Freeze Eggs: Everything You Need to Know
Should I Use a Special Container for them?
While it's not too important, having a particular container for the eggs is ideal. Not only does it look better in your fridge, but it's a great way to prevent the eggs from getting cracked when you're storing them around other refrigerated items. You can easily find plastic egg holders on Amazon or in stores, such as Walmart and Target. Many people prefer the way these reusable containers look compared to cardboard or foam egg containers. Stackable Egg Holder
Final Word
It's always good to have eggs at home, but you need to know how long they last and when it's time to no longer eat them because they're too old. Always check the sell-by date before you buy eggs from the grocery store to get an idea of how long your eggs will last.
Keep them refrigerated to stay fresh, or put them in the freezer to keep your eggs fresher even longer than five weeks. If you take the proper steps when getting eggs and saving them, you won't have to worry about eating old eggs ever again. If you have some other ideas about egg storage and usage please pass them on so my other readers can benefit. May God Bless this world, Linda.