Coronavirus Vaccine: What are the Dangers of a Quickly Developed Vaccine?
Many of us have heard about the new Coronavirus vaccine, and as much as some people are looking forward to one, we are also worried about how quickly it was developed. The reason this is an important concept in the prepper world is that you never know if you refuse to take the vaccine if you will be allowed in public places.
You could have to prove you had a vaccine just as children have to be vaccinated to go to school. The bottom line is that being informed will help you to prepare for the future. Here's what you need to know about the Coronavirus vaccine and the dangers of a quickly developed vaccine!
Please note, I am not a doctor, nurse, or anyone in the medical field. I am not stating I'm for or against any vaccines, let me make that clear, my friends.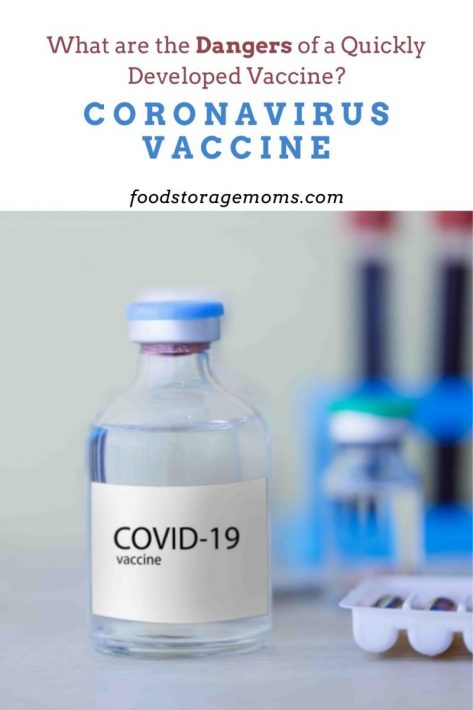 What is the Coronavirus Vaccine?
The Coronavirus vaccine is like all other vaccines. It is a product that was created to stimulate a person's immune system to produce immunity to COVID-19. According to the National Institutes of Health, in their trials, they are seeing a strong immune response. Antibody levels were higher with higher doses of the vaccine.
What are the Side Effects?
During the trials, they have found that there are side effects. However, side effects were not life threatening. It is important to note that more than half of the participants did have one or more of the following side effects:
Headache
Chills
Pain at the injection site
When Will We Have the Coronavirus Vaccine Available?
As of September 14, Pfizer and BioNTech are planning to expand their enrollment of the phase 3 Coronavirus Vaccine trial. Instead of doing trials on 30,000 people, they will now be doing 44,000 people. They have recently announced that the COVID-19 vaccine will roll out by the end of the year. In fact, they are really hoping to have it by October.
How Long Do Vaccines Usually Take to Make?
This vaccine is rolling out in record time. We only started to work on a vaccine 6 months ago. So, the fact that it could be available by October or the end of the year means this is a quickly developed vaccine.
Did you know that most vaccines generally take about 10-years?! There is the discovery period that takes 1-2 years. Then, you move to the preclinical stage which is another 2-years. Next, you have the clinical development which comes in 3 stages. These stages take 5-9 years to complete. Finally, the FDA must approve it which can take about a year.
As stated above, we are already on stage 3 of the clinical development for the Coronavirus vaccine in only 6-months! So, this is a very quick development of the vaccine!
What are the Dangers of a Quickly Developed Vaccine?
As you can see, the Coronavirus vaccine is rolling out in unprecedented time. So, it is only normal that we are a little fearful of the dangers of a quickly developed vaccine. Here are just a few of the dangers of rolling it out too quickly!
The Trials Have Less People
When you are rushing a vaccine, there really isn't time to test millions of people. With any vaccine, scientists worry about the safety of the vaccine itself. So, even if there are no serious side effects in the first few trials, there may be bad ones that are experienced when more people are tested.
The Vaccine Could Worsen the Infection
Some vaccines actually worsen the effects of an infection rather than protect it. This is called antibody-dependent enhancement (ADE). In previous Coronavirus vaccines that have been developed, ADE was observed. In fact, antibodies typical of ADE are present in the blood of some COVID-19 patients. So, if you had it and didn't know you had it, and you take the vaccine, you could potentially have worsening effects.
We Don't Know Long Term Effects
We have no clue what the COVID-19 vaccine could do a year, 2 years, or 5 years from now. When you take time to develop a vaccine, by the next trial you are able to know if anything changed in patients 2-years later. When it is rushed through the clinical trials we have no way of knowing the long term side effects of taking the vaccine until after we have already made it available to everyone.
They May Miss Certain Adverse Effects
If trials are only lasting a month or so, scientists may miss adverse effects that people could have a few weeks or months later. Additionally, they may just miss the side effects completely if they aren't paying attention or if they are affected less than others. The quicker you move on things, the less time you have to really investigate everything a participant is telling you.
Little is Known about Immunity
We don't even know that if you get COVID-19 whether you are immune from getting it again. In fact, we have heard stories of people getting COVID 2 or 3 times. So, we don't know how long a vaccine will keep us immune to the disease. It could be a few months, a year, or not at all.
We Don't Know if the Virus will Mutate
When the virus finds vaccinated hosts, will it mutate? If the virus is capable of mutating, then it could become worse for a person who has been vaccinated than it would have been before. Mutated viruses can be a scary thing.
We Have Never Successfully Made a Coronavirus Vaccine
By now, we should all know that there are different Coronaviruses out there. We have never been able to successfully make a vaccine to prevent the virus. The structures are wrong, meaning the chance of a COVID vaccine working effectively or long term is questionable.
Something to Know about Vaccines
In addition to the dangers of rushing a vaccine, it is important to know a few things about how vaccines work. Beyond scientists' control, the older we get the poorer our ability is to respond to vaccines. In fact, resistance to vaccines begins at approximately age 30 and becomes more profound with time.
What is concerning about this is that the Coronavirus is especially attacking those over 60, and they are the ones who have a higher chance of resistance to the vaccine. This is why we typically vaccinate our children early.
How to Prepare for the Coronavirus Vaccine
As I mentioned earlier, it is important to know about the Coronavirus vaccine because we could be told we can't go out in public without the vaccine. I would hope that would not happen. I would hope that constitutional rights would be upheld. However, history has shown us that government agencies do not always allow you to keep your rights. With that being said, it is important to prepare for the worst and hope for the best.
What does this mean for preppers? This means you want to have your storage in order. For example, if you can't go to the store without proof you have taken the vaccine, how will you survive? Make sure you have at least 6 months of food and water stocked up, especially if you have decided against taking the vaccine.
Check out some of my other posts on how to prepare, below:
Final Word
We all hope that we will not be forced to take a vaccine we don't want to take. With that being said, we never know what could happen. Prepare for the worst and hope for the best, my friends! What do you think about the rushed coronavirus vaccine? Stay safe, stay well. Please keep prepping, we must. May God bless this world, Linda
Copyright Images: Coronavirus Vaccine Deposit photos_381907178_s-2019