Best Supplements to Stock
Do you know the Best Supplements to Stock? We never know what emergency could happen, but what we do know is that when something affects a whole community, state, or country, our food supply is affected, and many times reduced. You may be self-sufficient with a garden or a farm, but you may not be able to get all the nutrients you need from what you grow and raise, and that's why it's important to also stock supplements.
Disclaimer: I am not a nurse or a doctor! Do not take any supplements without first consulting with your physician.
Best Supplements to Stock
You can't get all your nutrition from supplements, but they are a great way to help keep your body's health in balance, especially during trying times. I stock supplements for immune health, nutritional health, and to make sure I am getting everything I need if my nutrition is lacking in some critical area.
Not only are supplements good when the food supply is lacking, but they are a good way to help prevent getting sick, and many of us need additional supplements in our diets anyway. Below is a list of supplements I stock and highly recommend you stock as well.
Disclaimer: I am not a nurse or a doctor! Do not take any supplements without first consulting with your physician.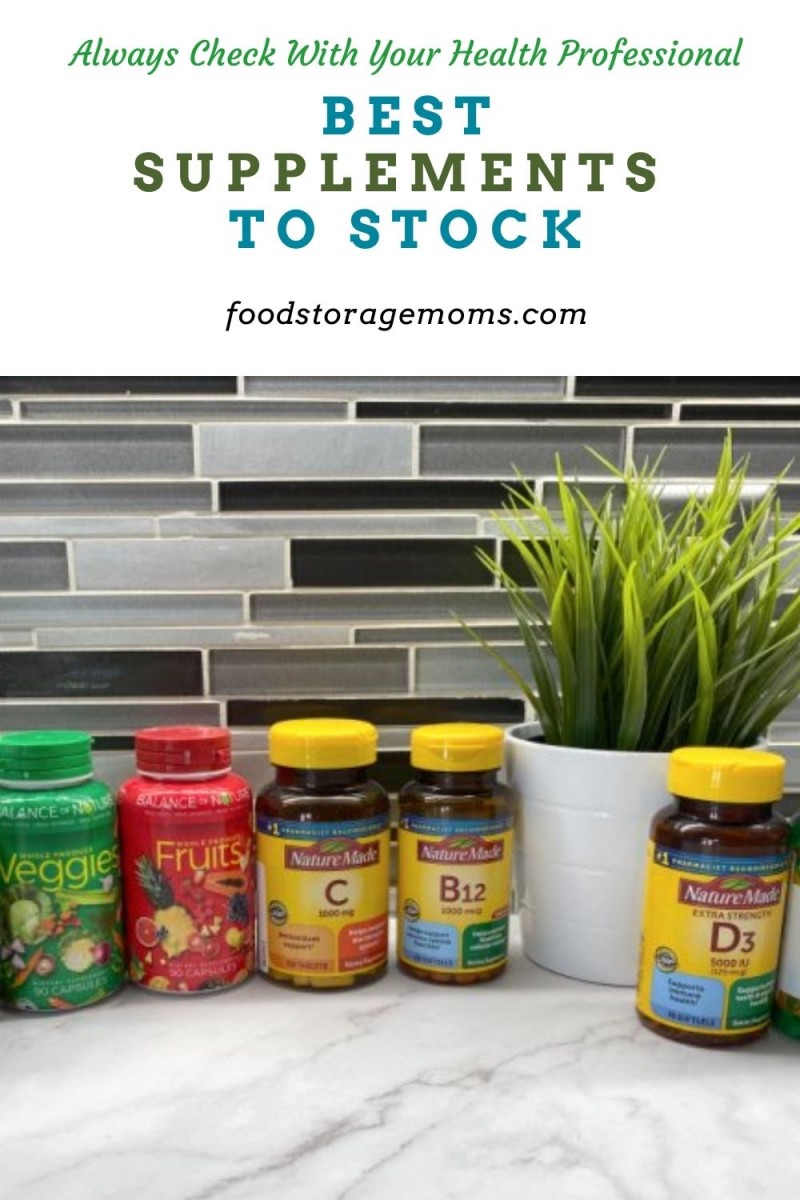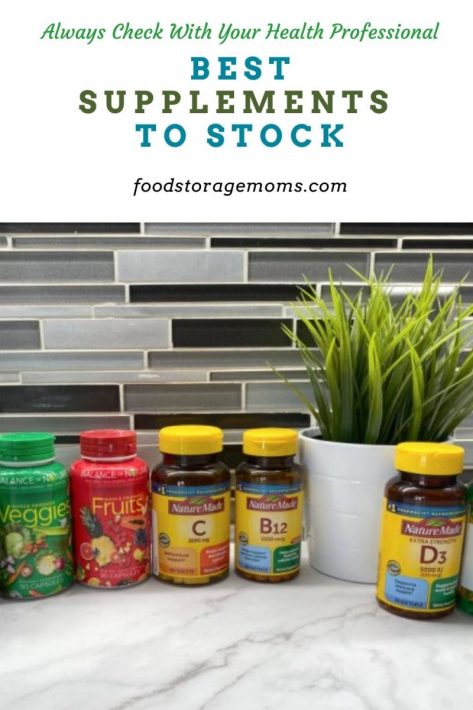 Studies show that 9 out of 10 people don't eat their daily recommended fruits and vegetables. So, the truth is that you probably already need some supplements, but will need them even more if food is scarce.
Fruit and Vegetable Supplements
I use Balance of Nature Fruit and Vegetable supplements which include a whole purpose veggies supplement and whole purpose fruits supplement. As outlined by the manufacturer, six capsules a day contain the equivalent of your daily recommended servings of fruits and vegetables.
These supplements are made with 100% whole food, which includes: Broccoli, Cabbage, Carrot, Cauliflower, Cayenne Pepper, Celery Stalk, Garlic, Kale, Onion, Shiitake Mushroom, SoyBean, Spinach, Sweet Potato, Wheat Grass, Zucchini, Aloe Vera, Apple, Banana, Blueberry, Cherry, Cranberry, Grape, Grapefruit, Lemon, Mango, Orange, Papaya, Pineapple, Raspberry, Strawberry, and Tomato.
It's hard to believe that the six small capsules contain all those foods, but each item has been powdered after an advanced vacuum-cold process that stabilizes the maximum nutrient content. Note that each food item is 100% whole food with no additive fillers, no synthetics, is non-GMO, and is gluten-free. For those who consider themselves vegan, these supplements will fit into your diet routine.
A diet that is rich in fruits and vegetables can lower blood pressure, reduce your risk of heart disease, stroke, and even help prevent some types of cancer. Fruits and veggies help lower the risk of eye and digestive problems and have a positive effect on blood sugar. Stock fruit and vegetable supplements whenever you can. Of course, there are other fruit and vegetable supplements available, but based on my own research, this is the product I chose.
Quercetin is a flavonoid that is an antioxidant. They scavenge particles in the body which are known as free radicals. Free radicals damage cell membranes, tamper with DNA and cause cell death. Quercetin can neutralize free radicals. Here's why you should stock Plant-Based Quercetin:
Supports your body's response to histamines & allergens– This supplement can help ease and control occasional itching, redness, runny nose, and mucous.
Provides Immune system support– Since Quencetin is an antioxidant, it protects healthy immune cells from damage.
Strengthens cardiovascular health– Quercetin helps encourage healthy blood flow for normal circulation and blood pressure. The anti-oxidative properties help ease oxidative stress, providing a protective effect on cardiovascular health.
Sleep is an essential function that allows our body to recharge. Healthy sleep helps the body remain healthy and stave off disease. Without enough sleep, your brain cannot function properly. Sometimes it's hard to sleep due to some pain issues, or you aren't getting enough sleep because of some stresses you keep thinking about.
Melatonin is a natural hormone that your brain produces in response to darkness that helps the timing of your circadian rhythms and sleep. Lights in your house can block melatonin production, thus a melatonin supplement can achieve that for you and help you get a good night's sleep. Melatonin
Headaches, fatigue, depression, pale skin, gastrointestinal issues, difficulty concentrating, and muscle cramps can all be a sign that you need more B12 in your diet. B12 is an essential nutrient that is responsible for red blood cell formation, DNA synthesis, and other vital processes.
Studies have shown that 20% of people over the age of 60 in the United States are B12 deficient. The ability to absorb B12 declines with age, so if you are 60 or older, you really should be stocking B12.
Besides helping form red blood cells, B12 converts fat and protein to energy. So, it also helps you not be as tired during the day. B12 Supplements
We are all told to take vitamin C to help fight colds and infections, but vitamin C is also needed to form blood vessels, cartilage, muscle, and collagen in bones. In addition, it's also vital to your body's healing processes.
Taking a daily dose of vitamin C can help prevent you from getting sick. If you aren't getting enough fruits, it's suggested that you take 500 mg per day. Vitamin C
You get most of your vitamin D from the sun, so if you can't get out in the sun for at least 10-30 minutes every day, then you probably aren't getting enough vitamin D. In fact, 43% of the United States population has a vitamin D deficiency and may not even know it. And, you won't find it in a lot of your foods.
Vitamin D helps to support a healthy brain, heart, teeth, and lungs! Additionally, it helps keep your immune system strong and helps the body regulate insulin levels. Vitamin D-3
Zinc is found all throughout your body. It helps your immune system and metabolism function as they should. Additionally, it is important for wound healing and your sense of taste and smell. If you have a varied diet, you probably get enough zinc from foods like chicken, red meat, and fortified cereals. However, if food is scarce or you can't get any meat, you may need a Zinc supplement.
A Zinc deficiency can cause hair loss, diarrhea, eye and skin sores, and loss of appetite. Lack of Zinc can also cause weight loss, problems with wound healing, decreased ability to taste food and lower your ability to stay alert. Zinc
Magnesium is typically known as a natural muscle relaxer. It's an important mineral that plays a role in over 300 enzyme reactions in your body. It helps with muscle and nerve function, regulates blood pressure, and supports your immune system.
Additionally, you need adequate amounts of magnesium in your body to aid in the absorption and metabolism of vitamin D and calcium. Magnesium
Fish oil is the ultimate brain food! It is the fat or oil that's extracted from fish tissue, and it's rich in omega-3 fatty acids, which are very important for your health. In fact, the World Health Organization recommends eating 1-2 portions of fish per week to get the omega-3 fatty acids your body needs. If you don't eat 1-2 servings per week, you should consider taking fish oil supplements.
Your body needs omega-3 fatty acids for many functions, from muscle activity to cell growth. Fish Oil is used for a variety of conditions including:
Heart disease
High blood pressure
High triglyceride and cholesterol levels
Rheumatoid arthritis
If you have children, it's always a good idea to stock up on a children's multivitamin. In fact, you should already be giving your child a multivitamin every day if they are between the ages of 6 months to 5-years old. It is recommended that children of those ages receive supplements of vitamin A, C, and D every day to keep your child's immune system healthy and fortified.
Young children don't always like to eat the right foods that provide the nutrition they need, and sometimes they don't want to eat anything at all. Giving them a daily multivitamin supplement will help with many nutritional deficiencies in their diet. Children's Multivitamin
More on Supplements to Stock
Final Word
I am not a nurse or a doctor! Do not take any supplements without first consulting with your physician. I stock supplements that I know my body needs. Some supplements have been known to cause an overdose of a particular nutrient. If you are unsure of your nutrition levels and what you may need, be sure to ask your doctor for a test to see if you need any of these supplements. It is my personal feeling that these are some of the best supplements to stock for emergencies. Consult your doctor and also perform some of your own research, we each know our bodies the best. May God bless this world. Linda