Why are Grocery Stores Still Out of Stuff?
With very little room left to argue or debate, the Covid-19 pandemic hit the United States harder than any other country, going clear back to the middle of March. With stay-at-home orders issued by each state, along with the astonishing numbers of workplace closures in just the matter of a few days, the shelves of every grocery store across America were running alarmingly thin.
In the many weeks that followed, it took grocery stores a long time to bounce back with more products.  Why are grocery stores still out of stuff?
Other Posts to Check Out
In case you missed these posts, check them out below:
Items to Buy: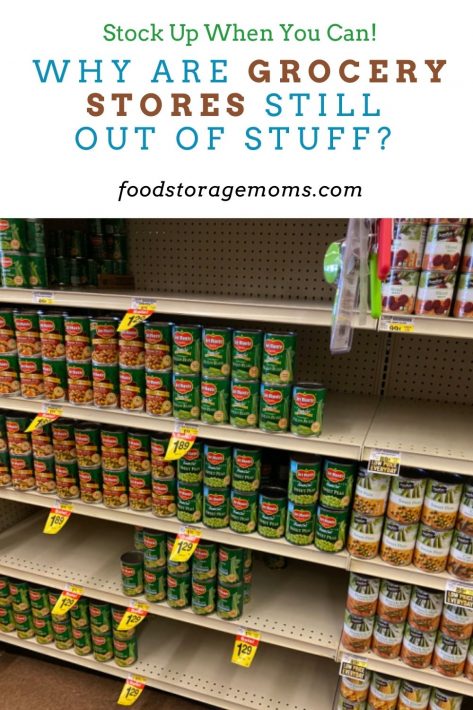 Why are Grocery Stores Still Out of Stuff?
Fast forward to nearly 8 months later and you're probably still noticing the out-of-stock situation on many items at your favorite grocery retailer. Even now, the paper towel and toilet paper sections haven't fully recovered. A number of stores have yet to take down signs on their doors and windows, reminding customers of limits that they have on several listed items.
So are we still dealing with a grocery shortage? Aren't these companies and the food industry making more products to keep up with the higher demands the pandemic has left us with? It certainly doesn't seem that way. So I decided to do a bit of research and get to the bottom of why this is still happening. Continue to read on about why grocery stores are still out of stuff.
Related: 7 Grocery Store Staples that are Still Hard to Get
Companies Focusing On Less Variety
Have you happened to notice that many restaurants have cut back big time on their menus? McDonald's and Taco Bell have made the most noticeable changes by cutting out items that they've been selling for years.
As it turns out, the same holds true even for the biggest food and beverage companies, where they continue to focus their time and energy on their most popular items. That means if you have a preference for a unique flavor of soda pop, don't be surprised to find that it's temporarily unavailable.
Global Shortage of Cans
One of the other major reasons why you haven't been able to find your favorite flavor of pop is because there is a shortage of aluminum cans that has been ongoing for many months now.
Soda pop was one of the many comfort beverages where sales trends went through the roof when people were laid off and began stocking up. Out-of-stock levels are still way up at about 10% to 15%, well over the normal national average.
You may have already noticed that prior to Covid-19, beer is being packaged in aluminum cans more and more these days. With fewer glass bottles being used and more craft beer companies popping up everywhere that rely on aluminum, it's making the shortage even worse.
No, it's not that we have a shortage of aluminum, but we simply don't have the working capacity to produce the amount of aluminum necessary for everything to return to normal.
Out-Of-Stock Grocery Staples
You've made several grocery stops since this all started. Depending on which store you visit, these are some of the grocery staples that you may still be having a hard time finding:
Toilet Paper and Paper Towels
I'll be honest to admit that I was left scratching my head as to why there was going to be a shortage of toilet paper, but there was. Even today, people are continuing to stockpile toilet paper and paper towels, afraid that grocery stores will run out once again.
Because of this, it has continued to make the paper aisle look considerably thin, yet the toilet paper section has bounced back better than the paper towel section has. When paper towels are out-of-stock, it seems to stay that way for a much longer period of time than what you will notice with toilet paper.
Frozen and Canned Vegetables
The demand for frozen and canned vegetables, items that last for a long period of time, have more than doubled in the past six months. As of the first week of September, most grocery retailers were at 83% stock capacity for that category.
Another factor has to do with the shortage of aluminum cans, along with labeling and packaging issues. Many companies have had to cut back in staffing due to the virus.
Soups
Companies like Campbells and Progresso also made drastic cuts to their soup section, cutting their varieties by nearly a third. That answers part of the out-of-stock issues, but soup is another item that holds up for a long period of time, making it a great item to stock up on. Which is exactly what many people have done.
Spices
Supply issues of spices and herbs have also taken a hit following the pandemic. Like other shelf stable foods, many people have realized that they can stock up on them to ensure that they don't run out. This has also caused an increase in pricing as well.
Meat and Seafood Department
Earlier on in the year, the Covid-19 outbreaks were happening in meat and poultry processing plants, forcing them to shut down for a period of time. This quickly depleted meat and seafood shelves across the country, while the high demand only made matters worse.
For example, prices in the frozen meat and poultry sections were up over 29% from the prior year during the month of August. That's huge! Trying to get back to normal stock levels has continued to prove difficult.
Over-The-Counter Meds
Pain relievers, allergy medicines, as well as respiratory medications have been harder to come by as well. That's because everyone began stocking up on them, especially around allergy season. The rate of out-of-stocks has come down considerably since then, but with the cold and flu season coming around the corner, experts are saying that those numbers will begin to elevate once more.
Liquid Hand Soap
Just like when hand sanitizer became difficult to track down, liquid hand soap was extremely limited as well, followed up with a spike in the price tag. While hand sanitizer has made a comeback, liquid hand soap is still struggling to stay on the shelf.
This is partially to do with peoples' past grocery shopping experiences around the earlier parts of Covid, where they fear that they won't find it the next time they head to the grocery store.
Final Word
If you think about it, there are several reasons why the grocery stores are still out of stuff. I hope things return to normal in a reasonable amount of time. In the meantime, May God Bless this world, Linda.