7 Grocery Store Staples that are Still Hard to Get
The pandemic shortages go far beyond just toilet paper. In fact, many of us are still seeing grocery store staples that are hard to get. We have seen a lot of pictures from people across the country in our Facebook group with empty shelves and missing items. So, what's missing? Why is it missing? What should we do? Below, you will find the answers to these questions. In case you missed this post, Canned Foods I Highly Recommend You Store
"Prepare Your Family For Survival"
7 Grocery Store Staples that are Hard to Get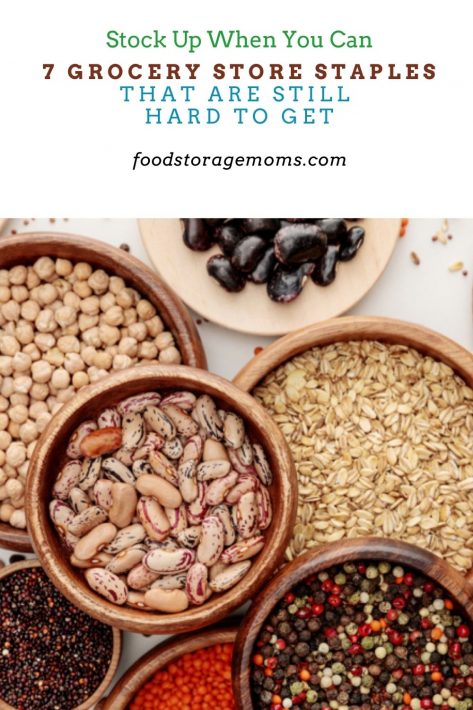 There are still many grocery store staples that are hard to find at your local grocery store. Here are just 7 staples that we continue to see a low supply of, but keep in mind there are more than just seven!
Spices
Before the pandemic, people combined eating at home and eating out. Thus, they didn't have a huge need for spices. With shutdowns, COVID spikes, and people choosing not to eat out as much, more people are cooking at home. There comes a time when bland home cooked food just doesn't work. So, people are delving into recipes and buying more spices to make more delicious foods at home.
Sugar
Sugar is something we may not think about that much, but we use it in a lot of our foods that we make. Not to mention…coffee! Again, due to people eating and drinking more at home, they are making more things with sugar. Thus, more people are buying sugar.
Yeast
When the pandemic hit, I noticed bread shortages. Because people were afraid of not being able to buy the bread they needed, they began buying supplies to make their own bread. In addition, yeast is a staple item for many different homemade recipes. So, as is normal, people scooped it up to make sure they didn't run out of bread.
Flour
Again, flour is used for bread. Due to some of the bread shortages, people figured they could just make their own. In addition, flour is one of those food products where you can use a fairly small amount to make a large amount of food for your family. It's a security item because you can use it when you can't buy many regular items at the store. 
Beans and Grains
Most people understand that beans and grains can be stored for a long period of time. In addition, we can use a small amount of these items to make a bigger meal for our families. Rice and beans expand when cooked. Just as we encourage preppers to stock these items as emergency supplies, non-preppers felt compelled to buy these items in case times got worse. 
Canned and Frozen Vegetables
Again, canned goods and frozen veggies can be stored for much longer than other grocery staples. Most people know this and they know that even if the can is expired they can probably still eat it if they absolutely have to. Even if someone isn't a prepper, they fully understand the necessity of having food that lasts longer in the event they can't get food.
Disinfectant Wipes
I don't know about you, but many of my friends are saying they are still seeing shortages of disinfectant wipes. My friend has been to three stores in her area and could only find half-size containers that were much more costly than they had been before. She had to go to a nearby city to get the wipes.
But, more people are using these to clean their computers, phones, and household items. It's frustrating that I can only get Lysol wipes (only one container each is allowed) when I really want the Clorox wipes. Yes, I'm thankful I could get one package, but with fewer sheets and they are more costly.
Why Are There Shortages?
There are several reasons why we are still seeing shortages. Obviously, when the pandemic hit, many people were panicked and began panic shopping. In addition to this, stores have just not been able to restock as they once did. Here are some reasons why:
There are price gouging laws: Companies know people will buy these products, but they aren't allowed to raise the prices. So, instead of selling items at a cheaper price to millions of people, they limit supply until they can increase prices. 
State of emergency: Some states are still in a state of emergency where others have opened up. Those people still living in a state of emergency status are doing more panic buying. 
People focus on certain items: We all know what foods we can grab that we can store for longer periods of time. Thus, people are stockpiling those items they think will get them through if something worse hits. 
To read more about shortages and how you can prepare, I suggest you reading some of my other posts:
Do These Grocery Store Staples Have a National Shortage
I do believe that the shortages are getting better with some items, but worse with other items. According to the Department of Agriculture,
"There are no nationwide shortages of food, although in some cases the inventory of certain foods at your grocery store might be temporarily low before stores can restock. Food production and manufacturing are widely dispersed throughout the U.S. and there are currently no wide-spread disruptions reported in the supply chain."
It seems the USDA and the Food and Drug Administration are closely monitoring our food supply chains for any shortages. They are also in regular contact with grocery stores across the nation. 
So, as of now, we are not worried about nationwide shortages, but that does not mean we will not see shortages at certain stores for certain items. 
Final Word
With all this being said, even though there is not a national shortage of food, we are still seeing a variety of food, medicine, and cleaning supplies in short supply. Whether companies are choosing to stock bare minimums of these grocery store staples, or they just don't have the products, we don't know.
However, what we do know is that we must continue to do our preps regardless of the shortages. Make lists, search for the items you are low on, and shop around to find them. Keep preparing! Remember, luck favors the prepared! May God Bless this world, Linda
Copyright Images: Wooden Bowls With Beans Deposit photos_306039772_s-2019