How to Survive in an Emergency Shelter
Every year, emergency evacuations take place in the United States a lot more than you may realize, whether it's due to flooding, fires, destructive weather, or something entirely man-made. Just a little over a month ago, wildfires in the state of Oregon forced as many as 500,000 people to evacuate their homes.
In case you missed this post, Disaster Plans: They Aren't All the Same
"Prepare You Family For Survival" by Linda Loosli
That's half a million people for only one incident! If you haven't caught on already, over the past few decades, severe weather has only seemed to intensify in frequency and strength. Keep reading to discover how to survive in an emergency shelter.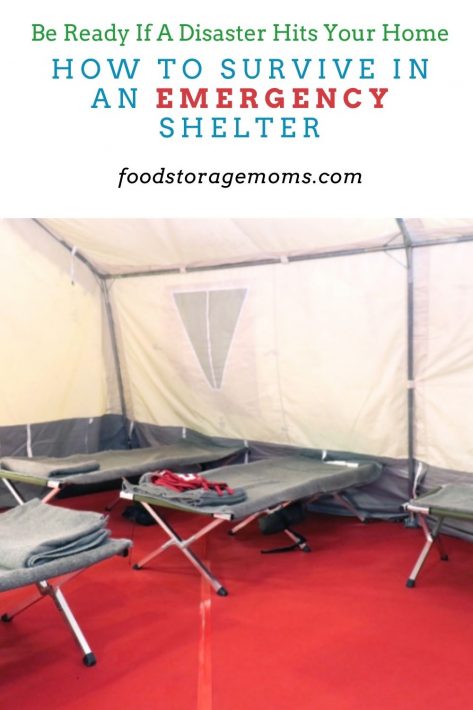 How to Survive in an Emergency Shelter
Unfortunately, most Americans today live their lives as if this type of situation could never happen to them. This creates a false sense of security that leaves them blindsided and unprepared when an emergency does strike their region.
And don't think for a minute that just because you live hundreds of miles away from the threat of wildfires or devastating hurricanes that your family is in the clear. An emergency can happen anywhere and anytime, even on a sunshiny day.
If there ever comes a time where your family is forced to evacuate your home due to whatever reason and you don't have friends or family that you can rely on, your local emergency shelter is one place that you can turn to.
A shelter provides a roof over your head and a safe place for your family to escape the threat, but it doesn't necessarily provide the necessary comfort. I'm here to share with you a few ways that you can survive in an emergency shelter. 
Comfort Supplies
An emergency shelter lacks several things that most of us have in our homes that provide us with comfort and security. Here's a list of supplies that we take for granted every day that you don't want to be caught without when staying at an emergency shelter.
Bedding
It's not a comforting feeling having to sleep under bedsheets and blankets when you don't know who else used them last. Bringing your own pillow, sheets, and blankets should keep your skin from crawling all hours of the night. 
Eye Mask and Earplugs
Most emergency shelters have very little privacy that separates you from hundreds of other people. They also tend to leave the lights on at night. So if you don't want to be left awake all night because of coughing, whispering, or buzzing lights, be sure to bring eye masks and earplugs.
Medicine and Sleeping Aids
As you've probably figured out by now, sleep doesn't come easy at an emergency shelter. Bring a few sleeping aids and aspirin to help you with this.
Bring Plenty of Comfort Food
An emergency shelter does provide people with food and water, but there's no telling whether it's something you'll eat, or the inopportune time your kids will be asking for a snack. Emergency shelters do allow you to bring your own food because they know that several people may be on a particular diet or have certain food allergies.
Just be sure that it's non-perishable and doesn't require microwaving because you don't know if that will be an option.  
Emergency Hand-crank Radio
Don't be left relying on emergency personnel to keep you updated following an emergency. Stay ahead of everyone else by having a hand-crank radio that doesn't require batteries.
Solar Cellphone Charger
Remember to bring a solar cellphone charger so you have a way to charge your phone so you and your kids have something to use to pass the time. Without a working phone, your friends and family may have no way of finding out whether you're all doing okay. 
Washcloths and Towels
Just like with your bedding, having your own washcloths and towels that you use during your shower can also provide you with comfort.
Flipflops
Never get into a shower at an emergency shelter without flip flops. You just never know what you could be stepping into that could get you sick.  
Reclining Camping Chair
If your emergency shelter is experiencing full capacity because of the number of people forced from their homes, they may not have enough cots for everyone. A reclining camping chair keeps you off of the floor and allows you to rest.
Bicycle Lock
There's also the chance that when you go to use the restroom or take a shower that someone could take off with your stuff. Use a bicycle lock to keep your supplies and chair together in one place.
Things that Entertain
Besides resting and eating, there's very little to do to keep your family busy and preoccupied at an emergency shelter over the next several days. Pack electronic devices for the kiddos, a deck of cards, and a good book or two. 
Toilet Paper
Rolls of toilet paper are too bulky. So instead, remove the cardboard tubes and cram a number of your toilet paper rolls in a Ziploc bag.
Extra Underwear and Socks
Bring along several extra pairs of socks and underwear to provide you with a fresh feeling.
Toothbrush and Toothpaste
Continue to keep your pearly whites clean and shiny by remembering your toothbrush and toothpaste.
Deodorant
Just because you're going to be living at the emergency shelter for a few days doesn't mean that you have to smell like it. Pack deodorant, if you know what's good for you.    
Hand Sanitizer
Last but not least, don't forget to bring hand sanitizer to keep your family healthy as you're surrounded by so many people who might be sick.   
Final Word
If you have all of these items with you when you stay at a shelter, rest assured that your visit will be a much smoother and more comfortable one.
Your emergency shelter survival kit may look slightly different from everyone else based on your family members' needs. Especially for those who require medical supplies and prescriptions, so make sure that you add those to your list. 
Another word of caution is that you don't want to bring your nicest stuff with you, risking the chance that your supplies get stolen. How do you plan on surviving in an emergency shelter? May God Bless this world, Linda.
Copyright Images: Refuge Camp Shelter AdobeStock_127645135 by Tatty