Infection Prevention: Tips to Stay Healthy
Infections are something that we've all faced at one point or another. Yet in many of those situations they could have been avoided. If you're like me and hate even the thought of having a typical cold that knocks you off of your feet, knowing how to prevent them may be something that you find extremely useful. Check this out, infection prevention: tips to stay healthy.
Please remember I am not a doctor, nurse, or anyone in the medical field. My philosophy is when in doubt, call your doctor about any health issues. If you have questions and need answers about what's going on in the world, refer to CDC.GOV
In case you missed this post: Why You Should Wash Your Hands Often
Infection Prevention: Tips to Stay Healthy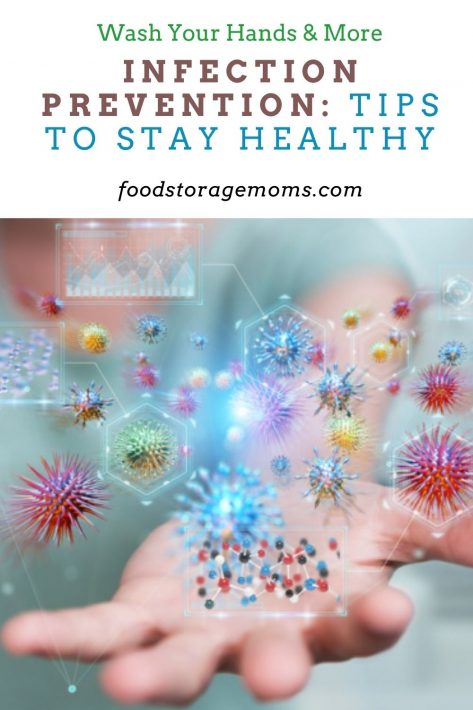 There's no guarantee that keeping healthy will ensure that you never get an infection, but it will certainly reduce the chances of catching one.
I'm here to share with you some of the good practices, along with things that you could be adding to your diet to help prevent infection. Here's more on infection prevention and tips on how to stay healthy.
So What Exactly is an Infection?
To have a stronger grasp on how to prevent infection, you need to have a better understanding of what one is and how they come about. An infection happens when another organism finds its way inside your body and causes the disease to set in while wreaking havoc to your body's surrounding cells.
Infections can be caused by bacteria, parasites, fungi, and several different types of viruses.
Good Hand Hygiene
In the Covid-19 era that we currently find ourselves, we've been told that having good hand hygiene is one of the best ways to stop the spread of the virus. The same holds true when preventing infections as well.
Hands need to be washed with antibacterial soap and warm water for at least 20 seconds to ensure that they are no longer contaminated. If you're in a place where you are unable to wash your hands, the very least that you could do is use hand sanitizer to try to keep them clean.
You should always wash your hands immediately after you sneeze, cough, greet someone, if you come into contact with blood or urine, or touch another new object or surface, and every time you use the restroom. It's also important for you to be aware of any scrapes, cuts, or other hand injuries that may create an opening for infections to get inside.
Cleaning and Disinfecting
Cleaning and disinfecting surfaces and objects regularly that are touched often is another great way to prevent infections. Although you can't see it, those surfaces may be contaminated with bacteria, germs, and viruses that are waiting for their opportunity.
Some disinfectants won't be effective if soil or dirt is still present, so it's important to clean those surfaces thoroughly first. Then apply the disinfectant and allow it to air dry according to the amount of time suggested in the manufacturer's instructions.
You also need to know that there are certain pathogens out there that won't be made inactive by commercial disinfectant products. In those situations, it's best for you to use a bleach solution to decontaminate surfaces in your home.
Vaccinating
In recent years vaccinating has become much more controversial, whether it's due to people's religious, ethical, or personal beliefs against the practice. That's because vaccinations have been argued time and time again to cause a host of other major health problems, especially among smaller children.
I'm not here to tell you whether it's a right or wrong decision for you to vaccinate, but simply to inform you.
Vaccinations have proven to provide a boost to your immune system, while helping prevent certain types of infections. Diseases that once claimed the lives of countless younger people can now be preventable when choosing to get a vaccine.
They can also provide you with extra protection from other major health problems. On the other side of the spectrum, they may cause diseases, but this likelihood is rather small.
Please note, I am not advocating for or against vaccinations, I want that to be clear.
Superfoods that Fight Infections
Antibiotics are one way of dealing with infections, but they're also known to kill off healthy bacteria, and later on those infections may evolve in such a way that they are able to resist the medication. Why not try something that's natural and doesn't cause any harm to your body?
There's a number of superfoods that work as natural antibiotics that you should consider adding to your diet, if you haven't already. They'll work great in not only fighting off infections, but also preventing them.
Eucalyptus
Adding eucalyptus to your tea can help with a cough, and when placed on the skin, can provide you with antiseptic properties.
Apple Cider Vinegar
Apple cider vinegar has become increasingly popular over the last several years because of its many health benefits. It's known to kill germs and relieve a sore throat.
Garlic
Garlic has been known to relieve the effects of a cold, flu, and toothaches, but you will no longer have all the antibiotic properties if you decide to cook them. It's best to slice them up and eat them raw over a salad or added to the soup.
Onions
Onions are capable of reducing pain and inflammation while fighting off cold and flu-like symptoms. Just like with garlic, onions should be enjoyed raw to receive all the nutrients and health benefits.
Horseradish
Horseradish has been used in the past to treat urinary tract infections, bronchitis, and even kidney stones. It gives the body energy while strengthening the body's defenses against infectious illnesses.
Ginger
It's no secret that ginger has been used in the past to treat colds and flu. Ginger also helps with nausea and an upset stomach. Just be cautious with this one if you may be pregnant.
Cinnamon
Cinnamon has antibiotic properties that can be used to treat infections, including yeast infections.
Vitamin C
Eating foods that contain higher amounts of vitamin C is a great way to stay healthy while supporting your immune system. Oranges, tomatoes, broccoli, cauliflower, Brussel sprouts, and leafy greens are among the best. Adding the mineral supplement vitamin C to your diet daily is something else that you should consider.    
Other Posts to Check Out
Here are some other posts related to health and wellness to check out:
Final Word
Staying healthy has certainly taken on a whole new meaning in the year 2020. Especially the reminder to wash your hands. By using these preventative methods you'll greatly reduce the chances of catching an infection.
What are some other methods you've learned over the years about preventing infections? What are some infection prevention: tips to stay healthy that you'd add to this list? May God Bless this world, Linda.
Copyright Images: Businesswoman Analyzing Bacteria Deposit photos_217028818_s-2019, Washing Hands Under Water Deposit photos_2634772_s-2019