What You Need in Your Emergency Kit
Let's face it, when it comes to an emergency kit, you don't always know what you need. I want to help, so let's talk about what you need in your emergency kit. It's so vital that you have the right items in your emergency kit. Keep reading to discover what one might keep in that kit. Keep in mind that it looks different for every single person or family out there based on their particular situation and family makeup. In case you missed this post, 30 Items You Need To Survive A Pandemic
"Prepare Your Family For Survival" by Linda Loosli
Headlamps so you can keep your hands FREE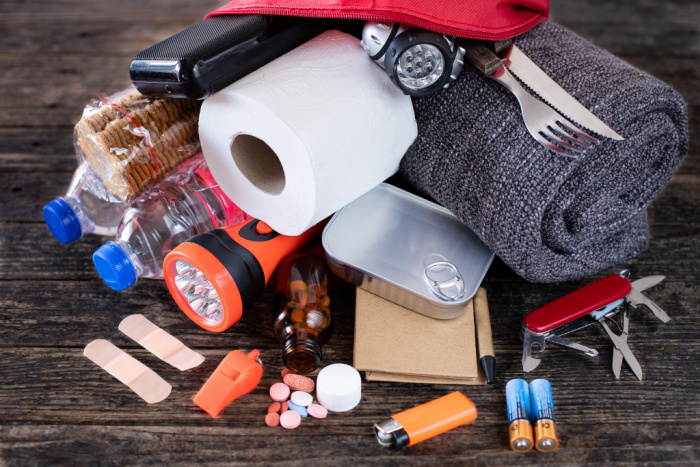 What You Need in Your Emergency Kit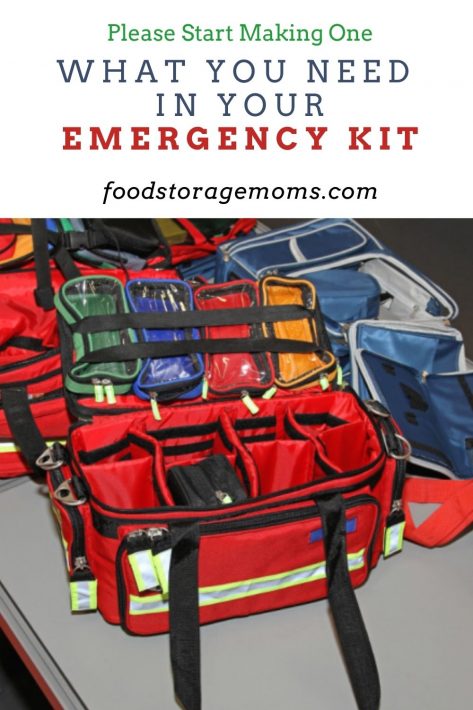 Drinking-Water
Clean water is your number one essential that you don't want to be caught without following an emergency.
Plan on having one gallon of water per person for each day, that will cover both sanitation and drinking purposes. At the very least, you need to store a 3 day supply of drinking water for everyone in your family. If you have the space to do so, you should consider storing a 2 week supply of water that will more than cover you during most emergency situations.
You have the choice of heading to the store and buying purified drinking water in gallons or filling up old milk jugs with tap water. If money isn't an issue, purchasing a 55-gallon water barrel is a great way to quickly have enough drinking water set aside for your family.
If an emergency forces you to quickly evacuate your home, having to transport all those jugs or gallons of water simply may not be feasible.
For that, you will need a portable water filter, like the LifeStraw. It's a filtering straw that is lightweight and takes up very little space.
You can use it to directly drink from most any water source. However, if you're needing a water filter that can purify large amounts of water, the Platypus GravityWorks is a great solution.
Food
When a disaster strikes, there's the real possibility that your local grocery store may not be available to come to your rescue. Plan on having a stock of non-perishable foods that have a longer shelf life and won't be spoiled by the time you need them. (Be sure to rotate them out about every 6 months.) Just don't forget to have a can opener handy for your canned foods.
Don't forget to have quick and easy snack items on hand, including energy bars, dried fruits, nuts, and jerky. Also, be sure that you gather foods that your family actually enjoys eating. Your family's morale will already be running low due to your situation, and having to eat food that's unappealing isn't going to help matters any.
Flashlight
Fumbling around searching for supplies in the dark of night will be an annoyance or even dangerous, in some cases. You'll need to have flashlights with plenty of batteries. It's a good idea to have one light source for every member of your family.
Communication
Information that's relayed by emergency officials will be of extreme importance for your family following a disaster. Not knowing what's going on around you could be the difference between life and death, especially when officials are informing you of changing weather conditions or urging residents in your area to evacuate. That is why a hand-crank radio is so important for you to have in your emergency kit.
A situation may force you or other family members to separate for whatever reason and you may not be able to rely on your cell phones to keep in touch. Don't make the decision to split up unless you have 2-way radios available so you can stay in contact.
First Aid
Emergencies aren't called emergencies for no reason. The first aid kit should have sufficient supplies to cover a number of situations. Some could be as easy as someone in your family only requiring bandages to hold them over. Your first aid kit should include bandaids, gauze, antibiotic ointments, burn cream, tourniquets, pain medication, and other medicines, just in case.
Shelter
When your home is no longer a place that you can consider safe and you have nowhere else to turn, you'll need a shelter to escape the cold and wet elements. Consider having a lightweight camping tent and extra emergency blankets for everyone to stay warm. Good sleeping bags will also be necessary in order to stay cozy during the night.
Warm Clothing and Shoes
Even under normal circumstances being wet or cold can be extremely uncomfortable and possibly dangerous. Make sure to have plenty of warm articles of clothing set aside for each member of your family, along with an extra pair of shoes. You may need to have hats, gloves, and coats at the ready if it's during the winter season.
Tools
Following a disaster, you may have to be able to turn off your utilities or cut down some tree branches that you can use for firewood. Start out by getting yourself a multitool that has a sharp pocket knife built into it so you can cut wires, open battery chambers, and several other small tasks. There may come some point where you need duct tape, a hammer, screwdrivers, wrenches, or an ax. Don't forget gasoline or camping fuel for starting fires and for cooking meals.
Sanitation Items
This one's usually the number one thing that gets forgotten most often, but sanitation will play an even more important role than ever before. To ensure that your family stays fresh and clean you'll be needing personal hygiene items, baby wipes, face masks (Covid-19), hand sanitizer, and garbage bags for managing waste.
Everything Else
If you're forced to evacuate your home, you'll need to be able to grab important information in a hurry, such as birth certificates, insurance information, passports, and other documents. Have them ready in a waterproof container or small safe that's close to your emergency kit. Extra cash tucked away in your kit is something else to think about in order to purchase necessary supplies that you may have forgotten.
Final Word
There's no telling how long an emergency may force you to rely on your emergency kit to sustain your family. When you're first starting out it may seem overwhelming. It's best to start with at least a 3 day supply of all your needs until eventually, you're up to a week's worth. Once there, you can expand on the supplies in the kit if you feel that will provide the coverage you may need.
Your emergency kit should be stored in a climate-controlled environment so that none of your supplies are damaged or spoiled by extreme temperatures. Your kit needs to be placed in an area of your home where you go to seek shelter when a disaster strikes. I'd also encourage you to use watertight containers or tubs to store everything that you'll need. What do you feel you'll need in your emergency kit? May God Bless this world, Linda.
Copyright Images: Emergency Bag AdobeStock_300421732 By Studio GDB, Emergency Bags AdobeStock_256162855 by Markobe