Home Canning-Important Do's and Don'ts
It's all about home canning today, and some important do's and don'ts. If you're like me, you love seeing all those jars lined up on our food storage shelves. I have to be a little more creative now that my home is so much smaller since Mark and I downsized. We no longer have a basement with shelves, but it's all good.
My daughters and I still talk about all the food we canned as a family for so many years. We raised enough vegetables to support our meal planning for a year in our large garden. We were organic gardeners before organic became popular. There is something so gratifying knowing you can produce enough food for your family for a year. Every year we planted, weeded, and harvested every vegetable we loved to eat. Then we started the process again year after year.
My sisters and I were blessed to have been taught how to can food by our mother. I took it to the next level because I had great soil in Logan, Utah, a half-acre lot, and the desire to grow my own food. Years ago, I took classes from Utah State on how to safely can my harvest. Mark and I bought a water bath canner and a pressure canner. USU taught me the skills I needed!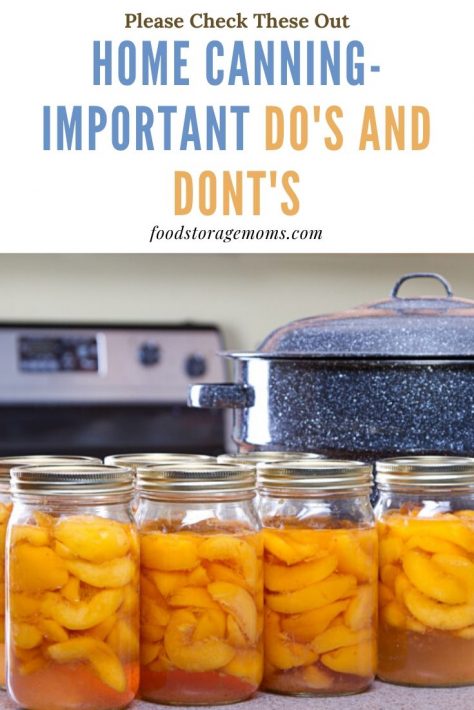 Master Canning & Preserving Certificate
I have canned food for at least 50 years now. I talked Mark into taking classes to get our Master Canning and Preserving Certificate a few years ago. Yes, I know how to can, but I had never canned meat and I wanted to learn the new canning techniques. The class was awesome, we broke out in groups and canned a bunch of vegetables, fruit, meat, jams, and so much more.
I highly recommend you look into getting your certificate. Our food has changed over the years so our canning techniques must change as well. For instance, our tomatoes are not as acidic as they used to be. Therefore we have to add some things we never used to add to our bottles when we can tomatoes.
Canning Do's
Always follow a reputable canning book, I recommend the following ones: USDA Canning and Ball Canning
Assemble all of your equipment before you get started.
Inspect all your jars, discard all that have chips or cracks.
Plan for more time than you may think, canning cannot be rushed.
Remove the rings after 24 hours of cooling before storing.
Please wash the jars before storing them after canning is complete.
When canning meats, keep the meat chilled and be ready to can them as quickly as possible.
For best quality after harvesting fruits and veggies can them within 12 hours (apricots, nectarines, peaches, pears, and plums should be ripened 1 or more days before canning them.
Do check with your local state extension service to verify your correct altitude before starting, adjust as needed to safely can your food.
Can only what your family can eat in a year.
Fill your jam or jelly jars leaving only 1/4 inch from the top of the jar.
Fruits and vegetables should be canned leaving 1/2 inch space from the top of the jar for water bath canning.
Low acid food canning requires you to leave 1-1/4 inches from the top of the jar when pressure canning.
Yes, I use a plastic wand to remove the air in my jars by moving it around the inside of the jar. Then I wipe the top of the jar with a clean rag before placing the lid and ring on the jar, tighten the jar but do not over tighten the ring.
Do boil your lids submerged for ten minutes and keep them in hot water until ready to use. Correction by another Master Canner, Laura: Lids manufactured these days require only that they be wet, and dipping in cool water is sufficient. The sealing compound used today is different than what was used in the past, and boiling the lids for 10 minutes risks breaking down the sealing compound, leading to seal failure. The instruction is printed on the back of the box. Ball Website
Please take your pressure canner and have the pressure gauge checked at your local state extension service at least once a year, preferably BEFORE you start to can.
Replace the gasket in the lid of your pressure canner yearly, or as needed. Some pressure canners don't have a gasket, such as my All American Pressure Canner.
Fill your water bath canner halfway before adding jars. Make sure the water is 1-2 inches above the jars when the canner is filled with jars. (I prefer 2 inches).
Put 2-3 inches of water in your pressure canner before adding any jars.
Canning Don'ts
Don't leave the rings on when you store your jars, they may not have sealed and leaving the ring on could prove to be fatal if bacteria get into the contents.
Don't use grandma's canning techniques because our food has changed in the last 35-50 years.
Don't retighten the rings after removing the jars from the canner.
Do not tip jars as you bring them out of the canner, keep them straight up before and after processing.
Obviously, you will not preserve diseased or sick animals.
Steam canners are no longer recommended for safety reasons because of a lack of keeping temperatures consistent.
Do not process your food in bottles in the oven, it is not safe.
Do not can food in your pressure cooker, it is not a canner.
Place processed jars on racks with dry towels underneath.
Please ensure safe acidity in tomatoes, whole, crushed or juiced. Add 2 tablespoons of bottled lemon juice or 1/2 teaspoon of citric acid per quart of tomatoes. For pints use 1 tablespoon of bottled lemon juice or 1/4 teaspoon of citric acid. You can also use 4 tablespoons of 5 percent acidity vinegar (I don't like the flavor mixed in with my tomatoes) in each quart instead of using lemon juice or citric acid. Ball Citric Acid
Please do not can milk, butter, bacon, eggs, or pumpkin puree. (pumpkin chunks are okay)
Final Word
I hope today's post gets you excited to do some canning of your own. Life is good if we learn the skill of gardening and preserving our bounty. You can do this, I promise! Thanks for being prepared for the unexpected. May God bless this world, Linda
National Center For Safe Canning