How to Stock Your Pantry for Winter
The air has started to get colder and everyone seems to be starting to stock up during the winter months. However, what are they stocking up on? Don't miss out on this time to stock your pantry for winter. Once winter hits, it can be hard to get everything you need! If you start now, you can find what you need at the store and be prepared when cold weather hits.
"Prepare Your Family For Survival" by Linda Loosli
Related Topic: Quick And Easy Refried Beans
Stock Your Pantry for Winter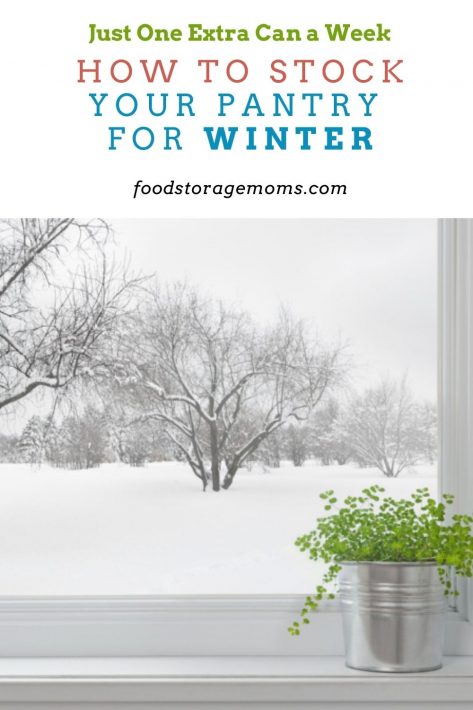 Winter can be long and cold. Instead of suffering through it, at least make sure you have good food to eat. I am hopeful that things will be plentiful for winter, so if I need something I can just go out and buy it at my local store. However, we are not about taking risks around here, we prep and prepare. I like to do the hard work for you and help you stock your pantry for winter. Here are the items you will find in my pantry. In case you missed this post, How To Store Your Food Storage
Beans
If you have a pantry, then you can't even fathom leaving beans off of the list. Beans are a staple in so many ways. They are also one of the cheapest items you can buy to store in your pantry. My advice to you is to stock up on beans, all the different varieties, and put them in your pantry for this winter. They are fantastic for nutrition, a good source of protein, and they tend to give you that feeling of being full!
Grains
Whether it's oatmeal, quinoa, wild rice, couscous, or whatever else you come across, you will need grains in your pantry. Grains will keep you going and help to keep you as full as possible! When you are at the store next time, try and stock up on whatever grains are on sale. I will always preach about putting grains in your pantry for wintertime and beyond.
Nuts and Seeds
Two of my personal favorite items are nuts and seeds. Stocking up on these items is not only a good idea to fulfill your nutrition needs, but nuts and seeds are always tasty. You don't have to buy the super expensive nuts, you can buy what's on sale. Keep in mind that nuts are oil and will go rancid quickly. Please store them in your freezer to be safe. Adding these to your list will be an excellent idea:
Almonds
Peanuts
Hemp seeds
Pumpkin seeds
Pine nuts
Walnuts
Pecans
…and whatever else you enjoy!
Oils
One thing you can't forget this winter for your pantry is oil of various kinds. It's truly fascinating how many different oils are available now. You can easily buy them and store them in your pantry for this winter. Keep in mind that there is no wrong or right oil you can have in your pantry. Choose one that fits in your budget and one that your family enjoys.
Sesame oil
Canola oil
Olive oil
Vegetable oil
Coconut Oil
Nut Butters
A favorite to have in any pantry is the nut butter. You can truly find a ton of different nut butter options to store in your pantry. My favorite nut butter is plain old peanut butter. However, you can stock whatever nut butter or seed butter that you'd like.
Smooth peanut butter
Crunchy peanut butter
Almond butter
Sunflower seed butter
Cashew butter
Coconut butter
Walnut butter
Hazelnut butter
As you can see, the list goes on and on. Choose a nut butter that is within your budget but also something that your family will eat! Don't forget to pick up some jellies and jams to go along with your peanut butter and other nut butter choices.
Other Items to Stock
When you are trying to stock your pantry for winter, you may be wondering what else you can stock. Learning how to stock the proper items means you need to know WHAT will go in your pantry and keep safely:
Pasta – I know you get tired of hearing about stocking up pasta, but it's totally worth it!
Vinegar – There are several different kinds of vinegar you can make sure you have in your pantry this winter.
Dried fruit – Another fun item to stock up on for winter are the dried fruits. You can find lots on the shelves this time of year.
Sugars
Spices
Herbs
Potatoes
Canned soups
Tips for Stocking Your Pantry for Winter
Now that you know what to stock in your pantry for winter, you may be wondering HOW people do it. I can tell you that most people don't just go out and spend hundreds of dollars to stock their pantry. It's a gradual thing. Here are some tips you need to know.
Start Now
Don't wait until winter hits to start stocking that pantry, start stocking up now. Whenever you go to the store, buy a few items and add them to your pantry. You'll thank yourself that you started stocking up now and didn't wait.
Keep Inventory
It's vital that you know what's in your pantry for winter. Keep an inventory so you know! If you have a list telling you what you have and don't have, then it's easier to shop. Inventory isn't as hard to keep as you might think. You could generate an inventory using Word or Excel, or good old ledger paper.
Buy Stuff You Will Eat
Don't buy items just to buy them. Buy items that your family will actually enjoy eating on a regular basis. If your family won't eat peanut butter, don't buy it. Spend your time and money buying items your family will consume and enjoy.
These tips will help you stock up your pantry for winter and know HOW to stock it. Don't worry about what you can't afford, focus on what you can afford!
Final Word
When it comes to stocking your pantry for winter, don't skimp. Make a list of everything you want and need in your pantry and go for it. Even if you live on a budget, you can grab 1-2 items a week and have a nice stockpile for winter. We are blessed to live in a time in which we can easily stock for winter. May God Bless this world, Linda.
Copyright Images: Winter Landscape through a window Deposit photos_22524069_s-2019