Quick And Easy Refried Beans
There is something amazing when you make your own homemade refried beans. Yes, you buy a bag of pinto beans and boil them. They're easy to make, and today I'm going to explain step by step how to make them into refried beans.
Pinto Beans In The Raw
This is what the beans look like right out of the bag. The first thing I recommend is to spread the beans out on the counter and carefully look for rocks or dirt clods. Yep, you may see some, it's totally normal. Discard the unwanted items and move on. Then rinse the beans to clean any residue from the beans.
Now, place the beans in a large soup pot. The size will all depend on how many ounces of beans you start with. I use one pound dry pinto beans to 6 cups of water. You cover the beans with water. While cooking them, if you can see the beans are needing a little more water, add boiling water to the pot. By using boiling water you will not slow down the cooking time for the beans.
We all have different taste buds, so you may want to add some freshly minced garlic to your refried beans. You may even want some chili powder in them. They are so versatile, you can make so many different meals almost every day of the week. Sometimes I wonder if my DNA has some Mexican in it because I love Mexican food! I could eat tacos, enchiladas, or refried beans every night, with salsa, of course. They are bascially made with 4 ingredients. Beans, water, garlic, and salt.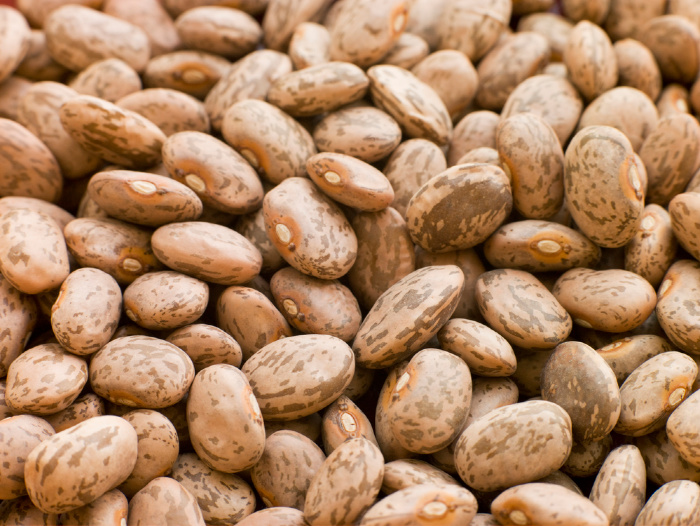 Refried Beans Recipes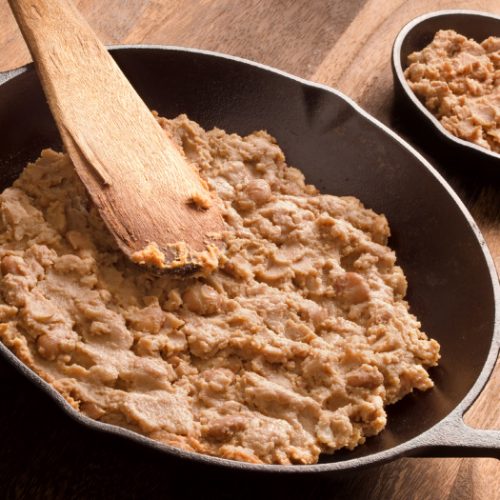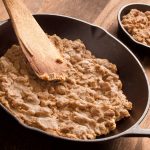 Refried Beans by Food Storage Moms
Ingredients
1

pound

dry pinto beans

6

cups

of water

1-1/2

teaspoons

salt

garlic powder to taste
Instructions
Check the beans for rocks and dirt clods. Discard them. Rinse the beans to clean the residue off the beans. Place the beans in a soup pot and completely cover with water. Bring to a boil, covered. After it comes to a boil, remove the lid, and simmer for 1-1/2 hours or until cooked to desired doneness. Add boiling water if the water boils down to fast. After the beans are cooked, add the salt and garlic powder. Mash with a potato masher until smooth. If desired, use a frying pan with bacon grease or butter and "fry" the refried beans. Serve warm, and enjoy.
Frying Refried Beans In Cast Iron
This is what it looks like when you "fry" the mashed cooked beans in a cast iron skillet with a little bacon grease or butter. Is your mouth watering yet?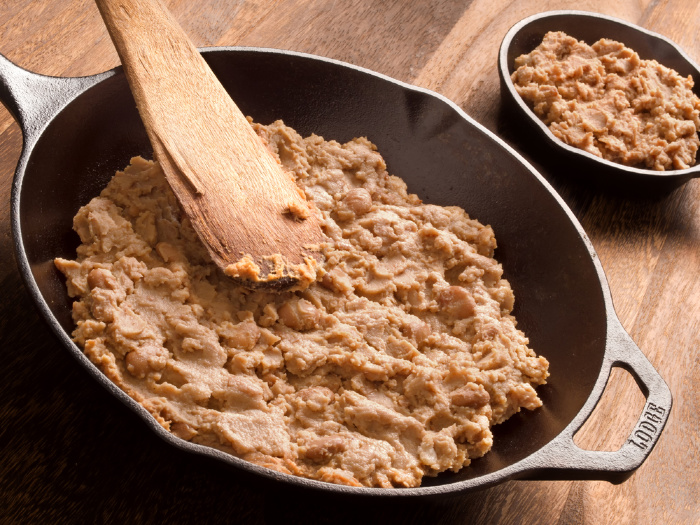 Refried Beans In Flour Tortilla
You can heat some flour tortillas on a hot griddle and make semi-soft tacos, just add some freshly made refried beans. Top with cheese, salsa, and jalapeno's, if desired.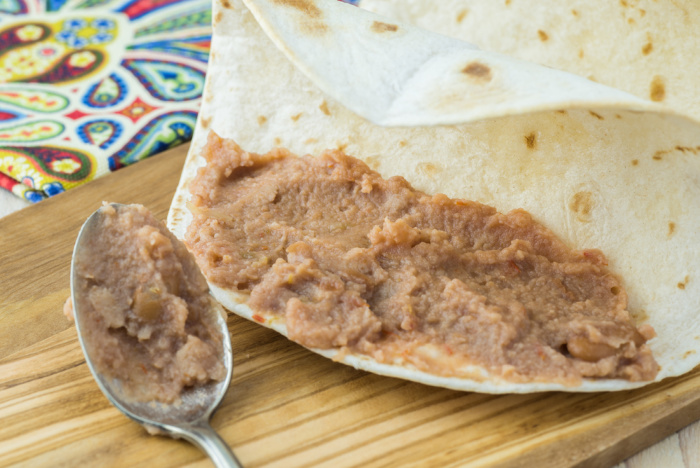 Refried Beans On Tostadas
You can "fry" a corn tortilla in a little oil to make your own tostada shells. Add some fresh refried beans, grated cheese, chopped green onions, chopped lettuce, and chopped tomatoes. Then your favorite salsa. Best meal ever!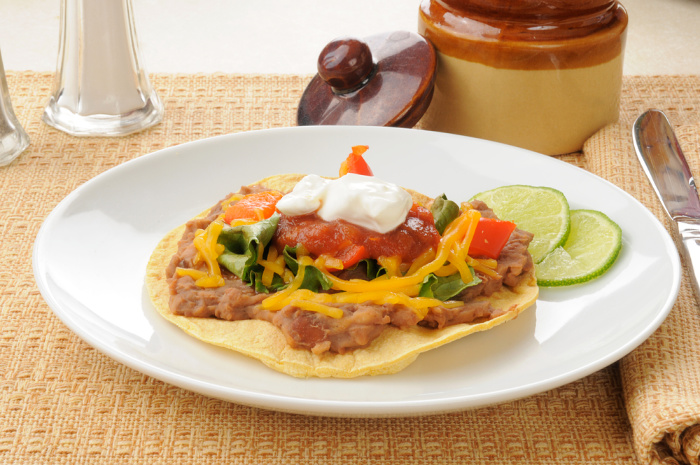 Nachos With Refried Beans
I love nachos, and this is no exception! Grab a plate, spread refried beans on it, top with tortilla chips, grated cheddar cheese, and grated mozzarella cheese. Heat in the oven if your plate is oven-safe or just microwave them until the cheese melts. Add taco sauce, sour cream, guacamole, and some jalapenos.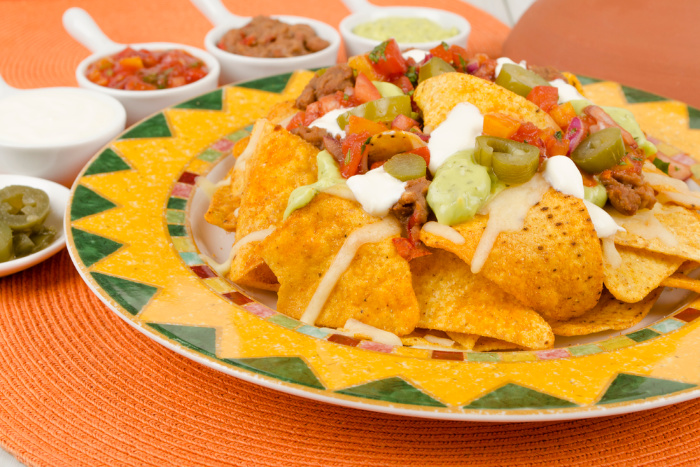 Pinto Beans With Ground Beef
If you don't want to mash your beans, you can make pinto beans and use them in so many recipes. Below, you can see the beans are mixed with some cooked ground beef. You can use it as a dip or make your own individual tortilla chip snacks. Serve with salsa, sour cream, jalapenos, Cilantro, grated cheese, and chopped green onions. Delicious!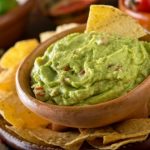 Guacamole Recipe by Food Storage Moms
Ingredients
3

avocados

¼

cup

chopped onion

¼

cup

sour cream

1

cup

chopped Cilantro

juice of one lime or 2 True Lime packets

dash of cayenne

black pepper & cumin
Instructions
Remove the avocado skins and the pit. Mash the avocados in a medium bowl and add the remaining ingredients until blended. Serve with chips, veggies or as a side dish.
Pressure Cooker Beans
Pinto Beans-Pressure Cooker by FSM
Ingredients
1

pound

pinto beans

1

tablespoon

olive oil

1

small

onion, finely chopped

6

cups

water

6

cups

chicken broth

2

teaspoons

salt
Instructions
Spread the beans out and look for rocks or dirt clods. Discard if found. Rinse the beans and place them in the pressure cooker. Add the ingredients, lock your pressure cooker. Set the dial on pressure. Pressure on HIGH for 35 minutes. Use natural release to release the pressure. Drain the excess water after cooking. RESERVE IT in case you want to add it back in. Use your Immersion blender or potato masher to make the best beans you've ever tasted. NATURAL RELEASE: let the pressure drop naturally without turning the pressure regulator knob to steam or release pressure. It will take longer and will continue cooking but will release the pressure naturally. You will see the floating valve drop when the pressure has released.
Final Word
I hope you get excited today about making refried beans. Here's the deal, beans are cheap. But, oh my gosh, the meals you can make with them seem endless! I'm sure you have many more ideas to use these beans, and I would love to hear about them. It's all about being prepared for the unexpected. May God bless this world. Linda